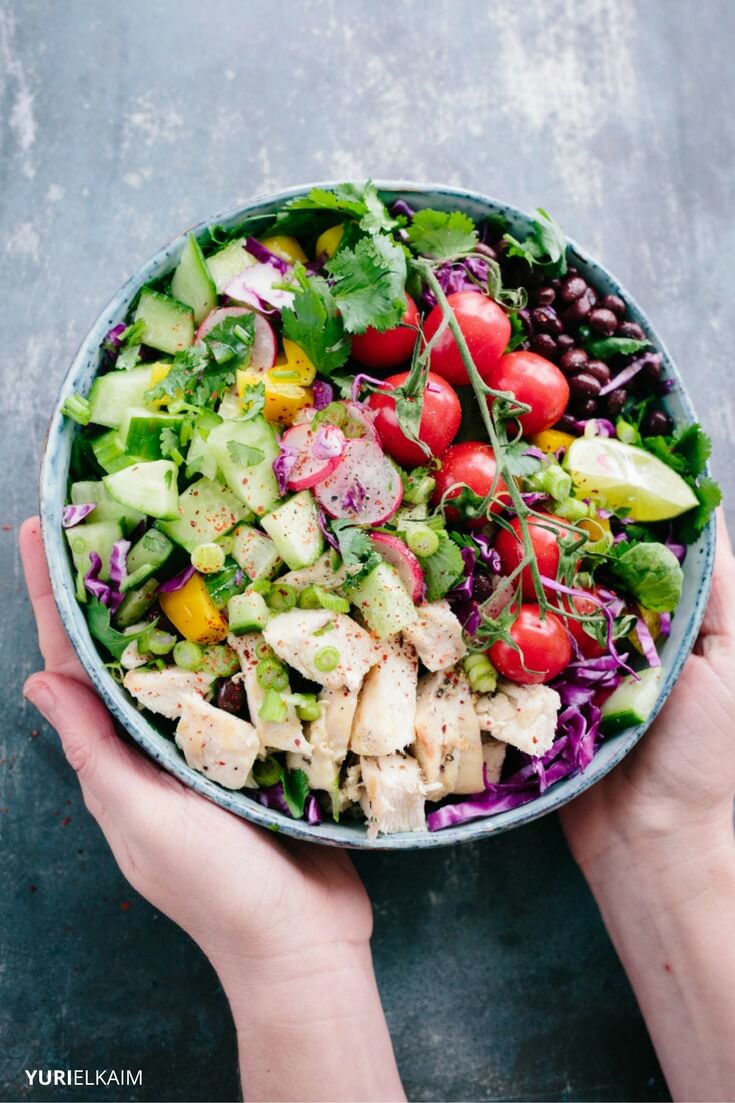 There's nothing quite as satisfying as a plate of classic Mexican food.
Whether you're stopping by your favorite taqueria, or buying a big silver-wrapped burrito for lunch, savory Mexican flavors are always welcome.
Unless, of course, you're trying to eat a healthy, moderate, and nutritious diet.
Suddenly that plate of refried beans, rice, and burritos that rings in at a whopping 1,200+ calories looks like a real gut buster.
I have an awesome option: put all of those favorite flavors into a bowl, and create your own chicken burrito bowl.
DIY Burrito Bowl
Instead of filling you up with flour tortillas, cheese and sour cream, this DIY burrito bowl makes maximum use of plant-based add-ins. Tossing chicken on top adds clean protein, but if you follow a vegan diet, feel free to nix the chicken and use black beans instead.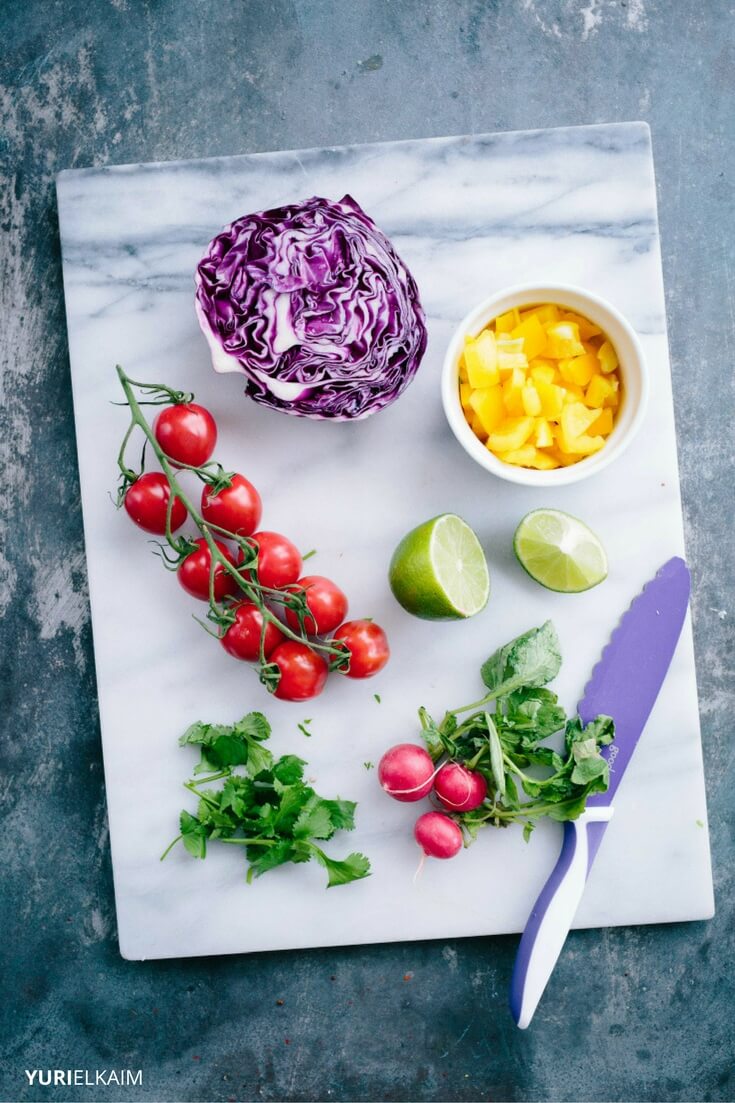 With a base of purple cabbage and cilantro, the zesty bite of peppers, tomatoes and green onions, and a delicious honey-lime vinaigrette drizzled on top, I think you'll find this meal will easily make its way to the top of your favorites.
On particularly busy weeks, we like to chop all of the ingredients, then place them in reusable containers in the fridge. We can easily prep enough for a few nights' worth of meals in just a couple hours.
That way when dinnertime comes, everything can be quickly pulled from the fridge and the whole family can assemble their favorite bowls. Our busy family couldn't love this DIY idea more.
Give it a try. And if you like the idea of prepping meals ahead of time, here are some other easy-prep eats that you can enjoy all week long:
5-Minute Lentil Tacos. Another healthy twist on Mexican flavors, these vegan taco bowls are awesome. (And that rave review is coming from my kiddos!)
Vietnamese Summer Roll Bowl. More local grocers are carrying pre-cut zoodles. Take advantage and stock up for the week. Then toss them in this light and bright Asian-inspired bowl.
Sushi Bowl. Yes, you can have your sushi and boost your plant-based protein, too. Quinoa, avocado, tomatoes and fresh-cut ahi make for a super-quick dinner that tastes just like sushi.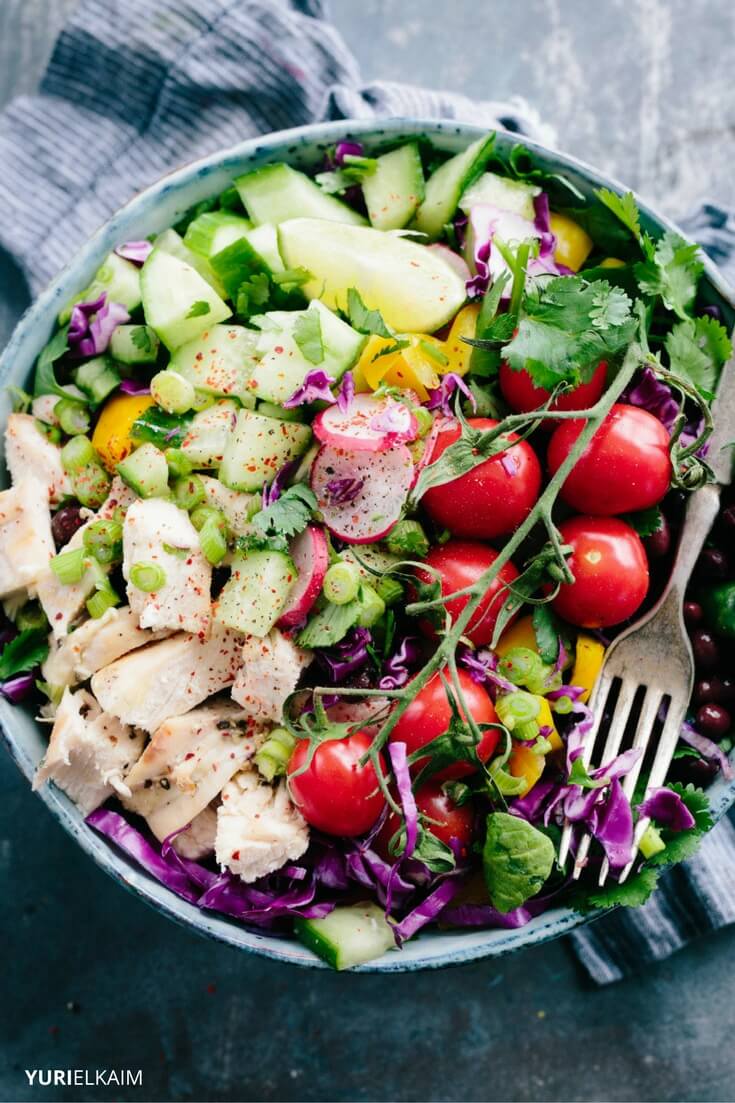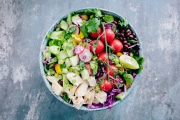 | | |
| --- | --- |
| | |
Toss together cabbage and cilantro. Arrange in the bottom of two serving bowls.

Top with black beans (if desired), chicken, cucumber, radishes, pepper, and onions.

In a blender or mini food processor, combine garlic, limes, olive oil, and honey. Puree until very smooth. Drizzle over salad.

Salt and pepper, to taste.
Quick and Healthy Weeknight Cooking
Looking to round out your repertoire of go-to meals? Be sure to get your FREE copy of the All Day Energy Diet Community Cookbook!
It features 67 gluten- and dairy-free recipes that are low in sugar but high in taste. They're designed to be fast and easy to prepare, so you can get dinner on the table in record time.
Get your complimentary copy now by clicking the image below!