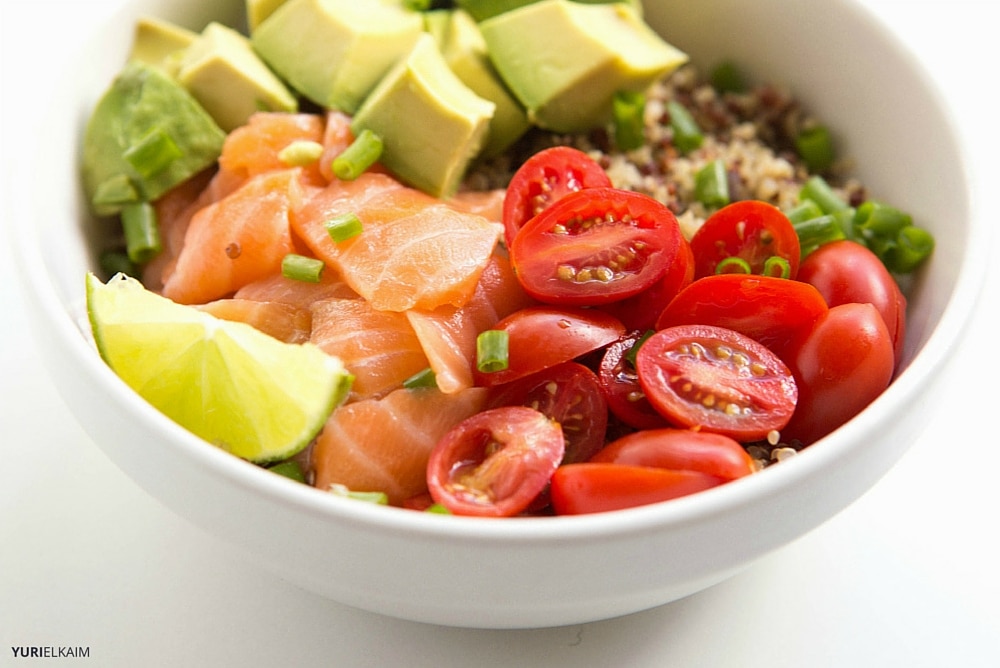 If you love sushi, you're going to love this super quick, super nutritious DIY sushi bowl recipe. Sushi may seem complex, but it's a lot easier than you think to make it at home.
Best of all, it can be prepared in less than five minutes—so long as the quinoa is made ahead of course and you're a quick chopper! It's ideal for those nights when you're craving take-out but don't want to blow your healthy eating goals.
In fact, they're so easy to make I affectionately call them my lazy sushi bowls!
The Incredible Ease of My Sushi Bowl Recipe
If you have this sushi bowl recipe on your weekly menu, I fully recommend checking to see if you have everything on-hand and ready to go for dinner. Doing so will make recipe prep a snap.
Once a month or so, we like to cook up a big batch of quinoa and keep small amounts in the freezer. Whenever we need it for any of our healthy dinner recipes, we can just pull those serving-sized bags out of the freezer and place them on on the countertop or in the fridge the night before we need them.
Alternately, you can soak the bags under hot water to thaw them quickly.
With ready-to-go quinoa, all you have to do is chop the toppings and drizzle it all with this awesome sesame-lime sauce. This dish is so delicious, you'll want to put it on the menu every night!
If you like quinoa, have a look at some of my other quinoa recipes on the blog: 
Safe At-Home Sushi Prep
The trick to safely preparing raw fish at home actually starts at the grocery store.
Before buying uncooked fish, ask the butcher which options are sushi-grade. Most mainstream grocery stores don't carry sushi-grade salmon or tuna, but they will have a sushi counter. Head over and talk to the sushi chef!
Ask if any of the fish is available for sale, and you'll be hooked up in minutes, toting home a ready-to-make filet of sushi-grade fish in less time that it takes to order at a sushi bar. Just make sure if it's salmon you're getting that it's wild caught salmon.
Once you have that sushi filet at home, store it in the fridge immediately. It needs the cool temperature to stay fresh. I also recommend eating it within three hours of purchase. I don't like leaving fish that will be consumed raw in the fridge overnight.
Swap Those Toppings
Tomatoes, scallion and avocado go splendidly with salmon, but there are dozens of ways to mix this recipe up. You can eat a sushi bowl every weeknight and never have it taste the same twice. Try swapping in these flavor combos for the tomato-scallion-avocado toppings.
Here are a few flavor faves:
SPICY THAI | sriracha + carrots + cilantro + chopped peanuts
BI BIM BOP | shredded carrots + seaweed salad + bean sprouts + fried egg
CALI | sprouts + sunflower seeds + avocado + shredded carrots + spinach
SUNSHINE | shredded carrots & cucumbers + orange slices + cilantro
FRIED RICE | diced carrots + peas + corn + scrambled eggs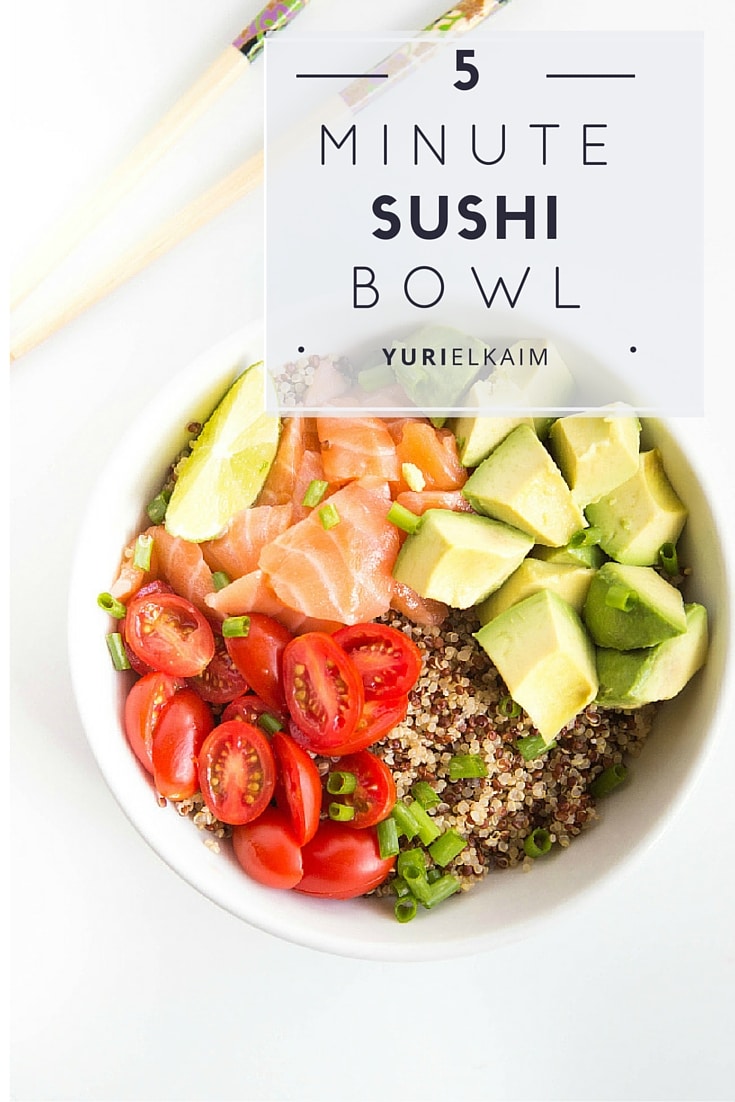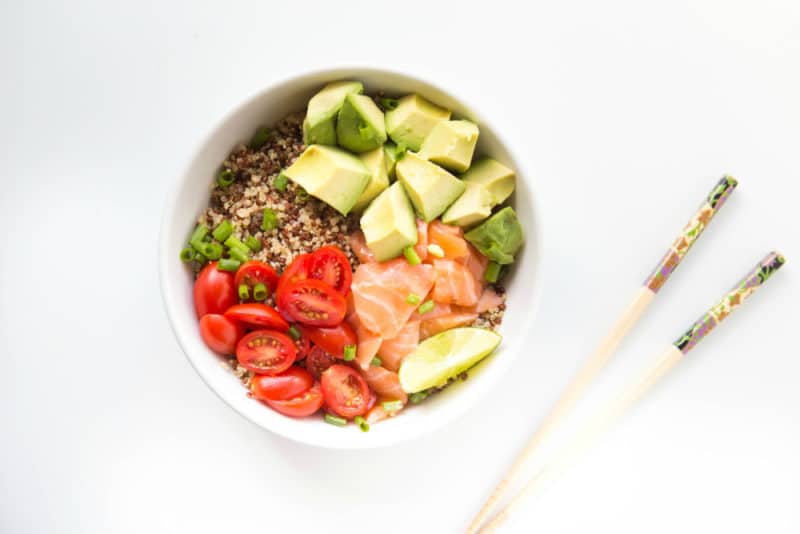 | | |
| --- | --- |
| | |
Place quinoa in a serving bowl. Top with diced tomatoes, diced salmon and avocado. In a small bowl, whisk together sesame oil, apple cider vinegar, tamari, scallions, lime juice and zest. Drizzle over bowl. Serve and enjoy!
Sushi-grade salmon can usually be found in organic food groceries. Ask the meat counter or sushi counter managers to show you which of their options are sushi grade, or sear the meat until fully cooked as a safe alternative.