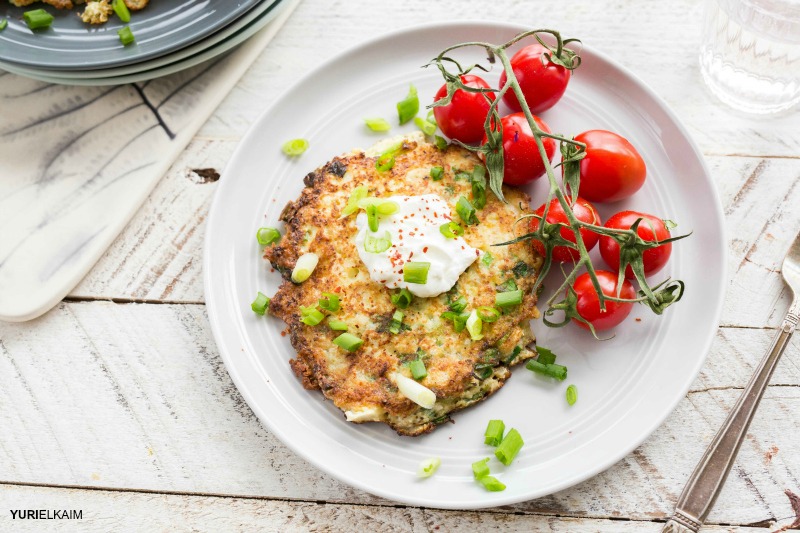 If you're a low-carb or paleo eater, cauliflower is probably one of your diet staples.
There's a good reason for that. This versatile veggie can be used for so many recipe swaps:
Until last month, I thought I'd figured out most of the best ways to use cauliflower as a lower-calorie, low-carb option that's friendly to nearly every whole-food diet.
But then I stumbled upon the idea of using cauliflower to make hash browns.
Savory Cauliflower Hash Browns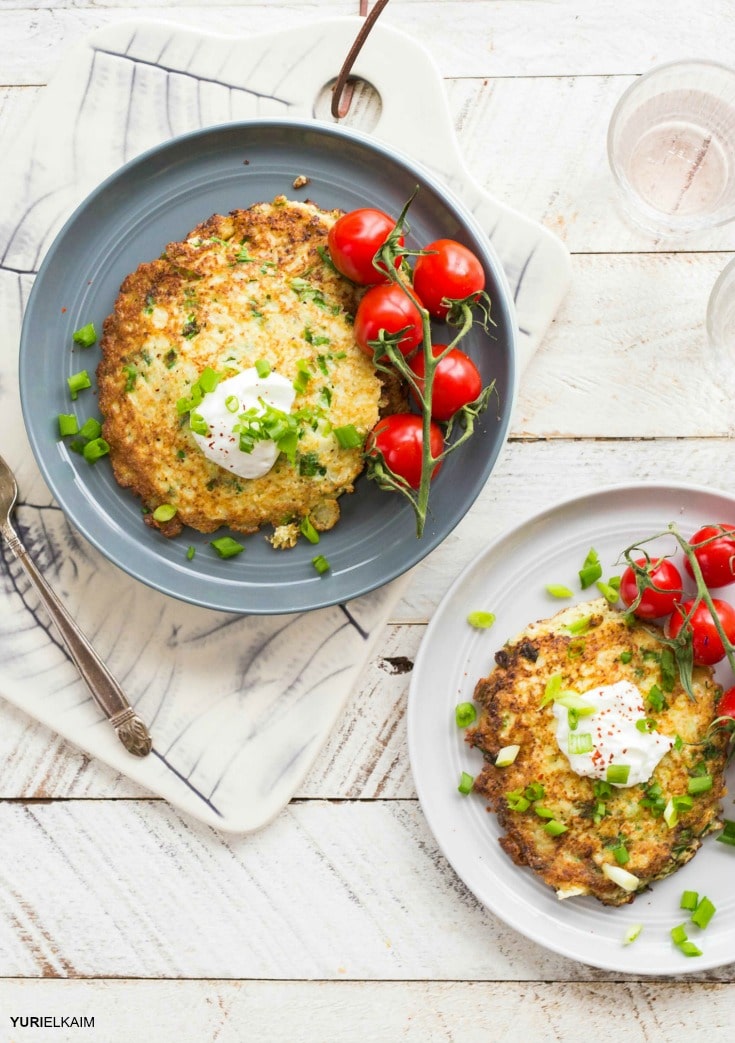 Prepping cauliflower for hash browns is a little different than prepping it for cauliflower rice.
See, when you're making riced cauliflower, you either finely chop or use a food processor to prepare the florets for cooking.
But with this hash brown method, you actually pull out your cheese grater and grate both the florets and stem.
Warning: the process can be a bit crumbly – which is why it pays to be prepared.
Here's a tip to keep your kitchen free of mess:
Line a deep-sided 9- by 13-inch baking pan with parchment paper, and then grate into the pan. Or, you can grate into a bowl placed in your kitchen sink.
Either option will keep your floors free of snowy white cauliflower crumbs.
Fry It Up in a Pan
Once the cauliflower is grated, it can be fried in a pan, just as you would with traditional hash.
But to turn that cauliflower into serving-sized hash browns, we've found it simplest to add 2 eggs to the mix, which is also a great way to add extra protein.
This turns them into hash brown "fritters." But before we get to the cooking, I like tossing in diced green onions for extra flavor.
To brown the hash browns, simply heat a small amount of oil in a nonstick ceramic pan, spoon in about a quarter-cup of the cauliflower mixture, and cook until golden brown. I've found a metal spatula works best for flipping sides.
You can serve the cauliflower hash browns with your favorite breakfast foods.
Or, you can enjoy them as a quick and simple, high-protein breakfast. The hash browns are great right out of the pan.
To add more creamy goodness, you can top them with a bit of coconut cream or plain coconut milk yogurt.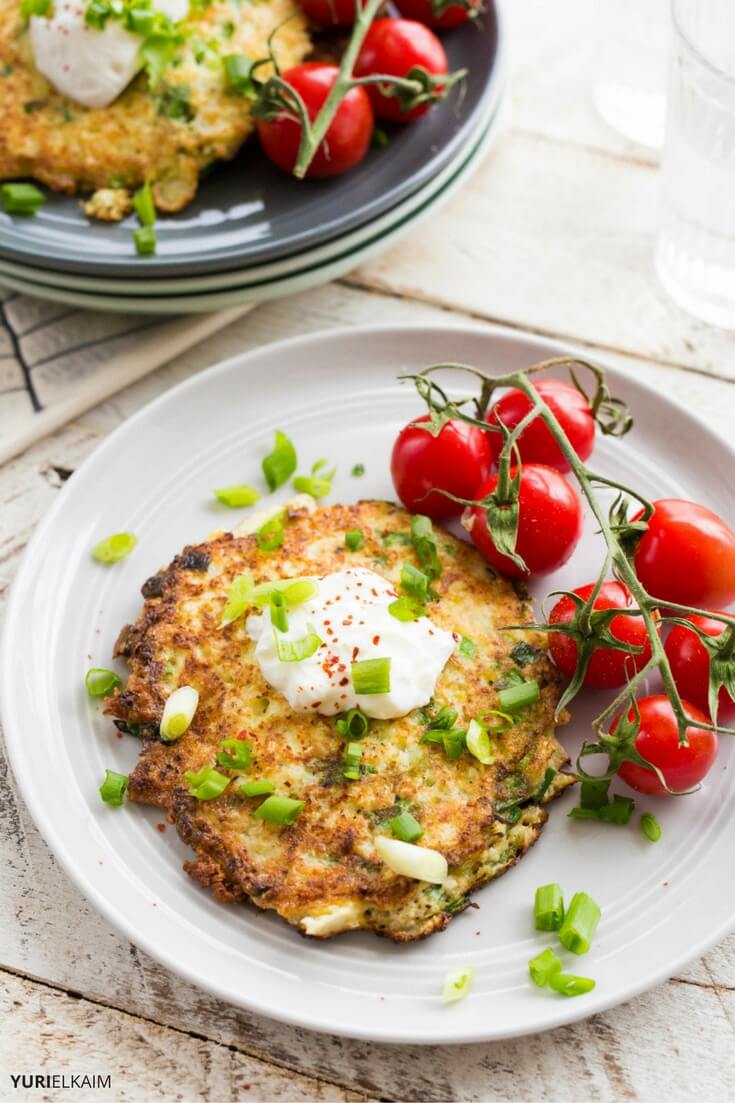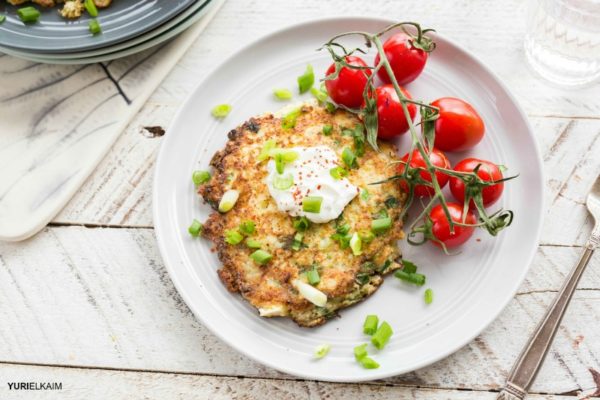 | | |
| --- | --- |
| | |
Grate cauliflower with a cheese grater.

Transfer to a bowl, stir together with eggs, green onions, salt and pepper.

In a nonstick skillet, heat 1 tbsp olive oil over medium-high heat.

Add about 1/4 cup of cauliflower mixture, use a fork to press to about 1/2-inch thick. Cook on both sides until brown, flipping with a metal spatula to cook other side.

Transfer to serving plates. Top with coconut cream, if desired.
Get my Free Cookbook!
Looking for more clean, healthy, whole-food meals?
You'll love the FREE All Day Energy Diet Community Cookbook.
It's filled with 67 gluten- and dairy-free recipes, all of them created by busy people just like you, who want healthy and delicious meals – fast.
In fact, the recipes are designed to take a mere 15 minutes to prepare.
Get your copy of the cookbook by clicking the banner below!