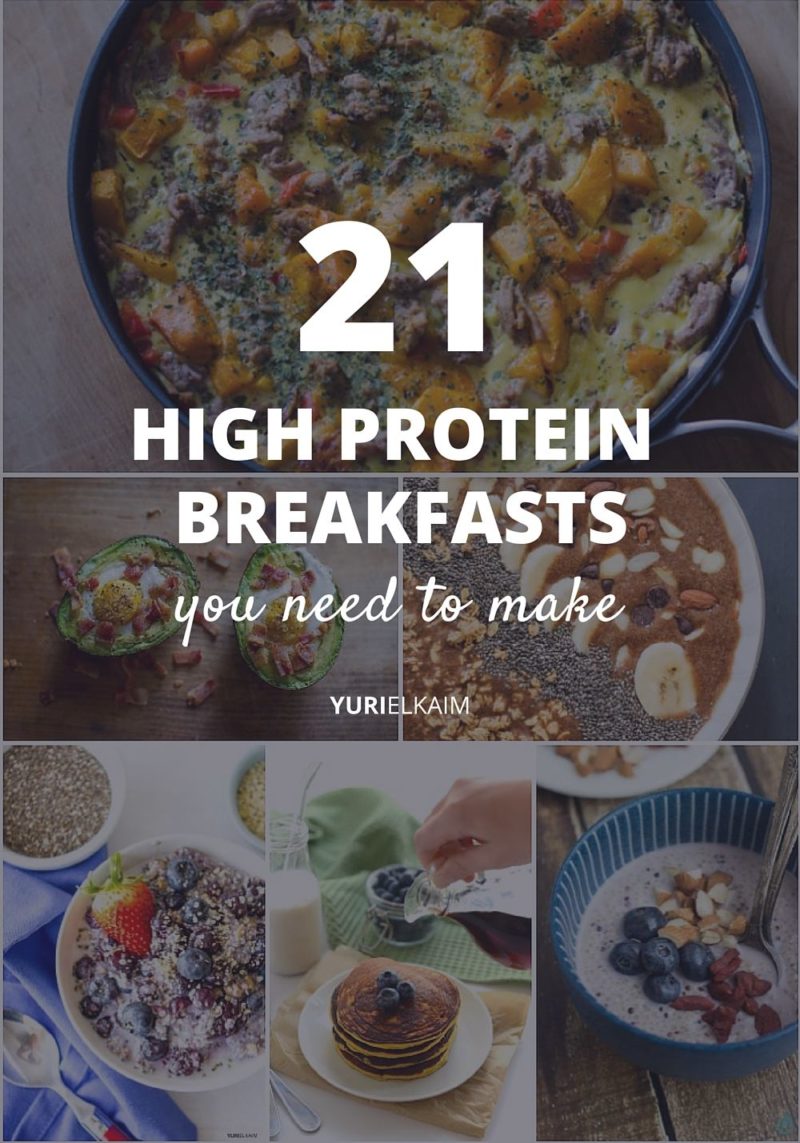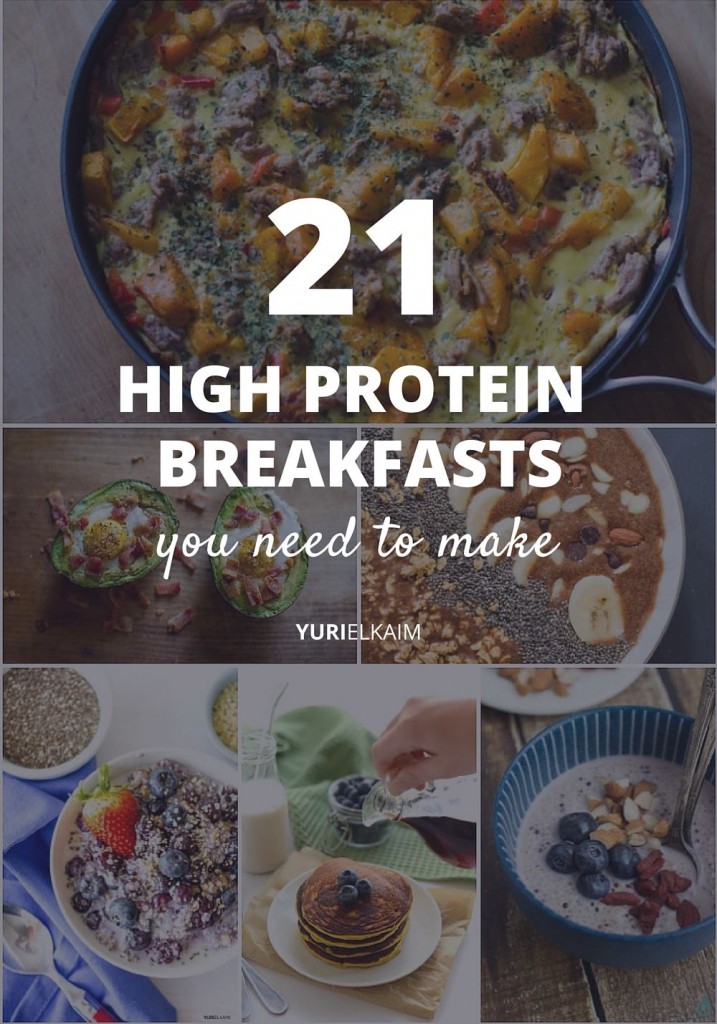 Eating breakfast is a given for good health, but many of us still don't eat the right food in the morning.
Instead, we set ourselves up for a day filled with sugar and carbohydrate cravings, and our breakfasts lack the nutritional content that we need to sustain energy and get us through the first few hours of the day.
What are we getting wrong?
If we step back and examine a typical breakfast, it's usually high in sugar and refined carbs. Think white flour pancakes, high sugar cereals, and convenient foods we pop into the toaster or microwave.
What should we be eating for breakfast instead?
Feeding our bodies high protein breakfasts is crucial for many reasons – it improves the body's metabolism, helps to build and repair muscle, is an energy source for cells, and increases feelings of fullness.
That's why the following 21 breakfast recipes contain high amounts of protein.
By getting protein in first thing in the morning, you're providing your body with the proper tools to function at its best.
The recipes below are all low in sugar, gluten-free, dairy-free, and high in protein for a nutritious way to start your day.
21 Go-To High Protein Breakfast Recipes
1. Strawberry Quinoa Breakfast Bowl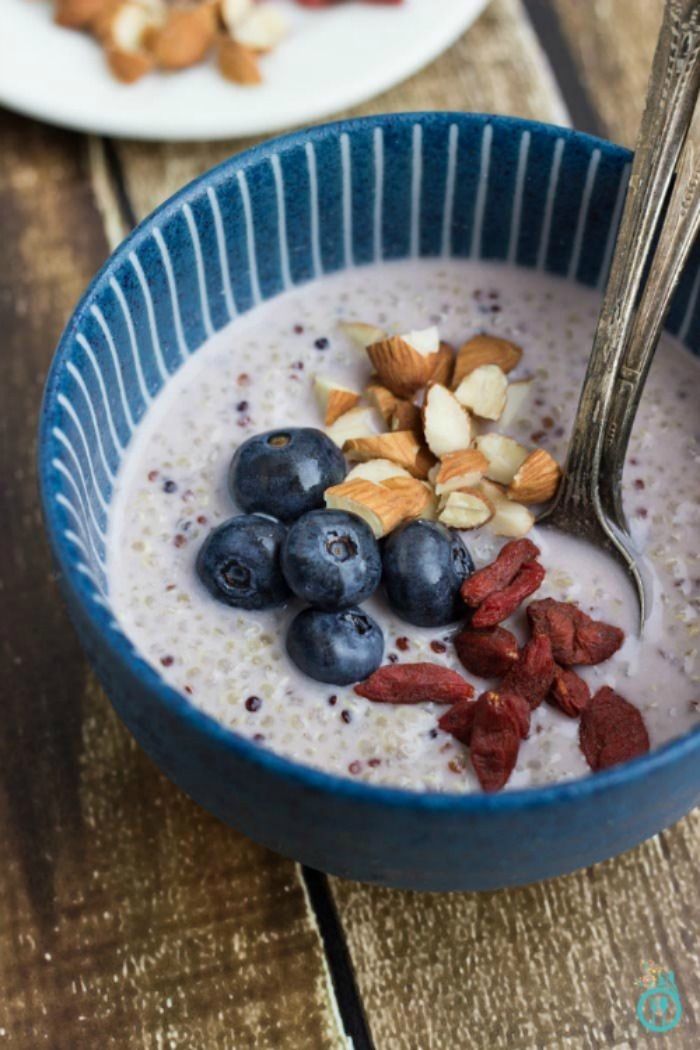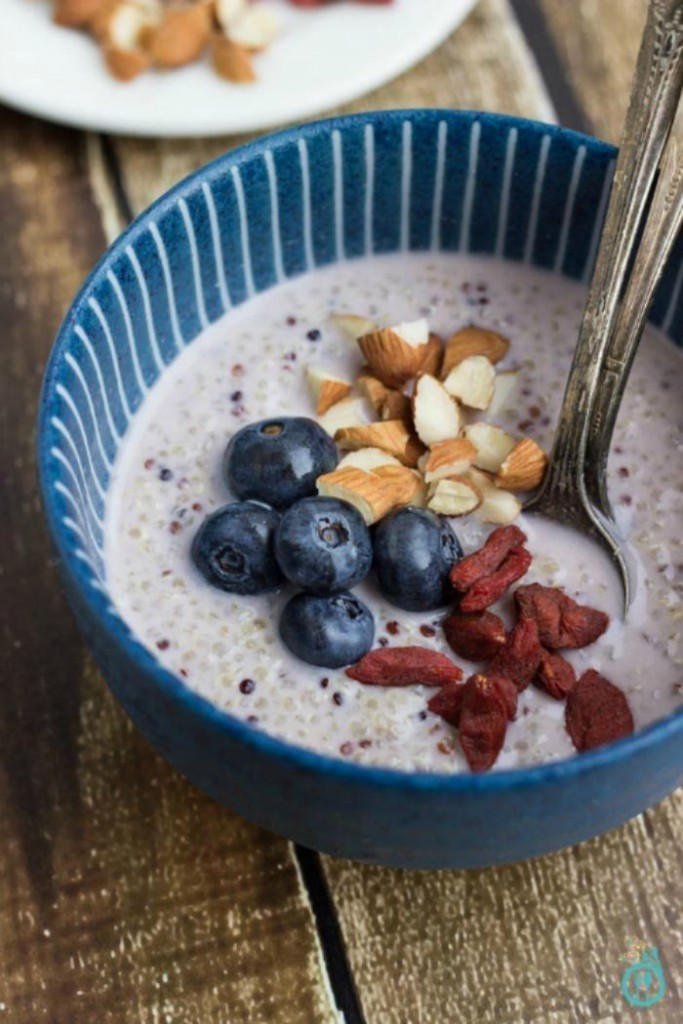 This amazing breakfast bowl is gluten-free, vegan, and has only 5 ingredients.
Quinoa is perfect for breakfast, since it's packed with protein and is a complex carbohydrate, digesting slowly in your system to keep you feeling full for hours. Fresh strawberry-infused cashew milk gives you a burst of berry flavor along with added protein.
Find the recipe here: Simply Quinoa
2. Espresso Chocolate Chip Chia Pudding
This delicious espresso chocolate chip chia pudding has just what your breakfast needs: A touch of caffeine to sharpen cognitive function, a double dose of protein for muscle and cell regeneration, and healthy fats and antioxidants to power you all day long.
Find the recipe here: Lexi's Clean Kitchen
3. Proscuitto Egg Cups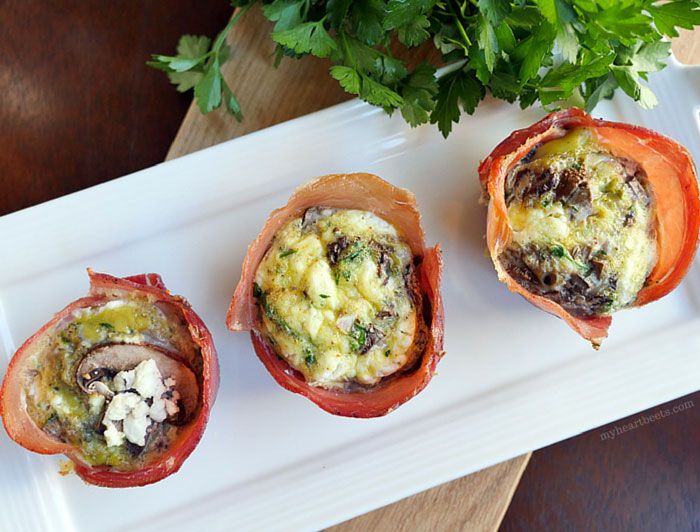 Eat two of these little proscuitto egg cups for breakfast and say goodbye to mid-morning hunger pangs. They're loaded with protein to keep you feeling full, and you'll love the salty, smoky taste of prosciutto.
Find the recipe here: My Heart Beets
4. Apple Cinnamon N'oatmeal
Get the taste of thick, creamy cereal without the refined carbs with this apple cinnamon breakfast bowl. You'll never guess that the base is finely chopped cauliflower and eggs.
Load this breakfast bowl with pecans, eggs, and flaxseed, and for a high protein breakfast that satisfies your desire for a warm bowl of cereal.
Find the recipe here: The Healthy Foodie
5. Coconut Flour Breakfast Bake
Did you know coconut flour is a source of protein? Two tablespoons have 3 grams of protein, and when combined with eggs and nut butter, you've got a protein-rich meal.
Enjoy this tasty cake in place of bread or muffins for a protein-packed way to start your day.
Find the recipe here: The Wannabe Chef
6. High-Protein Vanilla Chia Pudding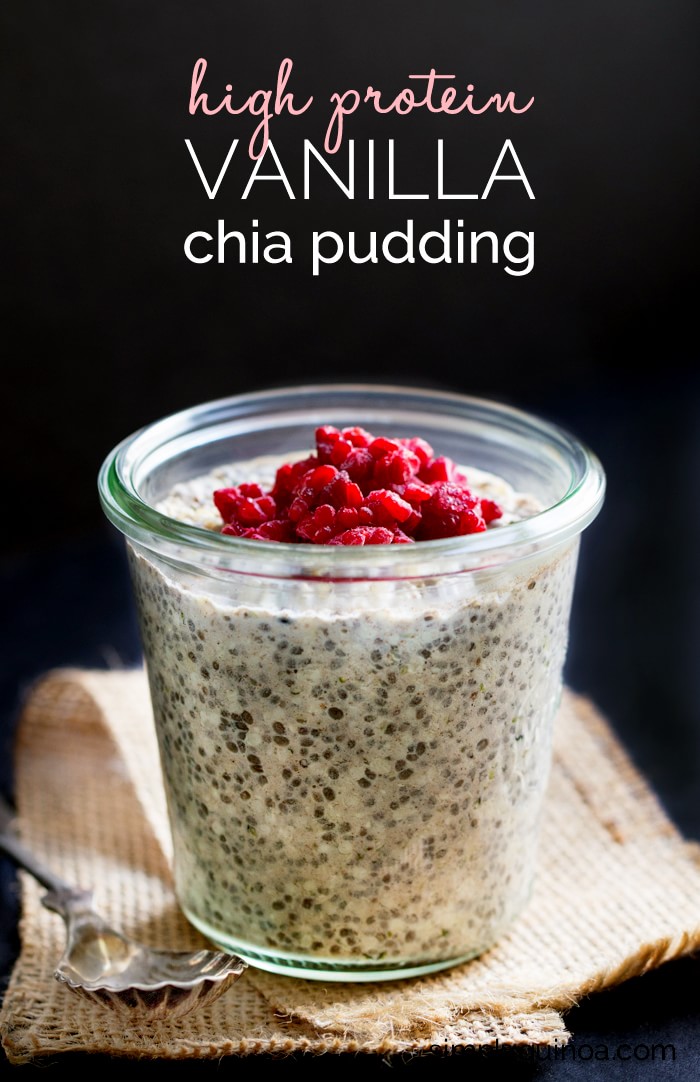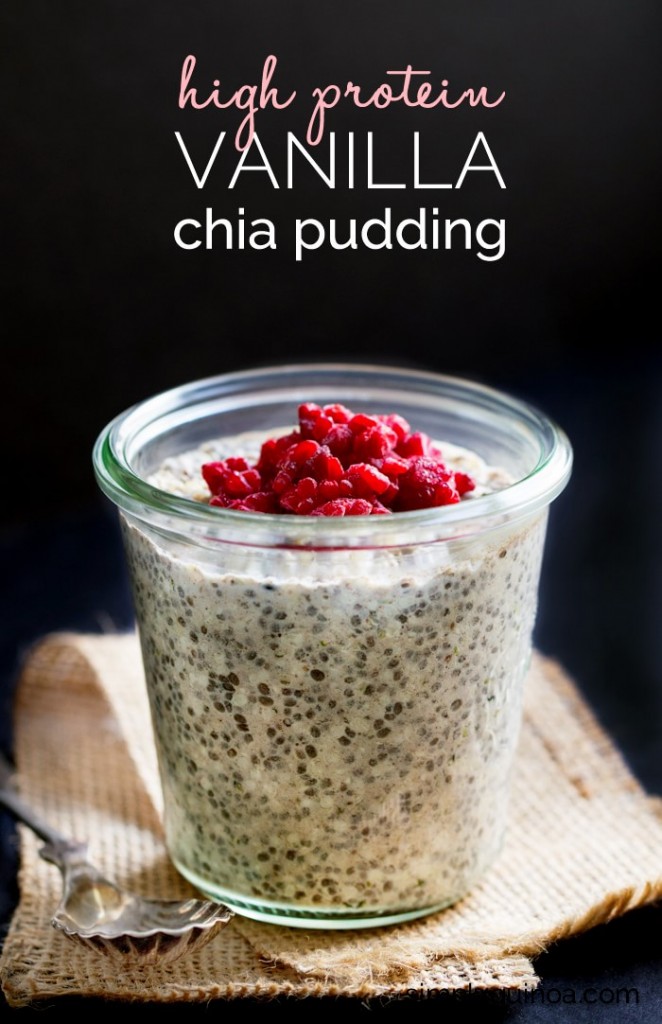 Looking for a high protein breakfast without protein powder? This pudding is just what you need.
It's got protein from chia, quinoa, and hemp seeds, making it a high-protein, high-fiber breakfast full of healthy fats. Did we mention it's delicious too?
Find the recipe here: Simply Quinoa
7. Lemony Egg in a Spinach Chickpea Nest
You're five minutes away from having a satisfying, wholesome, protein-rich breakfast. Sunny lemon brightens up breakfast with this simple egg in a spinach chickpea nest.
This breakfast will get you 25 grams of protein from both the egg and chickpeas, along with powerful antioxidants from the spinach.
Find the recipe here: Kitchen Treaty
8. Paleo Coconut Flour Pancakes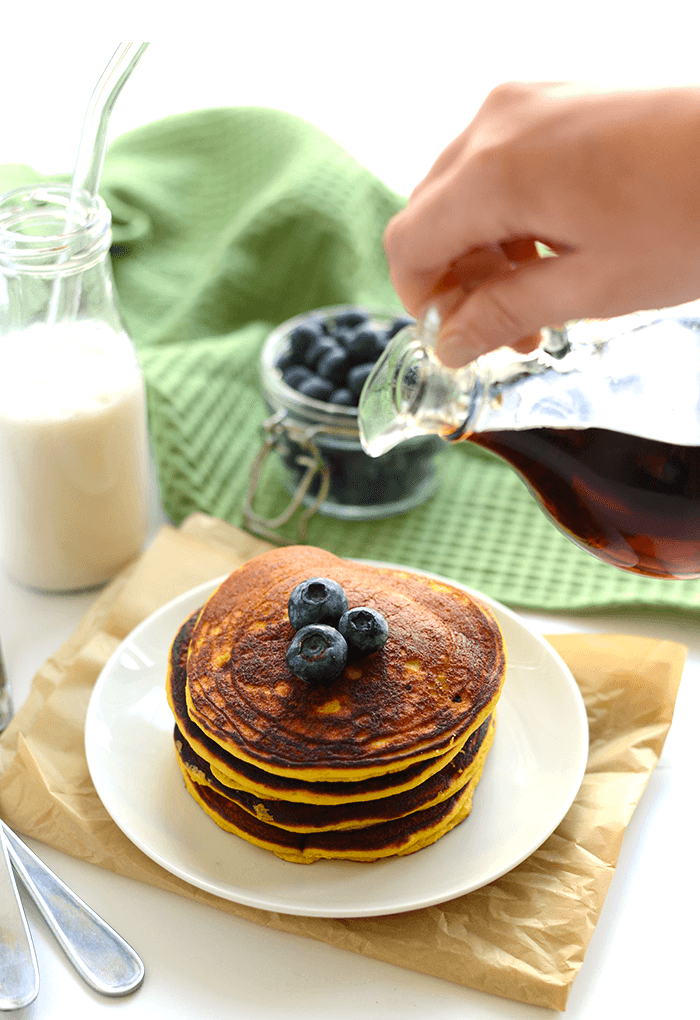 You don't need to give up pancakes with your gluten-free, low-sugar lifestyle. These paleo coconut flour pancakes are moist and super fluffy with just 4 healthy ingredients.
Eggs and coconut flour provide the protein, and a touch of natural honey gives these tasty cakes a hint of sweetness. Serve with berries to help keep your blood sugar stable and get some antioxidants first thing in the morning.
Find the recipe here: Fit Foodie Finds
9. Banana Protein Pancakes
It's hard to believe these banana protein pancakes have just 3 ingredients: bananas, egg whites, and protein powder.
You'll love this quick and easy recipe that delivers lots of morning protein.
Find the recipe here: Skinny Mom
10. Mocha Protein Banana Smoothie Bowl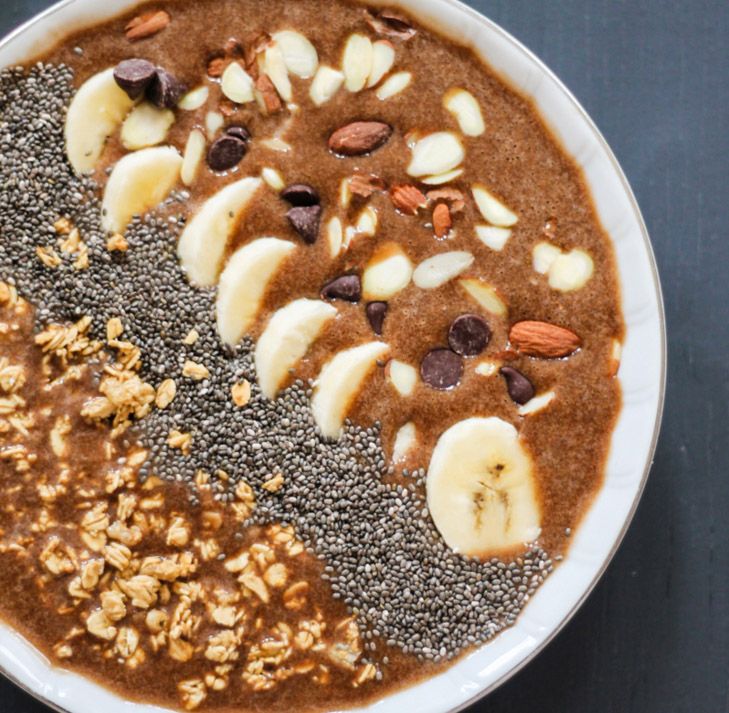 Ever had a smoothie in a bowl? You can add lots of fun and nutritious toppings that you don't have to drink: Think chia seeds, cacao nibs, gogi berries, hemp seeds, and lots more.
Protein powder gives these bowls a thick and creamy consistency, and you'll slurp up every delicious bite. Best of all, you can customize to your taste, making your morning that much better.
Find the recipe here:  Ambitious Kitchen
11. Protein Oatmeal Cups
These protein oatmeal cups are low in calories, high in protein and have very little added sugar.
You'll get protein from 2 scoops of protein powder and eggs.  Make sure to purchase gluten-free oats for this recipe.
Find the recipe here: Eat Real Healthy Food
12. Sausage and Butternut Squash Frittata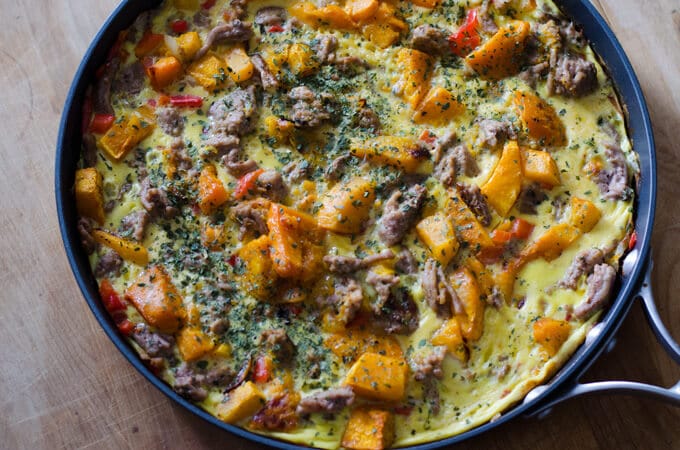 This sausage and butternut squash frittata is the perfect high protein breakfast. It also works for lunch or dinner too.
Use whatever veggies you have in the fridge for this quick and easy meal.
Find the recipe here: Cook Eat Paleo
13. Egg-free Paleo Breakfast Bowls
Smoky sweet potato and bacon, sausage and pepper with zucchini, chorizo and apple with kale, curry beef and broccoli – all of these combinations sound spectacular.
If you love savory, these breakfast bowls are for you. Feel free to mix and match for a healthy, protein-packed, antioxidant-rich breakfast.
Find the recipe here: Zen Belly Catering
14. Fiber Starter Breakfast Bowl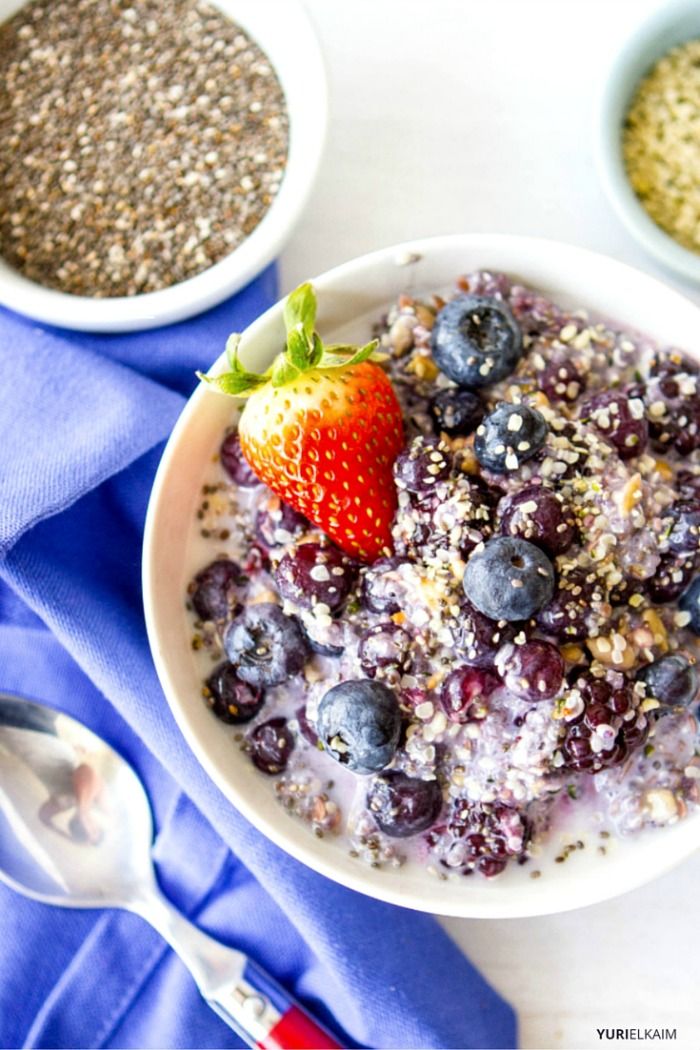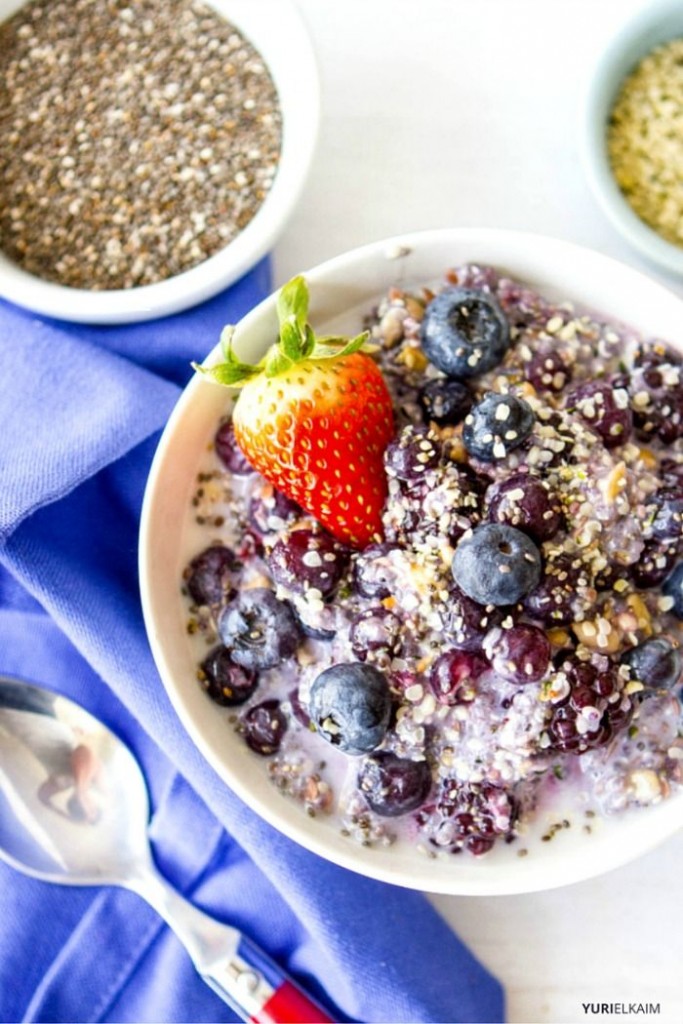 High in fiber, protein, and full of flavor, this easy paleo bowl is a healthy breakfast idea you can feel good about feeding you and your kids.
Sprinkle with fruit, nuts, seeds, coconut, cacao nibs, or anything that makes you happy in the morning.
Find the recipe here: Yuri Elkaim
15. Breakfast Salad with Soft Boiled Eggs
Salad in the morning is not traditional, but there's so much you can gain from eating greens for breakfast.
This breakfast salad is a great way to sneak in greens but still feel like you're eating morning food. Poached eggs and avocado turn this salad into breakfast fuel with protein and healthy fats that your body will love.
Find the recipe here: So Let's Hang Out
16. Spicy Rosemary Sausage and Potato Breakfast Hash
If you like fresh rosemary, you're gonna love this breakfast hash. It's loaded with fresh spice, and protein in the sausage will keep you going all morning long.
Top with a fried egg for a breakfast of champions.
Find the recipe here: My Heart Beets
17. Gluten-Free Almond Pancakes
Not all pancakes are created equally – steer clear of refined-flour pancakes and make these high protein, gluten-free, paleo silver dollar pancakes.
They're made with almond flour, so you'll get all the benefits of almonds in these tasty pancakes.
Find the recipe here: Elena's Pantry
18. Baked Eggs in Avocado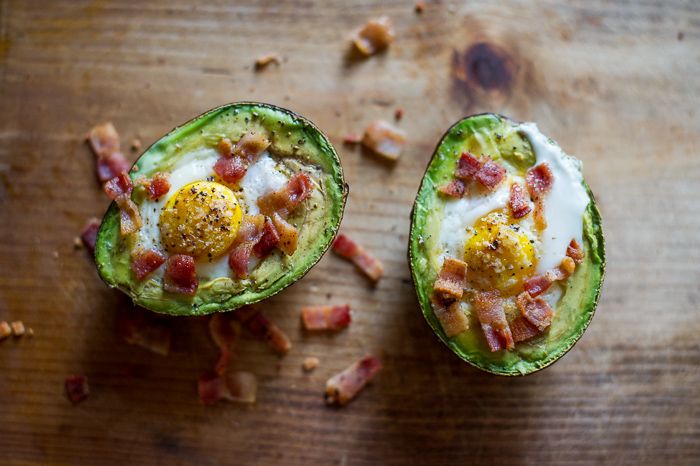 What a perfect way to start the day. Crack an egg and cook it right in an avocado half – you'll get lots of healthy fats along with your protein Top with some bacon for the tastiest meal ever.
Find the recipe here: White on Rice Couple
19. Cinnamon and Raisin Paleo N'oatmeal
If you're looking for a breakfast that's high in fiber, protein, and omega-3 fatty acids, you've come to the right place.
This cereal contains flaxseeds, chia seeds, coconut flour, and nuts. All of fhese foods provide protein and healthy fats, which help keep you full for hours.  Cinnamon and raisin flavors give it a cookie-like appeal that's irresistible.
Find the recipe here: My Heart Beets
20. Banana Vanilla Chia N'oatmeal
Looking for a protein-packed alternative to oatmeal? This chia pudding is combined with eggs to give you a double dose of protein and many other health benefits.
Fresh vanilla bean and cinnamon lend lovely flavors to this pudding, and it'll keep you satisfied for hours.
Find the recipe here: Balanced Bites
21. Blueberry Almond Protein Pancakes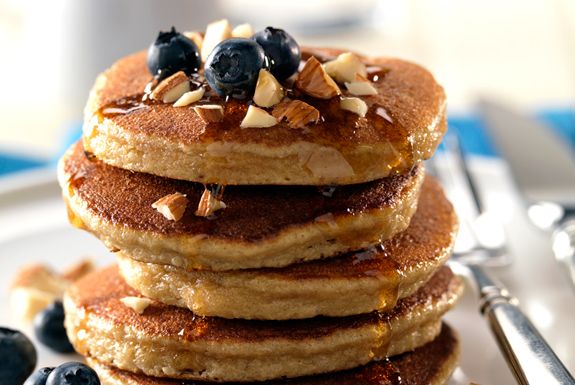 These blueberry almond protein pancakes are low carb and gluten free, yet will satisfy your cravings for pancakes in a healthy way.
Blueberries add fiber and powerful antioxidants to your breakfast, and protein powder gives you staying power all morning long.
Find the recipe here: Spicy Southern Kitchen
As you can see, there are so many ways to fill your body with healthy food in the morning.  From proscuitto egg cups to vanilla chia pudding, the possibilities for a healthy protein-rich breakfast are endless!  From naturally sweet to savory, choose your favorite recipes and make over your mornings the healthy way.