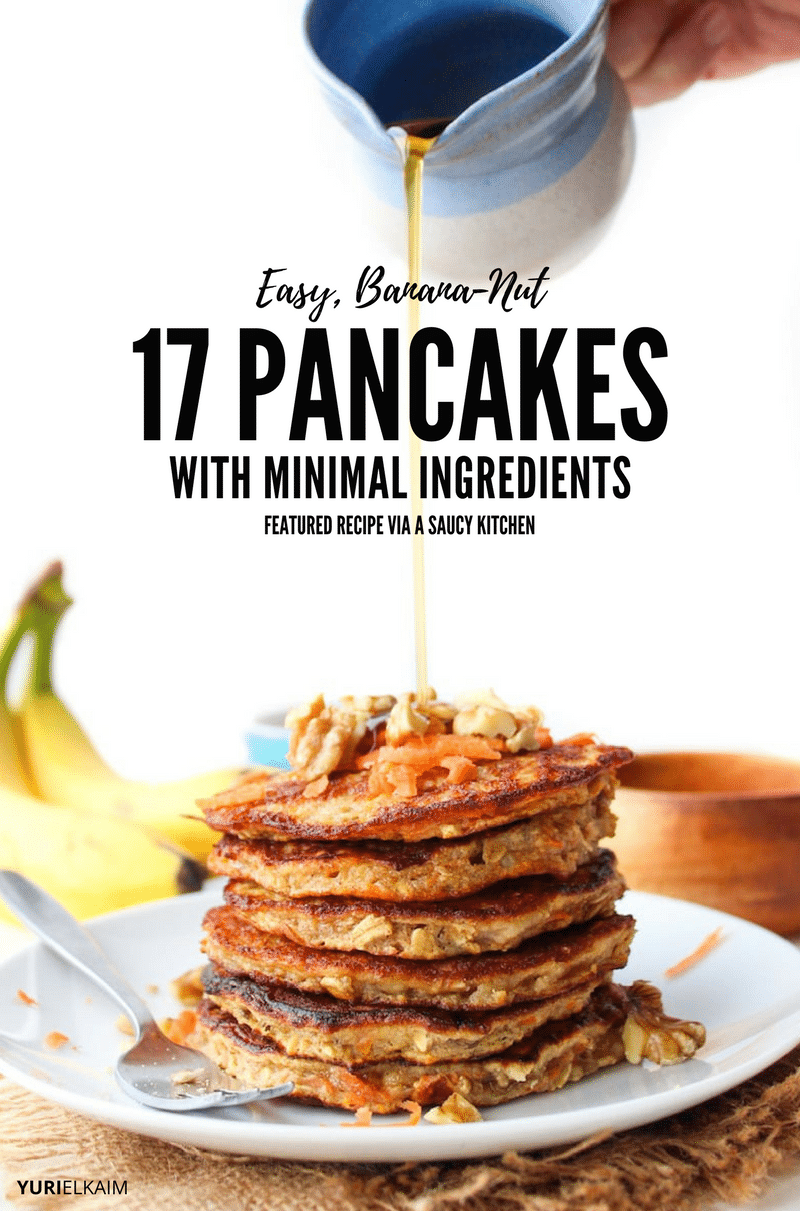 Two-ingredient healthy pancakes started a few years ago as a wildly popular trend on Pinterest.
With just bananas and eggs, you could have your pancakes and eat them too – that is, if you liked mushy pancakes.
Since then, however, healthy pancakes have evolved, and this list of banana nut pancakes proves that with a few simple ingredients, you can have a deliciously mostly-paleo and gluten-free breakfast.
The Best Banana-Nut Pancakes with Under 5 Ingredients
1. Magic Paleo Blender Banana Pancakes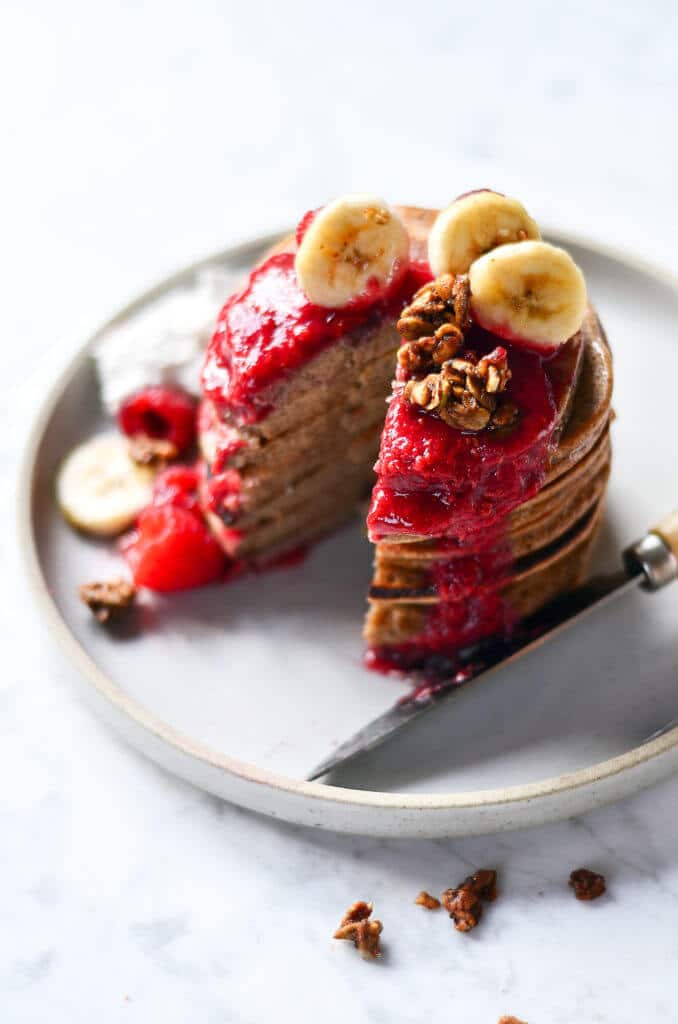 Looking at these fluffy delights, you'd have a hard time believing they're made with only three ingredients. Top with a raspberry reduction instead of traditional syrup and you're ready to eat.
Get the recipe: Paleo Gluten-Free
2. Healthy Three-Ingredient Blender Pancakes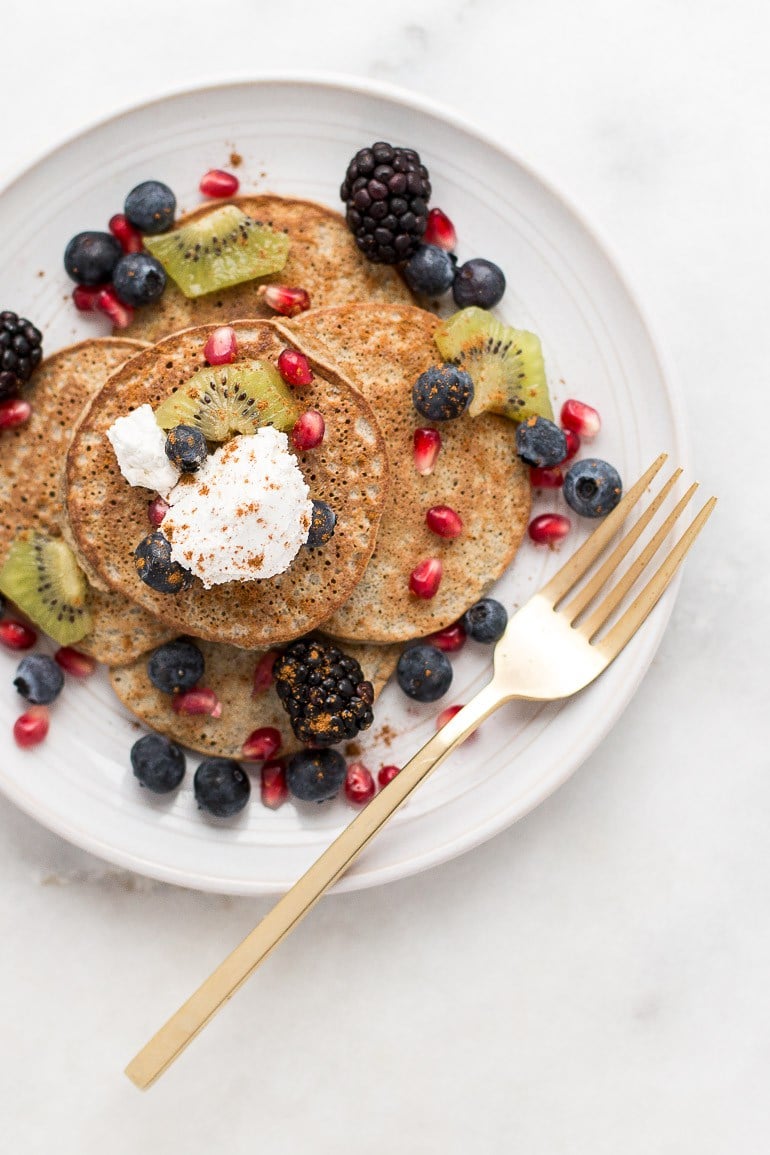 As basic as you can get with bananas, eggs, and a bit of baking soda, this recipes offers optional additions like coconut flour to make them fluffier, or vanilla to add a touch of rich sweetness  – I recommend both!
Get the recipe: Honestly Nourished
3. 4-Ingredient Banana Pancakes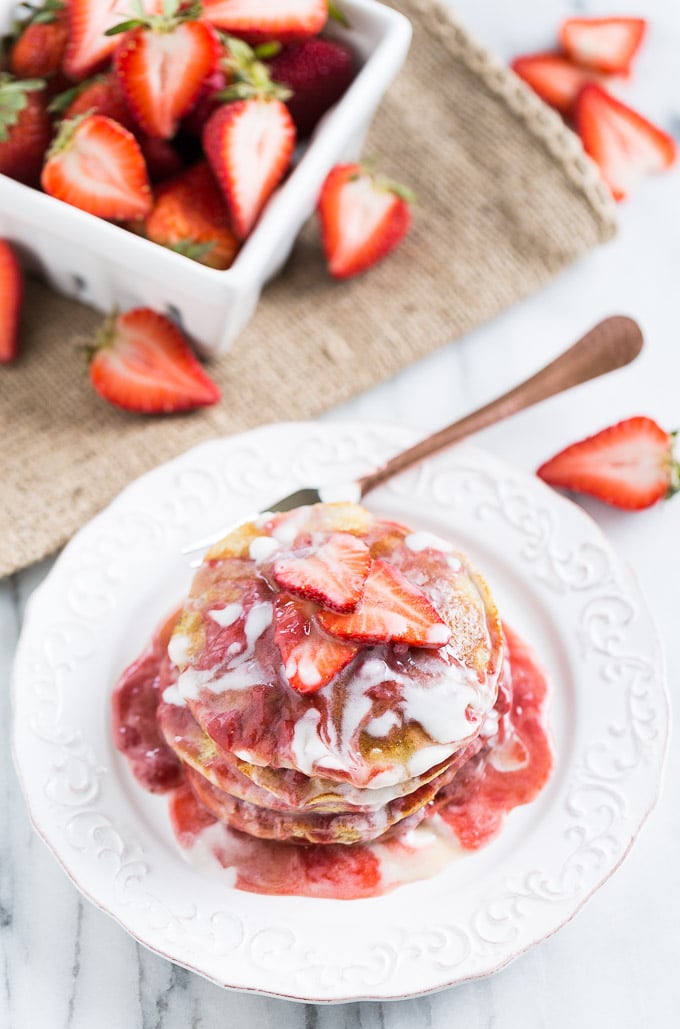 This recipe dresses up simple blender pancakes with a homemade strawberry sauce and coconut whipped cream. No one will know you're eating healthy with a dish this sinful looking.
Get the recipe: Get Inspired Everyday
4. Simple Paleo Pancakes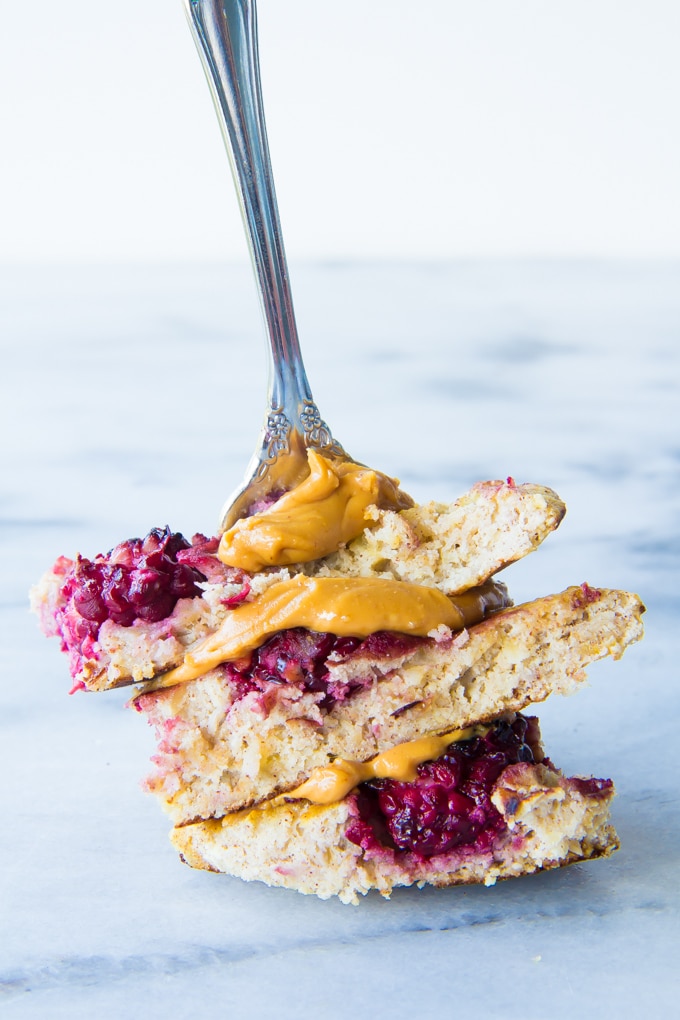 Perfectly portioned for one, this paleo pancake features a smidge of cinnamon for a flavorful twist. Go wild and throw some berries or nuts into this pancake as it cooks, then top with nut butter instead of syrup for a dose of healthy fats.
Get the recipe: Imma Eat That
5. Perfect Paleo Pancakes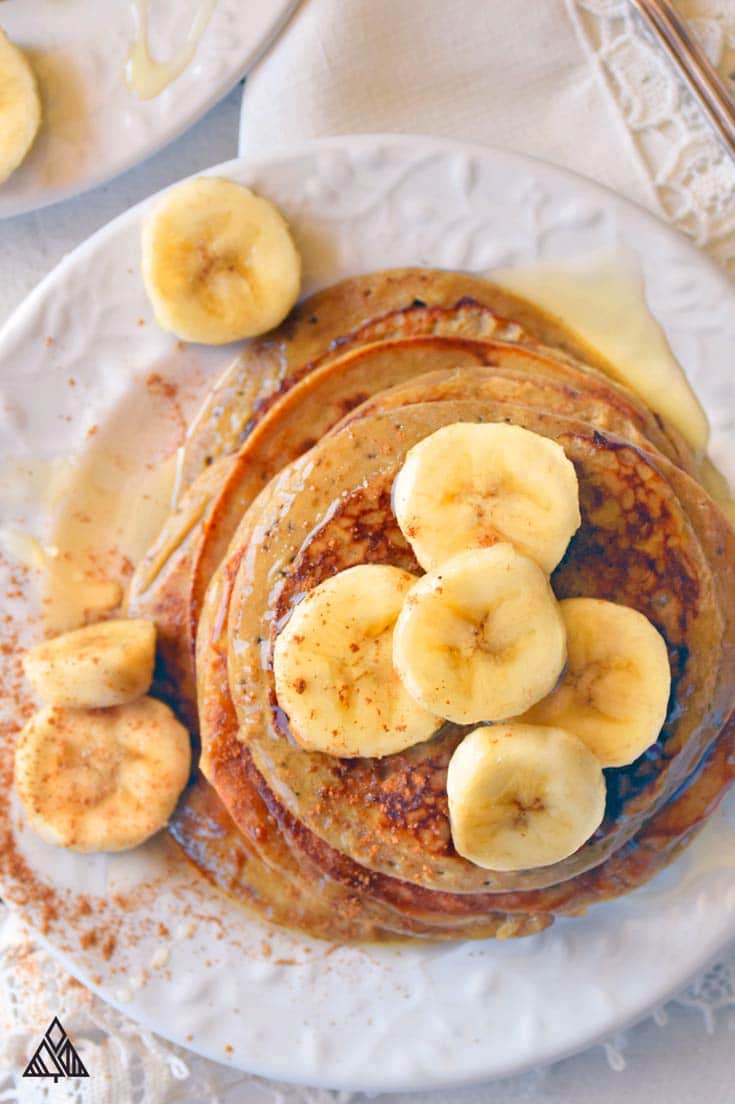 Using nut butter instead of flour, these pancakes are hearty, rich, and so delicious they don't require topping. We're not against a drizzle of local honey, though.
Get the recipe: The Little Pine
6. Paleo Pancakes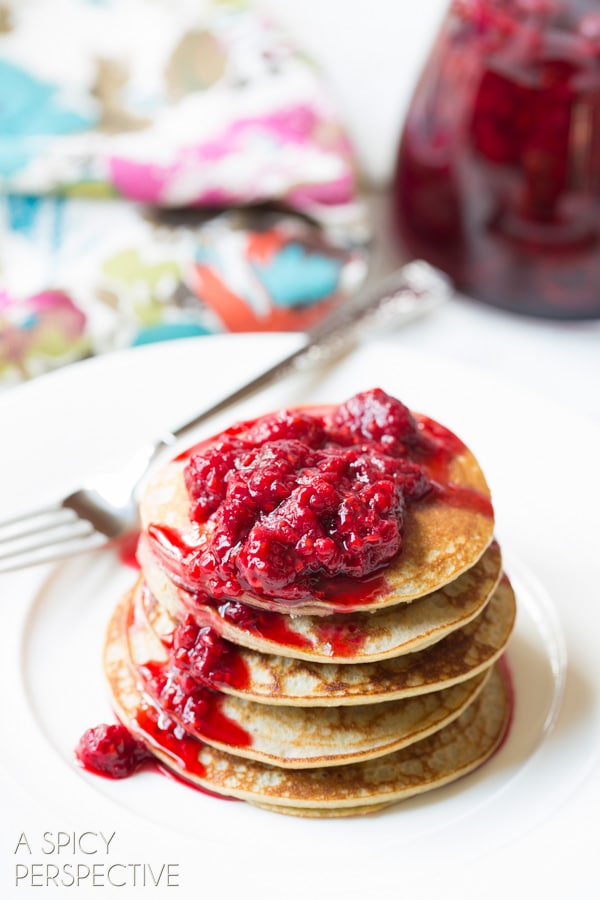 If you have a family to feed, this is the recipe for you. Just three ingredients gets you 16 pancakes, which is enough to make a weekend brunch happen in only a few minutes.
Serve alongside a dish of mashed berries for a naturally sweet treat.
Get the recipe: A Spicy Perspective
7. 3-Ingredient Paleo Pancakes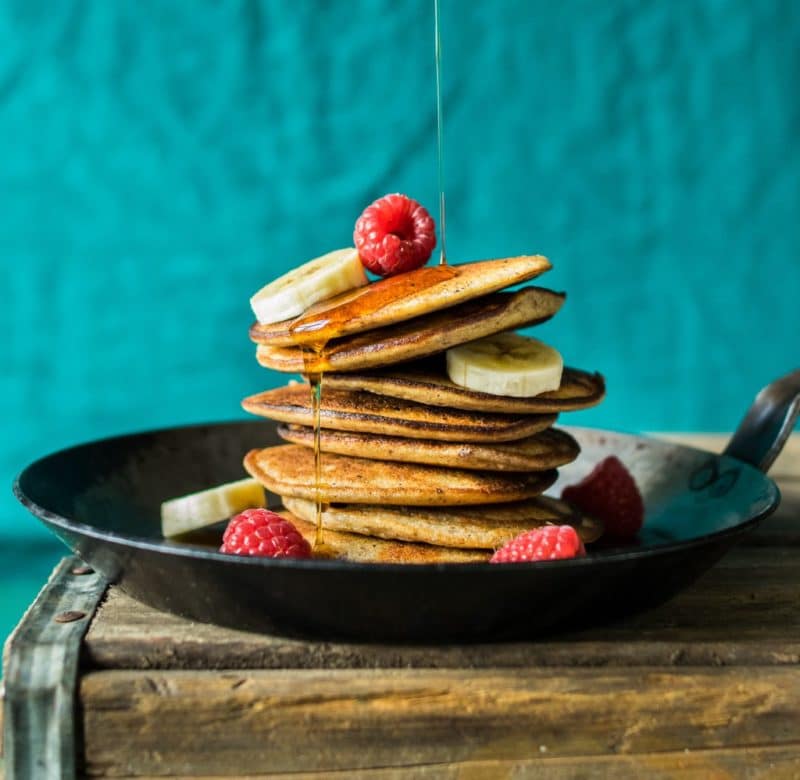 Ditching the nut butter and coconut flour and using almond flour instead, these pancakes are light, fluffy, and perfect with a drizzle of pure maple syrup. Spice them up with the optional cinnamon, or rich vanilla extract.
Get the recipe: Reclaiming Yesterday
8. Simple Paleo Banana Pancakes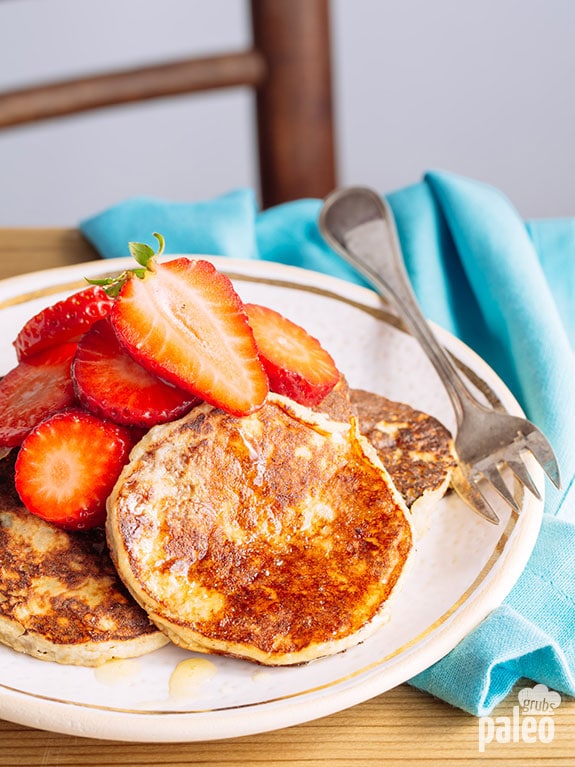 With a little bit of baking powder, you're looking at the softest, fluffiest little stack of single-serve paleo pancakes around. Serve with fresh strawberries for some breakfast bliss.
Get the recipe: Paleo Grubs
9. 5-Ingredient Paleo Pancakes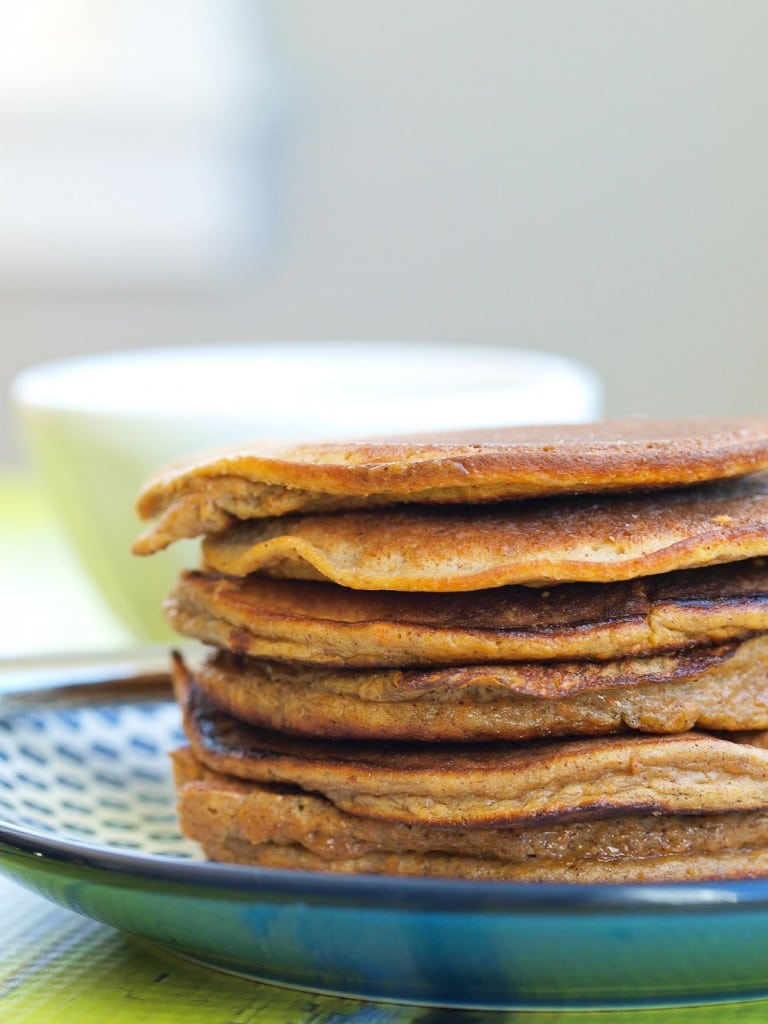 Sweet potato acts as the secret ingredient to these naturally sweet pancakes, which contain no flour at all. Serve these pancakes with a dollop of your favorite nut butter.
Get the recipe: Happy Healthy Mama
10. The Best Coconut Flour Pancakes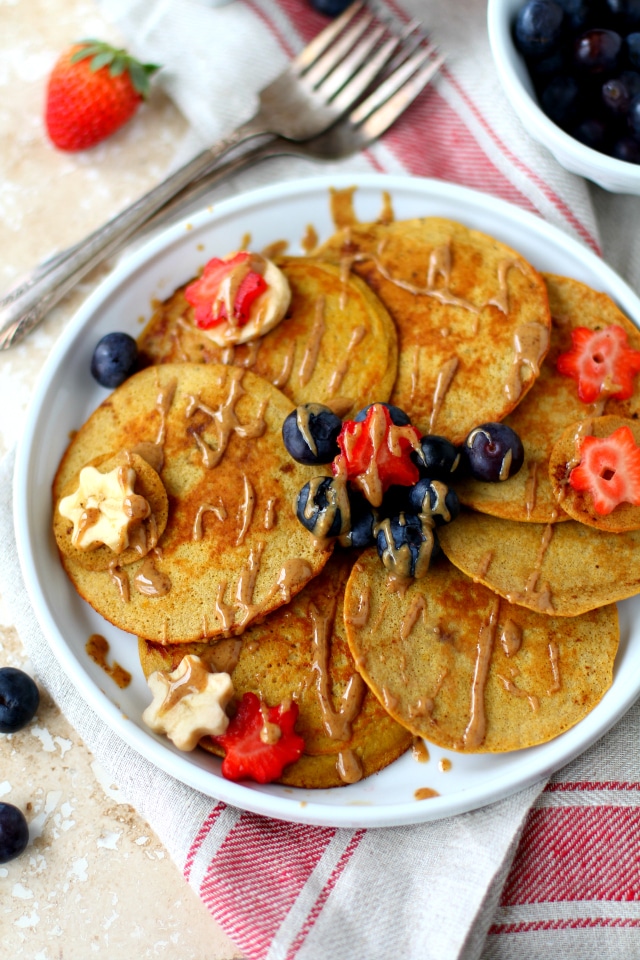 Using a combo of eggs and egg whites, these pancakes are thin, soft, and perfectly scrumptious. Add the optional vanilla and cinnamon for a boost of flavor.
Get the recipe: Kim's Cravings
11. Flourless Carrot Banana Pancakes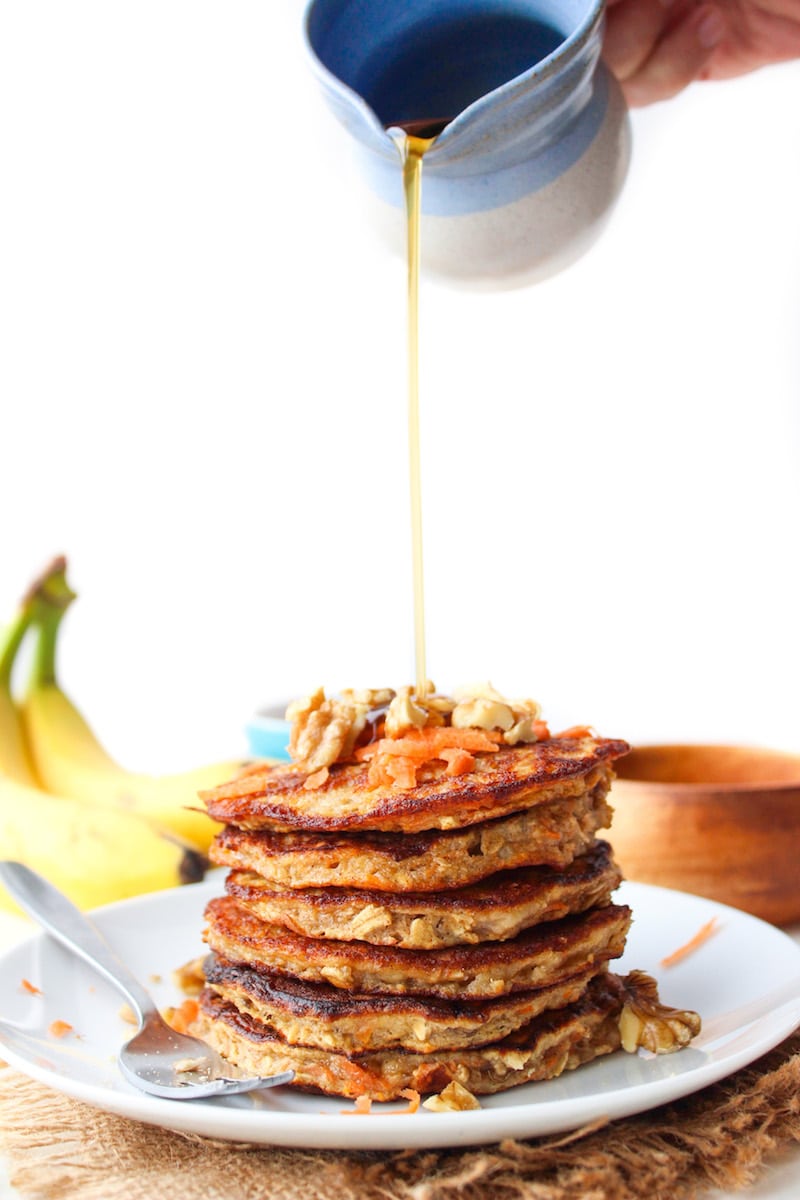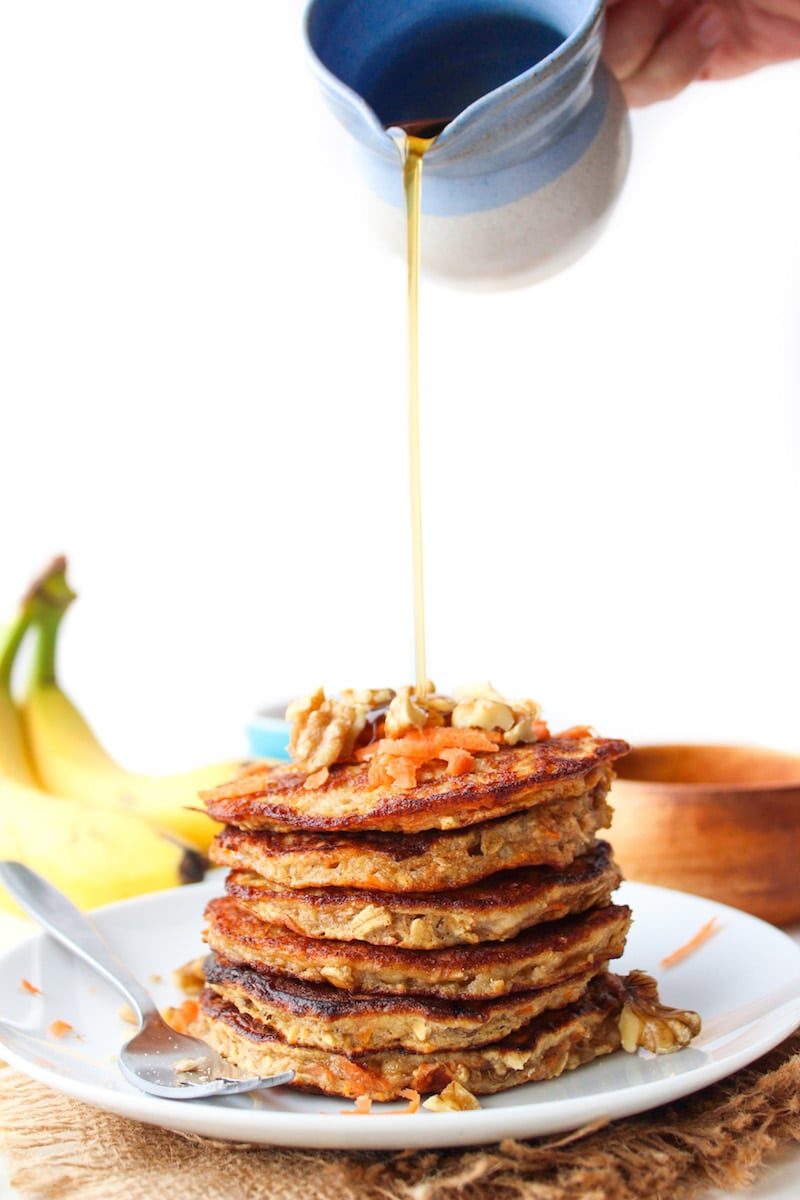 These are almost like carrot cake, but in banana pancake form. The addition of oats makes for a hearty breakfast, though we recommend using gluten-free whole rolled oats over quick oats for the most nutritional value.
Get the recipe: A Saucy Kitchen
The Best Banana-Nut Pancakes with Under 10 Ingredients
12. Gluten-Free Banana Berry Pancakes
With ground almonds, coconut flour, non-dairy milk, and super-ripe bananas, these pancakes are the epitome of thick, fluffy, and utterly delicious. Top with berries cooked down with lemon juice for an Instagram-worthy breakfast.
Get the recipe: Wallflower Kitchen
13. Fluffy Coconut Flour Pancakes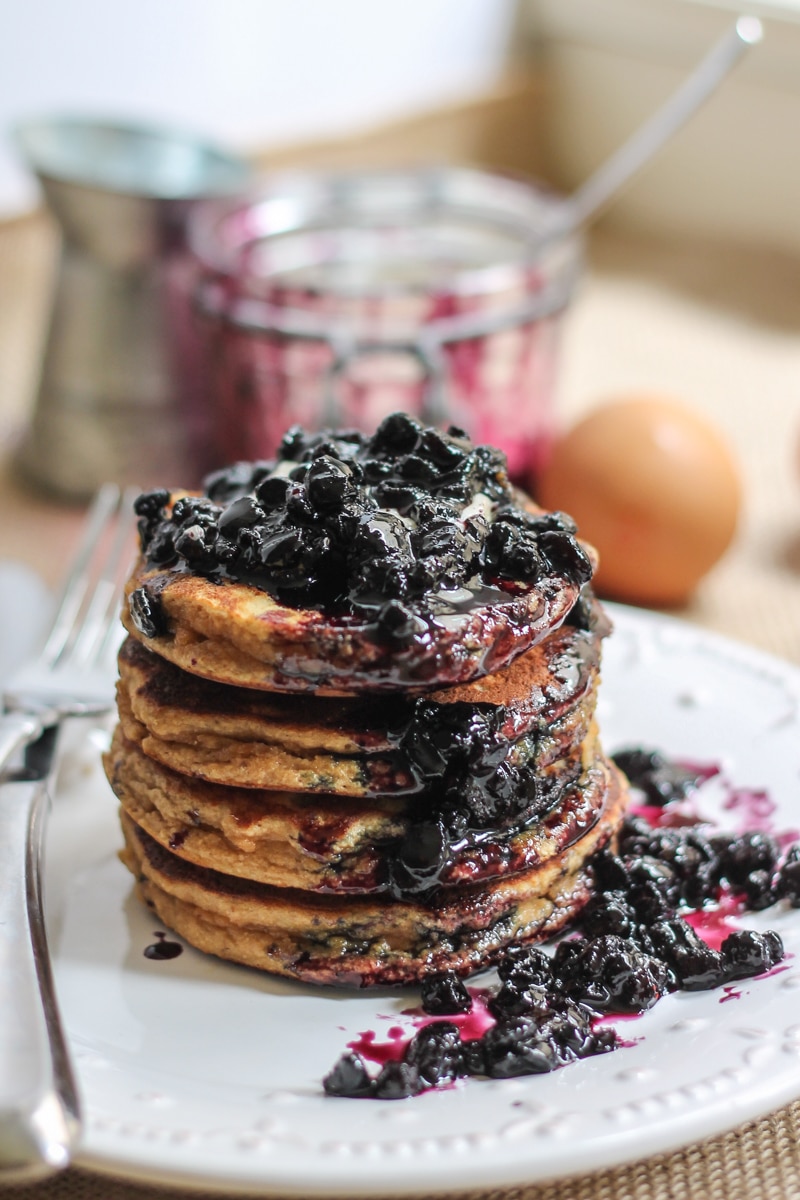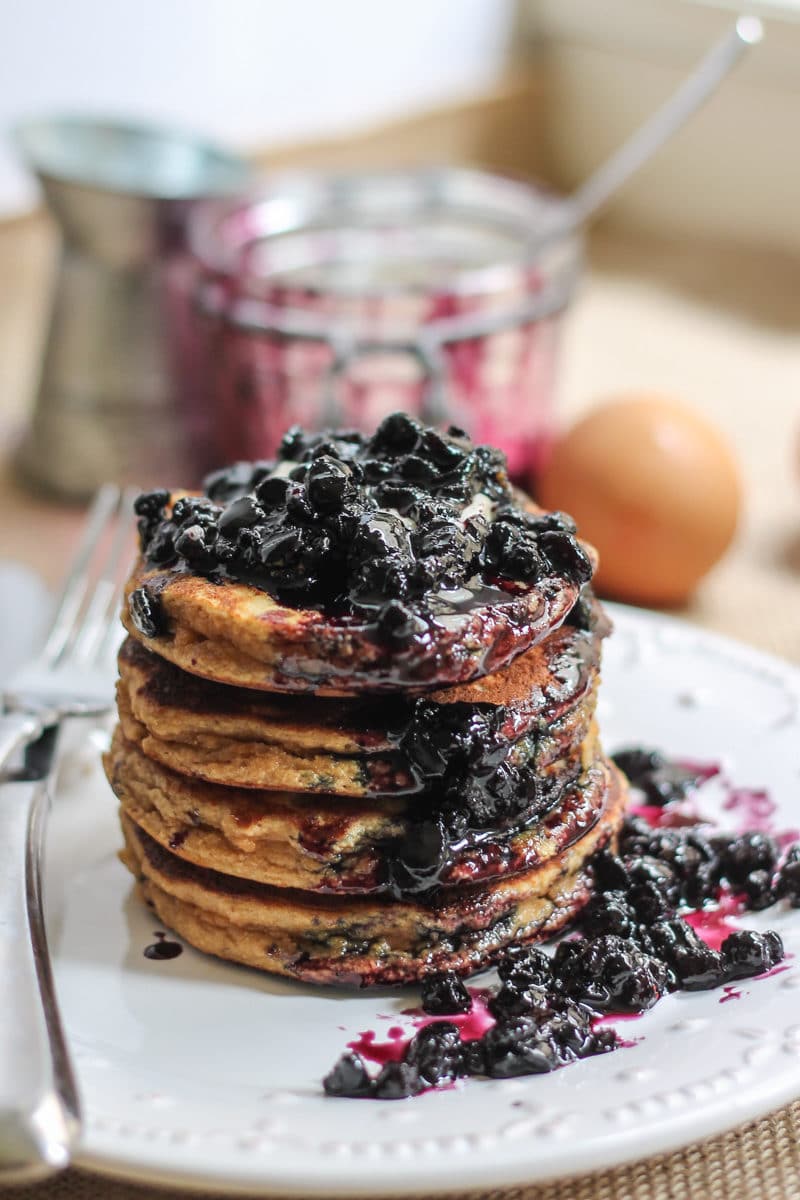 These thick pancakes topped with wild organic blueberries have us drooling in delight. Using both coconut flour and nut butter, these pancakes are both fluffy and creamy.
Get the recipe: Ambitious Kitchen
14. Paleo Banana Pancakes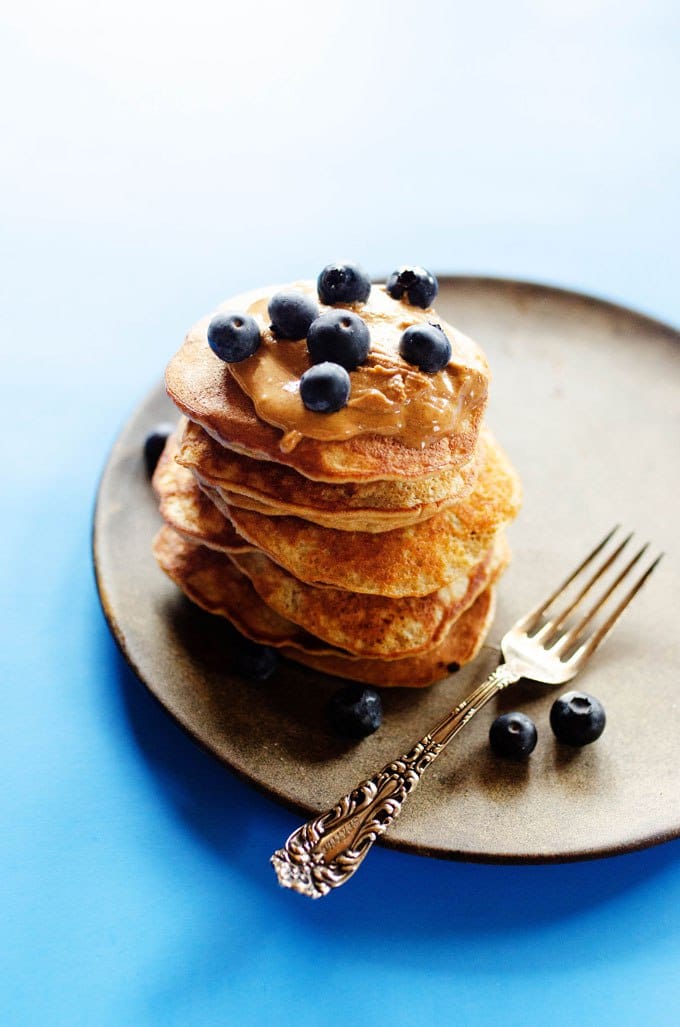 An almond lover's dream come true, these pancakes feature both almond meal and almond butter. Power up even more with warm, melty almond butter drizzled over top with fresh blueberries.
Get the recipe: Live Eat Learn
15. Healthy Harvest Pancakes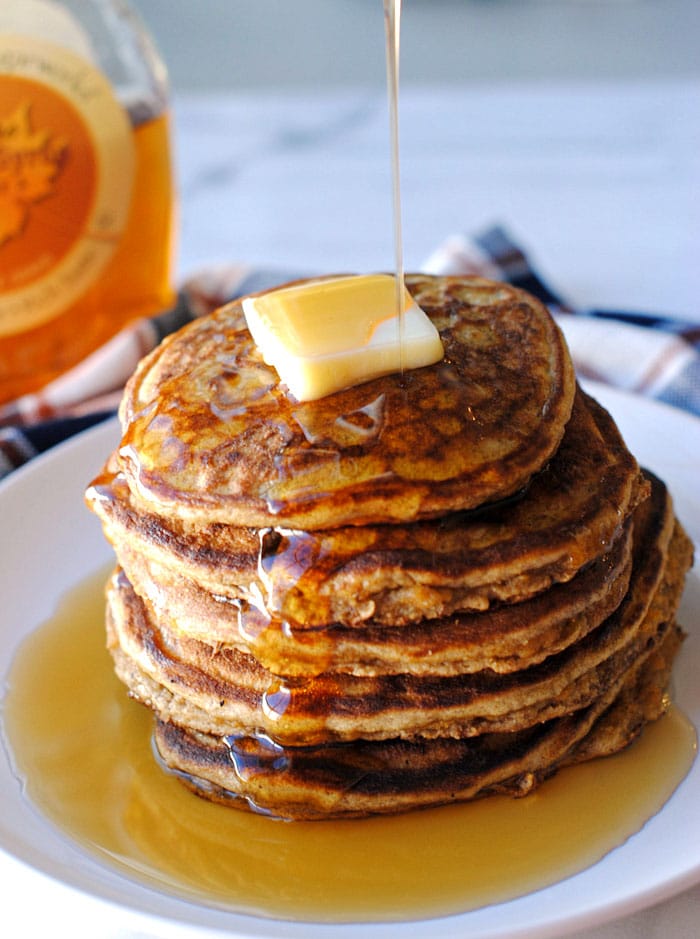 With a bit of cinnamon and nutmeg, these banana pancakes taste like a pumpkin-spice dream, without the pumpkin, of course.
Get the recipe: Eat Yourself Skinny
16. Fluffy Coconut Flour Blueberry Pancakes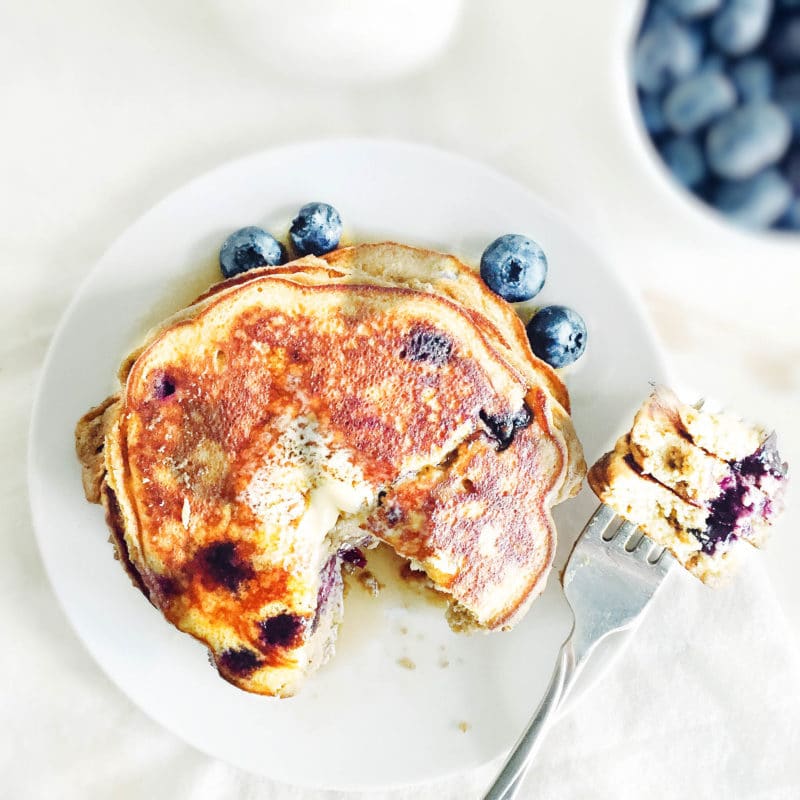 Sunflower seed butter and honey add a lovely, mild sweet-and-salty flavor to fluffy pancakes studded with wild, organic blueberries.
Get the recipe: Simply Taylor
17. Gluten-Free Fluffy Banana Pancakes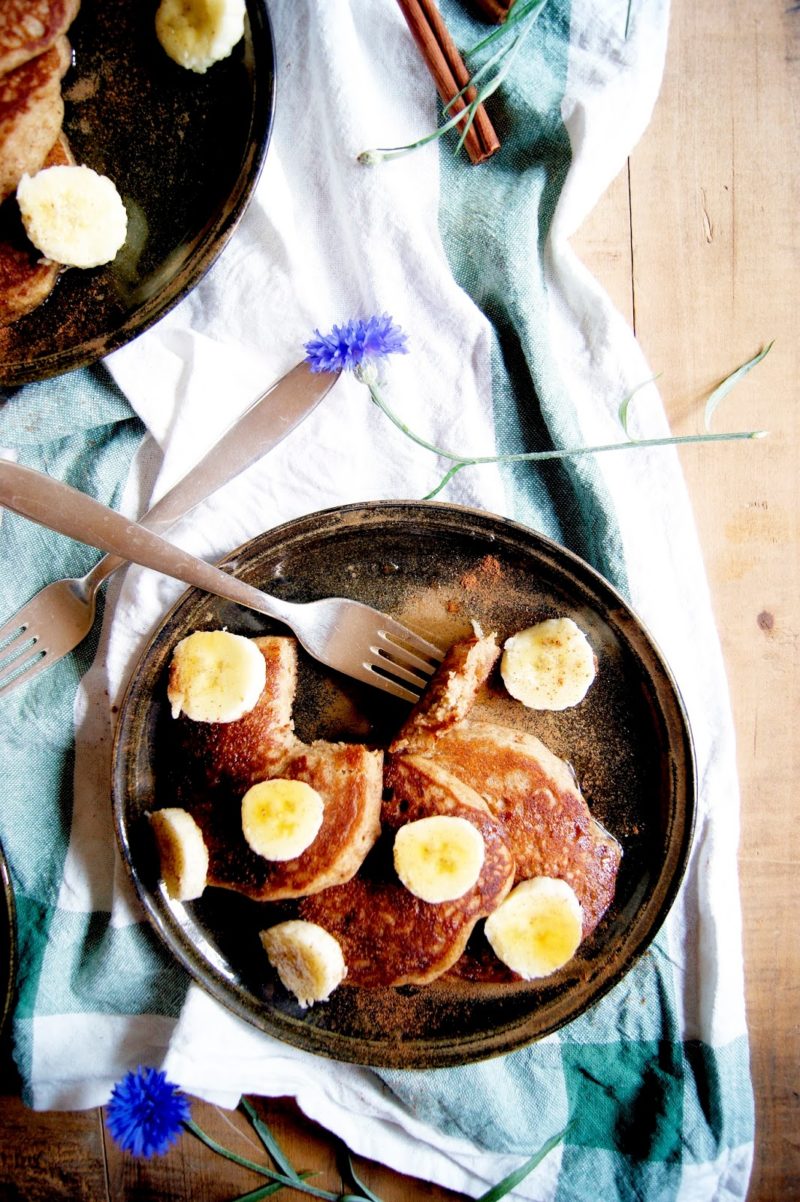 Buckwheat flour and arrowroot powder create thick, airy pancakes, with a delicious cinnamon flavor that'll have you making this recipe on the regular.
Get the recipe: Occasionally Eggs
Easy, Tasty, Healthy Pancakes
If you have the bananas, we have the inspiration. Try out one of these simple and amazing banana nut pancake recipes for your next breakfast endeavor.
Healthy Eating Made Simple
Tired of the "what's for dinner" grind? Get your copy of The All-Day Energy Diet Community Cookbook and load up on dozens of healthy, clean, gluten- and dairy-free recipes!
Naturally low in sugar and high in taste, the meals featured in the cookbook are designed to be ready to eat in a snap.
You can get your cookbook – for FREE! – by clicking the image below.