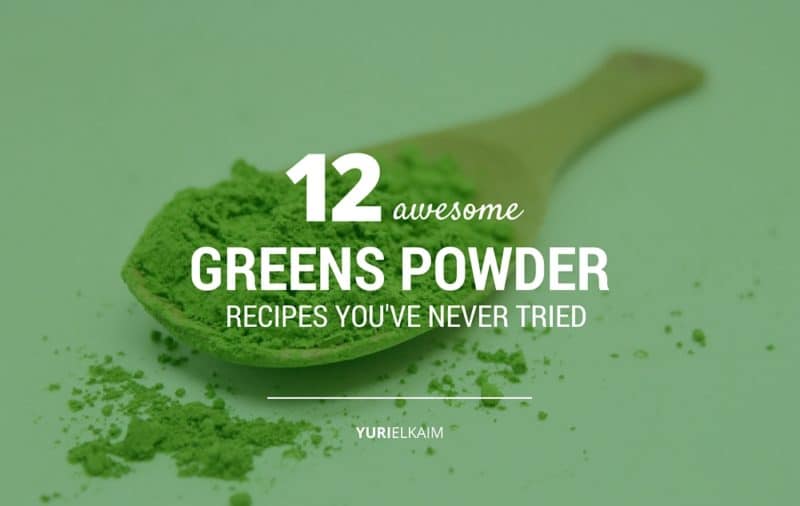 Have you been swishing a greens powder into a glass of juice or smoothie everyday, and feeling a little blah about it all? You need some greens powder recipes to make you feel excited about the awesomeness in your glass.
Daily supplements can turn into a real drag, especially with something like a superfoods greens powder. Though many of the products on the market try to mask the pronounced flavors of fishy spirulina and earthy wheat grass, it still sometimes feels like you're gagging down a scoop full of alfalfa.
If you love the profound health benefits a daily alkalinizing greens powder supplement can offer, but need to switch up your regular routine of shake-and-glug, I've got some great ideas for you.
First up, 12 incredibly creative ways to add greens powder to delicious everyday menu items. You're going to love these recipes—each one is taste-tested and kid approved.
12 Delicious New Ways to Enjoy Greens Powder
You don't have to drink a glass of green sludge every morning to superboost your diet with alkalizing greens powder! Mix it into these twelve greens powder recipes instead, and you'll get all the nourishing benefits of green ultimate superfoods delivered in deceptively tasty treats. Enjoy!
1. Add a Scoop to Pancake Batter
Pancake batter is a great way to get more greens. Try adding more greens powder to your day by stirring them into this delicious, gluten-free pancake recipe.
[Related: 3-Ingredient Paleo Sweet Potato Waffles (or Pancakes)]
[yumprint-recipe id='72']
2. Make On-The-Go Gummies
Here's a fun, new way to take your greens superfood on-the-go! Stir the greens powder into this simple recipe for homemade fruit snack gummies and you'll have a portable snack ready to enjoy anytime!
[yumprint-recipe id='73']
3. Make Green Eggs for Breakfast
Adding greens powder to your eggs is a delicious, savory way to enjoy health benefits of greens, and take a break from the morning guzzle. You may not have thought about eggs when you came looking for greens powder recipes, but here's one delicious way to make "green eggs" with your greens powder.
[yumprint-recipe id='74']
4. Mix into Cereal
A hot bowl of quinoa breakfast cereal is the perfect place to stir in your greens. Top with fresh berries, crunchy almonds, and a drizzle of sweet honey for a burst of flavor that complements the vanilla and cinnamon already in your greens powder.
[yumprint-recipe id='75']
5. Make It into Soups
Add greens powder to your soups—especially no cook blender soups, which keeps all of the life-giving properties intact. This simple, spicy Thai inspired soup is a great way to whisk your greens into lunch or dinner!
[yumprint-recipe id='76']
6. Mix It into Mousse
Did you know there are greens powder recipes specifically for desserts? Your greens will taste great in this surprising superfood mousse. The deep flavor of the chocolate masks much of the greens' flavor. It makes for a great way to enjoy more greens while also enjoying dessert!
[Related: The Easiest Black Bean Brownies Recipe Ever]
[yumprint-recipe id='77']
7. Make Your Own Energy Bites
It's easy to make a batch of your own Energy Bites! Like protein-packed truffles, the greens powder stirs right into this simple recipe. Enjoy them after workouts, or sneak them into your lunch box..
[yumprint-recipe id='78']
8. Stir It into Salad Dressing
Drizzling greens powder over kale, spinach, and other crunchy veggies is a natural way to enjoy them! This simple green vinaigrette tastes great on over all your favorite salad combos.
[yumprint-recipe id='79']
9. Dip into It!
Make a simple party dip with this deliciously creamy recipe. It tastes delicious on veggies and makes it easy to enjoy all the benefits of greens powder… no sipping needed!
[yumprint-recipe id='80']
10. Blend It into Hummus
Superboost traditional hummus by stirring greens powder into a store-bought tub of hummus. Better yet, make your own! All you need are a few basic ingredients and a blender or food processor.
[yumprint-recipe id='81']
11. Prepare It with Pesto
Adding greens powder to an already green pasta sauce is a great way to boost the nutritional content of your pasta without even knowing it!
[yumprint-recipe id='82']
12. Mix It into Chocolate
Stirring greens powder into chocolate makes it easy to boost the nutrition of even the most decadent desserts. You can enjoy bites of delicious chocolate bark knowing you're also getting alkalizing greens into your body, as well!
[Related: Easy Chocolate Fudge Recipe]
[yumprint-recipe id='83']
Greens Powder FAQ
Why use a 
greens
powder?
There are far too many benefits to list, but in general the benefit is that most people do not eat enough vegetables and fruit, which means their body is overly acidic. This is the foundation for most disease.
When to take a 
greens
powder?
It doesn't matter so long as you just take it.
What does a
greens

powder

taste like?

I'll be honest: most

greens

powders

taste like fresh-cut lawn or pond water.

That's exactly why I developed my Energy

Greens, 

which is the best-tasting and highest quality

greens

powder

on the market. It has a delightful taste with a hint of cinnamon and vanilla that enhances the flavor (and smell) even further.
How much
greens

powder

should I drink per day?

Let's keep it simple and go with 1-2 tablespoons added to your water or a smoothie per day.
Does heating or cooking greens powder damage its antioxidant content?
Though the most potent way to enjoy your greens is in their raw, uncooked state, you'll still get a hefty dose of nutrition by adding them to "heated" meals.
Adding greens to warmed or cooked foods boosts daily intake. So, if you have a hard time drinking them straight, I recommend adding them to other recipes. Eating greens—even heated greens powder—is always more beneficial than not eating greens at all.
Power up Your Greens Powder Recipes Even More
With so many incredible ways to enjoy your alkalizing, health-boosting greens everyday, now all you need in a tin of the best tasting greens on the market. My Energy Greens boast 8 incredible superfoods, and acid-blasting, 100% organic greens. Learn more here.