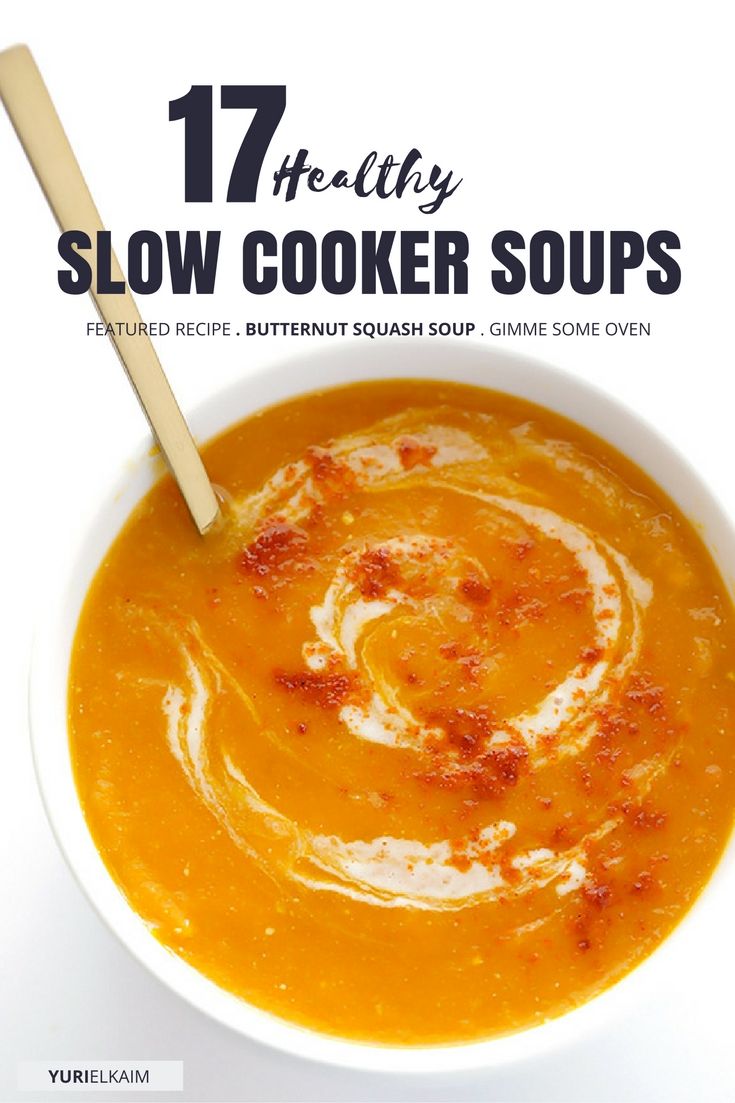 When the temperature starts to drop, there's nothing better than a hot bowl of soup.
Satisfying, rich, and filling, a good cup of soup is a cold weather tradition for my family. My favorite way to get my soup fix is through slow cooker soups.
These soups are awesome because they require minimal effort. Just load the ingredients into your crock pot, turn it on, and cook. Come back a few hours later and you have a mouthwatering meal ready to be served.
There are also tons of healthy varieties of slow cooker soup available to fit any kind of craving. From butternut squash to seafood stew to traditional Texas chili, there's always a flavor that will satisfy your taste buds.
Here are a few of my favorite nutritious and delicious slow cooker soups, stews, and chilis.
17 Good-for-You Slow Cooker Soups
1. The Best Detox Crockpot Lentil Soup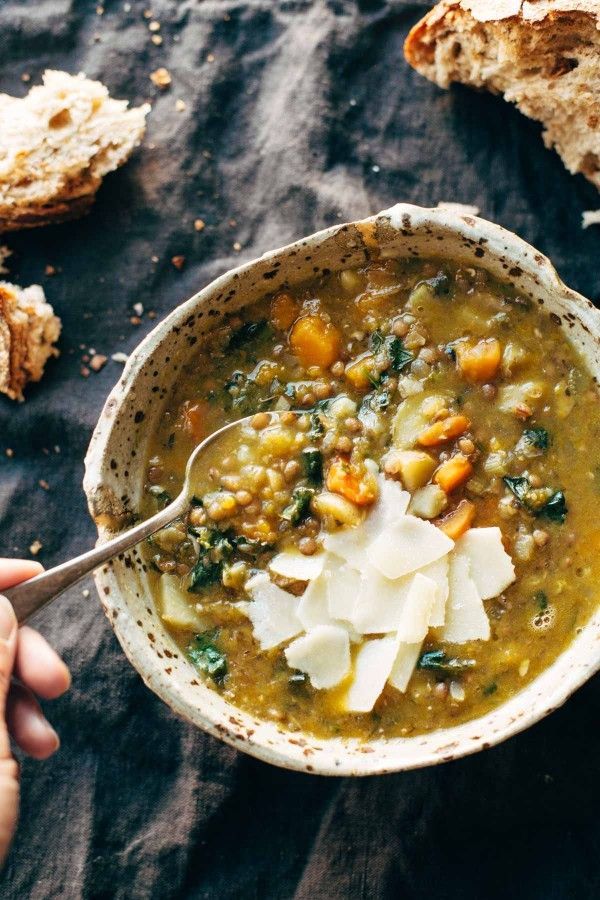 This vibrant soup is as delicious as it is colorful.
Brimming with nutrients, this soup features some healthy hard-hitters, like kale, onions, garlic, and carrots. Plus, it's high in fiber and protein, making it the perfect dinner choice.
Find the recipe here: Pinch of Yum
2. Slow Cooker Tomato, Kale, and Quinoa Soup
This slow cooker soup strikes just the right balance between hearty, nourishing, and delicious.
Even the most novice of chefs can instantly perfect this recipe; just load the ingredients into the crockpot, cook, and enjoy!
Find the recipe here: Damn Delicious
3. Slow Cooker Butternut Squash Soup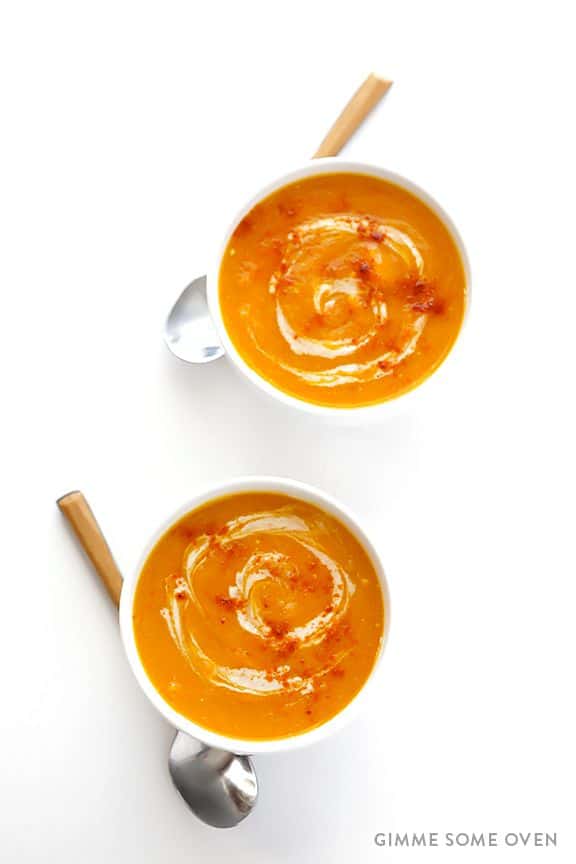 Naturally vegan and gluten-free, this creamy butternut squash soup makes the perfect autumn meal.
Coconut milk gives this recipe its velvety texture while a sprinkle of cinnamon and nutmeg add the perfect amount of warmth. Plus, this recipe features a secret ingredient – a Granny Smith apple – for an extra zing.
Find the recipe here: Gimme Some Oven
4. Vegan Slow Cooker Black Bean Soup
Full of plant-based protein and totally vegan, this black bean soup comes together in a cinch and rivals the authentic flavor you'll find at a restaurant.
The best part of this soup is that it's full of protein and fiber. The black beans alone provide a whopping 16 grams of protein and 11.5 grams of fiber per serving, meaning you'll be feeling satisfied for hours.
Find the recipe here: Emilie Eats
5. Vegan French Onion Slow Cooker Soup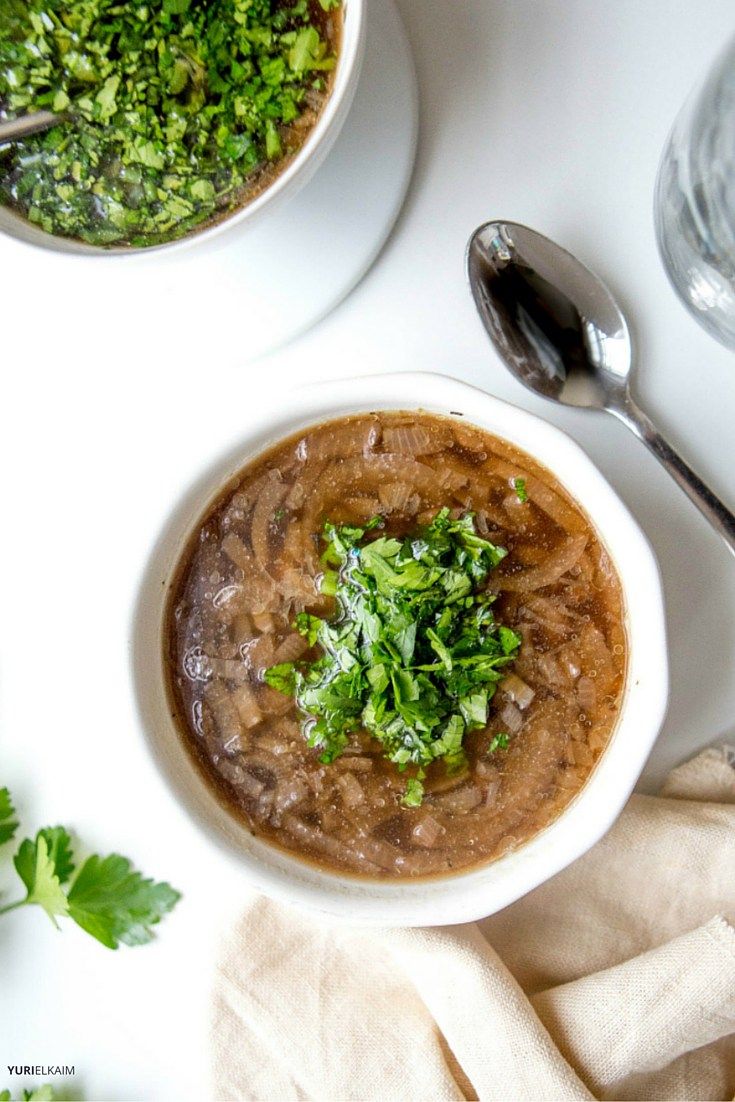 Healthy and light, a steaming bowl of this soup is diet-friendly with just 44 calories.
Besides that, it also couldn't get any easier. Just three ingredients are necessary to cook up a batch of this flavorful French Onion soup.
Find the recipe here: Yuri Elkaim
6. Crock Pot Beef Stew
This is an excellent easy slow cooker soup that will quickly become a family favorite.
Rich in flavor, this dish is also equally rich in nutrition. Loaded with veggies like onions, garlic, mushrooms, celery, and peas, this soup proves that healthy can taste good.
Find the recipe here: Iowa Girl Eats
7. Slow Cooker Lemon Rosemary Lentil Soup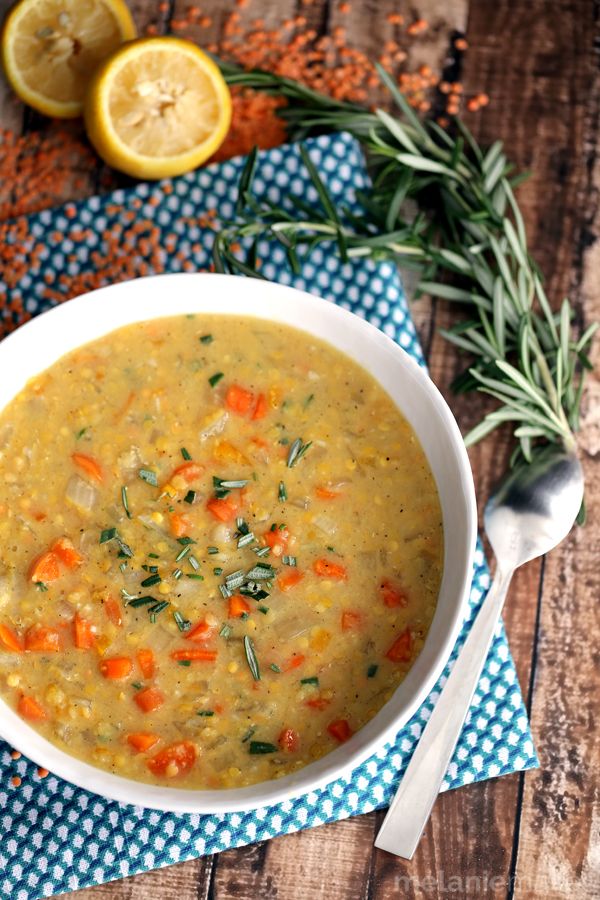 Very little effort is required to create this nourishing and delicious slow cooker soup.
Filled with veggies like onions, carrots, and peppers, this soup doesn't skimp when it comes to nutrition. Finished off with fresh rosemary and a zesty lemon, this recipe sure doesn't skimp on flavor either.
Find the recipe here: Melanie Makes
8. Busy Mom's Slow Cooker Chicken Noodle Soup
Chicken noodle soup is a classic, and this version makes it even easier, healthier, and tastier.
Using egg noodles in place of regular noodles keeps this recipe gluten-free without sacrificing flavor. Just a few simple ingredients come together to make this tasty soup that is sure to be a hit with your family.
Find the recipe here: My Gluten-Free Kitchen
9. Slow Cooker Thai Pumpkin Soup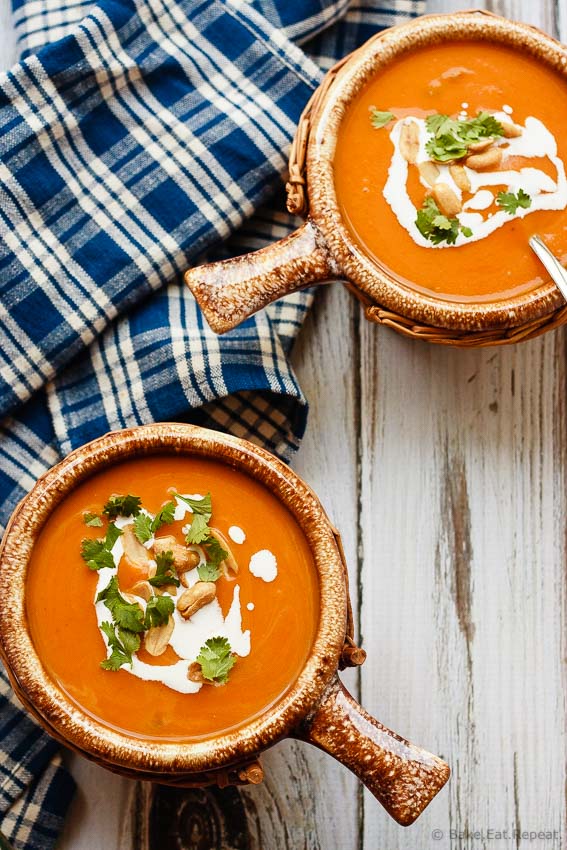 Creamy pumpkin coupled with a hint of spicy Thai gives you this incredible creation.
This recipe uses a squirt of lime juice, a dollop of sriracha sauce, and a handful of cilantro to produce an intense combination of flavors. Top it off with a few peanuts and serve; your guests will be seriously impressed.
Find the recipe here: Bake Eat Repeat
10. 5-Ingredient Pumpkin Curry Soup
When it comes to slow cooker soups, it doesn't get much easier than this.
Just five ingredients are needed to create this flavor-packed pumpkin soup. Brimming with vitamins A and C, this pumpkin soup is light on the stomach but thick and creamy on the taste buds.
Find the recipe here: Go Dairy Free
11. Gluten-Free Zuppa Toscana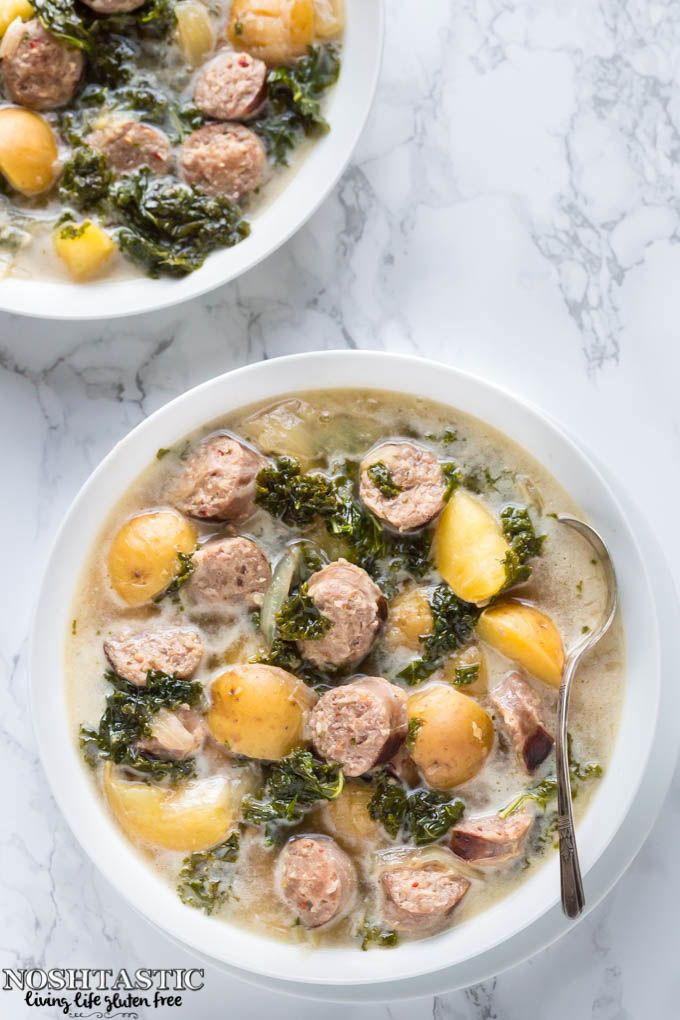 Putting a healthy twist on the popular Zuppa Toscana, this delicious soup is sure to satisfy.
This recipe uses full-fat coconut milk in place of heavy cream as a healthier alternative. Filled with Italian sausages, bacon, kale, and potatoes, you'll be hard-pressed to find someone who won't enjoy this soup.
Find the recipe here: Noshtastic
12. Slow Cooker Seafood Stew
For an interesting twist on traditional slow cooker recipes, try this slow cooker seafood stew.
Cooked in a tomato-based broth and seasoned to perfection, this seafood stew provides a burst of flavor with every bite.
Find the recipe here: I Heart Naptime
13. The Garlic Soup for Colds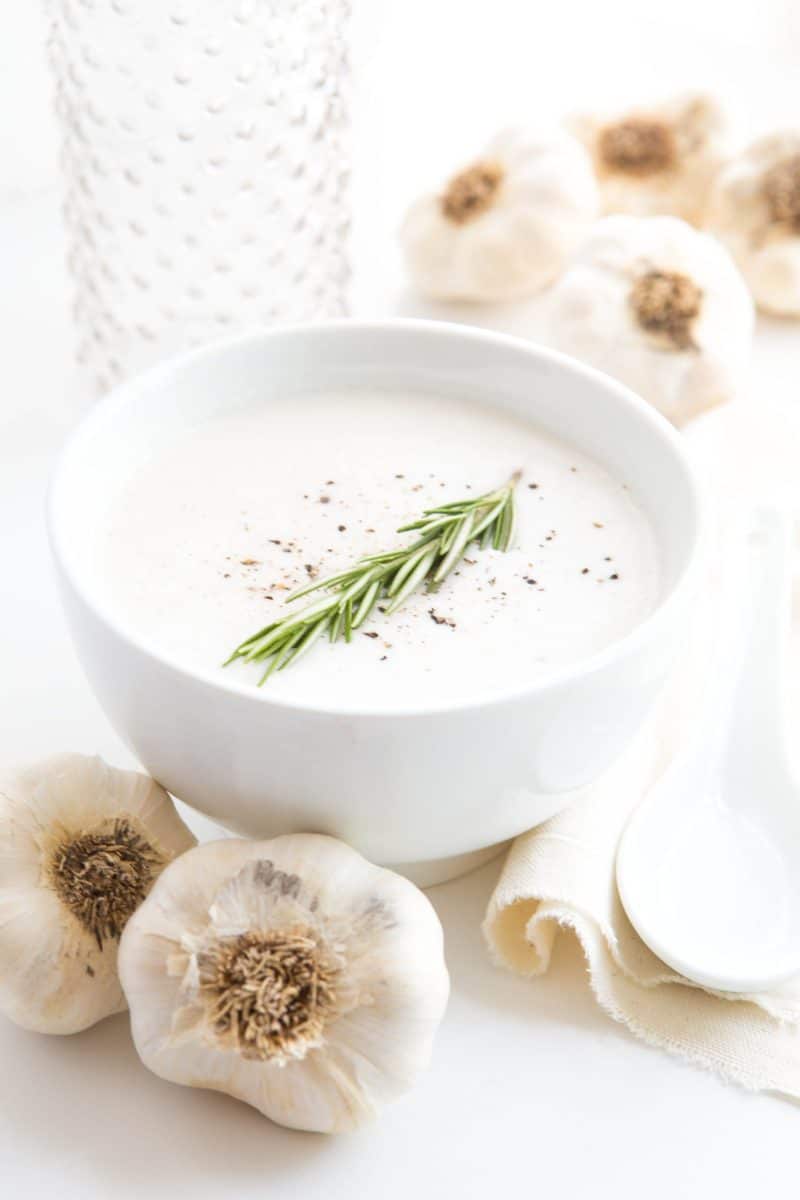 Any time I feel a cold coming on, this is my go-to recipe for keeping the sniffles at bay.
Packed with the potent health-protective powers of garlic, this soup is both healthy and delicious. Add in a few cloves of raw garlic just before serving to really maximize the cold-fighting potential.
Find the recipe here: Yuri Elkaim
14. Slow Cooker Lentil Soup with Baked Sweet Potato
Looking for a soup that will leave you feeling full and satisfied? Look no further.
A cup of lentils gives this soup the fiber and bulk needed to fill you up while sweet potatoes take it to the next level in both flavor and nutrition.
Find the recipe here: Veggie Primer
15. Slow Cooker Black Bean Soup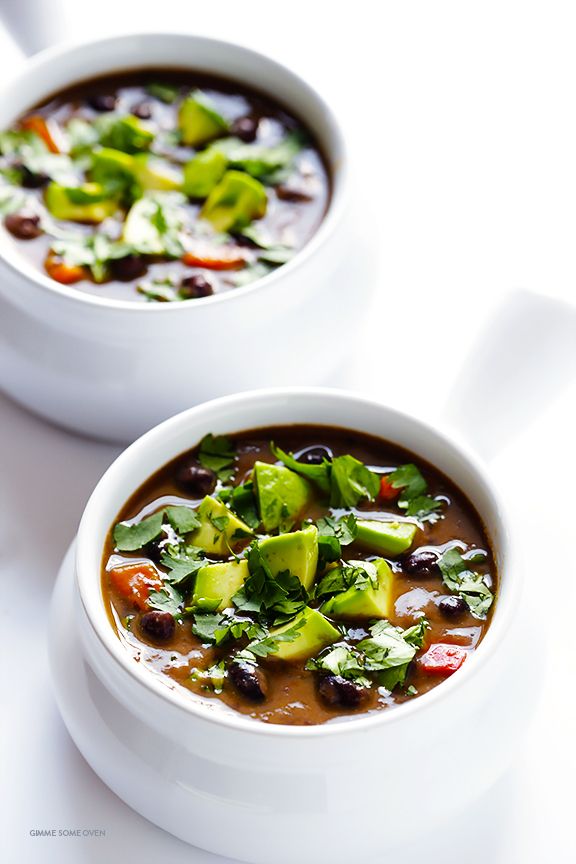 This recipe takes the cake when it comes to vegan comfort food.
Loaded with fiber and protein, this tasty soup meets all the requirements to make it a nutritious addition your dinner.  Top it with some fresh cilantro and diced avocados and your guests will definitely be coming back for seconds.
Find the recipe here: Gimme Some Oven
16. Slow Cooker Butternut Squash & Sweet Potato Soup
Get ready for a new slow cooker staple to add your dinner rotation!
Not only is this soup simple to make, it's also delicious and healthy. Fresh ginger paired with a dash of turmeric and a drizzle of pumpkin seeds really boosts the anti-inflammatory benefits of this soup.
Find the recipe here: Life Made Sweeter
17. Crock Pot Sweet Potato Chipotle Chili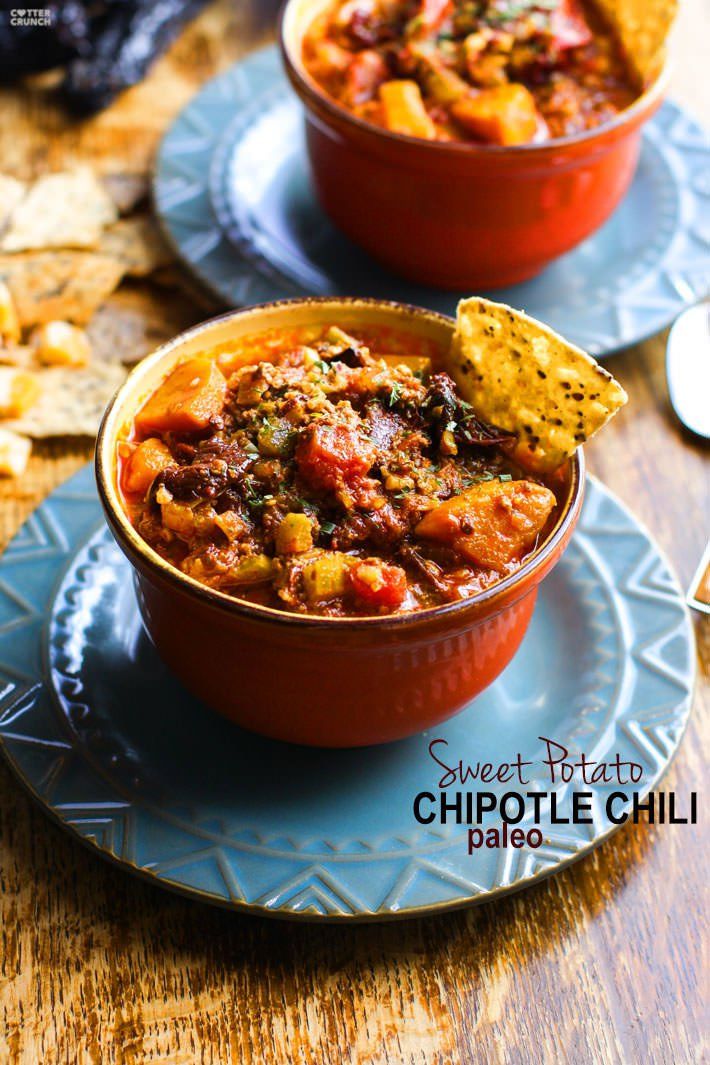 Take a bowl of traditional Texas chili, give it an upgrade, and this is what you get.
The smoky flavor of chili paired with the sweetness of sweet potatoes makes one mouthwatering combination. This recipe kicks it up a notch by adding some chipotle in adobo for an extra boost of spiciness.
Find the recipe here: Cotter Crunch
Minimal Effort, Maximum Nutrients
Try a few of these slow cooker soups for yourself and see how simple (and tasty!) soup for dinner can be.
Add your ingredients, rev up your crock-pot, and enjoy a hearty bowl of soup just a few hours later. My recommendation? Make a big batch: you'll definitely want a second helping.
Eating Right Made Easy
Looking for more simple and healthy meals? Check out my All Day Energy Diet Community Cookbook.
It features 67 mouthwatering recipes that were created by people just like you, who were looking for delicious and nutritious solutions for busy mealtimes.
Each recipe is gluten- and dairy-free, as well as low in allergens and sugar.
You can get your copy of the cookbook – for FREE! – by clicking the banner below.