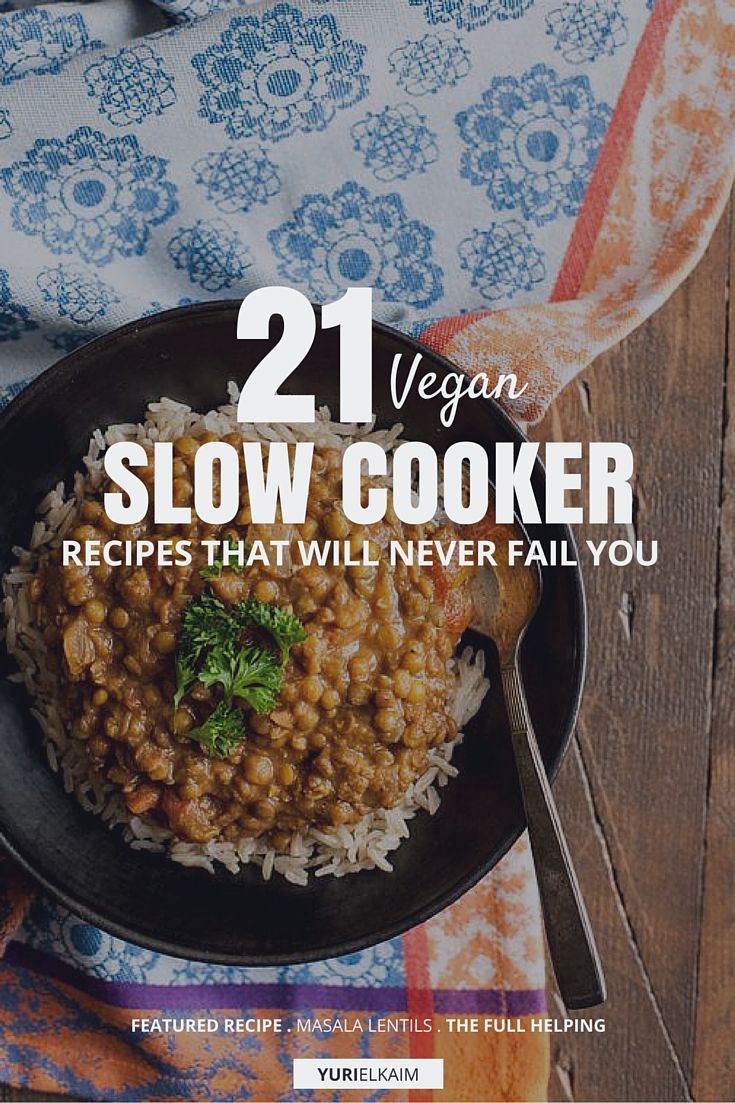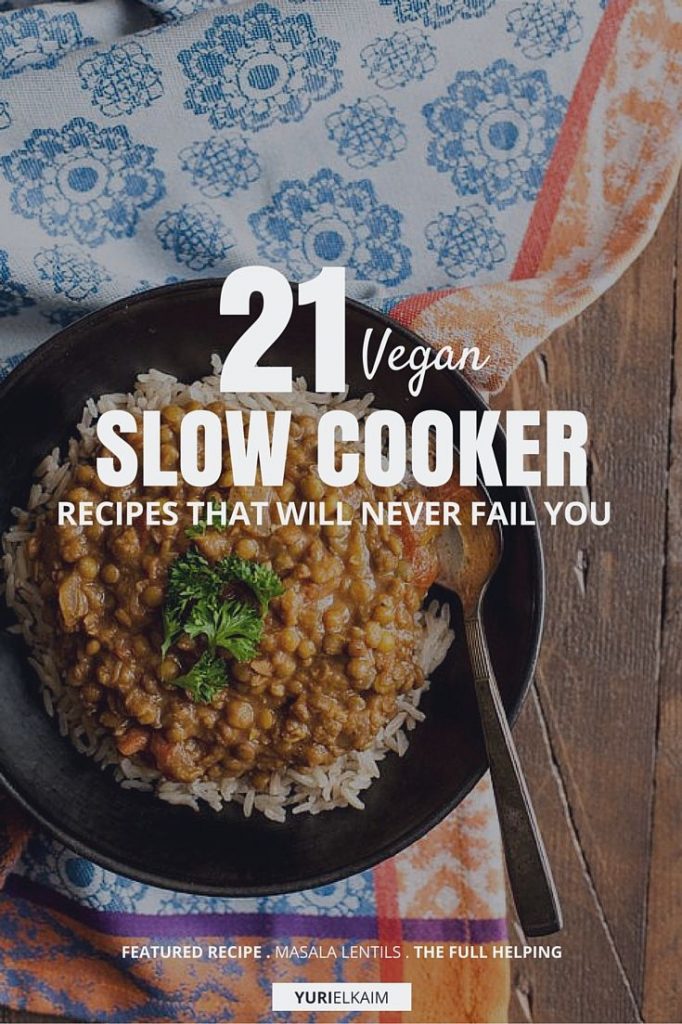 Who has time to cook healthy veggie-packed meals? You do – when you put your slow cooker to work for you.
Often when we think of slow-cooker meals we think of heavy, creamy, fat-laden comfort foods.
The truth is, slow cooker meals can be comforting AND healthy, not to mention the fact they offer the ultimate in efficiency. Simply toss in some fresh veggies and plant-based protein, and come home to a delicious, simmering meal.
Plus, you'll have leftovers all week.
What does a healthy vegan slow cooker meal look like? Here are the common denominators:
Plant-based protein to keep you feeling full and satisfied.
Fiber-filled foods to not only help you stay full, but also to help stabilize blood sugar levels (1) and lower cholesterol (2).
Nutrient-dense veggies to give you vitamins, minerals, and antioxidants.
We've scoured the web for this roundup of slow cooker healthy dinner recipes – depending on your appetite, you'll have plenty of leftovers for lunch the next day and the day after that, too!
21 Vegan Slow Cooker Recipes
1. Slow Cooker Vegetarian Chili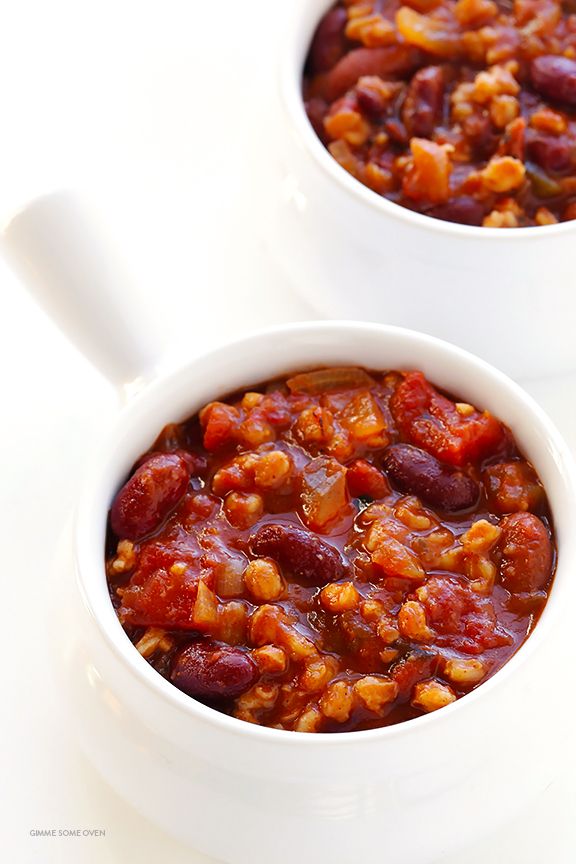 This chili is a quick and easy vegan recipe that feeds a crowd. It gets both its protein and its thickness from quinoa, and you can load it up with your favorite toppings like avocado, cilantro, green and red onions, and freeze any leftovers for another meal.
Find the recipe here: Gimme Some Oven
2. Slow Cooker Split Pea Soup
This is not another ho-hum split pea and ham soup. While it doesn't contain meat, it does have tons of flavor and it's both vegan and vegetarian-friendly.
Split peas don't take a lot of time to cook, but letting this soup simmer in the slow cooker allows for all the flavors to meld together while giving you a break from the kitchen.
Find the recipe here: Tabs and Tidbits
3. Mediterranean Eggplant Salad
Keep your oven off on a hot summer day and break out your slow cooker. This Mediterranean Eggplant Salad is served cold, and has a fantastic, mildly smoky slow-roasted flavor. Perfect to take along on a picnic as a way to introduce your friends to delicious vegan food.
Find the recipe here: Apron Strings
4. Vegan Slow Cooker Black Bean Soup
This soup is simple, but it's also incredibly filling and nutritious. All you do is chop the ingredients and throw them in the slow cooker – hours later, you feel like an amazing chef.
Find the recipe here: Emilie Eats
5. Slow Cooker Masala Lentils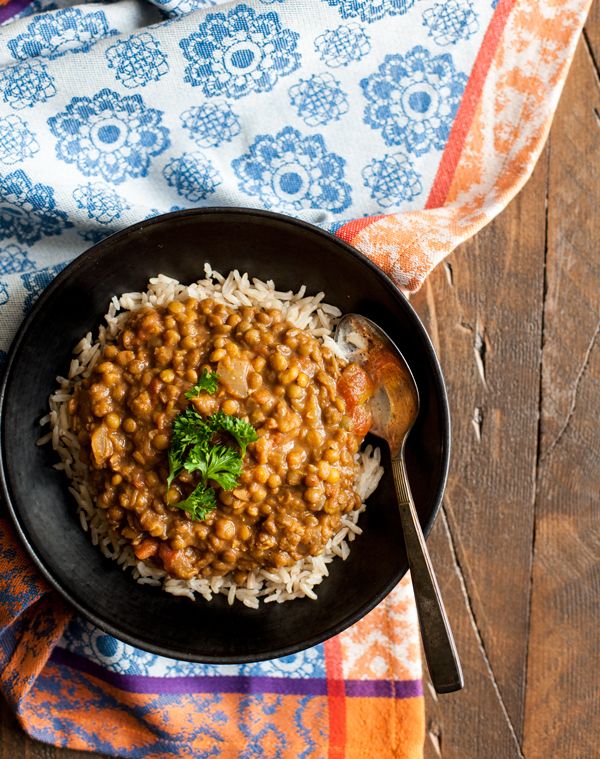 This creamy, hearty, and filling lentil dish is also incredibly healthy.  It's rich in minerals and fiber, full of micronutrients, contains plenty of fiber, and it's also low fat. Tomato paste and stewed tomatoes create a rich base, and garam masala adds wonderful flavor to this highly nourishing meal.
Find the recipe here: The Full Helping
6. Slow Cooker Indian Spiced Chickpeas and Potatoes
The spices in this dish mingle and steep during cook time, developing and deepening into pure deliciousness. This recipe comes together easily – just a quick sauté of the onions, garlic and spices first, then toss it in the slow cooker until dinnertime. Delish!
Find the recipe here: Oh My Veggies
7. Slow Cooker Vegan Mexican Bowl
Beans and rice are a Mexican staple, and this healthy combo cooks up wonderfully in a slow cooker, and ultimately is topped with a fresh, tasty salsa. Swap out the brown rice for quinoa if you like, and add cayenne pepper or jalapenos if you want to spice it up.
Find the recipe here: Kalyn's Kitchen
8. Crockpot Red Curry Lentils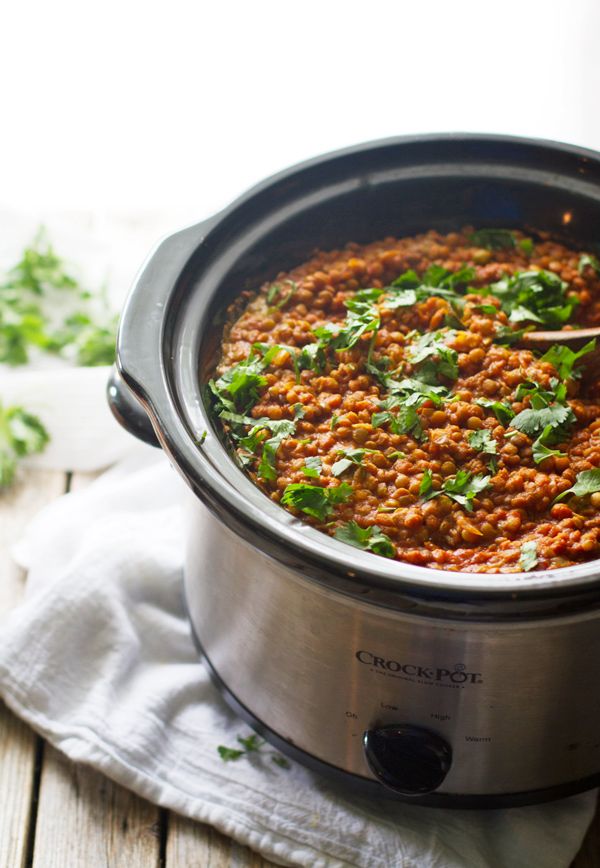 Insanely good red curry flavor, beautiful saucy lentils, and loads of turmeric make this a meal worth trying. Ladle into a bowl with quinoa, or serve as-is. Be sure to save leftovers for lunch.
Find the recipe here: Pinch of Yum
9. Slow Cooker Sweet Potato Soup
Feed your body a beta-carotene-rich dinner that's creamy and delicious. This sweet potato soup gets creaminess the non-dairy way, and will please even picky eaters.
Find the recipe here: Veggie Primer
10. Slow Cooker Vegan White Bean Stew
Chances are, you've already got all ingredients on-hand for this tasty vegan slow cooker recipe. Quick and easy, this stew makes a delightfully healthy dinner.
Find the recipe here: Café Johnsonia
11. Slow Cooker Black Bean Pumpkin Chili
Give your chili a healthy twist with canned pumpkin, cinnamon, and cloves. It may not be traditional, but this slow cooker vegan recipe is healthy, hearty, and delicious.
Find the recipe here: Kitchen Treaty
12. Crockpot Cauliflower Bolognese with Zucchini Noodles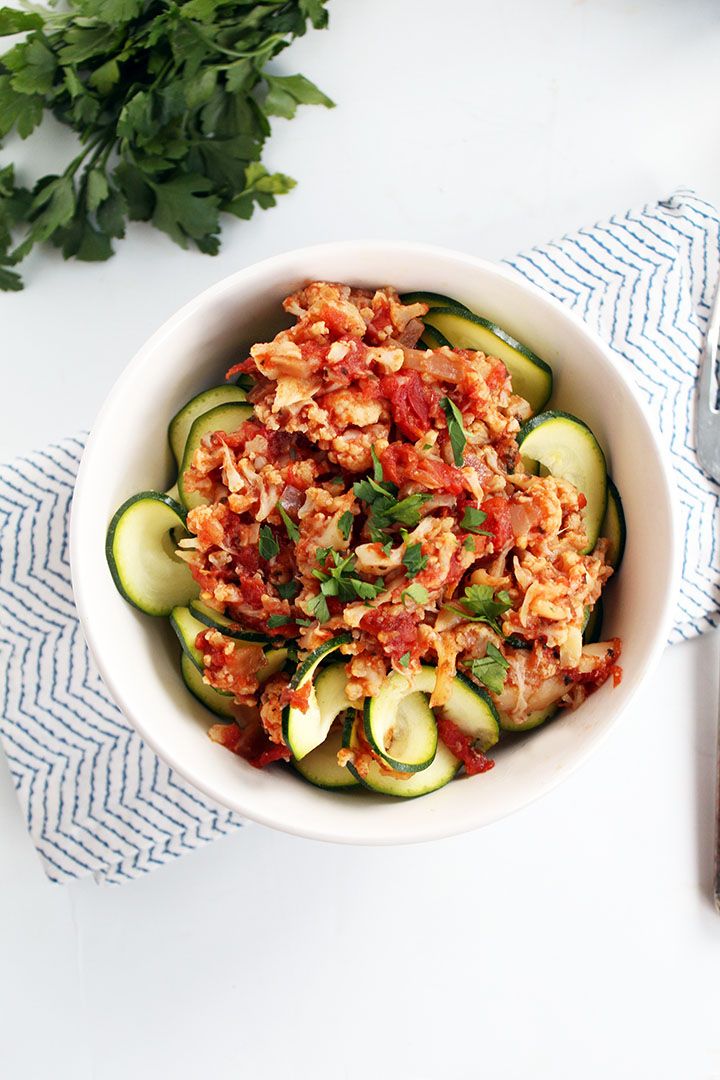 Vegans can enjoy a tasty Bolognese sauce that's completely meat-free! This recipe makes a hearty meal, yet without the heaviness of meat. Serve over zucchini noodles, or chill and stuff in lettuce wraps for a cool summer meal.
Find the recipe here: Inspiralized
13. Crockpot Quinoa and Vegetables
Simple, light, and healthy – that's what this recipe is all about. Serve either warm or chilled, this meal is a perfect way to use up what you've got in the fridge or to take advantage of your garden bounty.
Find the recipe here: Moms With Crockpots
14. Crockpot Spaghetti Squash Thai Noodle Bowl
Craving an Asian-inspired dish? This noodle bowl is gluten free, and makes a simple low-carb dinner that's way healthier than takeout.
Find the recipe here: The Skinny Fork
15. Slow Cooker Curried Vegetables and Chickpea Stew
This stew is full of tender vegetables and chickpeas, along with the warming flavors of ginger and garlic. You'll love how the flavors mingle with the curry-scented coconut milk.
Find the recipe here: The Kitchn
16. Slow Cooker Coconut Quinoa Curry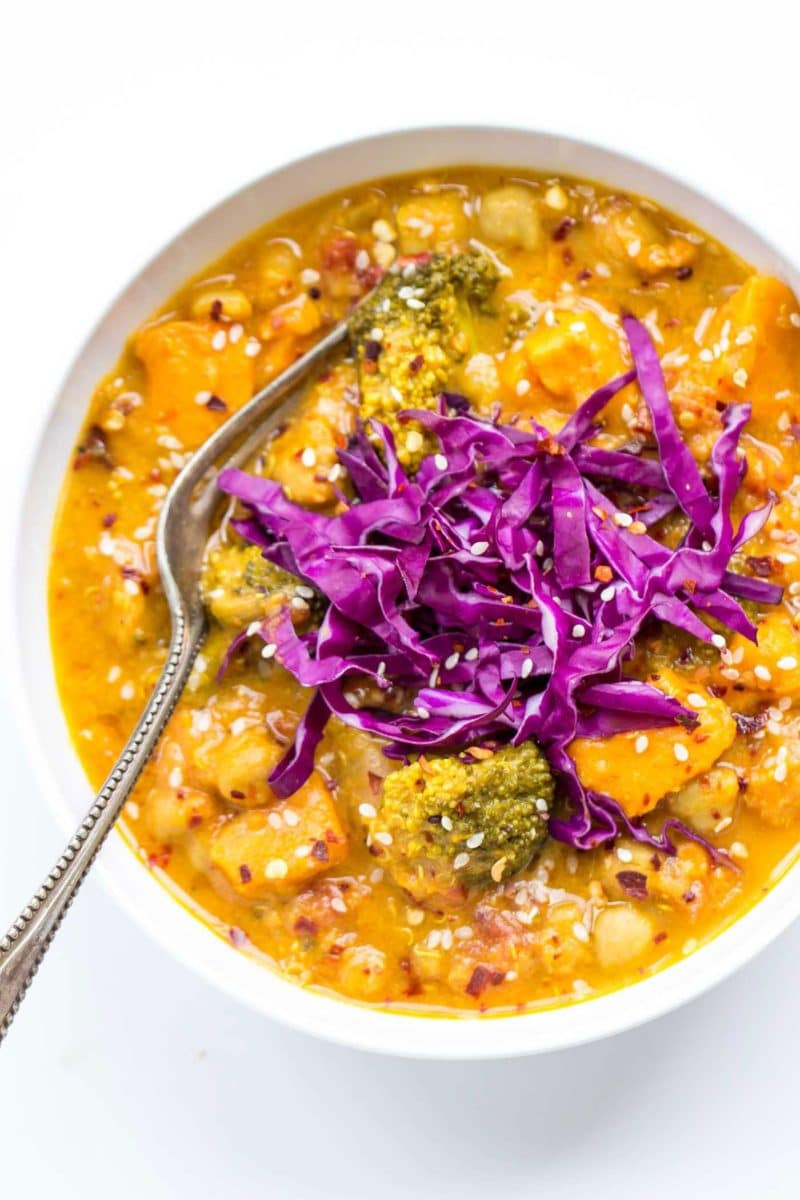 Sweet potato, broccoli, onion, and chickpeas make up the the bulk of this flavorful curry. The tomatoes add sweetness while the coconut milk lends a thick and creamy texture.
Fresh garlic, fresh ginger, fresh turmeric, tamari, miso, and chili flakes add a burst of aromatics and flavor to this simply delicious dish.
Find the recipe here: Simply Quinoa
17. Slow Cooker Lemon Lentil Rosemary Soup
Fresh vegetables, lemon, and rosemary come together with minimal effort in this amazingly hearty soup.  Carrots, onion, yellow bell pepper, and red lentils are flavored with garlic and a dash of cayenne pepper and slow cooked until tender.
Find the recipe here: Melanie Makes
18. Vindaloo Vegetables
Most likely you have all the spices for this recipe in your cabinet – they really add wonderful flavor to this dish, and many of them have potent anti-inflammatory properties. This is a total vegan Indian delight.
Find the recipe here: Fat Free Vegan
19. Navy Bean Soup
Navy beans – those cute little beans that just happen to be loaded with fiber and antioxidants – are perfect for taking on the woodsy flavor of rosemary in this delicious soup.
This is a perfect recipe for soup and salad night.
Find the recipe here: A Burst of Beautiful
20. Korean Chickpea with Carrots and Potatoes over Quinoa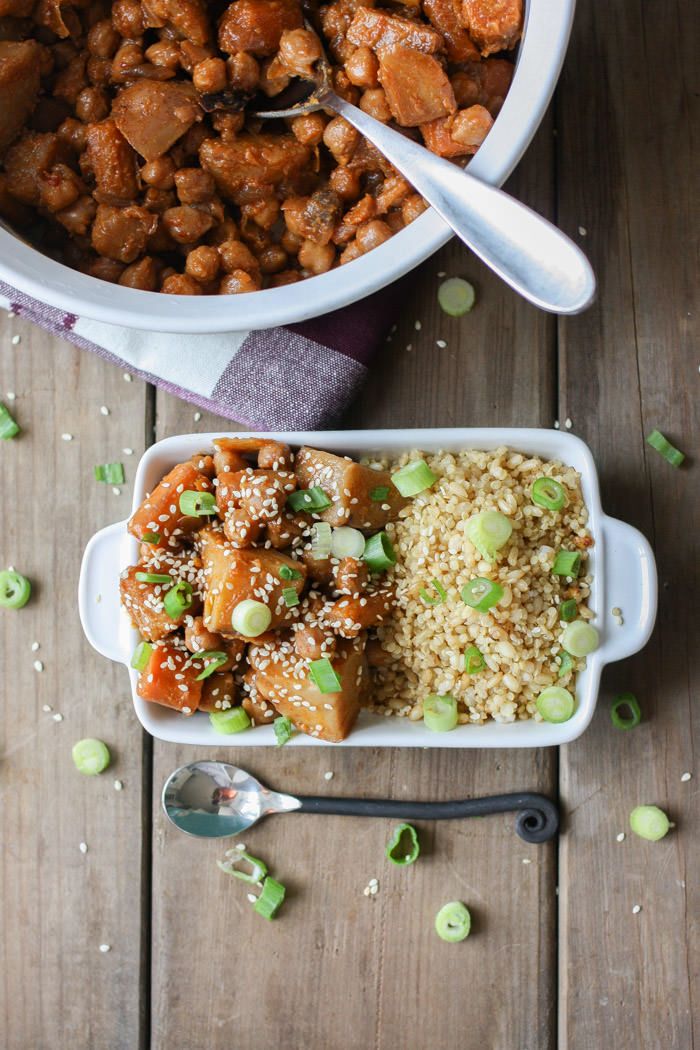 You'll love this vegan twist on a classic Korean dish. It makes an amazing Asian-inspired meal, packed with  protein and flavor, and it includes a swoon-worthy sauce.
Find the recipe here: Veggies Don't Bite
21. Crockpot Red Thai Curry Vegetables
This is another amazing curry dish that has all the flavors of a complex red Thai curry, but with the ease of a crockpot meal. Creamy and delicious, it's full of sweet potatoes, cauliflower, mushrooms, and peas smothered in a slightly spicy red coconut sauce.
Find the recipe here: Edible Experiments
Slow Cooker Vegan Meals
If your busy life is getting in the way of eating healthy food, break out your slow cooker.
It's a great way to get plant-based protein and loads of veggies into your diet, and the mighty little crock does all the work for you.
Any of the vegan meals in this list are a great way to get started in creating healthy meals that fit your hectic life.
Fast, Easy, Delicious
Looking for more easy-to-prepare meals that fit your healthy lifestyle? You'll love the 67 real-world-tested meals in my All Day Energy Diet Cookbook.
Gluten- and dairy-free, low in allergens, and coming in about 15 minutes each to prepare, you'll definitely find something your whole family will enjoy. Plus, the book is FREE! Just click the banner below.