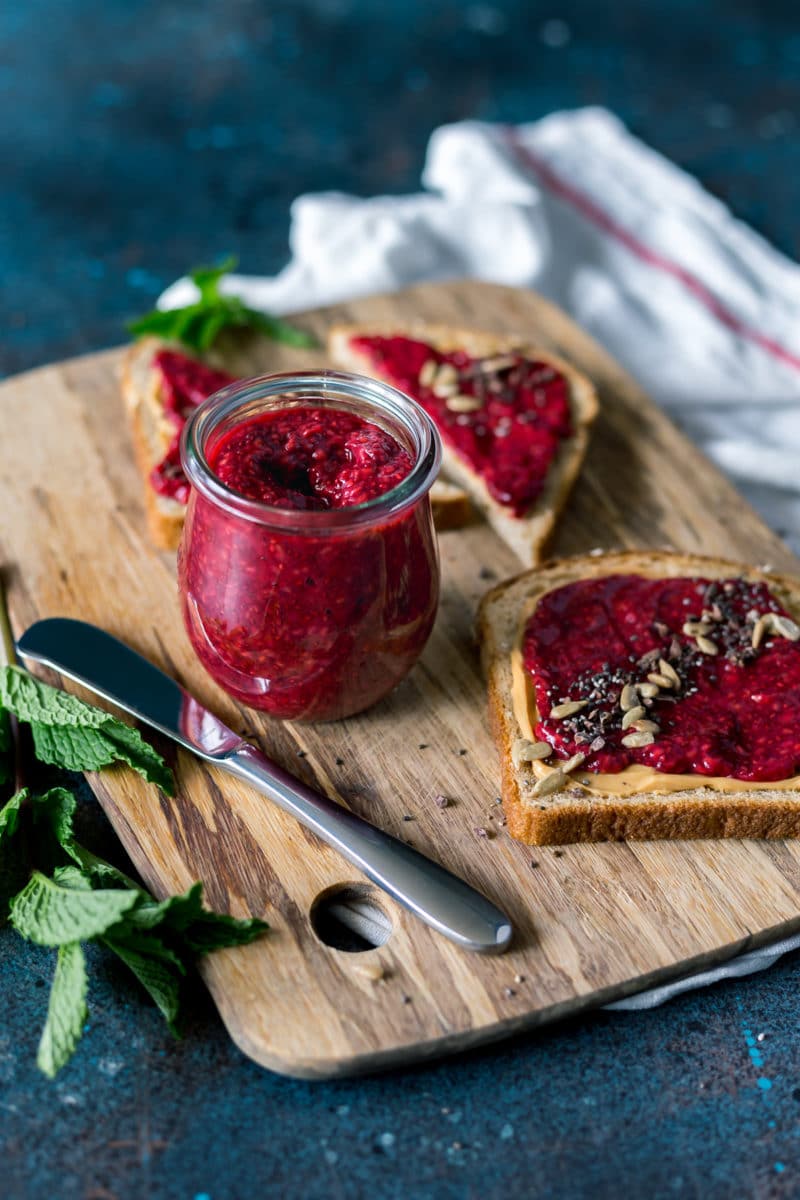 Have you ever walked down the jelly and jam aisle at the grocery store, staring longingly at all the beautiful jars?
And do you think wistfully back on the day when you could eat them without a second thought, because that was before you knew they were just sugar with a teeny bit of fruit mixed in?
You don't have to miss them any longer. Not only does this Ginger Cardamom Raspberry Chia Seed Jam taste as good as it looks, it's low in sugar, high in nutrition, and it takes just minutes to make.
In fact, it's so good, even picky eaters love it and you can rest assured that only wholesome ingredients go into this raspberry chia jam.
You'll love it on top of these protein powder pancakes (you won't even miss the syrup!).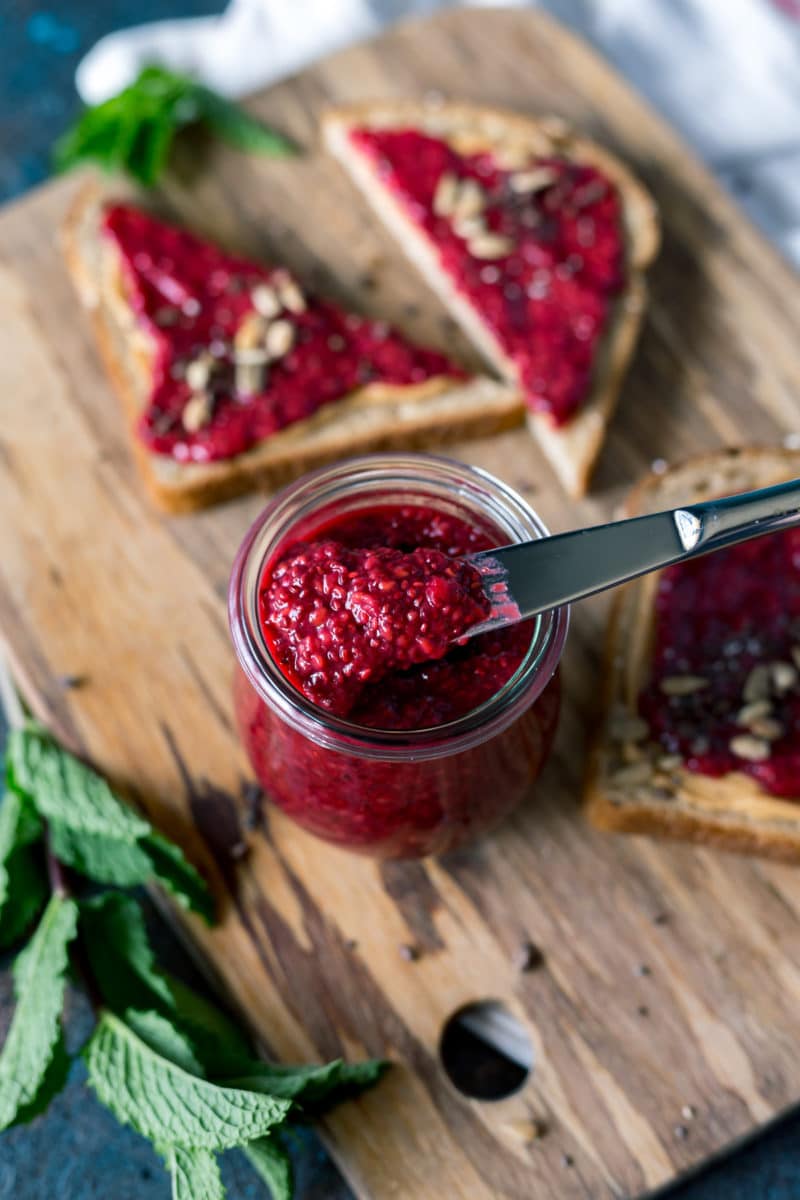 If you're wondering how to get that jam-like texture, the trick is chia seeds.
Raspberry Chia Seed Jam
With traditional jams and jellies, pectin creates the thick texture we all love, but we're giving it a pass.
Why? Because many commercial pectins can contain GMO corn products – as well as sugar or artificial sweeteners.
Instead, we wanted to bring in a superfood – chia seeds, which are packed with fiber, protein, healthy fats, calcium, and many other important nutrients.
And not only that, but using chia seeds means you can cut the prep time down significantly.
For this recipe, cooking down the berries and adding lemon juice brings out flavor and natural sweetness, which means you don't even really need the optional honey I've included.
But, as a realist, I know sometimes a batch of berries can be extra tart, so if you want a little honey to sweeten it up a bit, you can certainly add it. I won't tell, I promise.

How to Store Raspberry Chia Jam
Fridge: it'll keep perfectly well in an airtight container for up to 2 weeks.
Freezer: with a proper freezer container, it'll last up to one year. Place it in the fridge to defrost and enjoy when thawed.
Canned: using a water bath and mason jars, it'll last up to one year in the pantry if the seal is good.
For those who hate the seedy "jam" texture, you can use an immersion blender to blend everything after letting the chia seeds sit and thicken. This will produce a thinner jam, more like a really thick sauce, but it's still amazingly delicious. Versatility for the win!
I'm going to go smear some on a slice of this banana bread now, how about you?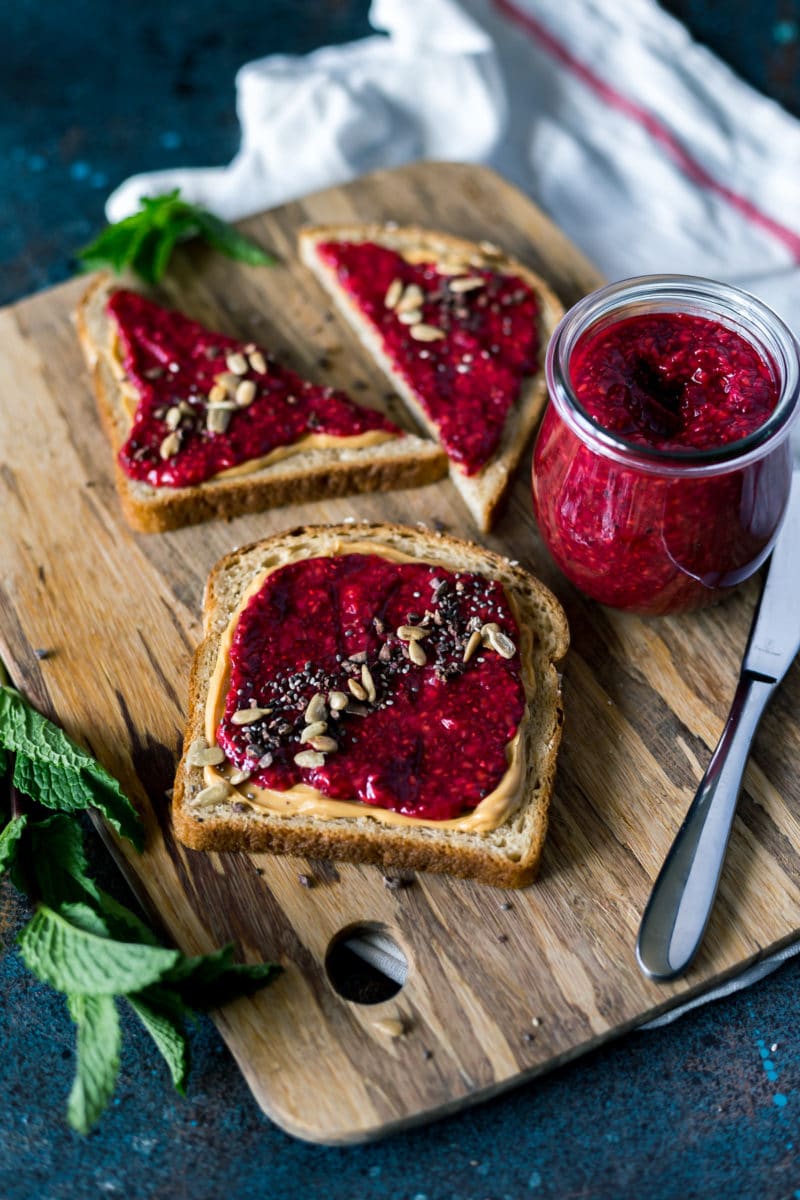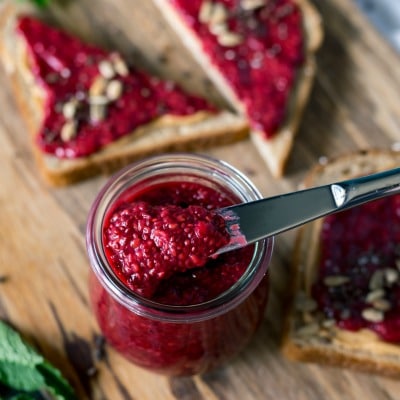 | | |
| --- | --- |
| | |
Add the raspberries to a small saucepan and heat over medium until the berries begin to break down and turn syrupy, around 5-10 minutes.

Gently smash berries with the back of a wooden spoon or potato masher, until desired consistency is reached.

Stir in lemon zest, lemon juice, cardamom, and ginger, then add honey as needed for sweetness.

Add the chia seeds and stir to combine. Remove from heat and allow to sit for 10 minutes to thicken. Enjoy immediately, or transfer to a jar or other airtight container and store in the fridge for up to 2 weeks.
Sweet Treats – Without Too Much Sugar
Do you have a sweet tooth that needs occasional satisfying? You're not alone!
That's why I created my Healthy Desserts eBook, which contains recipes for 8 amazing gluten- and dairy-free treats that are also low in sugar.
But they taste so good you'd never know they're actually "healthy."
You can get your FREE copy of the eBook now by clicking the banner below!