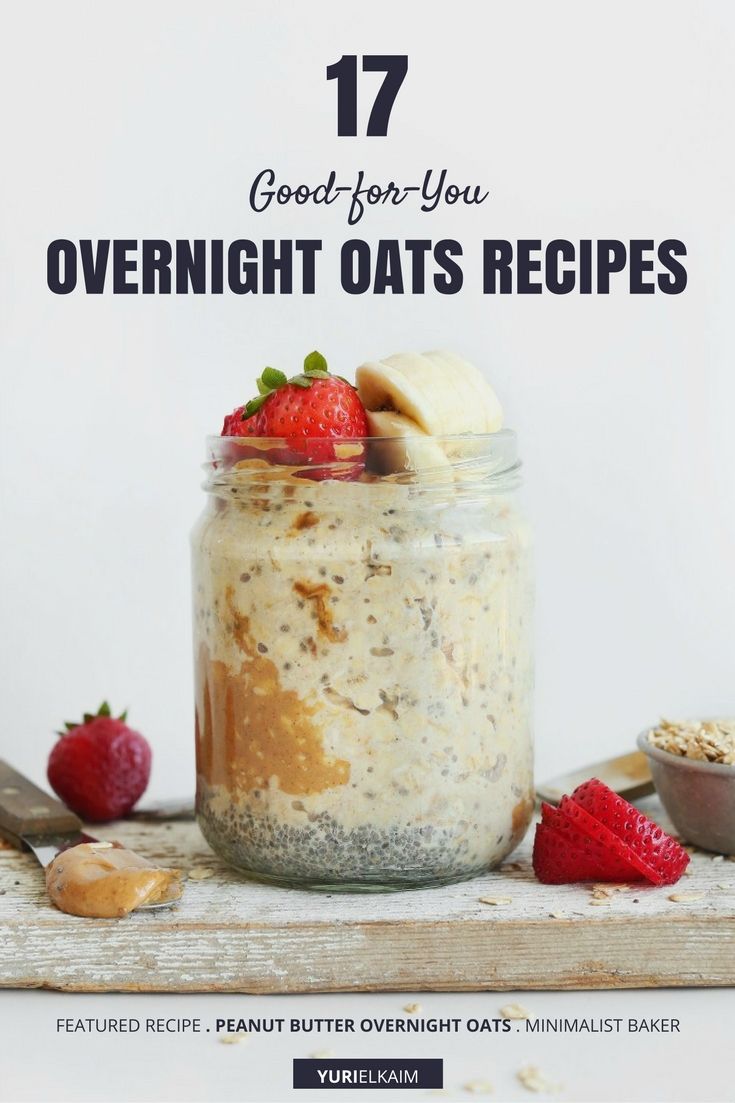 Tired of waiting till your oatmeal is finished cooking? We have an idea: Not cooking it at all!
We've found a brilliant solution for "cooking" oats that minimizes food prep and couldn't be any easier.
Simply pour your favorite non-dairy milk over the oats, refrigerate overnight, and have a ready-to-go meal in the morning (that you are going to eat later on).
Yup, it's that easy.
And you can make so many variations of this healthy eating recipe that your head will spin: you can go crazy with add-ins like seeds, nuts, and spices, customize with your favorite vegan milk, and top with anything to boost health and flavor.
Although oats are normally thought of as breakfast food, oats actually make for a better afternoon snack, post-workout meal, or dinner.
Why? Because eating carbs later in the day takes advantage of your body's natural rhythms, keeping blood sugar more stable (which helps with fat burning) and even helping you sleep better. Here's a post explaining all the ins and outs of When to Eat Carbs.
Want a super easy breakfast option? Try these chia pudding recipes instead.
Here are more reasons why oats are awesome:
They are naturally gluten-free.
They are packed with fiber and, as a result, are filling enough to tide you over till mealtime.
Overnight oats can be packed in a Mason jar or unbreakable container so they're portable.
You can add all kinds of stir-ins to depending on your mood, what's in your pantry or your needs (extra protein? no problem! add some protein powder).
Whether you crave the tropical taste of coconut mango or irresistible peanut butter chocolate, we've found some delicious share-worthy overnight oats recipes that we wanted to pass along to you.
17 Overnight Oats Recipes
1. Maple Walnut Overnight Oats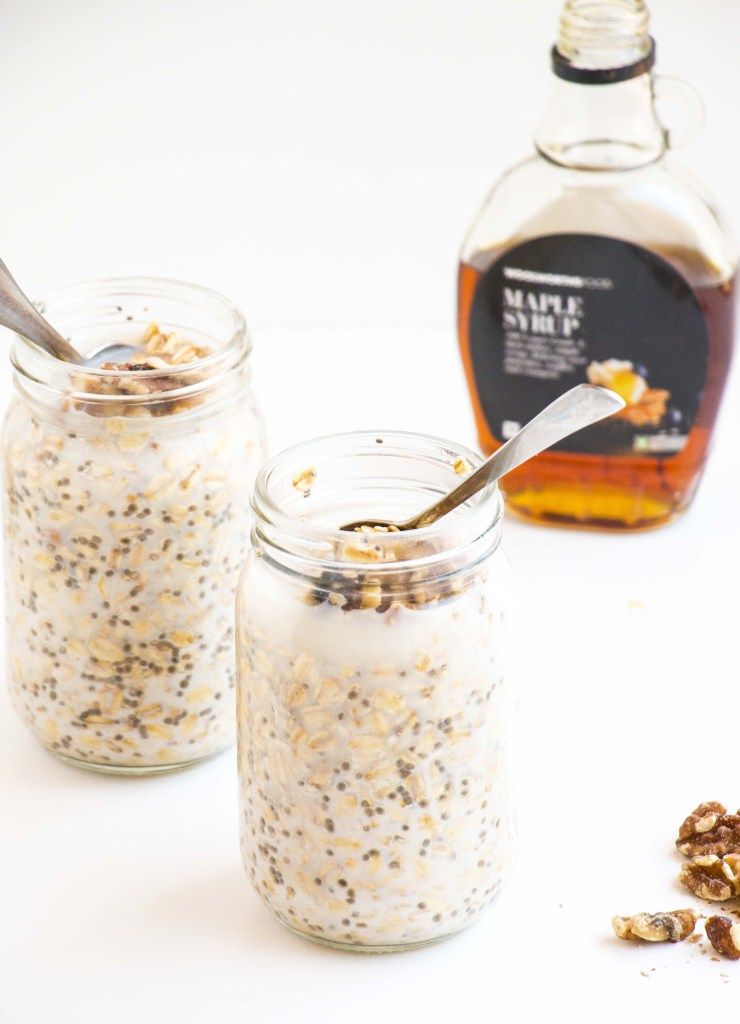 Whether or not you eat a vegan diet, you'll love this overnight recipe.
Chia and walnuts add protein so you'll be full of energy and vigor while maple brings the sweetness.
Find the recipe here: Baking Ginger
2. Overnight Oats (6 Ways)
You'll love this quick and easy overnight oatmeal. The oats will soften in the coconut milk overnight, and the next day you'll have a delicious bowl of heart-healthy oatmeal.
Plus, this simple recipe has five variations to keep your tastebuds happy.
Find the recipe here: Yuri Elkaim
3. Peaches and Cream Overnight Oats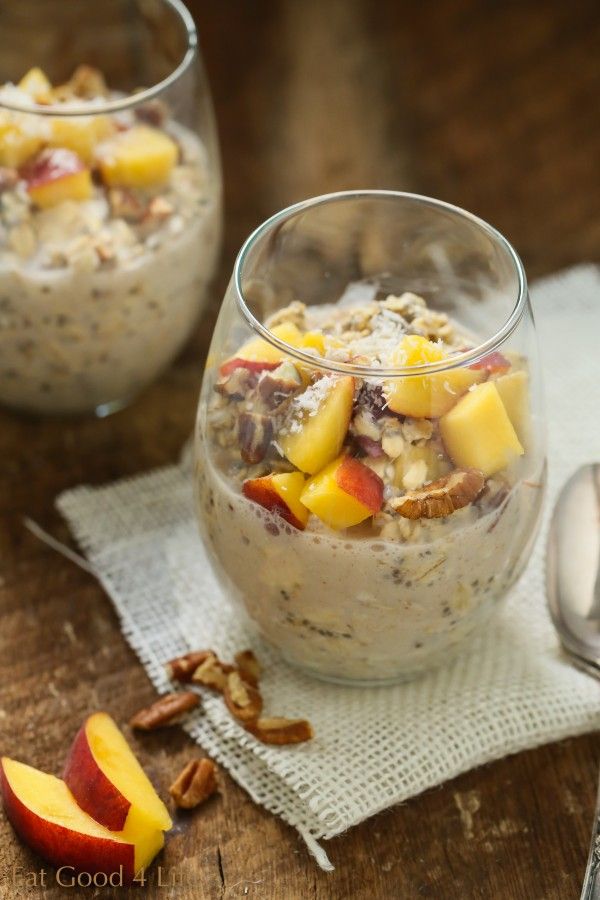 Creamy, tasty, and nutritionally dense, this overnight oats recipe takes advantage of succulent, ripe summer peaches. Coconut cream and cashew milk create a thick, almost-pudding-like base for gluten-free oats and toppings galore.
Chopped pecans, fresh peaches, and chia seeds add health benefits for a snack that keeps the hunger pangs at bay.
Find the recipe here: Eat Good 4 Life
4. Vegan Carrot Cake Overnight Oats
Carrot cake is typically high in calories from sugar and fat – but you can enjoy it without the guilt in this overnight oats recipe.
This healthy version has grated carrots, coconut milk, and spices to make it a simple, nutritious snack.
Find the recipe here: Kara Lydon
5. Vegan Protein-Packed Cookie Dough Overnight Oats
Do your ears perk up when you hear the words "cookie dough"? You'll love this easy vegan no-cook oats recipe, which creates that delicious cookie dough taste and texture by using a smart blend of ingredients.
And not only is it yummy, it's filled with protein-packed, fiber- and omega-rich, unrefined, naturally sweet goodies.
Find the recipe here: Nutritionist in the Kitch
6. Cacao Nib and Pomegranate Overnight Oats
Splurge on in-season pomegranates to add a zingy crunch to your overnight oats. Not only will you love the taste, your body will appreciate the superfood treatment.
Find the recipe here: Oh My Veggies
7. Peanut Butter Overnight Oats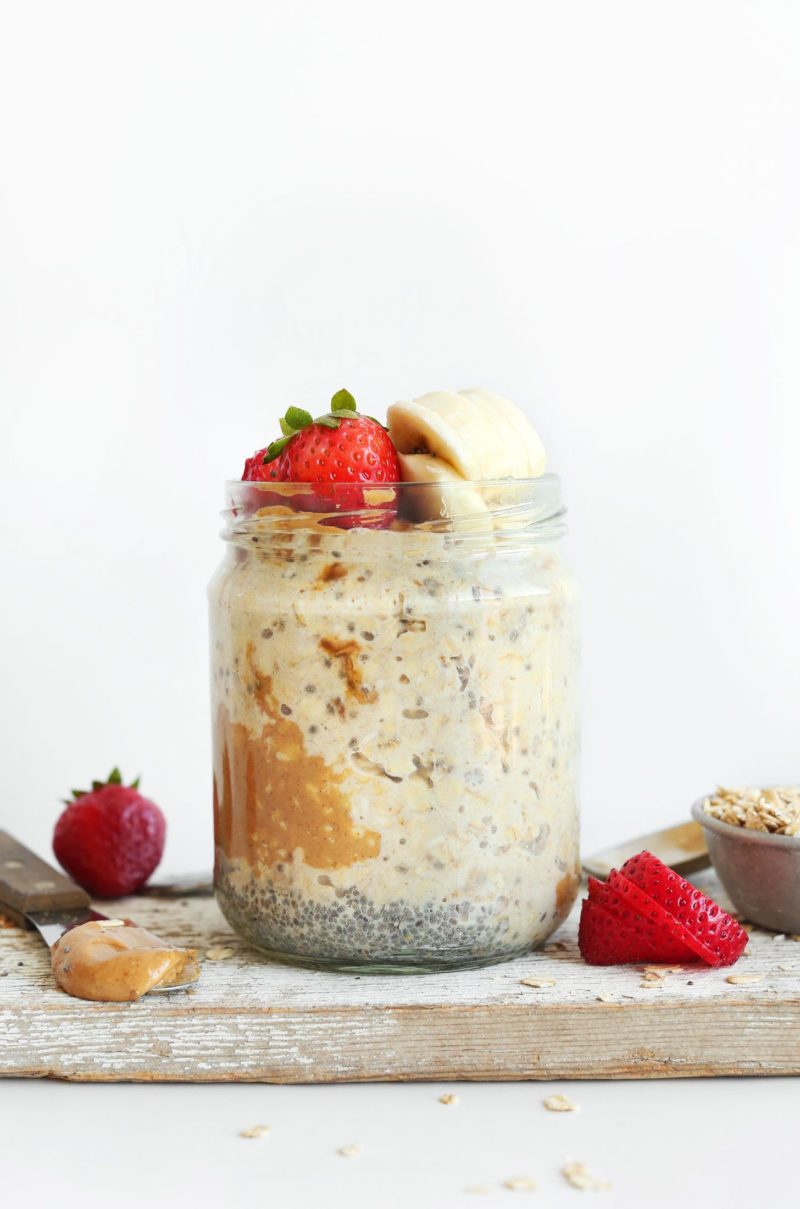 Make this delicious five-ingredient portable snack for busy days when you need quick sustenance.
It's got chia and peanut butter for protein, and is easily made in just 5 minutes. Add berries if you're a peanut butter and jelly fan.
Find the recipe here: Minimalist Baker
8. Coconut Mango Overnight Oats
This tropical recipe is so sweet and creamy you won't believe it's packed with healthy ingredients.
Super easy to throw together, the chunks of fresh mango and toasted coconut in this oatmeal will make you feel like you're on an exotic island.
Find the recipe here: The Busy Baker
9. Vegan Overnight Oats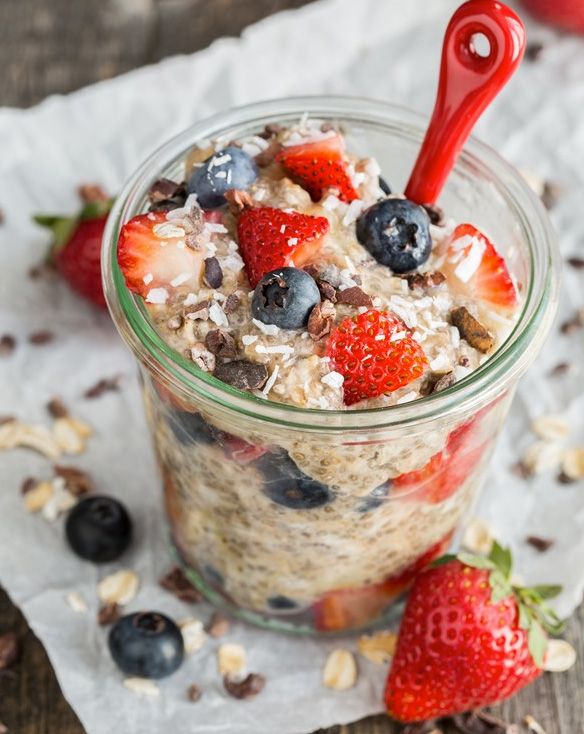 Take a few minutes before bed to prepare this easy recipe and enjoy a cool, creamy bowl of chia seeds, oats, banana, and cinnamon the next day.
Top with healthy protein-packed nuts, seeds, and berries for a tasty and filling snack.
Find the recipe here: Oh She Glows
10. Raspberry Chia Overnight Oats with Acai
This overnight oats recipe is not only packed with amazing nutrients, it's got all the flavors you need to add a happy little kick to your afternoon.
The flavor combo of oats, berries, chocolate, and superfoods chia and acai will make you look forward to snack time.
Find the recipe here: The Healthful Ideas
11. Chocolate Almond Butter Overnight Oats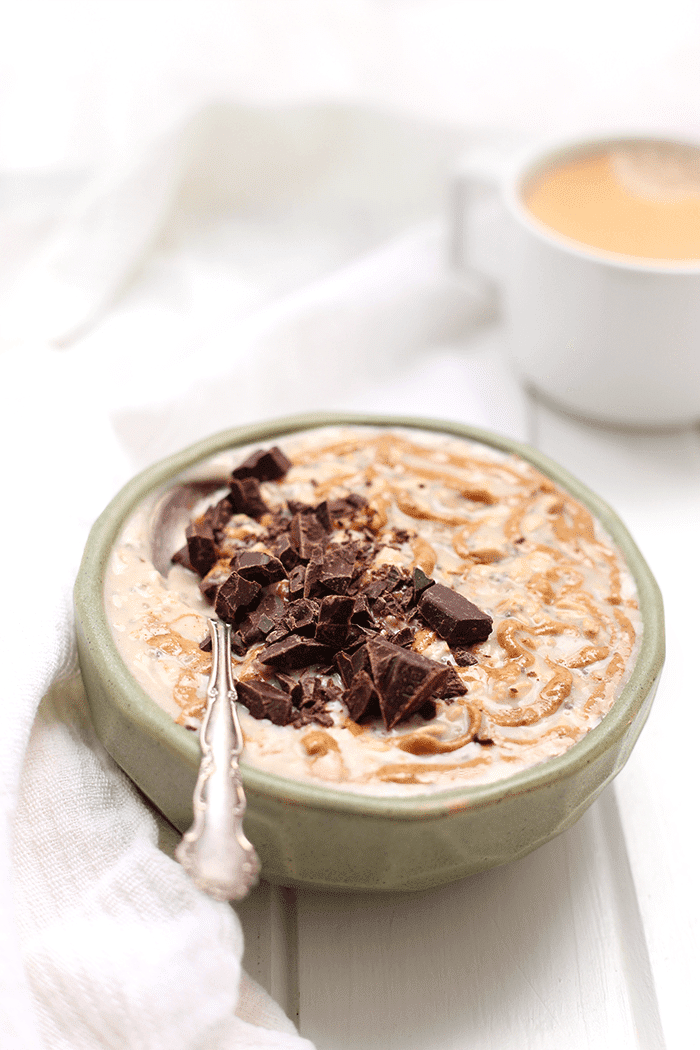 Nutty, roasted almond butter and dark chocolate flavor this overnight oat bowl.
It makes a delicious afternoon snack that will tide you over to dinnertime – and give your body lots of nutrients that will make it happy.
Find the recipe here: The Healthy Maven
12. Pumpkin Pie Overnight Oats
Oats, chia seeds, and pumpkin come together for a quick and easy – and oh-so-comforting – snack or meal.
Full of fall spices, this recipe works just as well in the autumn months as it does in the spring or summer.
Find the recipe here: Oh She Glows
13. Chocolate Hazelnut Overnight Oats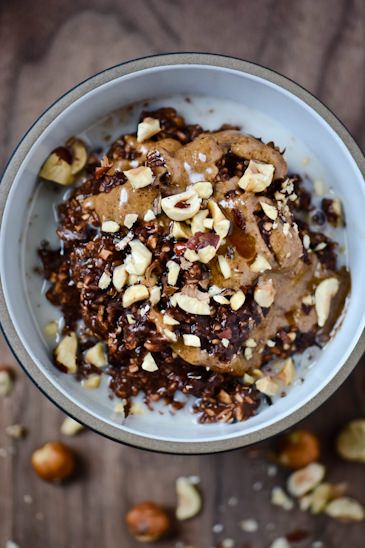 You have options when it comes to this recipe – you can make your own healthy hazelnut butter, or use almond or peanut butter. Either way, you're going to have a delicious bowl of hearty oats that's chockfull of protein and healthy fats.
Find the recipe here: Scaling Back
14. Simple Vanilla Protein Overnight Oats
Sometimes simple is the way to go, and you'll love the simplicity of this overnight oats recipe.
The inclusion of protein powder makes this perfect for a post-workout snack. Add optional chopped nuts and berries for extra flavor and staying power, or you can keep it as-is.
Find the recipe here: The Blissful Balance
15. Snickerdoodle Vegan Overnight Oats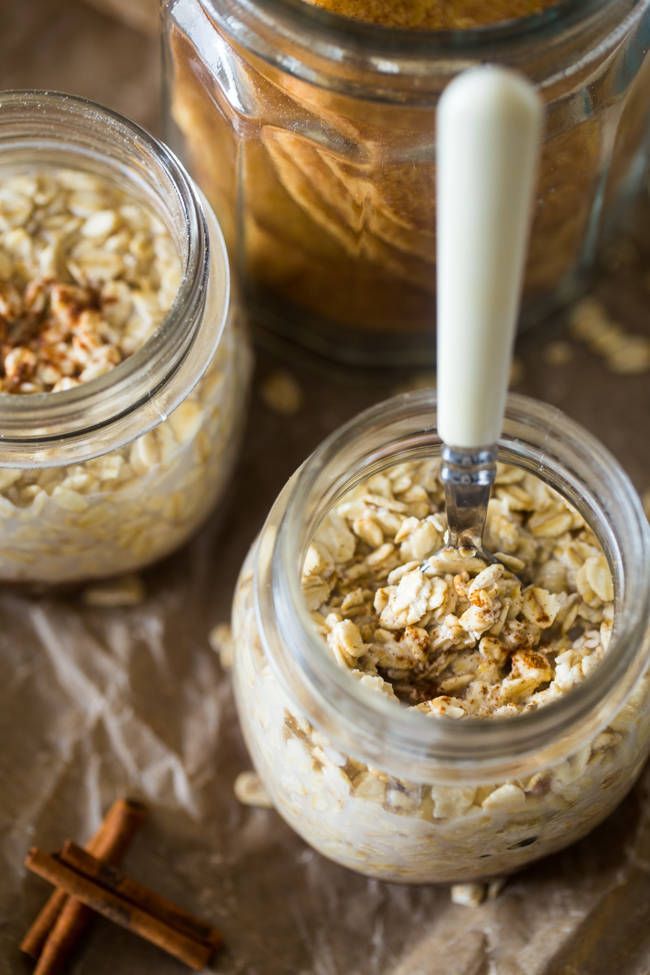 Get the taste of bakery fresh snickerdoodle cookies the healthy way.
This recipe features nutty almond butter, cinnamon, and maple syrup to give it a delicious flavor you'll crave.
Find the recipe here: Food Faith Fitness
16. Peanut Butter Overnight Oats
Nutrient and protein dense, this peanut-butter-powered oatmeal recipe has just what you need to fuel your day.
This recipe includes powdered peanut butter, which is fairly new to the market and full of fiber and protein.
Find the recipe here: Knead to Cook
17. Chocolate Chips and Cream Overnight Oats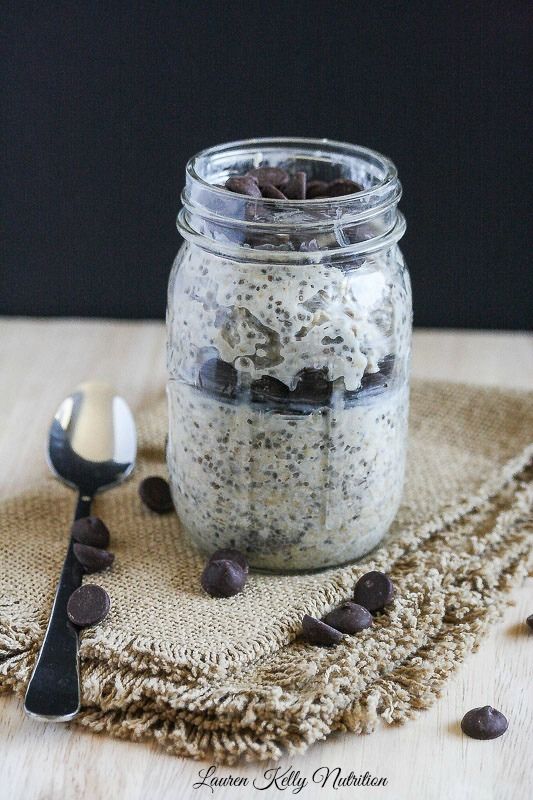 Even the name of this one sounds delicious: chocolate chips and cream? Yes, please!
Don't be fooled, though, because this recipe packs nutrition power: It's got protein powder for extra staying power, healthy medium-chain triglyceride fats, and antioxidant-rich chia seeds for a healthy nutrition boost.
Find the recipe here: Lauren Kelly Nutrition
Easy, Yummy Snack Time
These overnight oats make perfect set-it-and-forget-it snacks or post-workout meal. Simply stir them together the night before and pack them up the next day so you'll be ready for whatever is on your schedule.
Experiment and find the flavors that fill you up the best.
Fast and Easy Meals
Want more delicious meals that take less than 15 minutes to make? With a bonus of being dairy- and gluten-free?
We have you covered – the All-Day Energy Diet Community Cookbook contains 67 meals that will make eating healthy a breeze.
You can get it – for FREE! – by clicking the banner below.