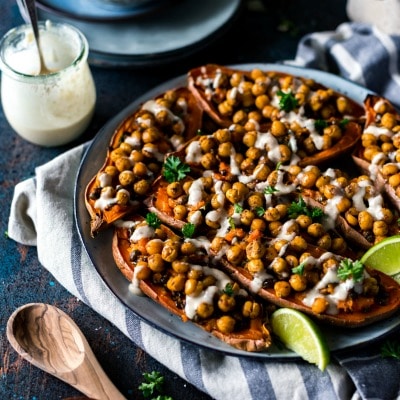 Cook Time

1 hour

45 minutes
Stuffed Double Baked Sweet Potatoes
Cook Time

1 hour

45 minutes

Stuffed Double Baked Sweet Potatoes
Heat oven to 400 degrees.

Line a baking sheet with parchment or foil, then clean, and prick each sweet potato several times with a fork. Bake for 45-60 minutes, or until tender when pierced with a fork. Remove from oven and allow to cool until safe to touch.

While the potatoes are roasting, toss the chickpeas in a lidded container with the olive oil and 1 tbsp. ras el hanout. Shake gently to coat and set aside to marinate.

Once potatoes are cool, carefully cut each potato in half. Gently scoop out the insides of each potato, trying not to rip the skins, and place in a large bowl.

Add the lentils, spinach, 1 tbsp. tahini, and 1 1/2 tsp. ras el hanout to the bowl and gently stir and mash everything together. Season with salt and pepper, then scoop back into each potato half.

Divide the chickpeas between all the potato halves, then place back into the oven and bake for an additional 45 minutes.

While the potatoes are baking for the second time, add the tahini, lime juice, garlic powder, and sea salt to a small container and whisk to combine. Adjust seasoning if needed and set aside.

When the potatoes are done, remove from oven, allow to sit for a few minutes, then drizzle each with the tahini sauce and serve immediately.