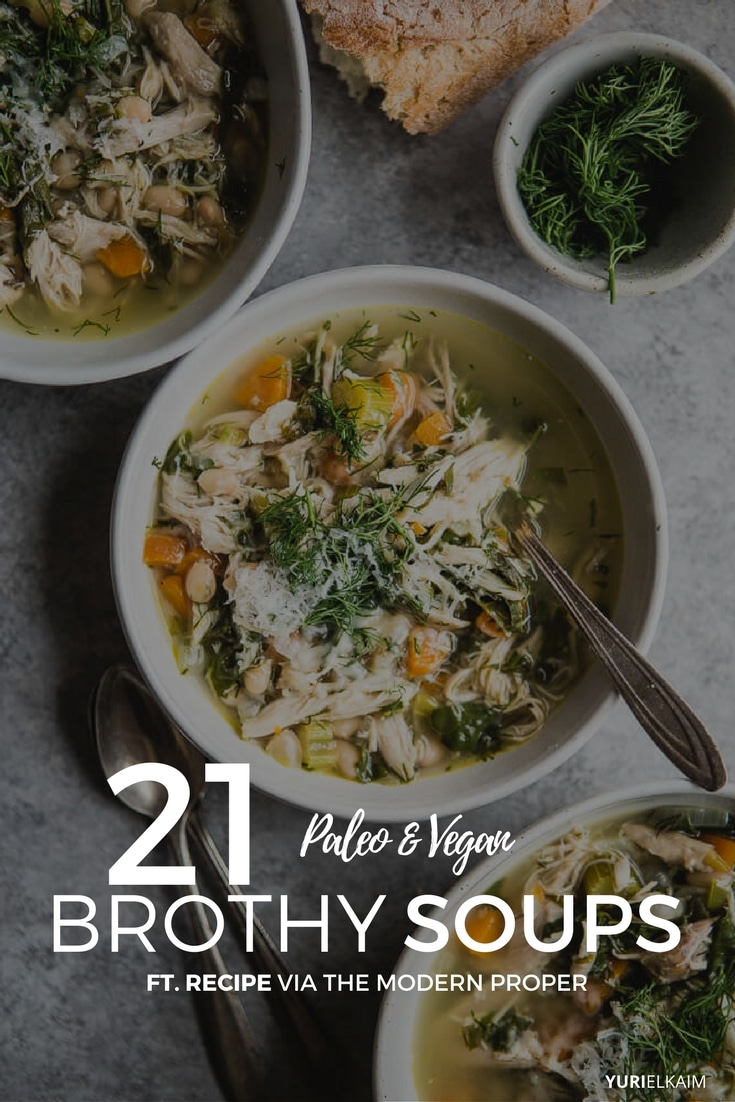 Broth-based soups have come a long way over the years.
Gone are the days of bland, uninspiring bowls of chicken noodle soup. Today you'll find a diverse range of healthy and delicious options, from mineral-rich bone broths to chowders, seafood stews, and more.
And not only are they tasty, they won't leave you feeling sluggish and weighed down with questionable ingredients, as cream-based soups and stews often can.
Don't believe me? Have a look at out the following recipes I've picked out and taste for yourself.
21 Healthy and Delicious Brothy Soups
1. Salmon Coconut Chowder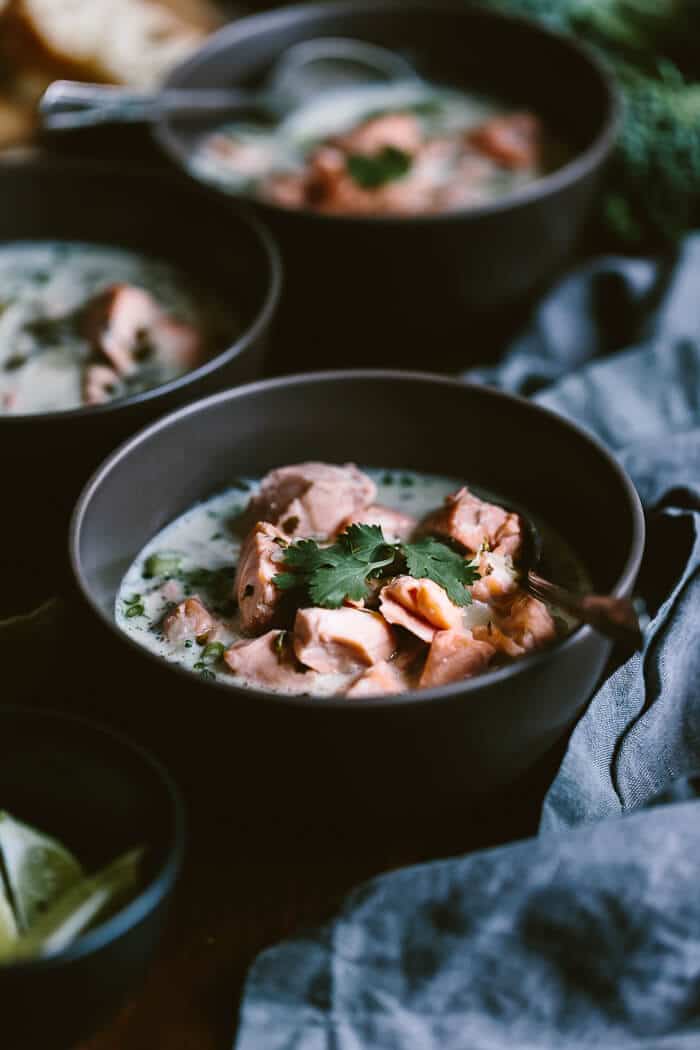 Thai coconut broth tastes delicious on its own, but when you mix it with a rich salmon chowder, it gets even better.
Salmon provides plenty of heart-healthy omega-3 fatty acids to this recipe, making it a great choice for a nourishing family dinner. The classic chowder is made healthier by replacing butter with coconut oil and using coconut milk in place of heavy cream. Combined with garlic, ginger, and antioxidant-rich maple syrup, the health benefits of this yummy soup are through the roof.
Find the recipe here: Foolproof Living
2. Chicken Lime Soup
This recipe takes traditional chicken soup and gives it a zesty twist with the addition of lime.
It hits all the requirements when it comes to nutrition. It's high in fiber (thanks to the veggies), rich in protein because of the chicken, and even includes some healthy fats from the addition of an avocado. Serve it up and enjoy a meal that will fuel you for hours.
Find the recipe here: Budget Bytes
3. The Ultimate Immune-Boosting Soup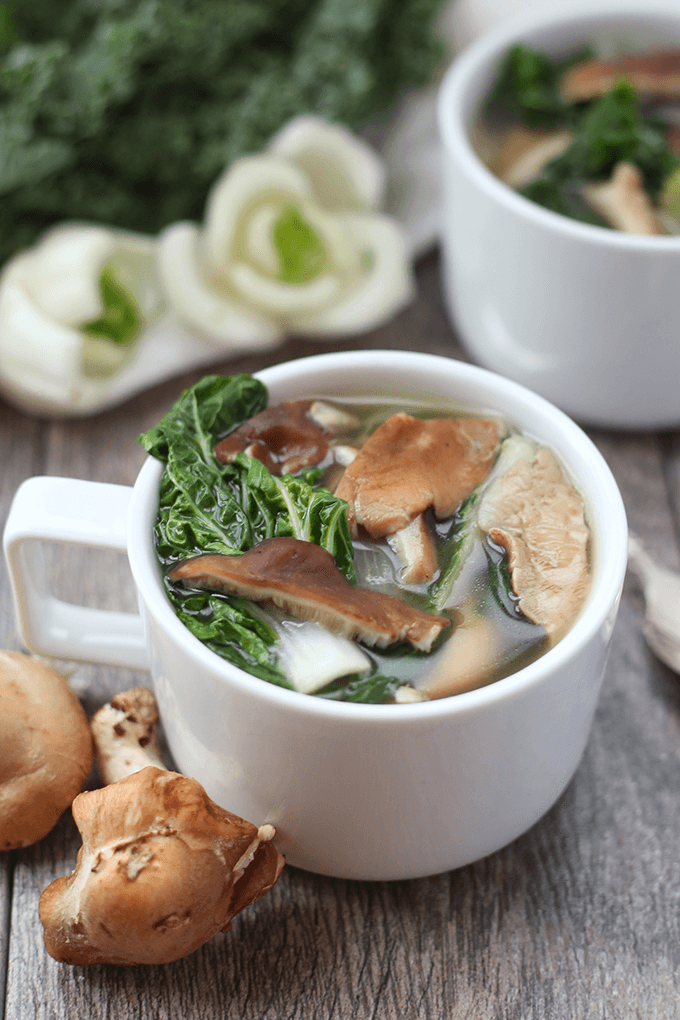 Next time you start to feel a little under the weather, whip up this delicious soup that will rev up your body's ability to fight off colds and the flu.
The star ingredient here is turmeric, a spice well-known for its incredible health-promoting properties. Kale, bok choy, coconut oil, and bacteria-busting garlic also help provide a burst of vitamins and minerals to this super healthy soup.
Find the recipe here: The Healthy Maven
4. Weight Loss Vegetable Soup
Looking to shed a few pounds? You'll definitely want to hang on to this recipe.
More often than not, that growling in your stomach is actually signaling thirst, not hunger. Not only will this soup keep you hydrated, but with nine different vegetables in the mix, you're sure to get enough fiber to fill you up until your next meal.
Find the recipe here: Spend with Pennies
5. Zucchini Noodle Chicken Soup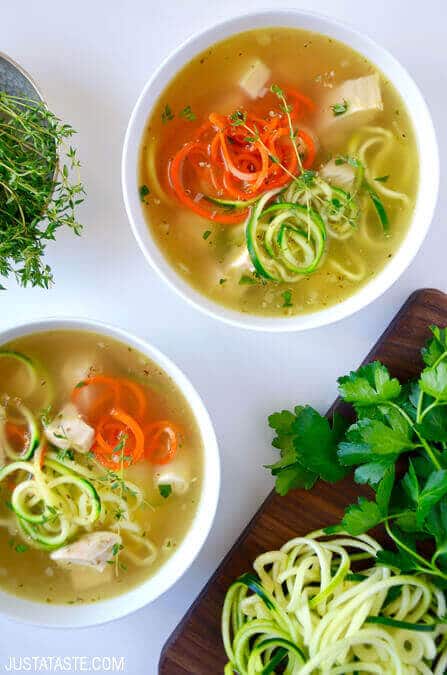 Want a soup recipe that's easy, healthy, and low-carb? Give this one a try.
Spiralized zucchini and carrot noodles replace the egg noodles, cutting carbs and adding plenty of fiber to this recipe. Combine with high-protein shredded rotisserie chicken and you have a well-balanced meal.
Find the recipe here: Just A Taste
6. Slow Cooker Seafood Stew
Looking for an easy, high-protein dinner when you're pressed for time mid-week? This recipe will do the trick!
Just throw some seafood into the slow cooker and let your crockpot do all the hard work. A few hours later, you'll have this delicious seafood stew waiting to be devoured.
Find the recipe here: I Heart Naptime
7. Creamy Cauliflower Dill Soup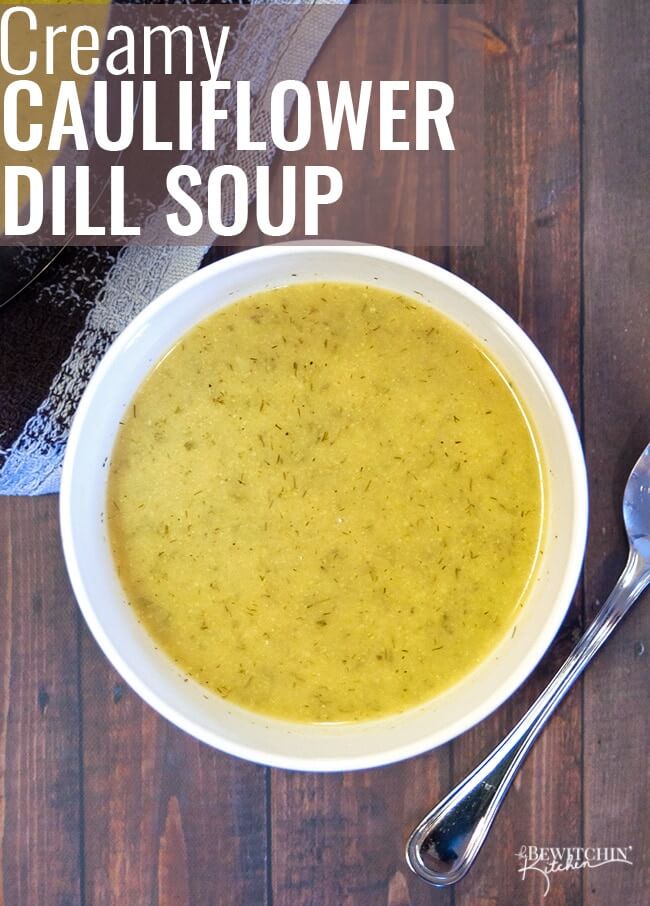 If you've ever thought broth-based soups could only be thin and watery, this recipe will prove you wrong.
This recipe has a list of ingredients that make it anything but boring. Coconut milk and cauliflower add a velvety, creamy texture, while apple cider vinegar, garlic powder, parsley, and curry powder kick the flavor up a notch.
Find the recipe here: Bewitchin Kitchen
8. Healing Slow Cooker Rice Soup with Vegetables
When cold season hits, this comforting soup can help keep your family healthy and sniffle-free.
Anti-inflammatory ginger, garlic, and turmeric help strengthen your immune system and ward off germs. Meanwhile, sweet potatoes and carrots supply you with antioxidants that can help you stay healthy.
Find the recipe here: Delightful Mom Food
9. Nourishing Lemon Chicken Quinoa Soup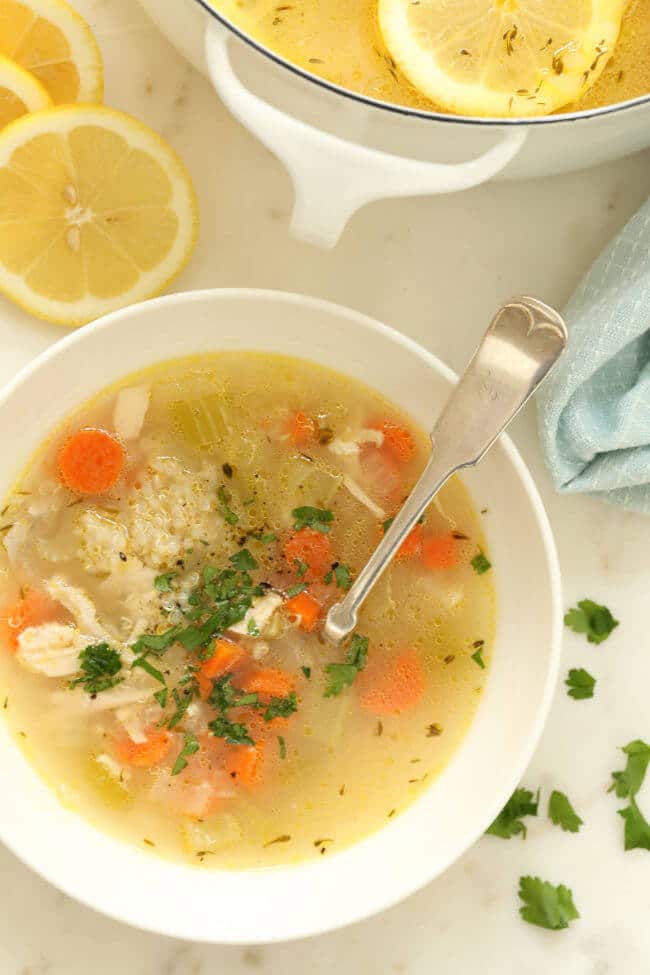 Quinoa and lemon is a refreshing combo that's good year-round. Quinoa provides a hearty dose of protein and fiber to keep you feeling full, while lemon adds a citrusy zing without the need for too much salt.
Paired with chopped veggies like celery, carrots, and yellow onion, this one tastes like it's been simmering all day, but only takes about 30 minutes of cooking time.
Find the recipe here: The Harvest Kitchen
10. Fisherman's Soup Recipe with Tilapia, Shrimp, Tomatoes & Capers
If you love seafood chowders, try this recipe and taste for yourself just how delicious a broth-based seafood soup really is.
Thanks to all the seafood in this recipe,  each serving weighs in at a whopping 43 grams of protein. Combined with nutrient-rich carrots, red bell peppers, garlic, and diced tomatoes, this soup doesn't skimp on flavor or nutrition.
Find the recipe here: Cookin Canuck
11. Crockpot Bone Broth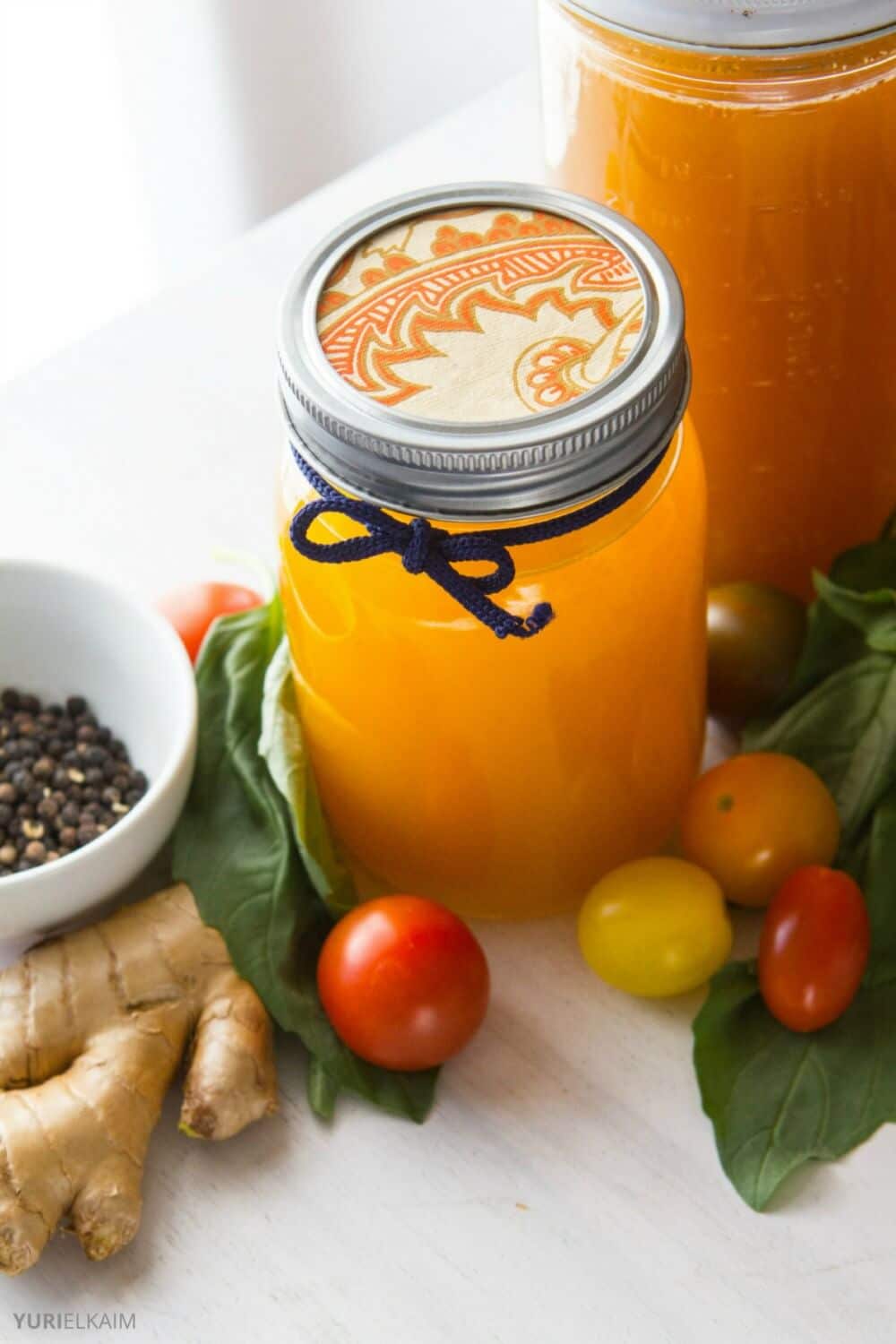 This bone broth soup recipe is simple, easy, and loaded with nutrients.
Bone broth is a good way to get in some collagen, plus essential minerals like calcium, phosphorus, and magnesium. Just place 2 bags of beef bones plus some veggies and spices in a slow cooker, cover with water, and let it cook to get a flavor-filled and incredibly nutritious broth with plenty of flavors infused in every spoonful.
Find the recipe here: Yuri Elkaim
12. Japanese Clear Onion Soup
This savory soup packs in warmth and flavor into every spoonful and makes the perfect side dish for an Asian-inspired meal.
Onions, celery, carrots, and garlic are used to make the broth and then mushrooms and scallions are added after straining to give a bit of texture. Substitute tamari for the soy sauce in this recipe if you want to keep it gluten-free.
Find the recipe here: Living Chirpy
13. Garlic Soup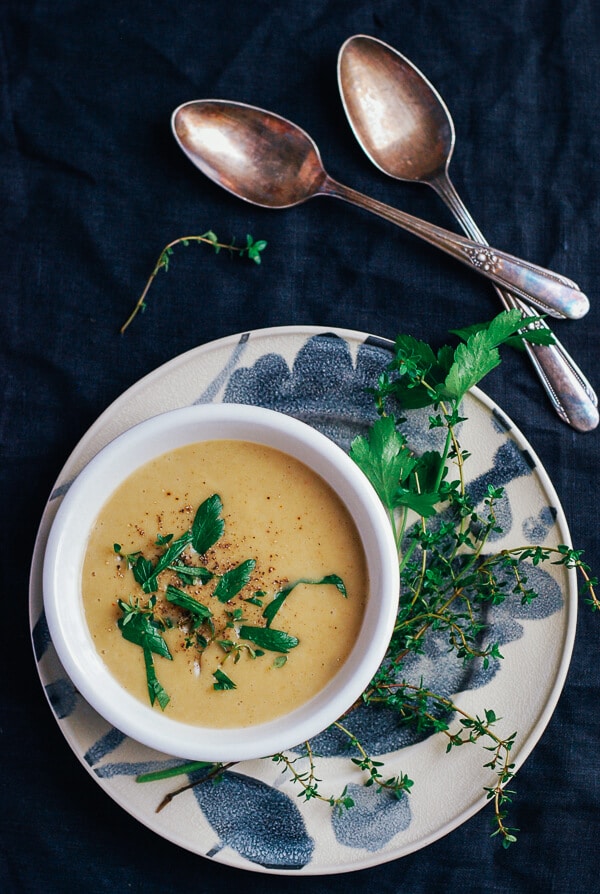 Between its anti-inflammatory, antibacterial, and antiviral properties, garlic is a pro when it comes to delivering health benefits. Not only that, but it also supplies plenty of taste.
Don't be put off by worries of garlic breath because this soup is totally worth it. Paired with potatoes, spices, and a few sprigs of thyme and parsley, this soup tastes just as good as it looks.
Find the recipe here: Brooklyn Supper
14. Vegetable Beef Soup
Hearty and robust, you'd never imagine that this vegetable beef soup is broth-based.
Garlic, carrots, celery, onions, and potatoes add flavor along with fiber, vitamins, and minerals. Skip the parmesan cheese if you want to keep it dairy-free.
Find the recipe here: The Recipe Critic
15. White Bean Chicken Soup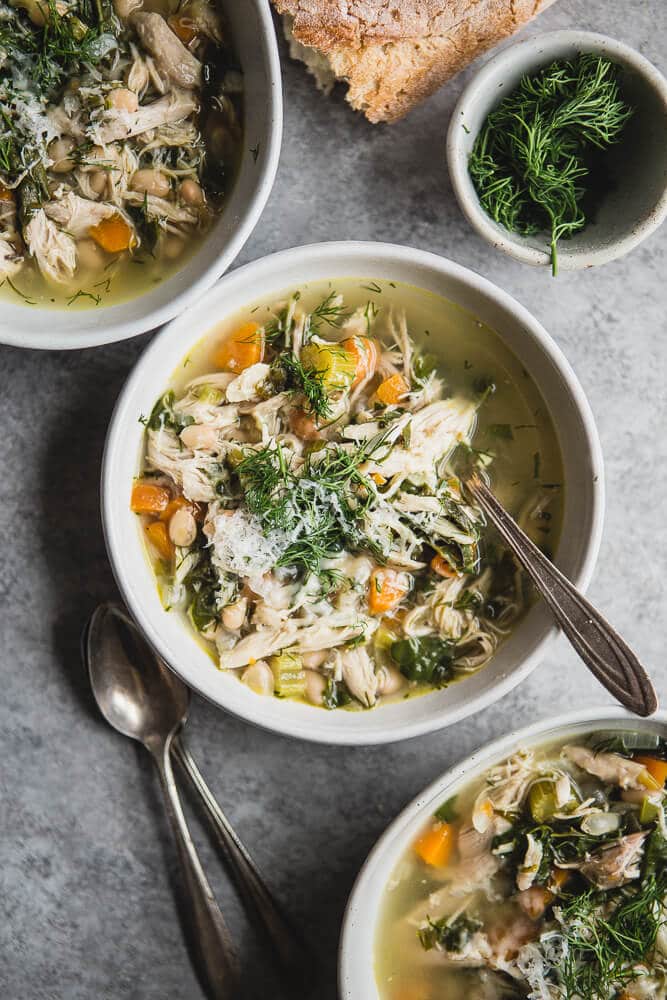 Rich and satisfying, this broth soup can be served as a healthy side dish or take center stage on the dinner table.
This recipe features two ingredients that are high in protein and bring plenty of heartiness to this recipe. With white cannellini beans and chicken, this soup is sure to keep you feeling full all day long. Remember to omit the parmesan cheese to keep it dairy-free and anti-inflammatory.
Find the recipe: The Modern Proper
16. Seafood Soup
With three types of seafood, this is a company-worthy soup, hearty and satisfying.
Coconut oil, cod, calamari, and shrimp bring a plethora of heart-healthy fats not to mention a whopping 27 grams of protein per every 300-calorie serving. Meanwhile, the long list of veggies provide plenty of vitamins and minerals.
Find the recipe here: Tasteaholics
17. Vietnamese Soup: Paleo Pho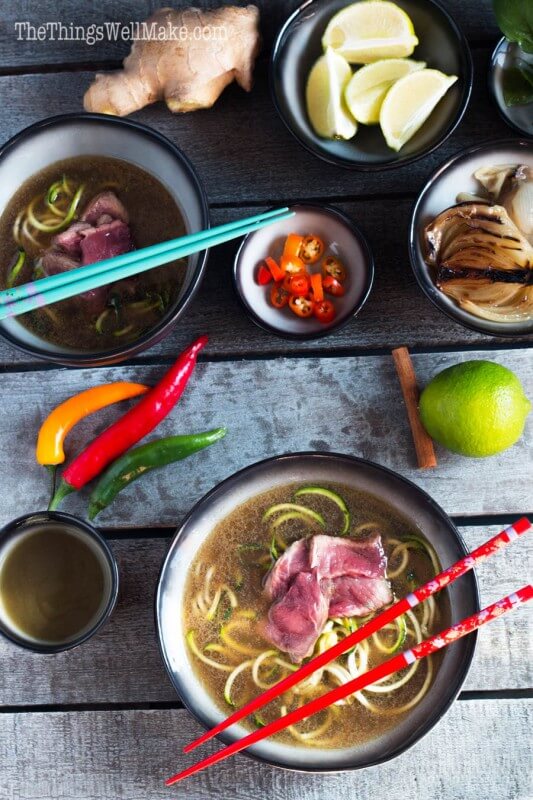 If you're a fan of pho, you're going to love this delicious paleo spin on the classic Vietnamese dish.
Beef steak brings the protein and will satisfy hearty appetites, while spiralized zucchini keeps it low-carb and paleo-friendly.  Plus, you'll know exactly what's in your bowl, meaning no MSG or other additives commonly found in restaurant dishes. Not to mention the addition of spices like cinnamon and cloves, which add a surprising richness.
Find the recipe here: Oh, the Things We'll Make
18. Gut-Healing Vegetable Broth
This nutritious recipe is the vegan alternative for bone broth full of veggies, easy to prepare, and packs a lot of nutrition into every serving.
Wakame seaweed, a type of edible brown seaweed, is highlighted in this recipe, providing a great source of essential omega-3 fatty acids. Shiitake mushrooms are another nutrition superstar here, giving you all the essential amino acids you need and working as a prebiotic to feed your good gut bacteria.
Find the recipe here: Wallflower Kitchen
19. Vegetarian Cabbage Soup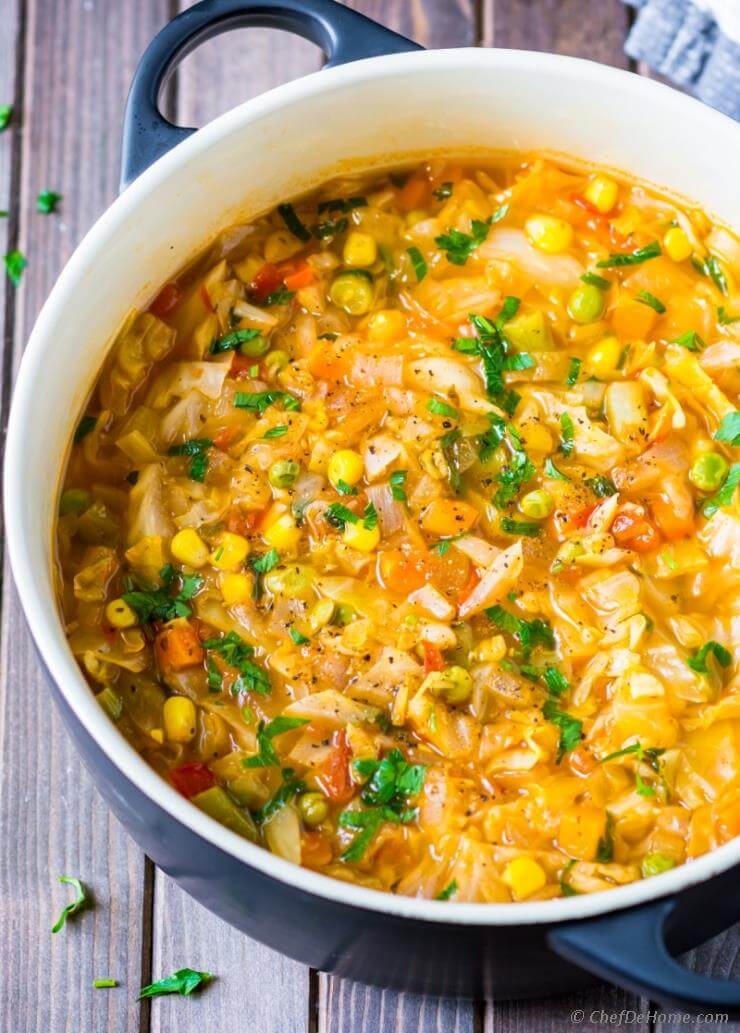 This low-carb vegetarian soup is packed with vitamins and minerals that will satisfy your body while keeping you feeling energized.
Cabbage is high in fiber, folate, and potassium. Plus, it adds just the right amount of crunch and texture to this soup.
Find the recipe here: Chef De Home
20. Chicken Avocado Lime Soup
Everything about this soup is vivid: its green hue, its taste, and even the number of nutrients it provides your body.
Avocado, green onions, and cilantro get the credit, offering up healthy fats, fiber, and antioxidants. Pair it up with some shredded chicken to intensify the nutrient content of this healthy soup even more.
Find the recipe here: Cooking Classy
21. Creamy Roasted Tomato Basil Soup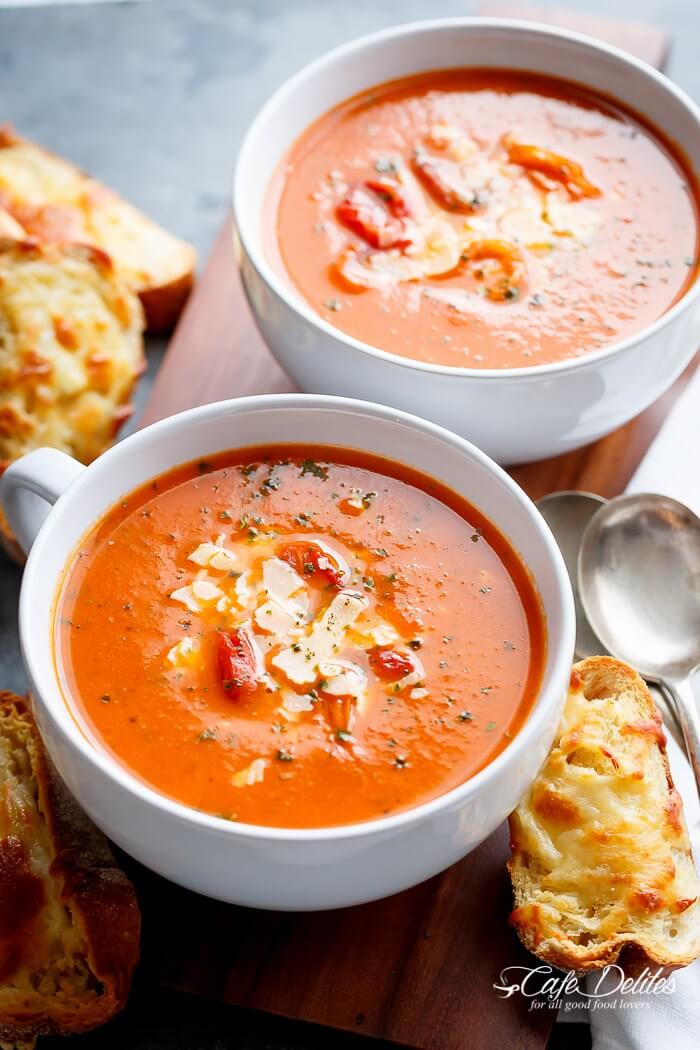 Based on the velvety smooth texture of this soup, you'd probably assume that it's filled with heavy cream and dairy to thicken it up.
Believe it or not, this soup is vegan. The secret ingredient is potatoes, which give this soup a natural fullness without the inflammatory dairy. They provide a flavor that can't be found in any canned soup.
Find the recipe here: Cafe Delites
Broth-Based and Delicious
As you can see, brothy soups aren't just limited to the kind of tasteless, single-ingredient soups that they serve in the hospital.
Broth-based soups can be made up of pretty much anything, from seafood to veggies, or even hearty beef.
Try incorporating one or two of these tasty soups into your dinner rotation and taste the deliciousness for yourself.
Easy, Fast, and  Nutritious Meals
On the hunt for some quick and delicious meals to add to your go-to list? Make sure you get your FREE copy of The All-Day Energy Diet Community Cookbook.
It's packed with 67 dairy- and gluten-free recipes that are designed to be on the table in just minutes.
Get your copy now by clicking the image below!