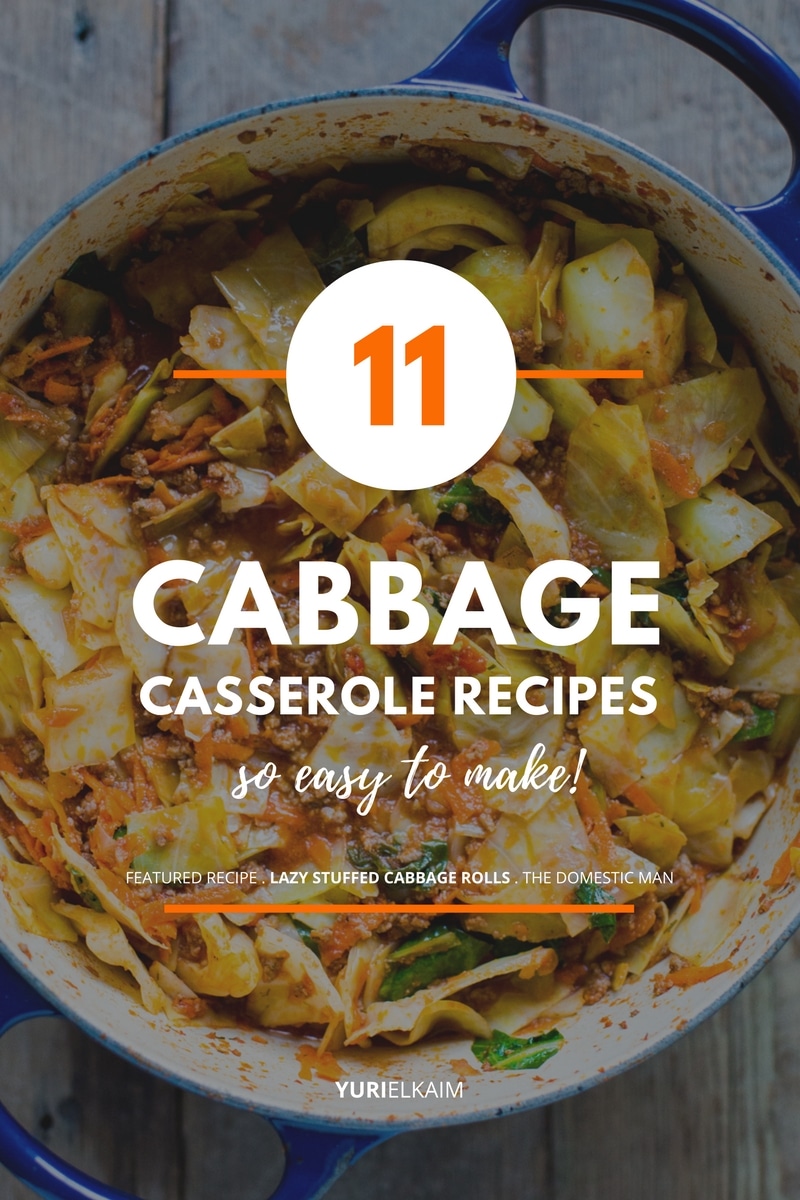 In my book, a recipe gets bonus points when it meets four basic criteria: it's easy to make, delicious, nutritious, and inexpensive.
Cabbage casserole is a staple in my kitchen because it meets (and exceeds) my expectations in all four categories.
Cabbage is an awesome ingredient to keep on-hand because it's low in calories and fat, while also incredibly nutrient-dense and full of fiber. Plus, it contains a long list of vitamins and minerals, including:
Vitamin K
Vitamin C
Vitamin B6
Potassium
Folate
Copper
Manganese
If you've already experimented with coleslaw and sauerkraut recipes and are looking for a new way to serve up a head of cabbage, casserole is the way to go.
One of the best things about cabbage casseroles is that you can customize most recipes to suit your own tastes, or what ingredients you have in the fridge. Check out a few of my favorite cabbage casserole recipes below.
11 Easy Cabbage Casserole Recipes
1. Fried Cabbage with Kielbasa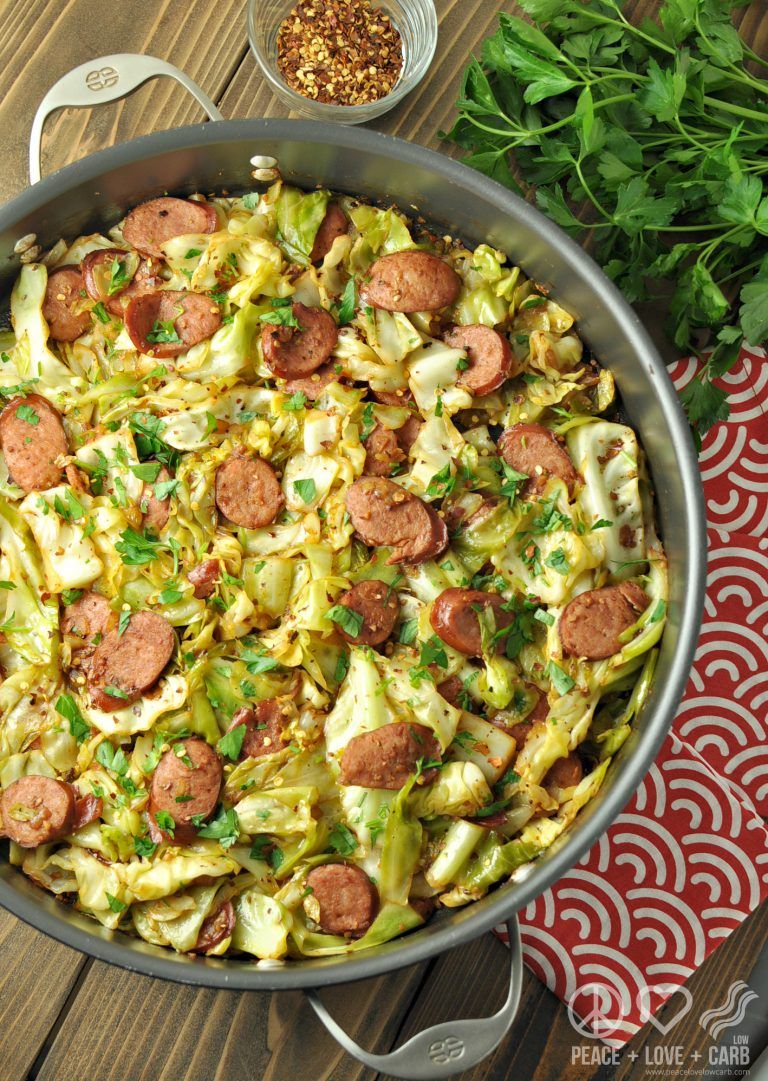 Hearty, savory, and bursting with flavor, whip up a batch of this recipe and you definitely won't be disappointed.
Not only is this dish low-carb, gluten-free, and paleo-friendly, it's full of delicious ingredients that really mask just how healthy and good-for-you it actually is.
Find the recipe here: Peace Love and Low Carb
2. Slow Cooker Spicy Stuffed Cabbage Casserole
Not only is this casserole every bit as tasty as it looks, but it's super quick and easy to make too.
With delicious ingredients like cabbage, cauliflower rice, and ground beef, this dish is paleo-friendly. Load the ingredients into your slow cooker, turn it on, and come back a few hours later for a delicious dinner.
Find the recipe here: Bowl of Delicious
3. Lazy Stuffed Cabbage Rolls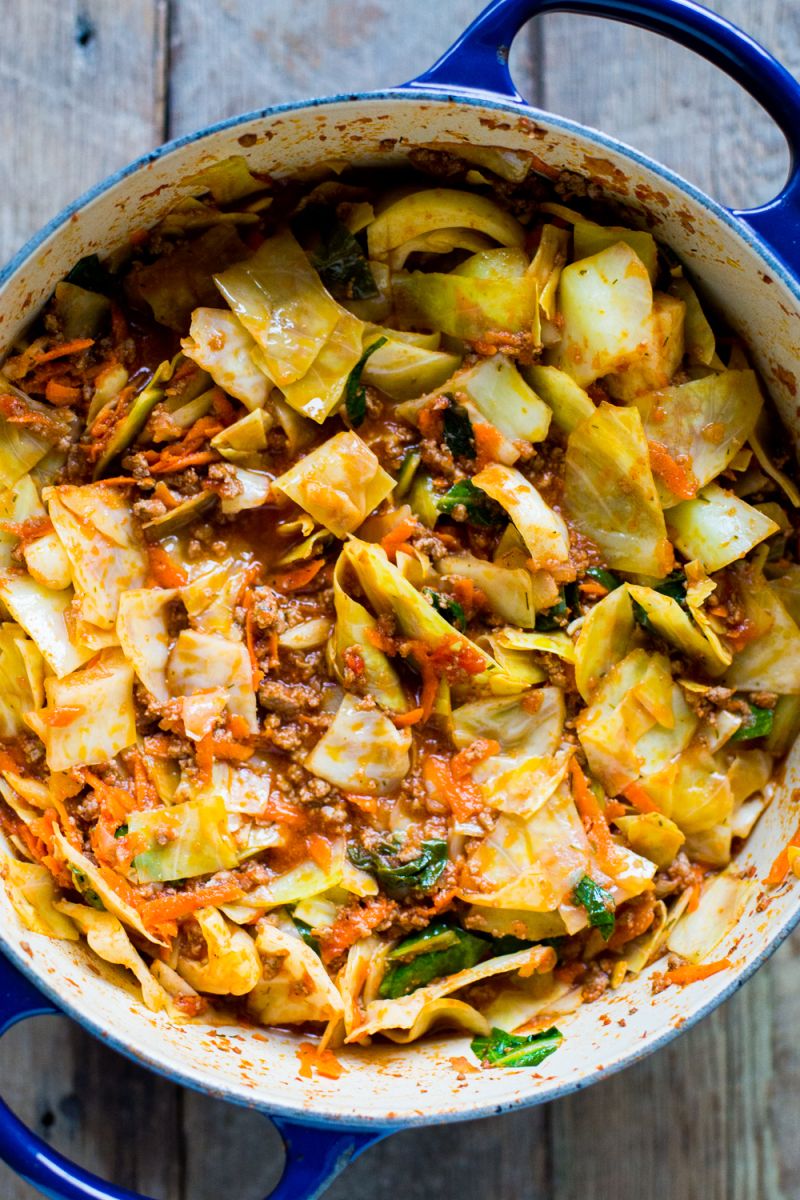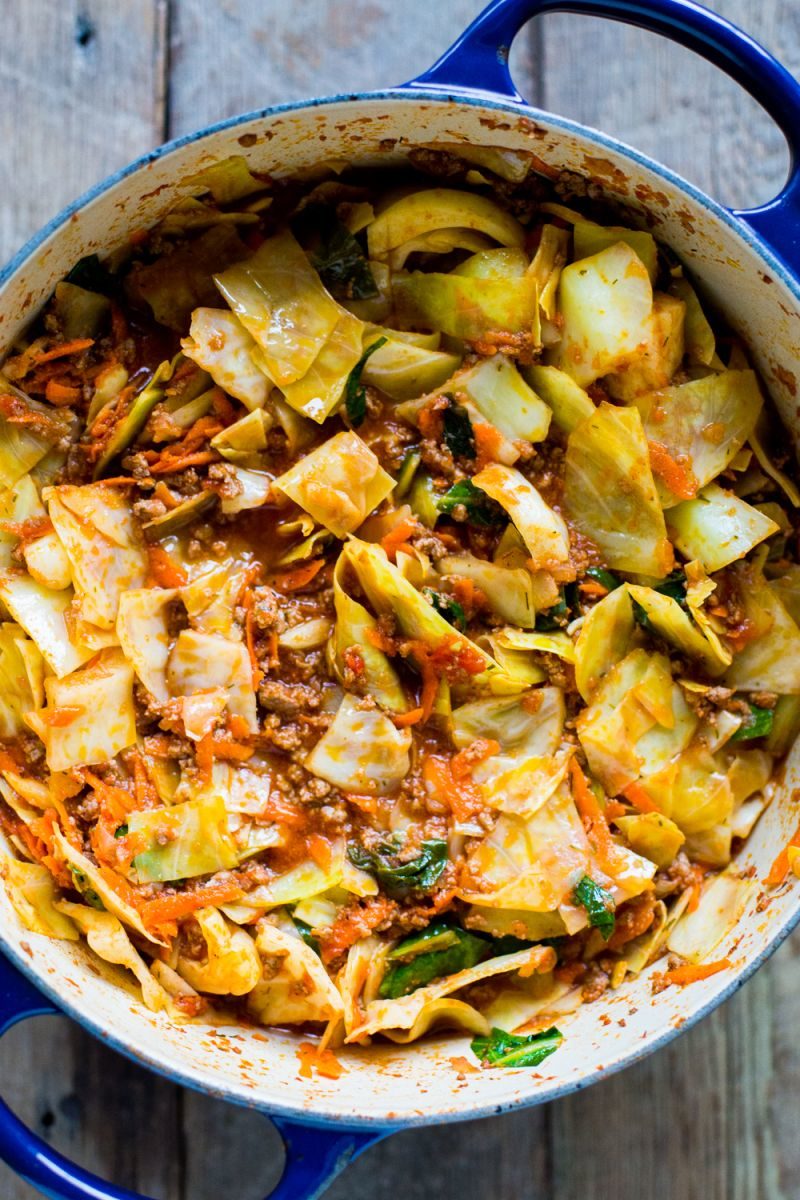 If you're looking for a low-stress "lazy" dinner idea, this recipe is for you.
Cabbage combines with other health-promoting ingredients like carrots and collard greens in this nourishing dish. These cabbage rolls come together in no time, but will taste like you've spent all day slaving away in the kitchen.
Find the recipe here: The Domestic Man
4. Cabbage and Sausage Casserole
Whether you're crunched on time or don't want to spend hours in the kitchen, this is a recipe you will enjoy.
With only a few simple ingredients, this casserole comes together in a cinch and is the perfect meal to make when you're on a tight schedule. Butter, sausage, and cabbage are all you need to cook up a few servings of this instant family favorite.
Find the recipe here: Smitten Kitchen
5. Unstuffed Cabbage Casserole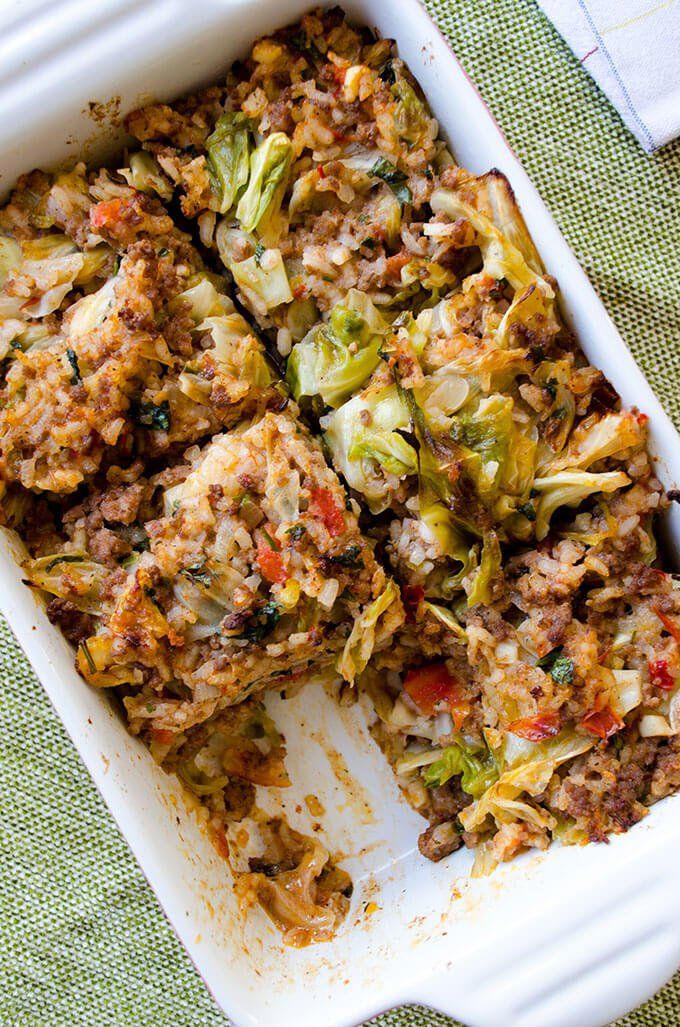 Requiring only the time and effort of stuffed cabbage rolls, this unstuffed cabbage casserole recipe is just what you need to add to your weekly dinner rotation.
After cooking the cabbage, simply combine the ingredients, pour into a casserole pan and voila! A delicious dinner the whole family will love is ready to be served.
Find the recipe here: Give Recipe
6. Simple Red Cabbage Casserole
Vibrant and full of flavor, this casserole is as much a treat for your eyes as it is your stomach.
Did I mention it's packed with nutrients? Full of antioxidant- and fiber-rich vegetables plus healthy coconut oil, this is a meal you can feel good about grabbing a second helping.
Find the recipe here: Our Earth Land
7. Slow Cooker Stuffed Cabbage Casserole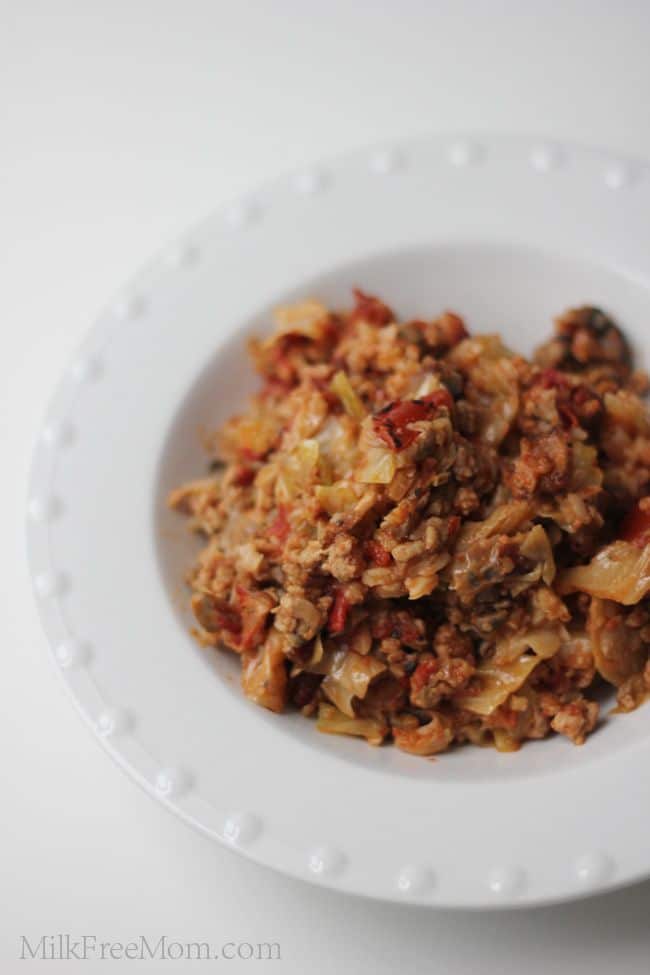 Bacon, mushrooms, and cabbage: honestly, does it get any better than this?
Best of all, this recipe is easily prepared using a slow cooker. Pile in your ingredients and let it cook for a few hours while the delicious scent fills your kitchen. Turn it on in the morning and by the afternoon you have a flavorful feast, all set to be devoured.
Find the recipe here: Milk Free Mom
8. Vegetarian Stuffed Cabbage Casserole
Who says cabbage casserole has to contain meat?
This vegetarian take on stuffed cabbage casserole includes lentils and brown rice to really cram in the fiber, protein, and nutrients. You'll want to skip the dairy in this one but if you crave that cheesy texture, choose a vegan (non-dairy) variety.
Find the recipe here: Oh My Veggies
9. Baked Cabbage Casserole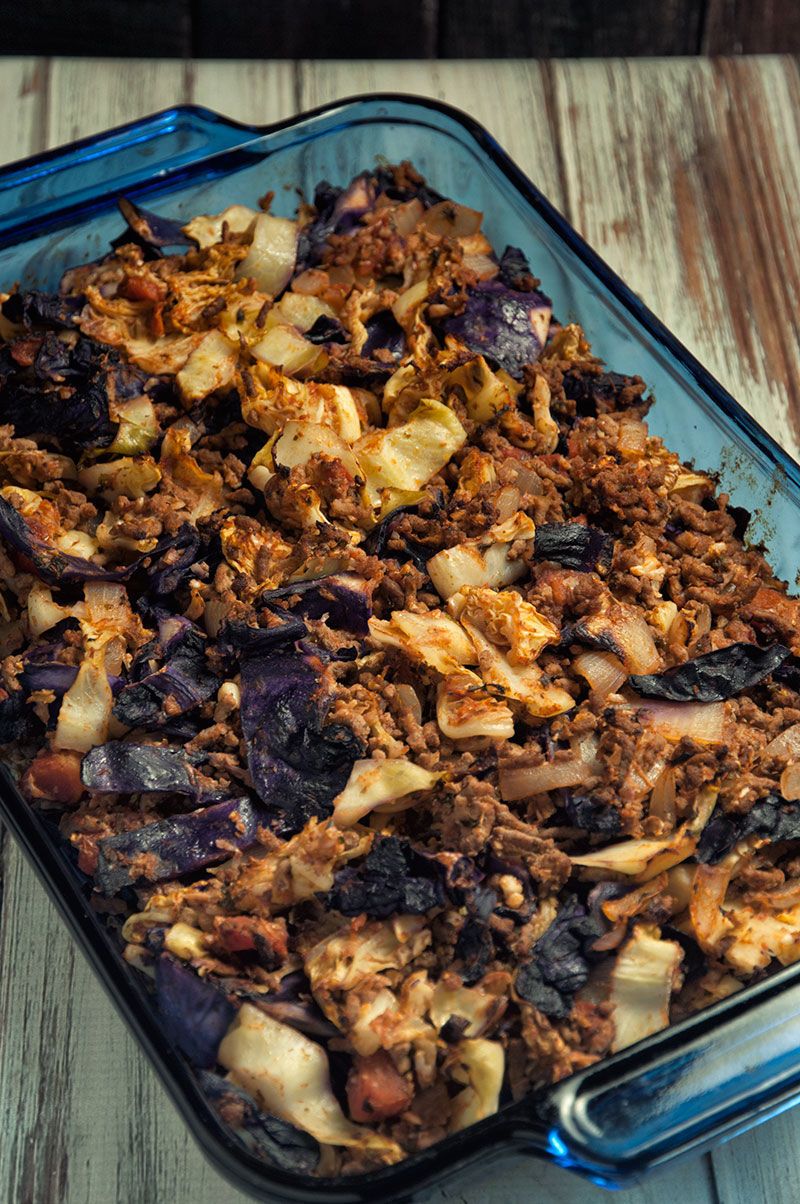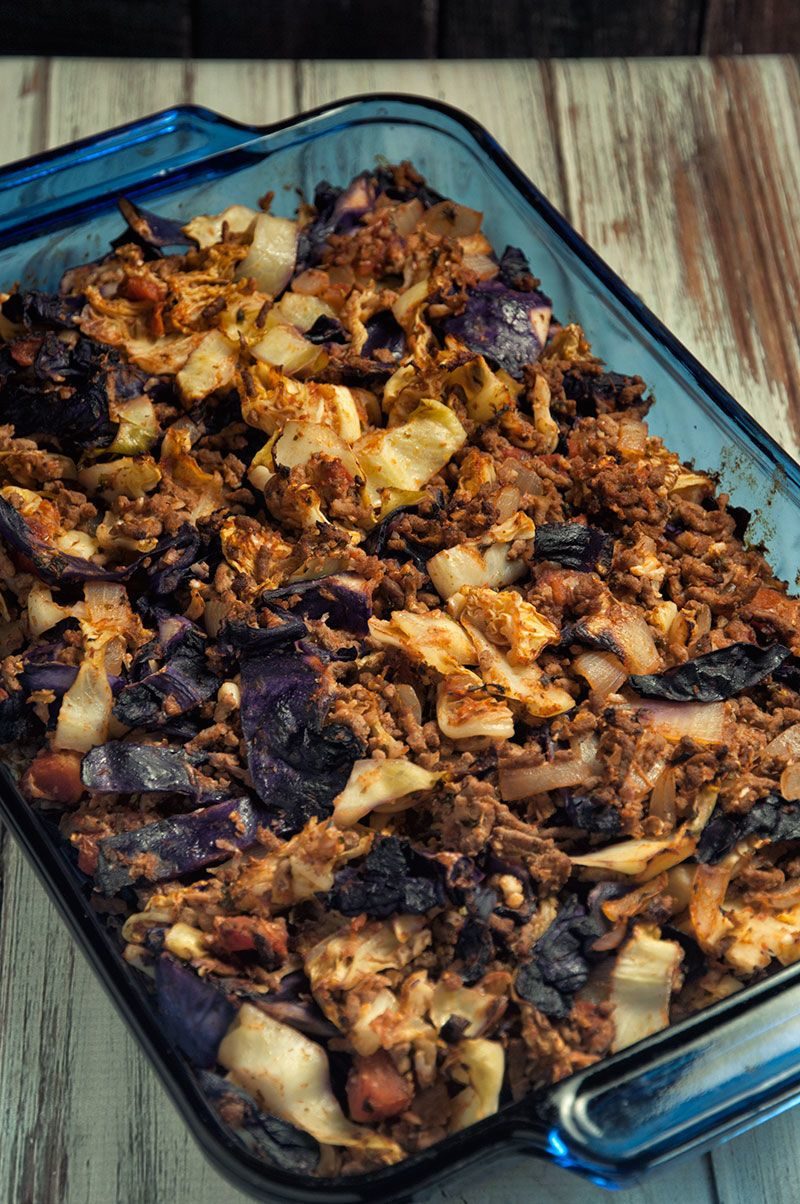 This recipe for cabbage casserole is rich, satisfying, and perfect for paleo lovers.
With ground beef, garlic, cauliflower, and tomato sauce, this recipe certainly isn't lacking when it comes to flavor. Plus, it only requires 20 minutes of prep and can go from the kitchen to the table in just over an hour, making it a must-have in your recipe collection.
Find the recipe here: Paleo Leap
10. Vegetarian Stuffed Cabbage with Quinoa, Onions & Carrots
This dish puts a unique (and tasty) vegetarian twist on stuffed cabbage rolls.
Filled with cooked quinoa, carrots, and fresh herbs, each bite of these cabbage rolls delivers a deliciously satisfying burst of flavor. Wholesome and nutritious, this mouthwatering recipe is sure to be a crowd-pleaser.
Find the recipe here: Melangery
11. Vegan Cabbage Rolls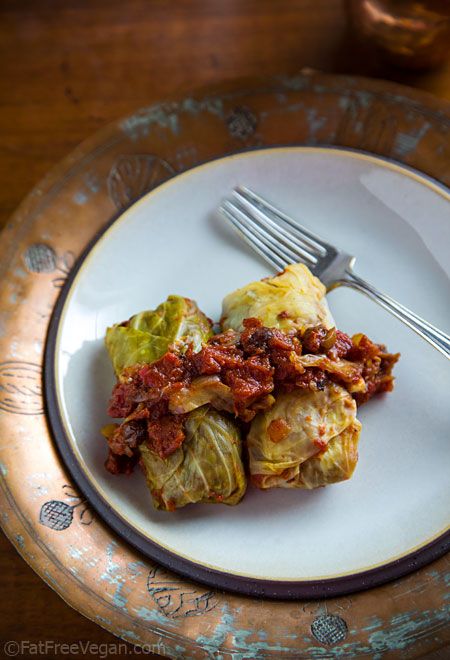 If you're ready to give your traditional cabbage rolls an upgrade, this vegan-friendly recipe might just do the trick.
Thanks to ingredients like lentils, cooked grains, and fire-roasted tomatoes, this dish boasts an impressive nutrient profile. In fact, one serving of this scrumptiously satiating recipe provides an astonishing 18 grams of protein plus almost 20 grams of fiber, knocking out a big chunk of your daily needs all at once.
Find the recipe here: Fat Free Vegan
Cabbage Casserole Creations
Ready to get cooking? Nothing beats a casserole when it comes to being a comfort food. And with their impressive nutrient profiles, these cabbage casserole recipes are all worthy additions to your meal rotation.
Healthy, nutritious, and delicious, they're also a great way to boost your veggie intake.
Mealtime Made Easy
Looking for more healthy gluten- and dairy-free meals that are easy to prepare?
Be sure to get your FREE copy of the All Day Energy Diet Community Cookbook, which features 67 meals that are fast and easy to make.
Click the banner below to get your copy!