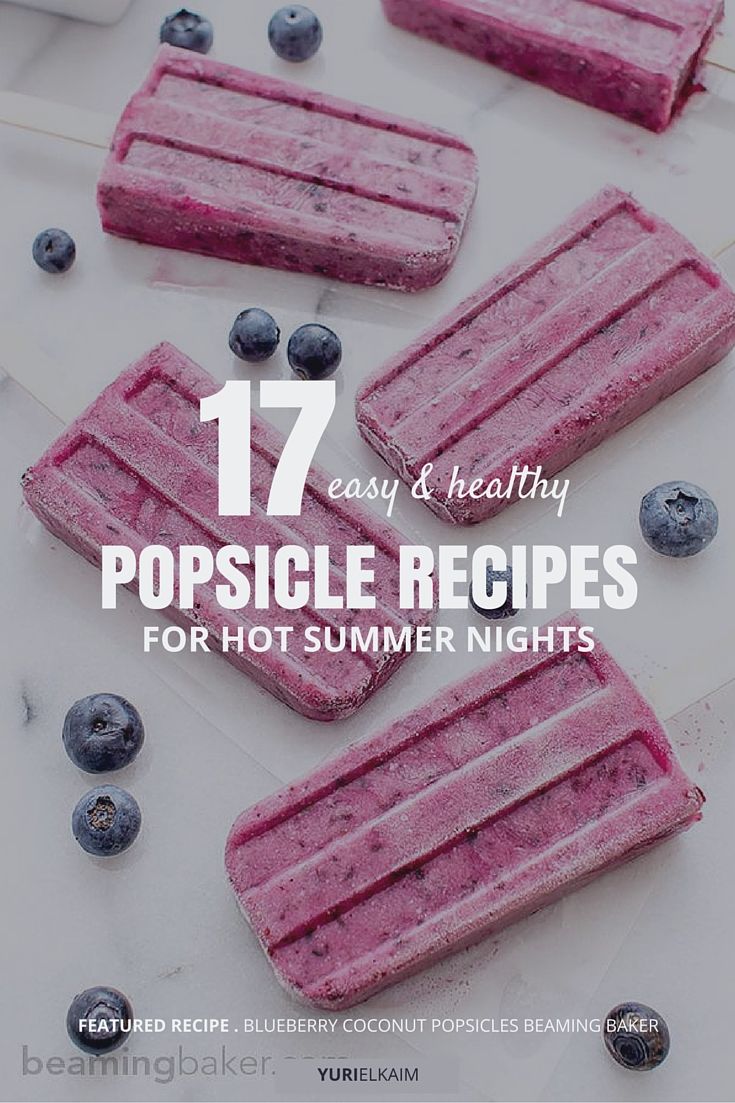 Summer's here, and you're craving a cool, refreshing treat that won't weigh you down.
Homemade popsicles to the rescue! I mean, who doesn't love a sweet, icy treat on a hot day?
But when it comes to popsicles, making your own is definitely the way to go – not only does the homemade version have a more vibrant and fresher taste, they're much healthier than store-bought varieties.
If you're wondering where to start, we've got the rundown on how to make low-sugar, dairy-free, gluten-free popsicles.
Here are some tips:
If you're going to be making ice pops often, it makes sense to buy a reusable mold. Make sure the popsicle mold is BPA-free, and look for a mold that's appropriately sized for the eater – smaller molds work well for little kids.
If you're not one for waiting around, there's a quick pop maker on the market, but you'll be paying a lot more for that convenience.
If you don't make pops often and want to give it a spin before buying a mold, try this easy paper cup method: Pour your pop base into small paper cups, freeze for 30 to 60 minutes, then stick in wooden popsicle sticks and freeze for another five hours. When it's time to eat, peel off the paper cup and enjoy.
Ready to get started?
It Starts with the Base
If you want to go creamy, the best ways to keep it dairy-free are with coconut milk or coconut cream, avocado, or nut butter.
Or, if you want a fruity base, use pure, blended fruit. Using whole fruit adds fiber to your pops, so I recommend avoiding fruit juices whenever possible.
Use a blender if you prefer more pureed pops, or add whole berries or chunks of cut-up fruit if desired.
Another idea: make your favorite smoothie with fruit and/or fresh veggies and then pour into the molds for a frozen version.
You can even add protein to these healthy treats for staying power. Chia seeds, nut butter, or protein powder added to your base recipe will give you the perfect protein boost.
Mess-Free Molding
Once you've made your fresh and healthy base, pour it into a pitcher with a spout for easy delivery into the molds.
Leave about a quarter-inch at the top of the mold for expansion as the base freezes. It's best to wipe up excess puree after you pour in the liquid so you can easily get the pops out once they're frozen, and use the individual covers and built-in sticks for best results.
Faster Freezing
Your ice pops will be ready sooner if you place them near the back of the freezer.
Remove the Molds ASAP
It's best not to let your popsicles sit in the mold for more than 24 hours, otherwise they may change texture or discolor.
You're going to need a pan or container that's at least as tall as your mold. Fill it with warm water and dip the mold into the water for about 20 to 30 seconds, or until the pops loosen.
Take the mold out of the water and grip the handle of each pop as you gently pull upward. If there's any resistance, put the mold back in the warm water for a few more seconds.
Another way to loosen your pops is to let them sit in the mold at room temperature until they start to pull away from the mold, but this method can be a bit messy. Alternatively, you can run each mold under warm water, but this may cause an uneven loosening of each pop.
Back in the Freezer
Freeze the popsicles again. Even though you'll be tempted to try a sample, you'll have the best consistency if you put your ice pops in a Ziploc bags or an airtight container (with waxed paper between each pop) and freeze again for 30 minutes.
This ensures the popsicles will hold their shape and won't melt as quickly.
Keep extras in the freezer and store for up to four weeks.
Ready to get going? Here is a delicious, sweet roundup that will keep you feeling refreshed all summer long … or maybe bring back the flavors of summer during cold months.
17 Healthy Popsicle Recipes
1. Orange Julius Popsicle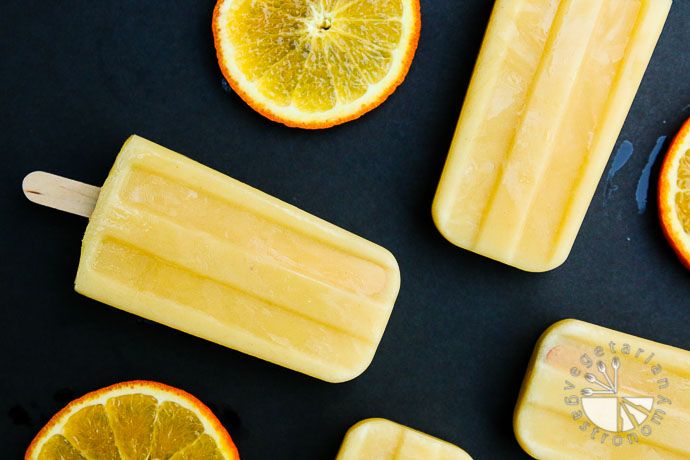 Go back in time with a chilly Orange Julius made the healthy way, in this yummy vegan version.
Full-fat coconut milk gives it creaminess, and orange zest gives it a citrus zing.
Find the recipe here: Vegetarian Gastronomy
2. Vegan Snickerdoodle Popsicles
You'll love these: Cinnamon-flavored, dairy-free ice cream pops are coated with a irresistibly crunchy snickerdoodle cookie crisp. Best of all? They're vegan, gluten-free, nut-free, and soy-free
Find the recipe here: Vegan Richa
3. Chocolate Avocado Fudgesicles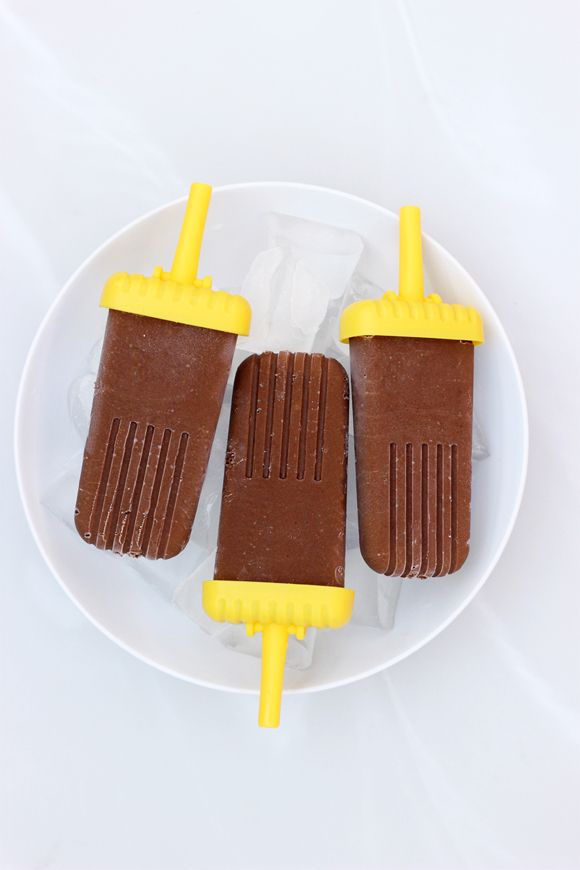 Sounds weird, tastes great – rich, creamy, and chocolaty. Avocado not only gives these frosty treats a heart-healthy edge, but also their creamy richness.
Find the recipe here: Free People Blog
4. 3-Ingredient Chia Raspberry Popsicles
Beat the heat and satisfy your sweet tooth with these healthy ice pops. So simple with just a few ingredients, these smoothie pops will surely become your summertime go-to treat.
Find the recipe here: Yuri Elkaim
5. Vegan PB and J Ice Cream Popsicles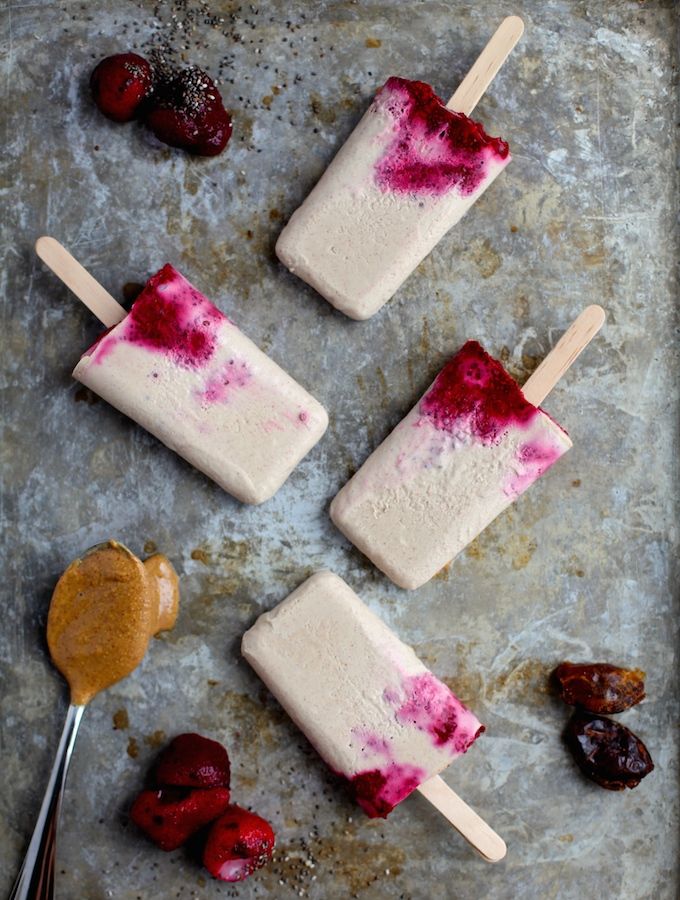 This 5-ingredient popsicle is smooth, creamy, rich, and tasty with hints of tart, sweet, berry goodness. This recipe combines peanut butter with coconut milk, is naturally sweetened with medjool dates, and is bursting with fresh berry flavor.
Find the recipe here: Nutritionist in the Kitchen
6. Creamy Mango and Chocolate Chip Ice Cream Popsicles
Easy and fun, this four-ingredient recipe makes a healthy treat. Antioxidant-rich mango is perfectly balanced by the little nuggets of chocolaty goodness.
Find the recipe here:  The Healthy Family and Home
7. Green Smoothie Detox Pop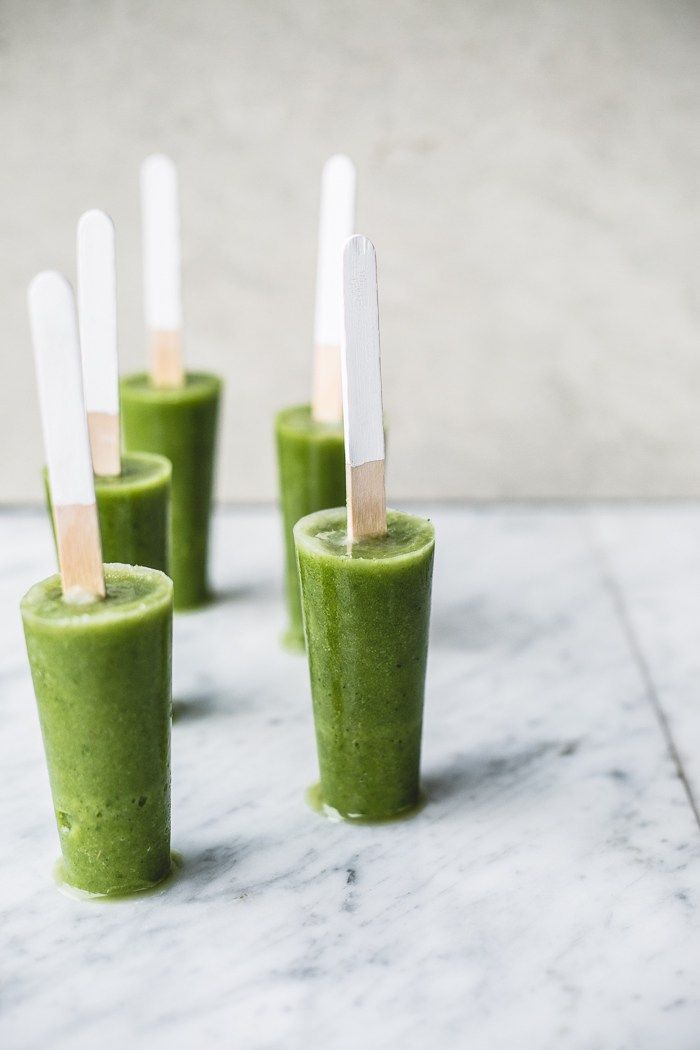 Reset your body with a cold, fresh, vitamin-packed popsicle. It's full of healthy veggies and fruits for a treat your body will love.
Find the recipe here: Top With Cinnamon
8. Chocolate Covered Strawberry Popsicles
If you're looking for a decadent yet healthy treat, this recipe is for you: Pure blended fruit is dipped in to dark chocolate. So good!
Find the recipe here: Dessert Bullet Blog
9. Mint Chocolate Popsicles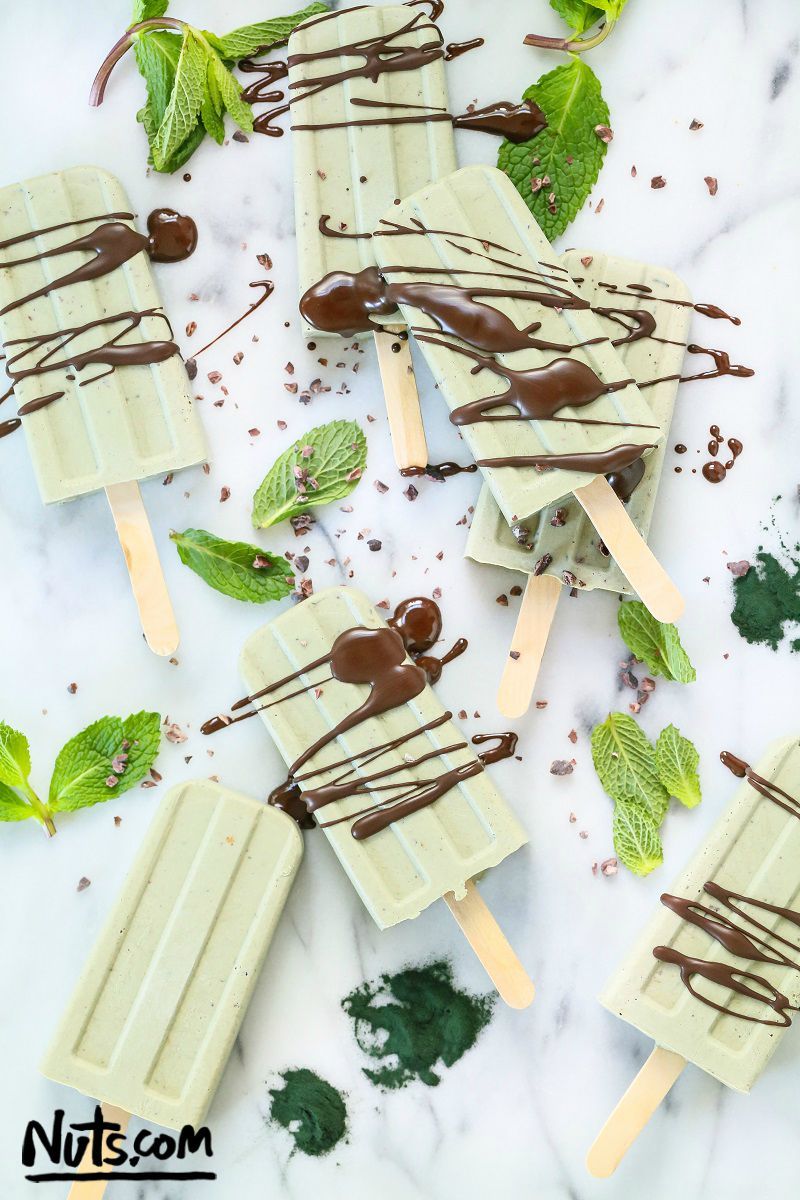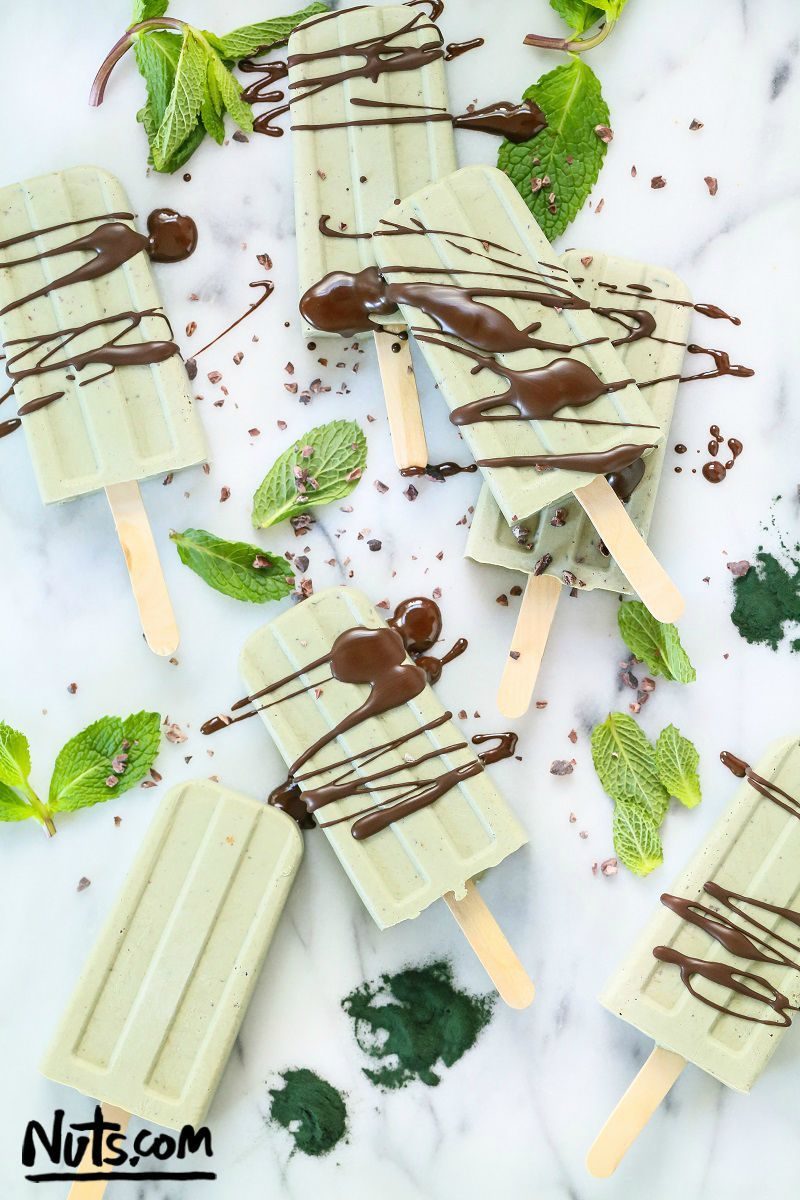 Cool mint and smooth chocolate come together in these dairy-free pops that are ready to enjoy straight out of the freezer – or with an added dark chocolate drizzle.
Find the recipe here: The Nutty Scoop
10. Striped Strawberry and Cream Ice Pops
Stunningly beautiful, vegan, and packed with healthy ingredients, these strawberry popsicles are just what you need for a hot summer day.
Find the recipe here: Simone Anne
11. Vegan Blueberry Coconut Popsicles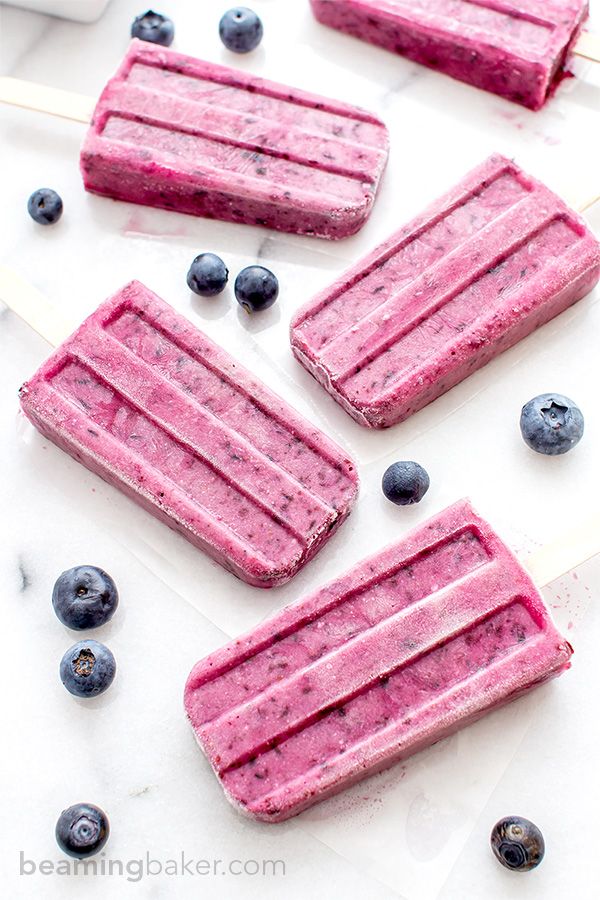 Toss three simple, feel-good ingredients – blueberries, coconut milk, and maple syrup – into a blender, then freeze the creamy mixture into a popsicle mold. Hours later you'll have a frosty treat bursting with fresh blueberry flavor.
Find the recipe here: Beaming Baker
12. Mini Nectarine Ginger Popsicles
Super-ripe nectarines are paired with creamy coconut milk, zesty lime juice, and ground ginger in this refreshing recipe – the flavor combo is delicious.
Find the recipe here: Ditch the Wheat
13. Almond Butter Banana Pops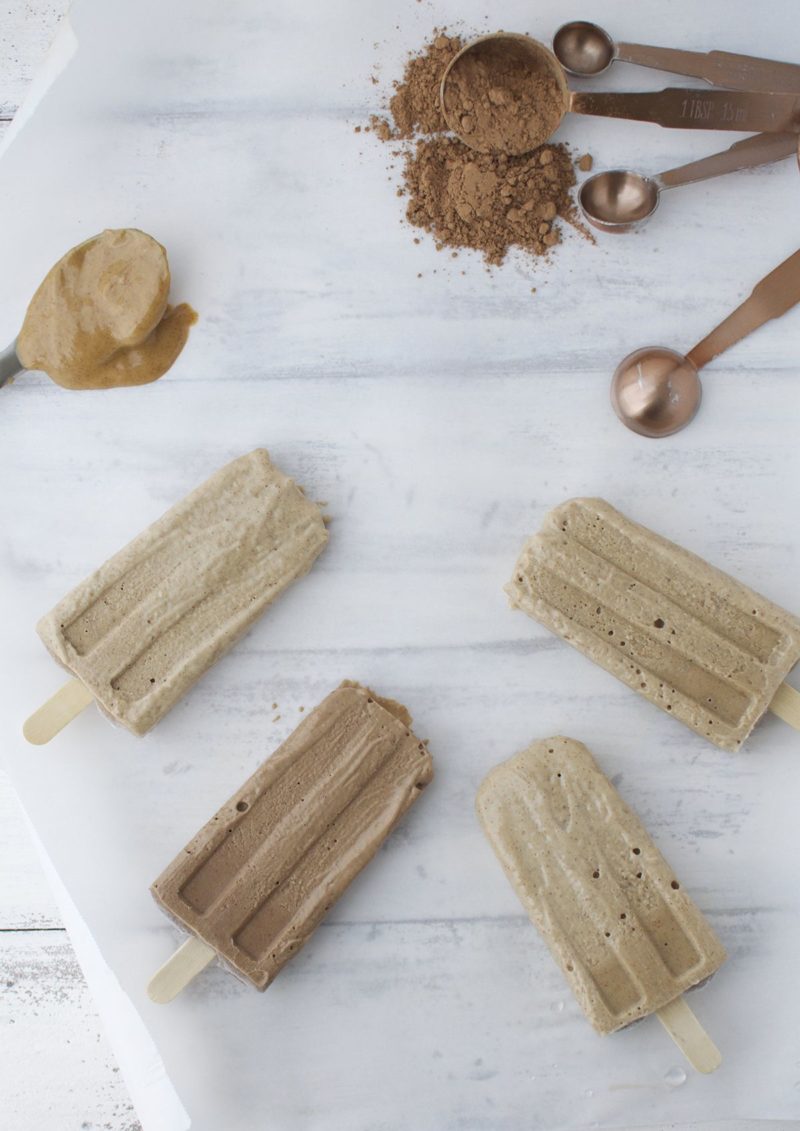 These pops contain enough protein and fiber to power you through until your next meal – and yet they're still a delicious summertime snack. Plus, they are 100 percent naturally sweetened, gluten-free, and dairy-free.
Find the recipe here: Delish Knowledge
14. Vegan Banana Chia Popsicles
The super power of chia gives these ice pops plenty of fiber, protein, and omega-3 fatty acids and bananas give them a tropical flavor. Delicious!
Find the recipe here: The Other Side of the Tortilla
15. Kiwi Coconut Chia Popsicles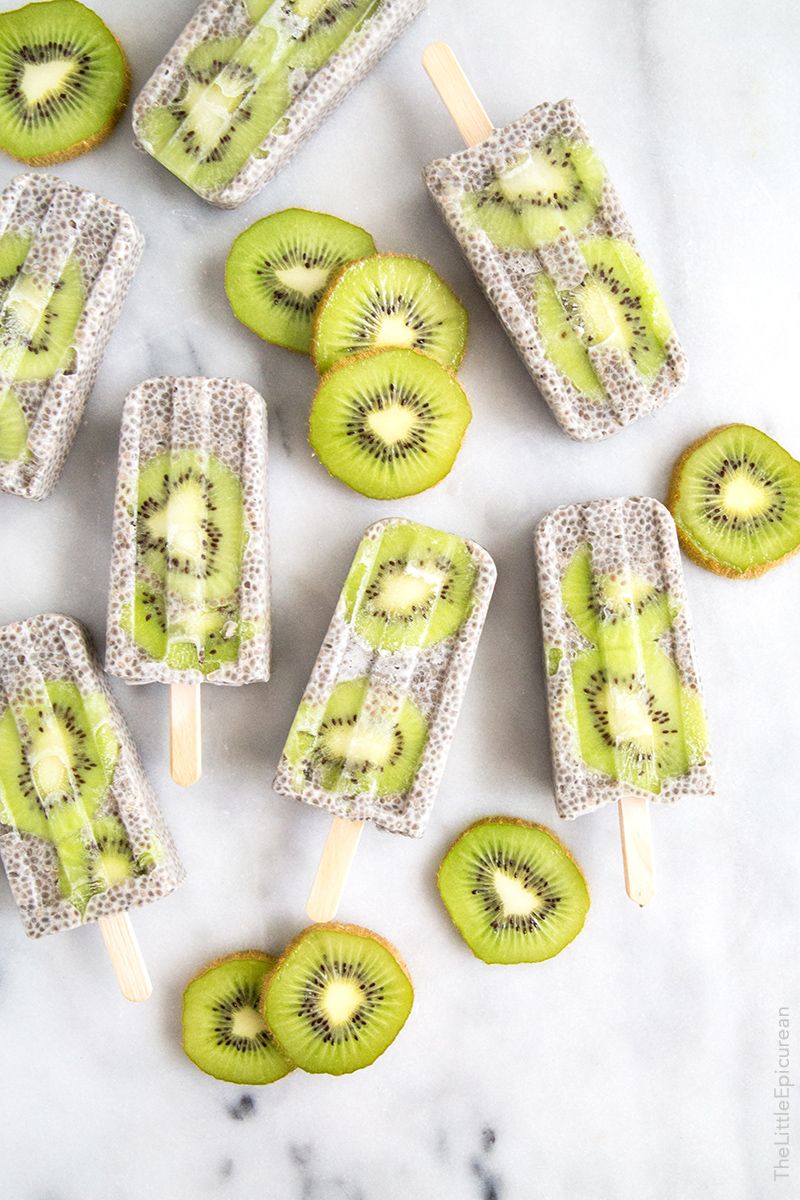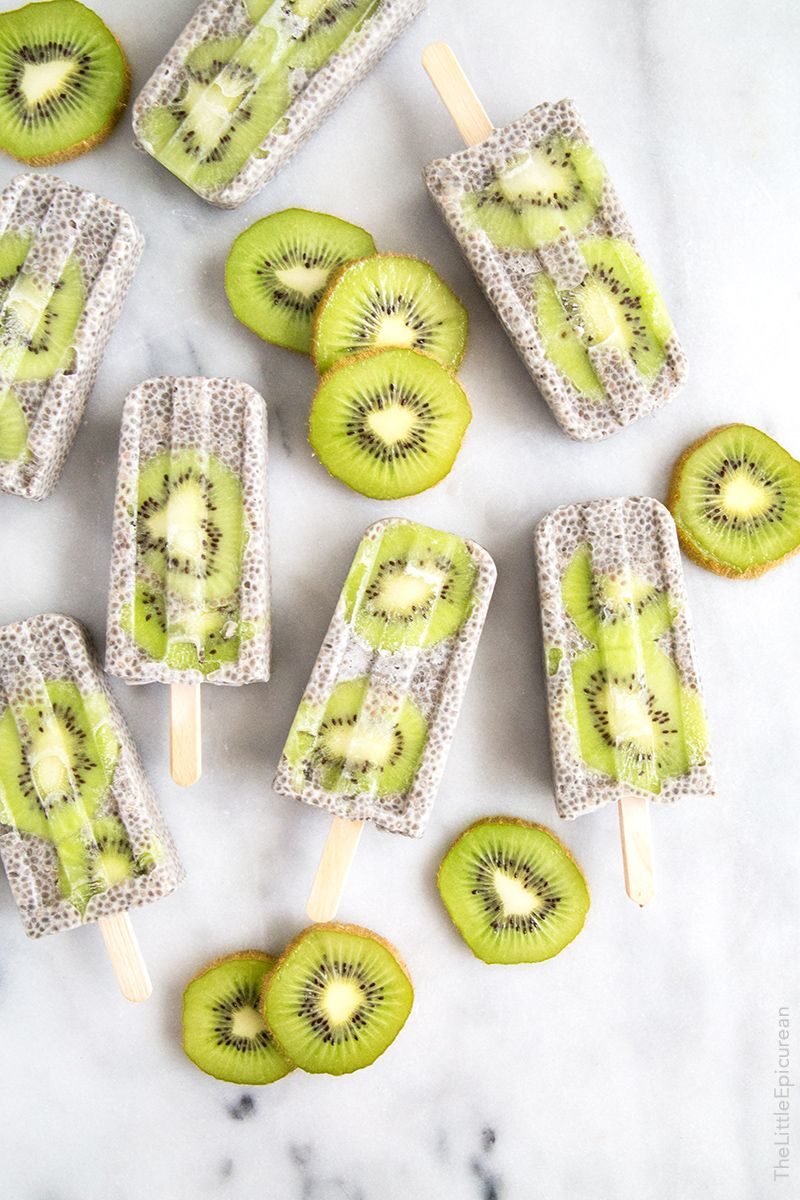 Here's another gorgeous recipe, this one featuring bright green kiwi slices floating in a sea of delicious coconut chia pudding. And these pops look just as good as they taste!
Find the recipe here: The Little Epicurean
16. Smoothie Popsicles
Turn your nutritious fruit-and-veggie-filled drink into a frozen smoothie popsicle that will keep you cool and your kids happy.
The flavor possibilities are practically endless: how about trying strawberry-banana-oatmeal, blueberry pomegranate, tropical, pumpkin, or green kiwi?
Find the recipe here: Love Grows Wild
17. Strawberry Orange Popsicle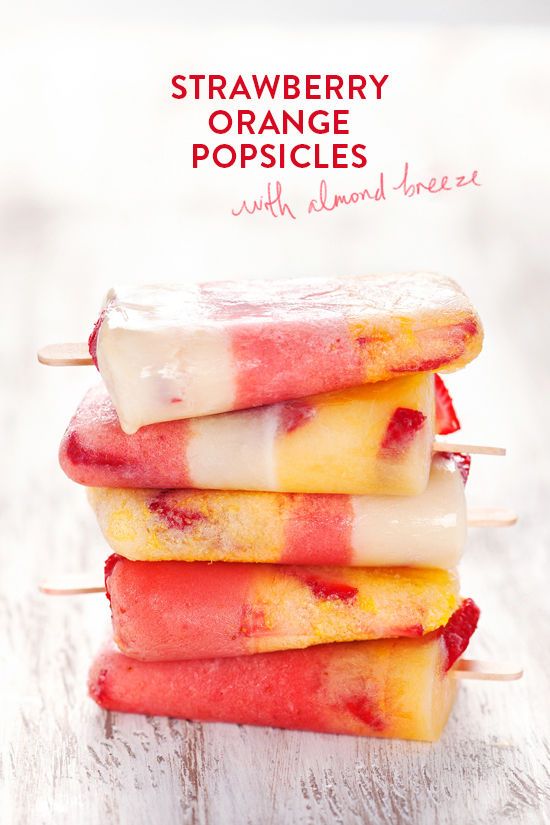 This one tastes like summertime: filled with the flavors of sweet strawberries and refreshing oranges. Made with both fresh and frozen fruit, you can add protein powder for a little midday boost if needed.
Find the recipe here: Design Love Fest
Popsicle Recipes for Every Mood
Homemade popsicles can be a healthy, refreshing treat that won't overload you with sugar.
And plus, by using whole ingredients, you can also sneak fiber, vitamins, minerals, and phytonutrients into snacks, making them good for you (and for your whole family).
Want Even More?
Looking for more healthy desserts that will leave you feeling light, refreshed, and satisfied?
You'll definitely want to check out the 8 irresistibly delicious – and 100 percent gluten- and dairy-free – recipes in my Healthy Desserts eBook.
You can get it – for FREE! – by clicking the banner below.