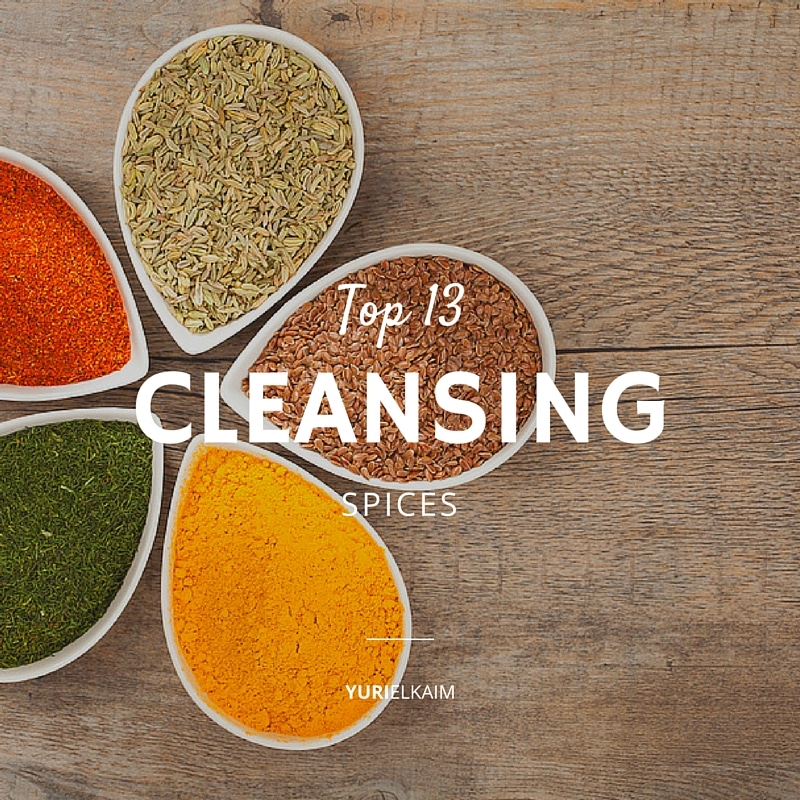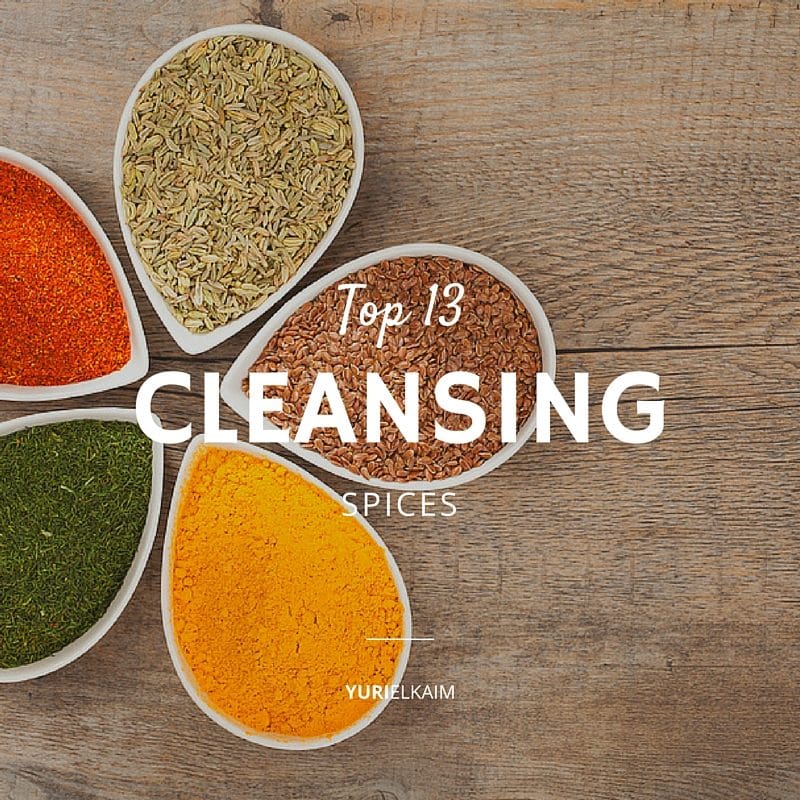 Did you know your spice rack is a mini-medicine cabinet?
For centuries, various cultures around the world have relied on the power of cleansing spices to maintain good health in addition to seasoning their food.
It's all because cleansing spices boast a wealth of medicinal properties: some have high antioxidant content, while others help you maintain your immune system; some are liver cleansing spices, while others are colon cleansing spices.
As you probably know, I believe deeply in using natural remedies wherever possible, so the idea that you can stave off sickness with some of the same things you'd use to season your lunch is very exciting to me. 
It should be exciting to you too. 
That said, you probably have several spices in your kitchen, so it's important to make note of exactly which ones are cleansing spices. Let's take a look at my 13 favorites:
The Best Cleansing Spices Around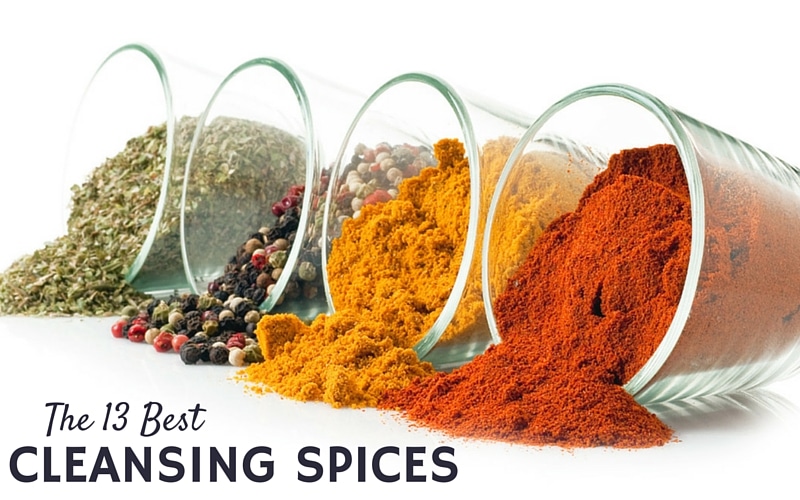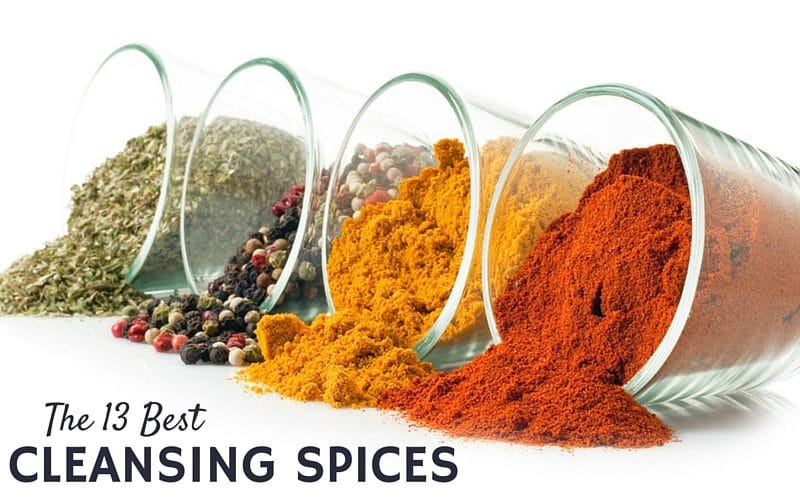 1. Turmeric
Turmeric or Curcuma Longa is a spice used extensively in Asian Cuisine, for dyeing and for imparting color to mustard recipes.
However, it has also been used for centuries as a medicine for healing sores, cuts and bruises and also to relieve problems of the stomach and liver.
Among turmeric's many active biochemical compounds, curcumin is the most studied for its health benefits.
Curcumin in turmeric has antibacterial, anti-inflammatory, anti-tumor, antiviral and antioxidant properties. It detoxifies the liver, cleanses the blood, acts as a cleanser and a toner for the skin, heals cuts and bruises and is a powerful antioxidant.
In short, it's an all around cleansing spice, whether you use it internally or externally.
Extensive research has proven that turmeric can stop the precancerous changes from becoming full blown cancer. Many lab studies have also shown that it can play a role in treating cancers. (1)
A 2007 study evaluated turmeric and chemotherapy for treating bowel cancer and demonstrated that a combination of turmeric and chemo killed more cancer cells than the chemo alone.

2. Cardamom
There are two types of cardamom – green cardamom and black cardamom. It's used traditionally as a spice in many cuisines, and of course, has some amazing medicinal and health benefits.
One study demonstrated that the strong antioxidant properties of cardamom eradicated 99% of the free radicals in a group of mice that were fed cardamom.
Cardamom was also able to scavenge reactive substances in the heart tissues that are the primary culprit in causing heart diseases.
Several studies have also validated the anti-cancer properties of this amazing spice. The essential oils in cardamom are beneficial in digestive disorders like constipation and dysentery, gum and tooth infections, eyelid inflammation, lung congestion, and throat infection and congestion.
Cardamom also breaks and dissolves gall bladder and kidney stones. Traditional medicine has even used cardamom as an antidote for scorpion and snake bites.

3. Cinnamon
Cinnamon belongs to the Lauraceae family, and the spice is obtained from the inner barks of four types of evergreen tree. It is used as a spice in both sweet as well as savory dishes.
Long before it took up residence in your grandmother's kitchen, cinnamon has had a long history of use as a cleansing spice in Chinese and traditional Indian medicine (Ayurveda). It is recognized as an antioxidant, blood purifier, and controls high blood pressure.
Several studies have demonstrated its antioxidant properties and its ability to scavenge free radicals. It reduces oxidative stress and promotes cellular integrity.
Many studies have also shown the potent antibacterial effects of cinnamon and its ability in inhibiting the bacteria H. Pylori, which is responsible for gastric problems and cancers like gastric cancer, pancreatic cancer, and gastric lymphomas.

4. Clove
Clove is a spice used in baking all around the world.
It's also packed with bioactive compounds that possess medicinal properties and are potent antioxidants and detoxifiers.
A study conducted on a mouse model has demonstrated the effectiveness of clove in modifying the cellular detoxification process.
The study has also suggested that the Eugenol in clove has anti-mutagenic properties, and it inhibits genotoxicity induced by cancer cells.
Many other studies have demonstrated the biological activity of the compounds present in clove. They have suggested that the body cells and tissues adapt themselves to these compounds, and that may improve their ability to handle and filter foreign compounds and toxins.
In simple terms, it's a very powerful cleansing spice.

5. Nutmeg
This popular holiday spice is prized for its flavor and sensory properties.
What you may not know is that it's also packed with many essential oils that impart antioxidant, antidepressant, antifungal, aphrodisiac and digestive properties.
These oils help relieve stress. They are also found to be helpful in depression.
Nutmeg oil contains eugenol, which is used to relieve pain and aches and is used as an additive in toothpaste and cough syrups.

6. Black pepper
You may think black pepper is only good for adding some kick to your meals, but it can also be used to relieve a sore throat, cough and throat congestion. 
This cleansing spice is also helpful in relieving constipation, toothaches, sunburn, sleep disturbances and mucosal abscesses.

7. Cilantro
Scientifically known as Coriandrum sativum, cilantro is also known as Chinese parsley or coriander.
The leaves are a rich source of vitamins like C, A and K and the seeds are a notable source of fibre, magnesium, calcium, iron and selenium.
It's also one of the prime detox spices good for liver cleansing.
Several studies done on animal models have suggested that the principal compound in cilantro, linalool, has an ability to revamp and boost the antioxidant function of the liver. This helps in removing toxins and foreign compounds from the body, thus helping in detoxification.
It also helps in improving digestion and relieves gastric upset. Cilantro seeds can also help reduce cholesterol in the blood.

8. Cumin
Cumin has several vitamins and minerals and has a large ratio of iron in the seeds. Because of this, it has a long standing in traditional medicine.
Cumin possesses antioxidant, antiseptic, antifungal, anti-inflammatory, antitumour, carminative and laxative properties. If ever there was a cleansing spice, this is it.
It helps digestion and relieves acidity. It is also beneficial in heart diseases, chronic fever, vomiting, and tastelessness. It can even be applied externally to areas of the body that are swelling due to injury.
A 2005 study conducted in mice has demonstrated cumin's antioxidant and detoxifying properties. Many other studies have demonstrated the anti-carcinogenic properties of cumin.

9. Ginger
Scientifically known as Zingiber Officinale Roscoe, this root is a staple in my kitchen and may be my very favorite cleansing spice. I add it to smoothies, teas and stir-fries… you name it!
It also has deep roots in traditional and folk medicine. It has long been used to treat dyspepsia, colic, constipation and delayed gastric emptying. Ginger gets your bowels moving by inducing peristalsis.
It's used to relieve nausea and bad taste in the mouth. Ginger is also quite effective in relieving sore throat and cough because of its anti-inflammatory properties.
Studies have validated ginger's antioxidant properties. and it is also being promoted by modern medicine for treating various cancers in the body.

10. Garlic
The use of garlic for its medicinal properties is centuries old. It was used to prevent gangrene in World War I and II.
Garlic contains sulfur, oligosaccharides, and arginine-rich amino acids. Sulfur is responsible for its antioxidant and detoxifying properties.
Garlic also possesses anti-inflammatory, anti-tumor, anticoagulant, antimicrobial properties. It can be used to relieve symptoms of common cold.
Many studies have suggested that garlic reduces total cholesterol in the blood. It has a positive effect on the good cholesterol and reduces the bad cholesterol.
It also reduces blood pressure and the risk of cardiovascular diseases. It has anti-coagulant properties and reduces the formation of clots in the vessels, thus reducing the risk of stroke and heart attacks.
Many studies have effectively demonstrated that garlic has anti-cancer properties and can be used in treating many cancers like breast, stomach, skin, colon, esophagus, lung, prostate, and uterine cancers.

11. Saffron
Did you know that saffron is the most expensive spice in the world?
It makes sense given its prized aroma, color and taste. This cleansing spice has been used in traditional medicine for its anti-aging, anti-inflammatory and antioxidant properties.
Studies have shown that saffron infusion increases liver enzymes that help in the detoxification process. Saffron is also used to relieve common cold and premenstrual syndrome.
Some studies suggest that saffron may play a role in treating depressive and mood disorders. It has also been effectively demonstrated that saffron has anti-carcinogenic and anti-mutagenic properties. It represses cell proliferation and growth in the cancer cells.

12. Chili
I love a good chili. Essential to making a great batch is the chili spice itself.
What gives chili that great kick are bioactive alkaloid compounds called capsaicinoids. These compounds exhibit astringent, anti-irritant and analgesic properties which make them very useful in skin preparations like oils, ointments and creams.
These preparations are used to relieve pain in conditions like arthritis, sore muscles, neuropathic pain in herpes infection and diabetes, post-operative pains and headaches.
Chili possesses potent antioxidant properties. It reduces oxidative stress by scavenging free radicals, thus detoxifying and delaying aging of the cells.
Surprisingly, it can aid in weight loss and eating disorders as it increases satiety and reduces overeating. Some studies have shown it to reduce total cholesterol in the blood.

13. Fennel
Fennel is so versatile. It is used as a spice in both savory and sweet dishes and also as a mouth freshener. That makes it unique among the cleansing spices.
It's one of those natural remedies that can be used for so many things, and is used to relieve indigestion, diarrhea, intestinal colic, menstrual discomfort, respiratory problems and flatulence.
Its high content of iron can be beneficial in treating anemia. The fennel bulb is a very rich source of vitamin C and is known for its antioxidant qualities.

I hope this gives you a good primer on cleansing herbs and spices and just how powerful they can be.
If you can find a way to incorporate them into your daily diet, you'll be doing wonders for your health, and enhancing the flavor and zest of your meals. Give these cleansing spices a shot!
Enjoy This Article?
 Did you enjoy this article on The Top 13 Cleansing Spices? You might also like my 1-Day Detox Plan that's designed to detoxify your body in 24 hours using mouthwatering "cleansing" meals. Click the banner below to get it for FREE.
References
1.

   

Sahu, Deepika (7 May 2013). Health benefits of cumin. Times of India. Retrieved 24 November 2015
2.

   

Maithili Karpaga Selvi et.al (May 2014). Efficacy of turmeric as adjuvant therapy in type 2 diabetic patients. Indian Journal of Clinical Biochemistry 30 (2): 180–186
3.

   

11-natural-methods-for-detoxing-your-body. www.globalhealingcenter.com
4.

   

Detoxification therapies. www.skepdic.com
5.

   

Detox-with-spices. www.stylecaster.com
6.

   

"Turmeric". American Cancer Society. 7 December 2012. Retrieved 24 November 2015
7.

   

Ried K; Toben C; Fakler P (May 2013). Effect of garlic on serum lipids: an updated meta-analysis. Nutrition Reviews 71 (5): 282–99. PMID 23590705.