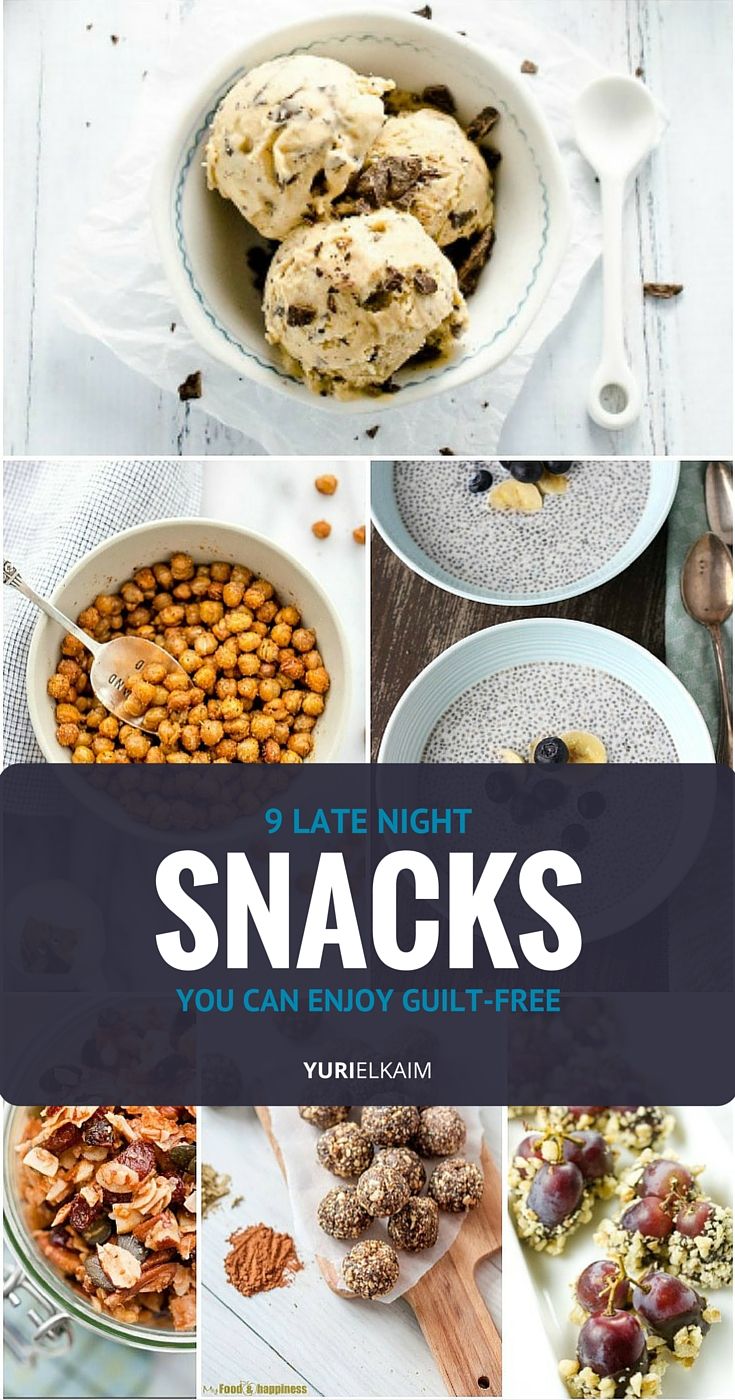 Sometimes there's no stopping a late-night craving.
But here's the thing: these nightly binges can quickly catch up with you, affecting your overall health.
Even if you eat clean and healthy all day, dipping into the chip bag or grabbing a handful of cookies after dinner can derail your best efforts and set you back before you know it.
Mindless snacking on empty calorie foods while watching TV simply sets you up for failure.
But feeding your body a healthy midnight snack that's satisfying, flavorful, and nutritious is key to keeping your health on track.
If you haven't already done this, I highly recommend that you toss all your processed snacks and replace them with foods that'll make your body feel good.
That way, when you're ready to make a healthy eating recipe, everything you need will be right there, waiting for you.
Whether you crave salty or sweet, we've found 10 healthy midnight snacks to satisfy any craving without the empty calories from processed snacks.
9 Healthy Midnight Snacks
1. Simple Hummus Recipe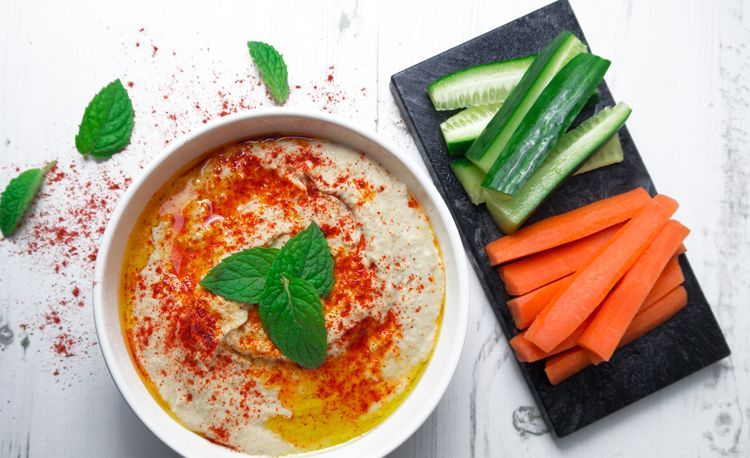 A rainbow of sliced veggies satisfies your cravings for crunch, but they're even better with a side of creamy, salty hummus for dipping.
This fresh, simple hummus recipe is bursting with flavor and delivers protein to keep your hunger pangs at bay.  Prepare the hummus ahead of time and store in the fridge so you'll be ready when you need a snack.
Find the recipe here: Nadia's Healthy Kitchen
2. Grain-Free Granola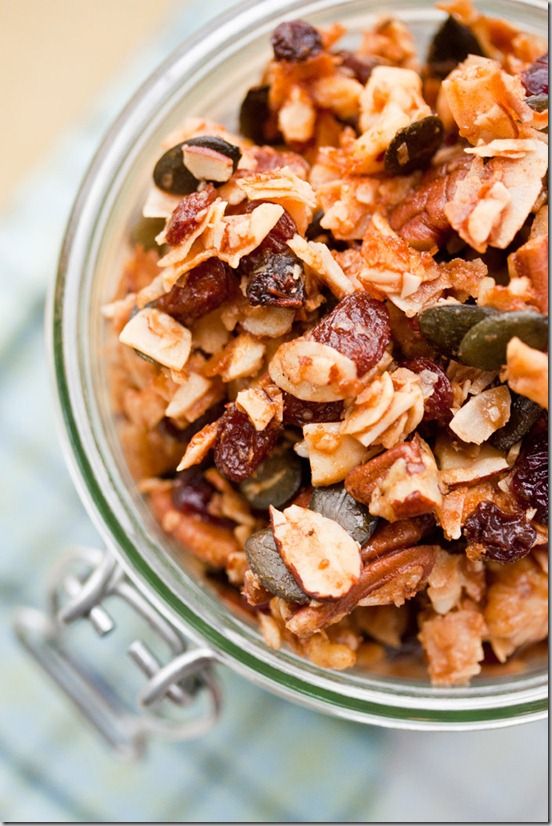 Store-bought granola can be anything but healthy, but this grain-free, gluten-free version is a nutritious way to quiet late-night hunger.
Nuts are filling and offer heart-healthy fats, and pumpkin seeds are loaded with magnesium for improved sleep.  Add in any superfood extras you like – chia seeds, hemp seeds, or flax seeds, for even more nutritional boost.
Find the recipe here: The Primalist
3. Peanut Butter Banana Ice Cream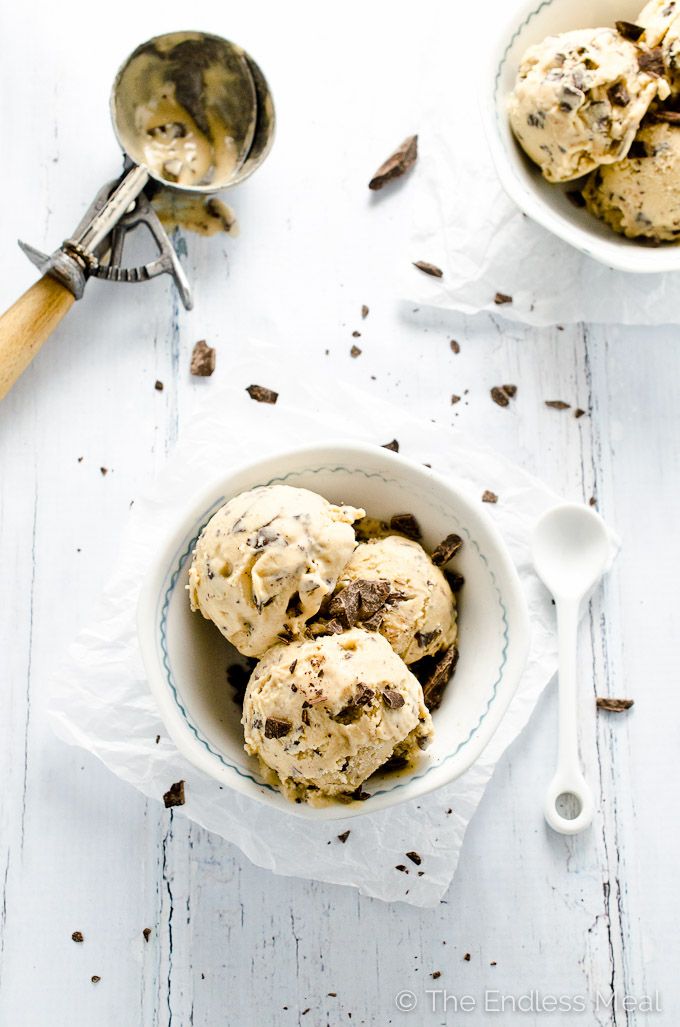 If ice cream is your midnight craving go-to, one simple switch can save you major calories from fat and sugar. Subbing in frozen bananas for ice cream is a smart move, and you'll never miss the real thing once you get a taste of this indulgent treat!
Find the recipe here: The Endless Meal
4. Apple and Almond Butter Bites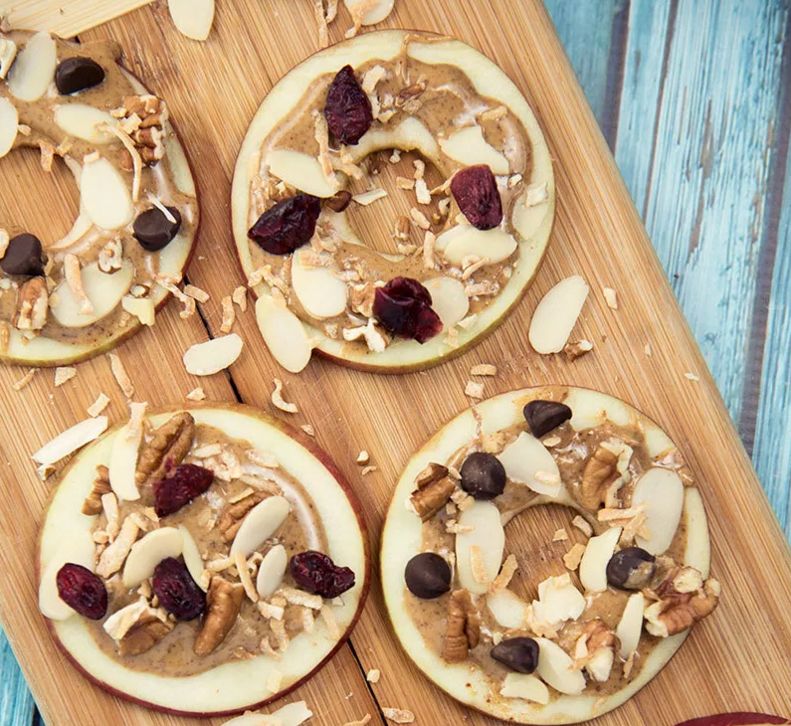 There's nothing wrong with a plain apple, but add some protein-rich almond butter and a sprinkle of extras for a fun midnight treat.
A dash of cinnamon, a few cacao nibs, hemp seeds – there are so many ways to get a tasty crunch while sneaking in some antioxidants before bed.
Find the recipe here: Paleo Leap
5. Spicy Garlic Oven-Roasted Chickpeas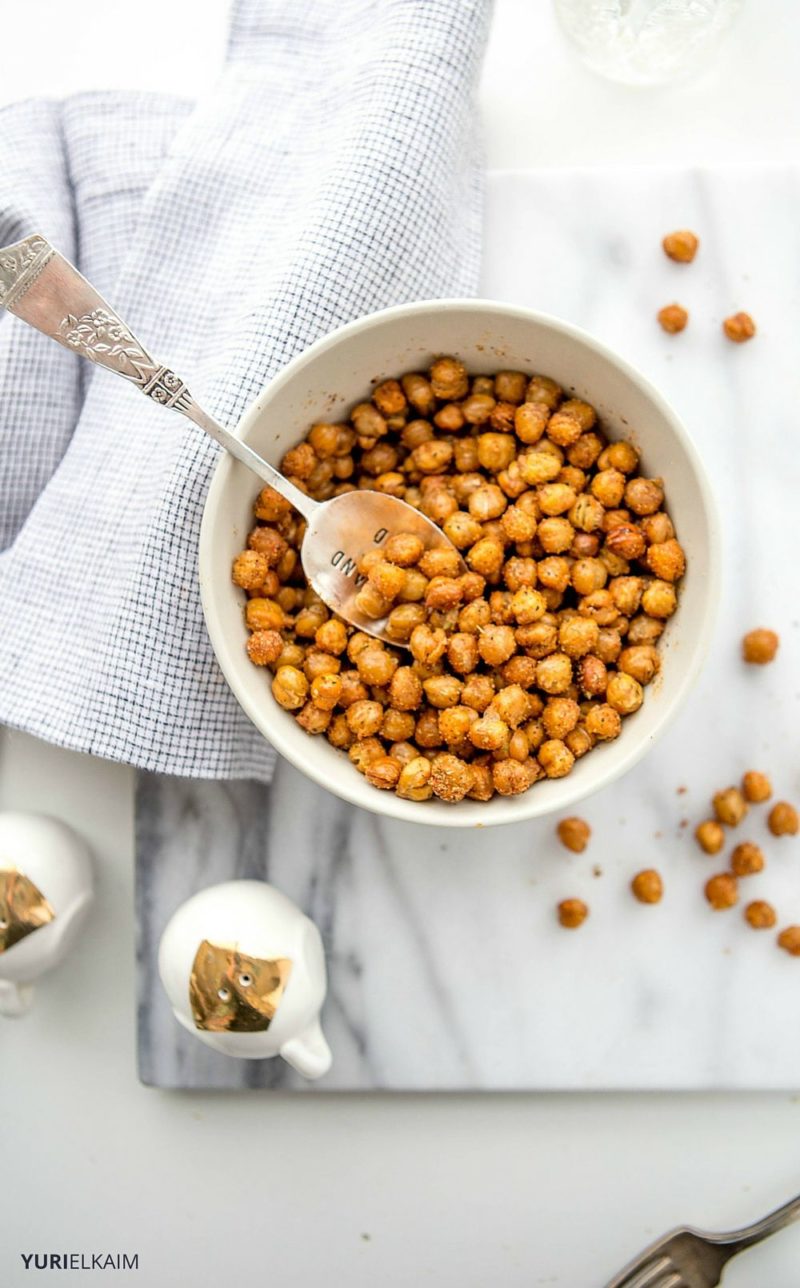 If you're used to dipping into an endless bag of chips, make these crispy roasted chickpeas instead. Keep it simple with salt and pepper or toss on a flavorful spice blend of paprika, cayenne, garlic and onion powder to liven up your evening.
Chickpeas offer up protein and fiber, and are a good bet to snuff out your late-night munchies.  Make this change and your body will thank you.
Find the recipe here: Yuri Elkaim
6. Blueberry Almond Chia Pudding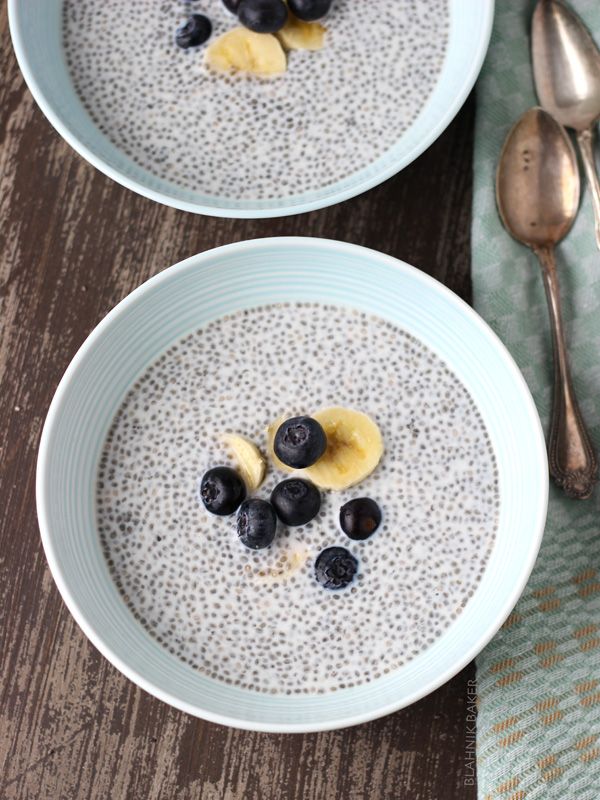 Chia pudding isn't just for breakfast. Prepare this blueberry almond chia pudding ahead of time and keep in the fridge for when the munchies strike.
Chia's nutritional value includes high antioxidant levels, heart-healthy fatty acids, and they are packed with minerals, protein, and fiber.
Find the recipe here:  Joyful Healthy Eats
7. Perfect Protein Energy Balls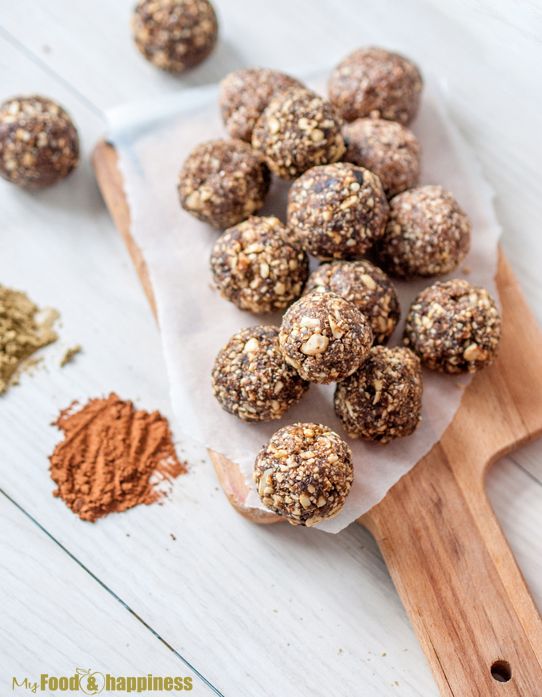 If you've been caught sneaking cookies from the cookie jar, we've got a healthy solution.
Just one of these protein balls is so much more filling than a traditional cookie. They're loaded with fiber and protein to keep you feeling full, and have a touch of natural sweetness from medjool dates.
They also keep in the fridge for 10 days, so you can make up a batch for the whole week.
Find there recipe here: My Food and Happiness
8. Cherry Bakewell Protein Smoothie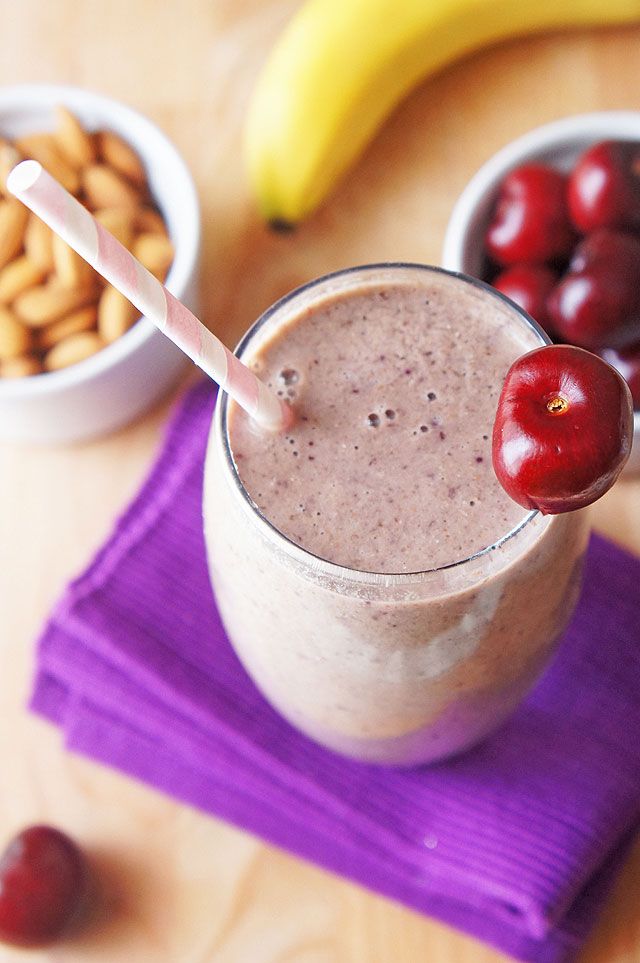 Not only is this smoothie delicious, it'll send you off into dreamland.
Cherries contain melatonin, a compound that regulates your body's internal clock. So go ahead – enjoy an incredible antioxidant-rich smoothie that's the perfect pre-bedtime snack.
Find the recipe here: The Road to Less Cake
9. Dessert Grape Clusters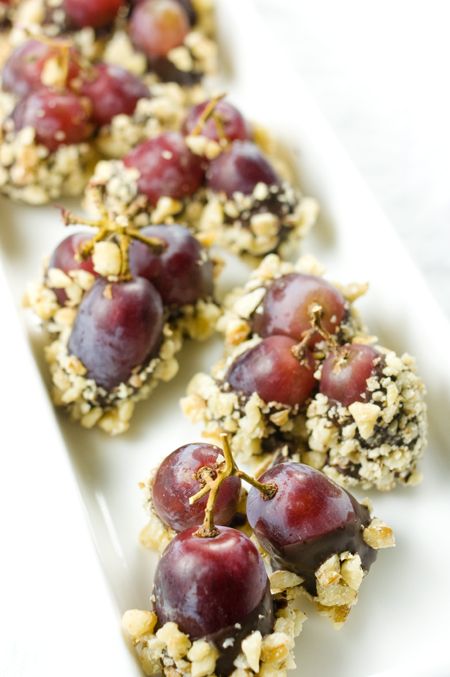 There's no way to disguise a chocolate craving, but you don't need to eat a whole candy bar just to satisfy your sweet tooth.
Dark-chocolate-dipped grapes are a healthy way to get your chocolate fix. This sweet treat is chock full of antioxidants, but you'll be too busy enjoying these little jewels to be concerned with nutrition.
Find the recipe here: Minimally Invasive
Healthy Snacks, Anytime
If you are looking to improve your snack game, you'll want to check out the FREE Healthy Desserts eBook, which features eight gluten- and dairy-free desserts that are low in sugar … but they are so tasty you'll swear they're bad for you.
Download now by clicking the banner below!