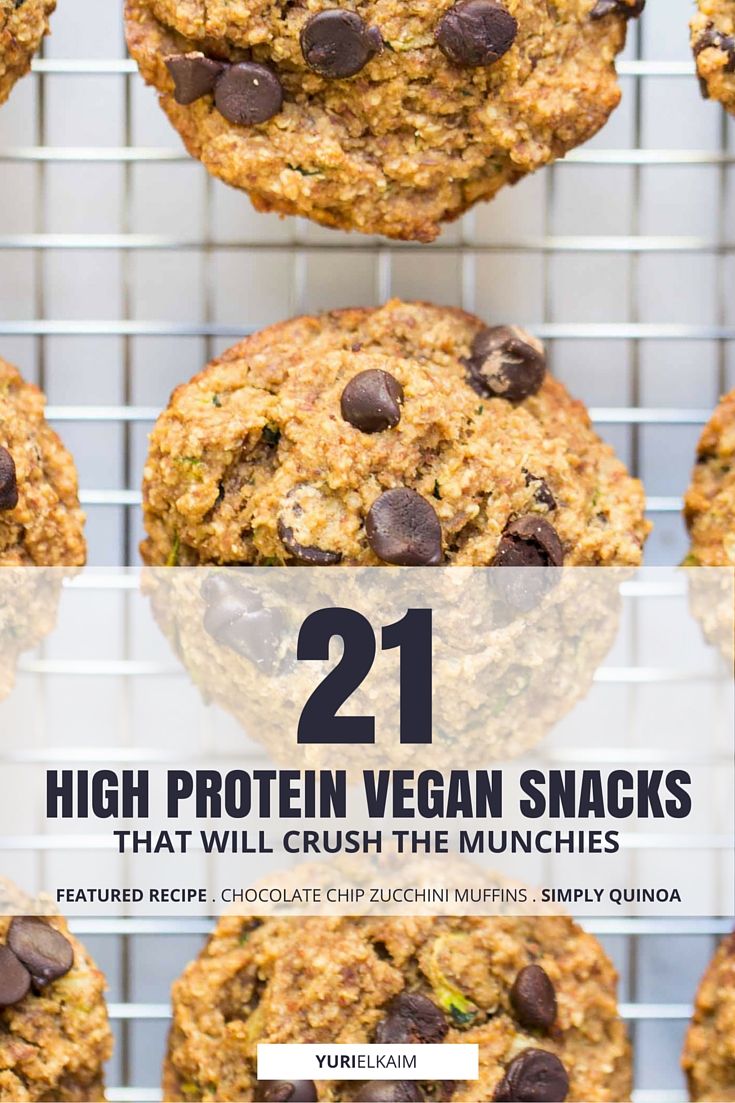 Let's face it: sometimes you want a snack. Maybe you even need a snack.
And I don't know about you, but when I hear the word "snack," my tastebuds can start to convince me that I want to eat something that's not so healthy for me, and most likely is filled with empty calories.
The trick to outwitting your tastebuds is a little planning ahead so that you always have crave-worthy, healthy snacks on hand.
That's why I came up with this roundup of high-protein vegan snacks. Not only will they satisfy your tastebuds, but because they're packed with plant protein, they'll keep you feeling full long after you eat them.
Plus, you'll feel great thanks to the whole, nutrient-dense, and energy-giving foods they contain, and not a lot of processed and refined "food."
I've tried to include something for every snacking whim – sweet, savory, smooth, and crunchy. Enjoy!
21 High Protein Vegan Snacks
1. Chia Coconut Protein Muffins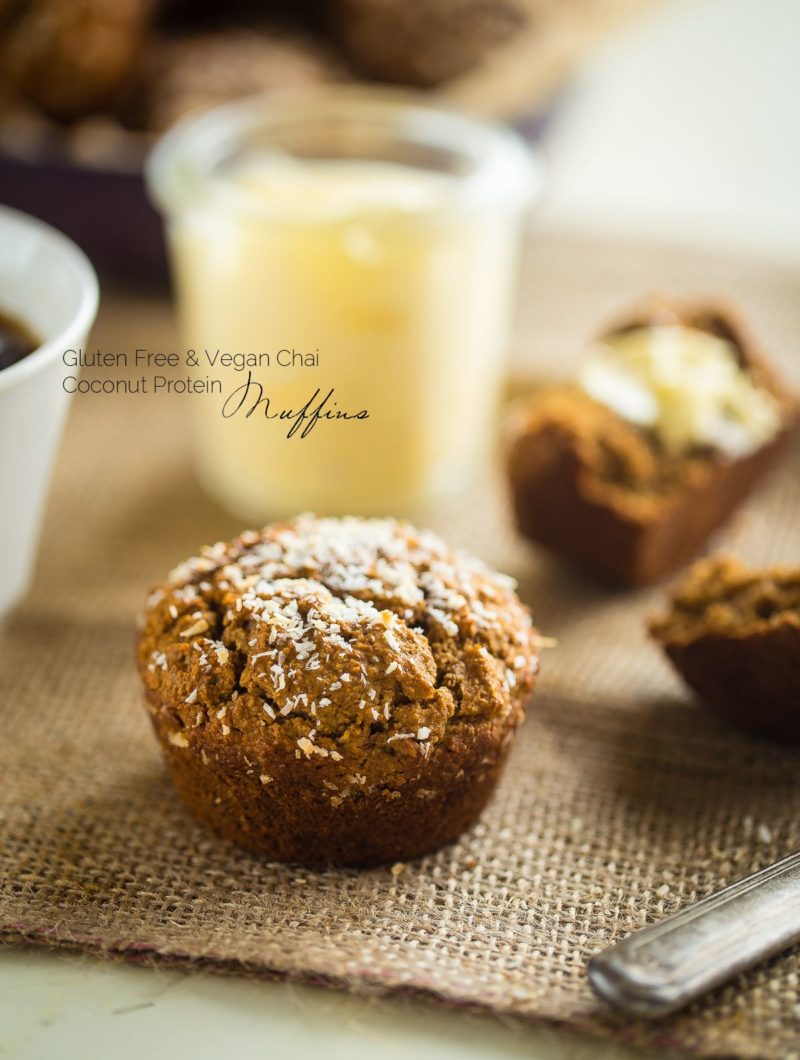 When snack time rolls around, grab one of these muffins for a healthy and satisfying snack. Gluten and dairy free, they get protein from plant-based protein powder and flax meal.  Want more protein? Replace some of the oat flour with almond flour, and you'll have a nutty and delicious treat.
Find the recipe here: Food Faith Fitness
2. Spicy Garlic Oven-Roasted Chickpeas
Crunchy, spicy, and addictive, these crunchy chickpeas will easily replace less-healthy snacks in your repertoire. One bite of this high-protein vegan snack and you'll be hooked.
Find the recipe here: Clean Eating Kitchen
3. Pineapple Coconut Green Smoothie
Hemp seeds and protein powder give this tropical smoothie a boost of protein and healthy omega-3's fatty acids. It also includes avocado and coconut milk to give it a creamy texture, and hidden Swiss chard provides healthy antioxidants.
Find the recipe at Eat Spin Run Repeat
4. Quinoa Brittle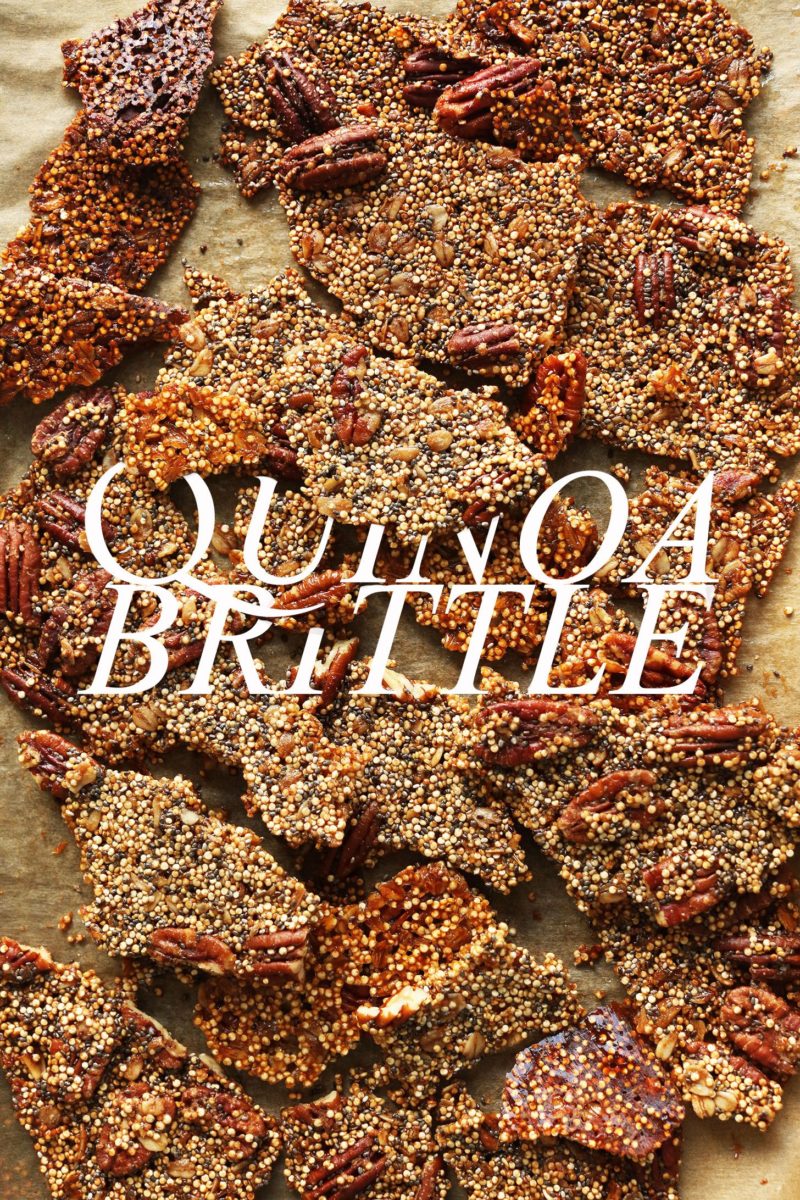 Everything about this quinoa brittle is brilliant. It's made with just 7 nutritious ingredients, including quinoa, chia seeds, and pecans. Crispy, crunchy, and satisfying, you'll love this unique and addictive snack.
Find the recipe here: Minimalist Baker
5. Black Bean Lentil Salad with Cumin-Lime Dressing
This portable salad packs double-double protein power from hearty black beans and lentils, making this a filling and savory snack. Cilantro, veggies, and a fresh dressing give this salad a vibrant island flavor.
Find the recipe here: The Garden Grazer
6. Peanut Butter Banana Chickpea Cookies
If you're hankering for a cookie, these will satisfy your sweet tooth in a healthy way. These are among the easiest, healthiest, and tastiest cookies around, and they're also unprocessed, vegan, gluten-free, and high in protein.
Find the recipe here: Hummusapien
7. Homemade Protein Bars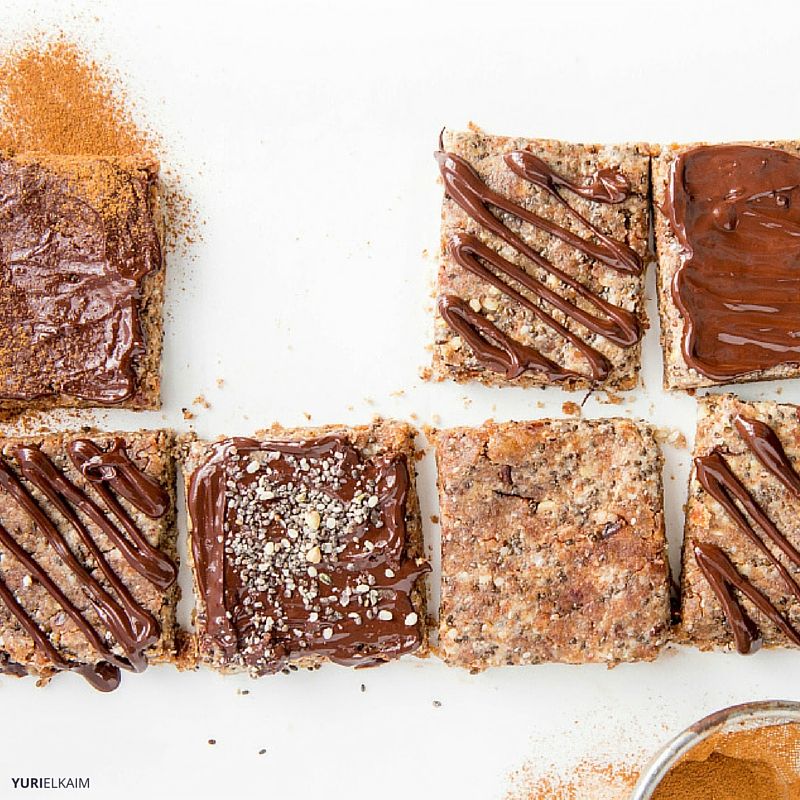 These homemade bars have just the right balance of healthy fat, protein from superfoods, and natural sugar from dried fruit. The protein comes from chia and hemp seeds, almond butter, and protein powder, and they make a great on-the-go snack that will satisfy your tastebuds, your wallet, and your waistline.
Find the recipe here: Yuri Elkaim
8. High Protein Black Bean Lime Dip
You'll want to keep plenty of cut-up veggies in the fridge to use in this savory dip. Share it with friends or pack just enough for yourself for a healthy, quick treat. This is also a great way to sneak more veggies into your diet.
Find the recipe here: Hurry the Food Up
9. No-Bake Cherry Vanilla Protein Bars
Loaded with oodles of healthy ingredients like oats, flax, coconut, and almond butter, these bars are a fantastic energizing snack. Plus, they are no-bake so you don't have to heat up the kitchen.
Find the recipe here: Hummusapien
10. 5-minute Super Bean Sundried Tomato Basil Salad
This high-protein vegan snack is a healthy, hearty salad you can throw together in a flash.  Just rinse, chop, and mix … and you have a great salad that's perfect for picnics or packed lunches.
Find the recipe here: The Miniature Moose
11. High-Protein Peanut Butter Cups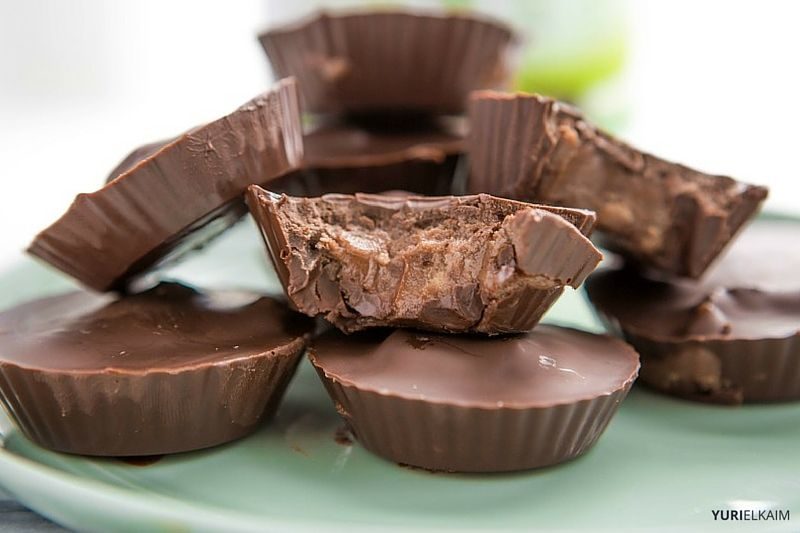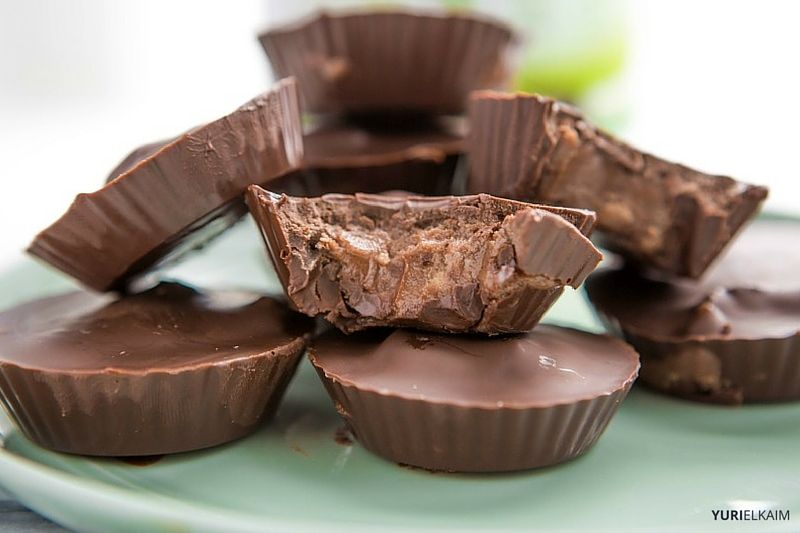 This homemade protein peanut butter cup recipe sneaks in some serious nutrition with added protein, but it still delivers on taste.
Find the recipe here: Fit Foodie Finds
12. Raw Chocolate Protein Bars
If you can't shake a chocolate craving, indulge in one of these yummy bars. They are packed with pumpkin seeds, chia seeds, hemp seeds, hazelnuts, protein powder, and much more. You'll get a good dose of plant-based protein and bonus anti-inflammatory power from these fudgy, crunchy bars.
Find the recipe here: Vanilla Crunch
13. Flourless Banana Blender Muffins
These super addictive flourless blender muffins are nothing like ordinary muffins. Gluten free and full of protein, they taste like delicious unbaked cookie dough in the form of portable and convenient muffins.
Find the recipe here: Chocolate Covered Katie
14. Avocado Boats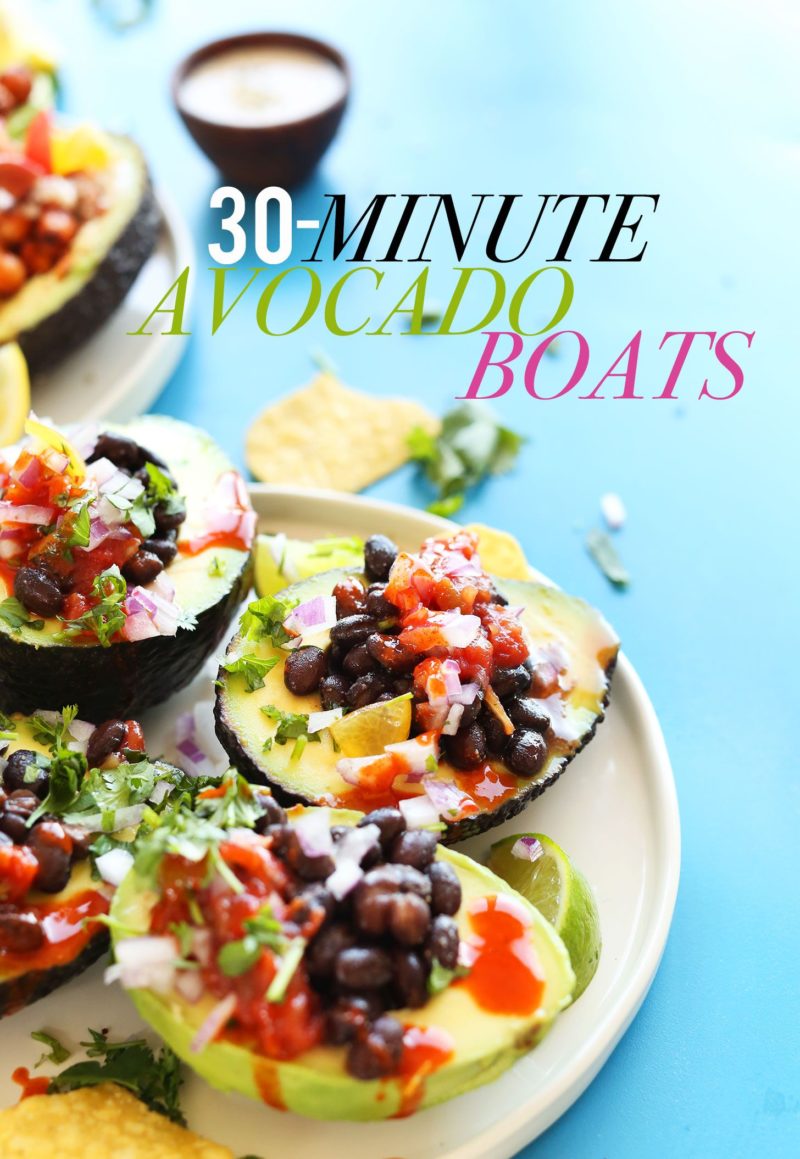 Fill these "boats" with seasoned black beans and taco-inspired toppings, or crispy chickpeas and tahini sauce for a simple, flavorful, plant-based meal or snack. Keep prepared toppings in the fridge and heap on a halved avocado for a quick snack.
Find the recipe here: Minimalist Baker
15. Quinoa Trail Mix Bars
Delicious and easy to make, you can pack these quinoa bars to bring along on any excursion. The protein in these bars comes from almond butter, quinoa, cashews, and almonds, all rolled into snack-sized bars that will power you through the day.
Find the recipe here: Honestly Yum
16. Avocado Chickpea Lettuce Wraps
These healthy, light, and refreshing wraps will leave you feeling full without weighing you down. They're vegan, gluten-free and make for a nutritious and satisfying snack.
Find the recipe here: Gluten-Free Vegan Pantry
17. High Protein Vanilla Chia Pudding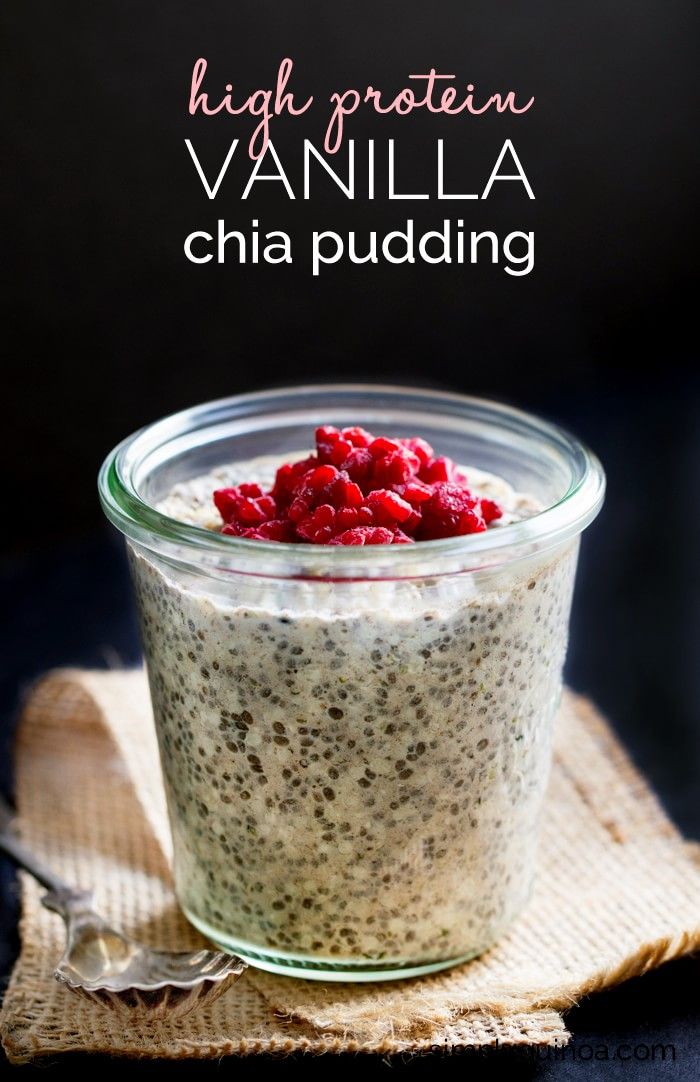 Chia pudding makes a convenient snack when your insides are rumbling. Keep this one in the fridge so you'll have it on-hand as a healthy snack when hunger strikes. Protein from chia, quinoa, and hemp hearts will keep you full for hours.
Find the recipe here: Simply Quinoa
18. Chipotle Hummus Platter with Cashews and Greens
Take your average hummus recipe and kick it up a notch with chipotle cashew sauce. You'll get a little heat, a lot of protein, and major yum. Serve with sliced veggies for a wholesome and delicious snack.
Find the recipe here: In Pursuit of More
19. Triple Chocolate Coconut Granola Clusters
With the words "triple chocolate," "coconut," and "granola" in its name, you know this cluster recipe is a keeper. Made with gluten-free oats, desiccated coconut, and almond butter, this recipe can be made vegan-friendly by using your favorite plant-based protein powder and dairy-free chocolate chips.
Find the recipe here: Fit Mitten Kitchen
20. Hemp Protein Date Bars
With only a few ingredients, these date protein bars are an easy homemade snack you can whip up in a cinch. They're dairy-free, gluten-free, nut-free, and vegan, but loaded with healthy and nutritious seeds.
Find the recipe here: Chelsea's Healthy Kitchen
21. Chocolate Chip Zucchini Quinoa Muffins
You'll love these chocolate chip muffins, which happen to be packed with healthy ingredients like quinoa flakes, flaxseed, almond meal, and zucchini. A touch of cinnamon and dark chocolate chips makes them an irresistible snack.
Find the recipe here: Simply Quinoa
Give These High-Protein Vegan Snacks a Try!
If you're looking to get more out of snacking, it's time to sneak in some plant-based protein and high fiber into your snacks. You'll feel much more satisfied after noshing away on the healthy stuff! Look above for 21 high-protein vegan snacks with amazing flavors that are sure to crush your munchies!
Want More Snack-Worthy Food?
Check out my FREE Healthy Desserts eBook, which includes 8 irresistibly delicious recipes that are gluten- and dairy-free, and also low in sugar.You can get it instantly by clicking the banner below.