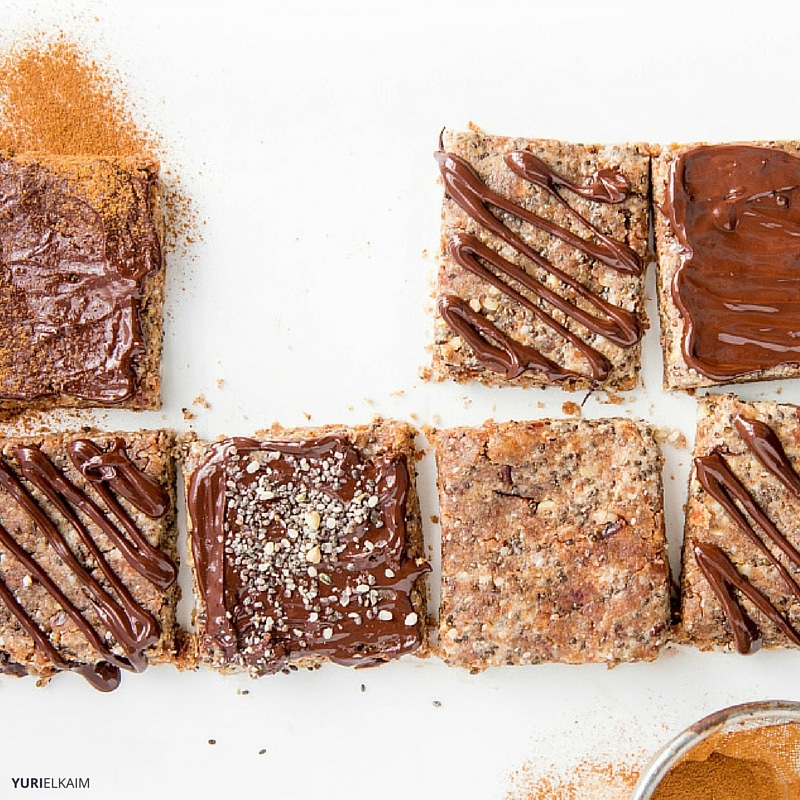 There's a dizzying array of protein bars available at health food stores, grocery stores, and even the gym café. Some are tasty, some are gross, many are pricey, and even more of them aren't as healthy as they claim to be. That being the case, why not opt for homemade protein bars?
The unfortunate truth is that not all protein bars are made equally, and you may be doing more harm than good by snacking on the wrong bar. From a long ingredient list to loads of added sugar, some of these bars are really more like candy bars than protein bars.
That's precisely why I've come up with an easy homemade protein bars recipe which uses whole foods and nothing else.
You won't find high fructose corn syrup or artificial ingredients in these healthy homemade protein bars. They have just the right balance of healthy fat, protein from superfoods, and natural sugar from dried fruit.
How to Make Homemade Protein Bars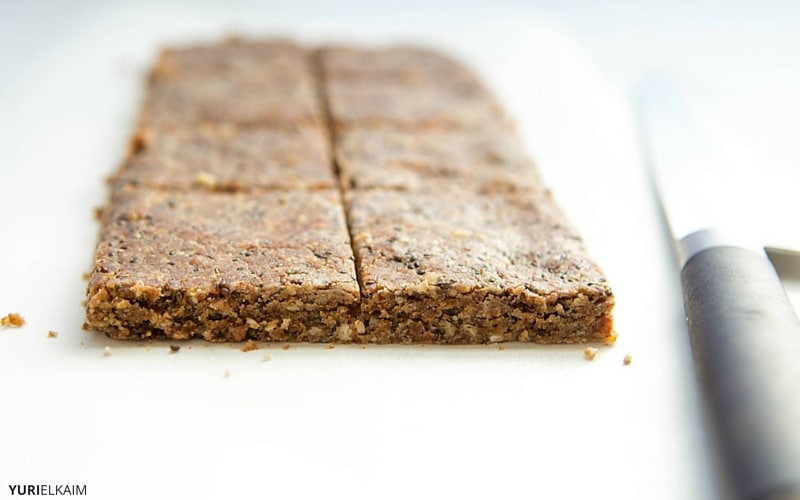 What makes this homemade protein bar recipe so special is that is uses hemp seeds and chia seeds, both of which add major nutrition to these bars.
Both seeds are full of superfood goodness, packing in loads of antioxidants, anti-inflammatories, and plant-based protein.
Hemp seeds offer a complete protein profile, containing all nine amino acids required to make a complete protein. Between the chia seeds, hemp seeds and almond butter, you'll get about 11 grams of protein or more per bar.
[Related: 8 Yummy Ways to Eat Hemp Seeds]
That's important, because protein is essential for building and repairing muscle, and for providing fuel for the body. Exercise creates micro-tears in your muscles, and snacking on one of these protein-packed bars after working out will help repair that damage.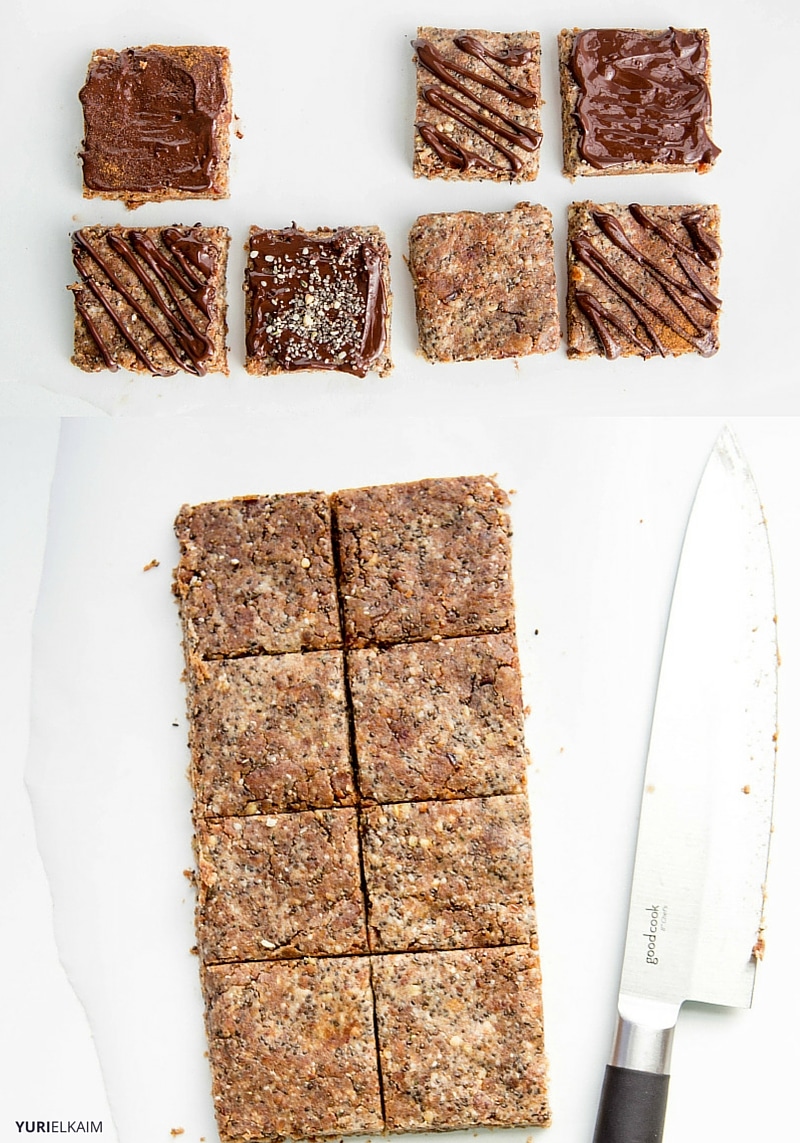 If you're concerned about weight loss, just one of these bars makes for an excellent on-the-go snack, and the fiber will keep you feeling full for hours. That way you won't be tempted to order fast food while you're out.
Another reason to make these amazing bars?
They're loaded with heart-healthy fatty acids. Both chia and hemp seeds contain omega-3 fatty acids that help reduce cardiovascular risk and tame the inflammation that's responsible for chronic disease. So while you're munching, lots of good things are going on in your body.
Below you'll find the basic recipe for my homemade protein bars, plus 9 flavor add-ons to keep your snacks exciting and fresh.  This is healthy eating at its best. But real quick…
Chocolate Chips
I wanted to share a couple of the "healthier" chocolate chip brands I personally recommend using:
Lily's: Stevia-sweetened, vegan, and gluten-free.
Enjoy Life!: Vegan, gluten free, and it's pretty likely you'll find them in your grocery store.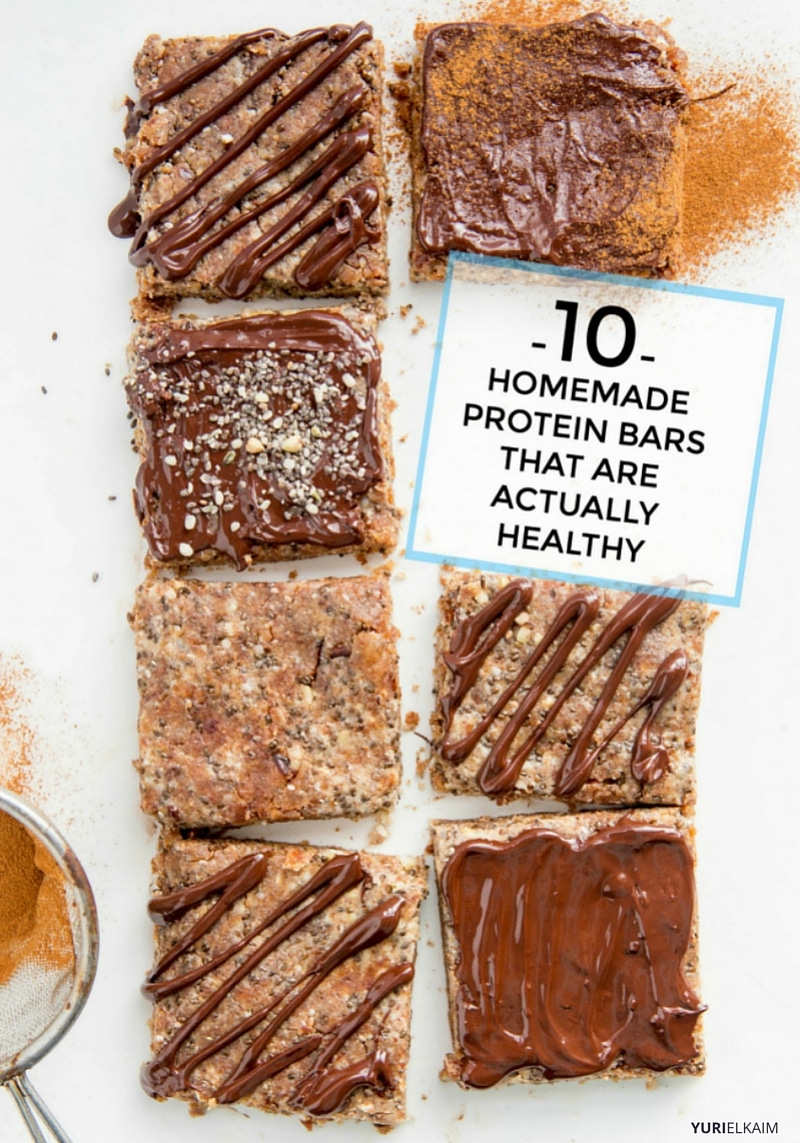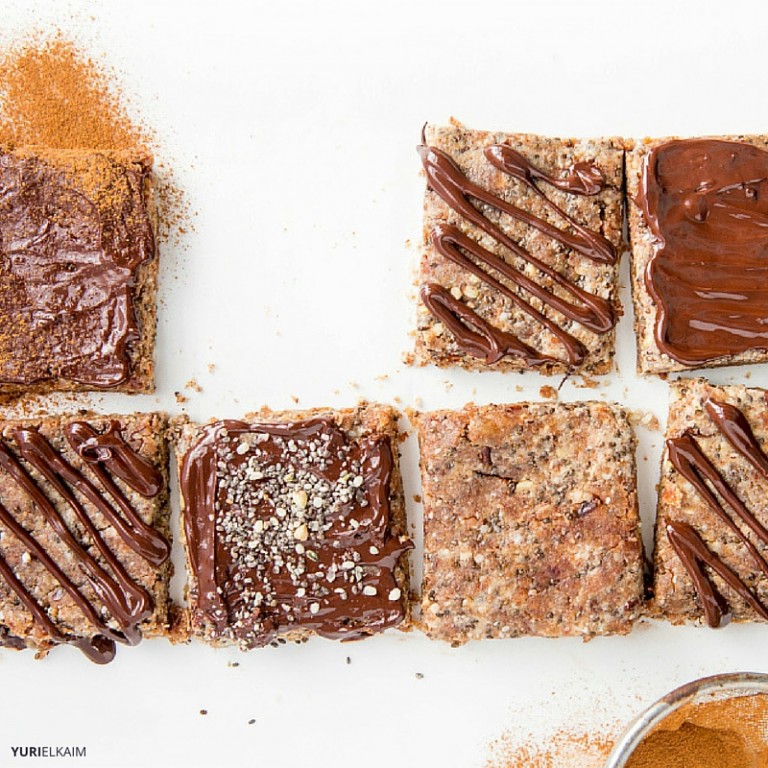 | | |
| --- | --- |
| | |
In a food processor, combine all ingredients until mixture is well combined, slightly moist and sticky. If omitting the protein powder, add 2 tablespoons more hemp seeds. If the mixture is not sticking together, add coconut oil by the ½ tablespoon, until a thick dough is formed.

Form into a large rectangle on a large piece of parchment paper, pressing to an even thickness.

Cover with plastic wrap and chill for one hour minimum, then cut into bars and drizzle with melted chocolate.

Return to fridge until chocolate cools, then wrap individually, if desired.
For best results, store in fridge and enjoy within one week. Or place in an airtight freezer container, and freeze for up to two months.
Put a flavor twist on the recipe above with these easy ingredient swaps.
2. Lemon Meringue Bar
Bright and zesty, this lemon­-kissed bar tastes good enough to be dessert.
If you really love lemon flavor, you'll want to grab a bottle of organic lemon extract, a small amount of which really boosts the flavor of these bars.
Lemons are packed with vitamin C, so you'll get an antioxidant boost if you make this sunny swap! Vitamin C gives your skin a healthy glow and neutralizes disease-causing free radicals.
Add 1 tablespoon vanilla bean paste and the zest of 1 lemon (or ½ teaspoon organic lemon extract) to the mix. Swap in ½ cup dehydrated apple rings for the raisins. No need to drizzle this one with chocolate, it's delicious as is.
3. Peanut Butter Cup
Love PB cups? Now you don't have to hit the candy aisle to get a mouthful of that amazing flavor combo. This simple twist on the above recipe tastes just like a peanut butter cup ­­but with a lot more protein and far less of the processed junk.
Sometimes you just need a healthy treat, and this version of my healthy homemade protein bars will satisfy while still being healthy.
Look for dark chocolate chips, which are higher in antioxidants and retain more nutrients than milk chocolate.
To make this delish twist, use peanut butter instead of almond butter and omit the raisins. Fold in ¼ cup of mini chocolate chips or drizzle with chocolate, as mentioned in the recipe above.
4. Cherry Almond Chia
Cherries are chock full of antioxidants, and the flavor here is unsurpassed. Look for dried cherries in the bulk section of your local health food store. They can be expensive, so I recommend buying just what you need to make a batch or two of these bars.
Some dried fruit has added sugar, so look for unsweetened dried cherries. Cherries are also high in the essential mineral copper, which aids in collagen production, so eat up.
Swap pitted dried cherries in for the raisins. If extra almond flavor is desired, add ¼ teaspoon pure almond extract to the mix as well.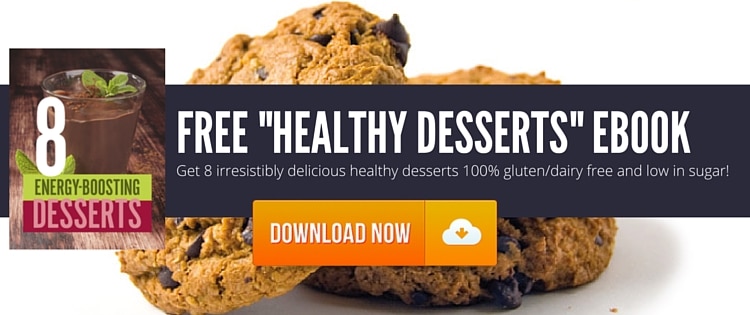 5. Pistachio Apricot
If you like fruitcake, you may just fall in love with this mellow combo. I think it seriously tastes like cake.
Pistachios contain fewer calories and more vitamin K and potassium than any other nut. If you're looking to limit calories, this may be the bar for you.
Swap in ½ cup dried apricots for the raisins (for best results, make sure they're soft and fresh!) Reduce the almond butter to 2/3 cup and add ½ cup pistachios, mixing until finely chopped. A pinch of sea salt and cinnamon also tastes delicious in these bars. Top with chocolate drizzle or leave as is. They're great either way.
6. Apple Pie
Two kinds of apples (dried and applesauce) are added to the mix here. Absolutely delicious! For best results, look for the sort of dehydrated apple rings that are still soft and pliable. Also, apple chips won't work here.
Special enzymes in apples help to keep your blood sugar from spiking, and the fiber in apples keeps you feeling full.
Add ½ cup dehydrated apple rings and 1 teaspoon apple pie spice to the mix. No need to drizzle this one with chocolate, but if you really want something sweet, try drizzling with 1 tablespoons melted cinnamon chips, instead.
7. Double Cocoa
Chocolate, chocolate and superfood powder! But don't worry, you won't taste the superfood powder. You'll just enjoy lots of great cacao flavor, stirred together with cacao nibs and topped with chocolate. What could be wrong with that combo?
Omit the raisins. Add 1 scoop Yuri Elkaim's Energy Greens (or another greens powder) and 2 tablespoons raw cacao powder to the mix. Use an extra 1­-2 tablespoons of melted coconut oil if needed to make the dough stick together when blended. Stir 1­-2 tablespoons cacao nibs into the final dough if extra chocolate (and a little high­ nutrition crunch) is desired.
8. Coconut Cream Pie
Feel like a kid again with this coconutty bar!
Mildly sweet with lots of creamy coconut flavor, it tastes like an Almond Joy­­ without all the added sugar. Although coconut oil is a saturated fat, its medium chain triglyceride length increases your HDL (good) cholesterol levels, and that's good news.
Coconut oil can also help with weight loss.
Instead of raisins, add ¼ cup raw or toasted shredded coconut to the mix. Swap out the apple sauce and add coconut butter instead. Add 1 teaspoon vanilla bean paste, if desired.
9. Blueberry & Dark Chocolate
Perhaps the two most delicious superfoods come together into one scrumptious bar. You're going to love this tasty combo.
If you want to boost the blueberry flavor, add up to ½ cup of dried blueberries. You can even stir in ¼ cup of dried blueberries into the dough before forming into bars as well.
Blueberries have been linked with improved memory and the slowing of cognitive decline, so keep your mind in tip-top shape with this healthy snack.
Instead of raisins, add ¼ cup dried blueberries to the mix. Stir in 2 tablespoons grain-sweetened dark chocolate chunks, instead of drizzling with chocolate.
10. Cranapple Medley
A great version to make if you're craving something chewy, cranberries make these bars slightly tart and totally craveable.
I think these bars are also ideal for breakfast, because the flavor so nicely compliments a green smoothie. Cinnamon is both a cleansing and a fat-burning spice, and it can even help stabilize blood sugar levels. You can't go wrong adding this tasty spice to your snack.
Instead of raisins, add ¼ cup dried cranberries, the zest of 1 orange and ¾ teaspoon of cinnamon to the mix.
Homemade Protein Bars FAQ
What is grain-sweetened dark chocolate?
Grain-sweetened chocolate uses evaporated cane juice, instead of sugar, as a sweetener. The most common brand is vegan, gluten-free and dairy-free Enjoy Life! chocolate chips. You can find these online, and most grocery stores and health food stores now carry them as well.