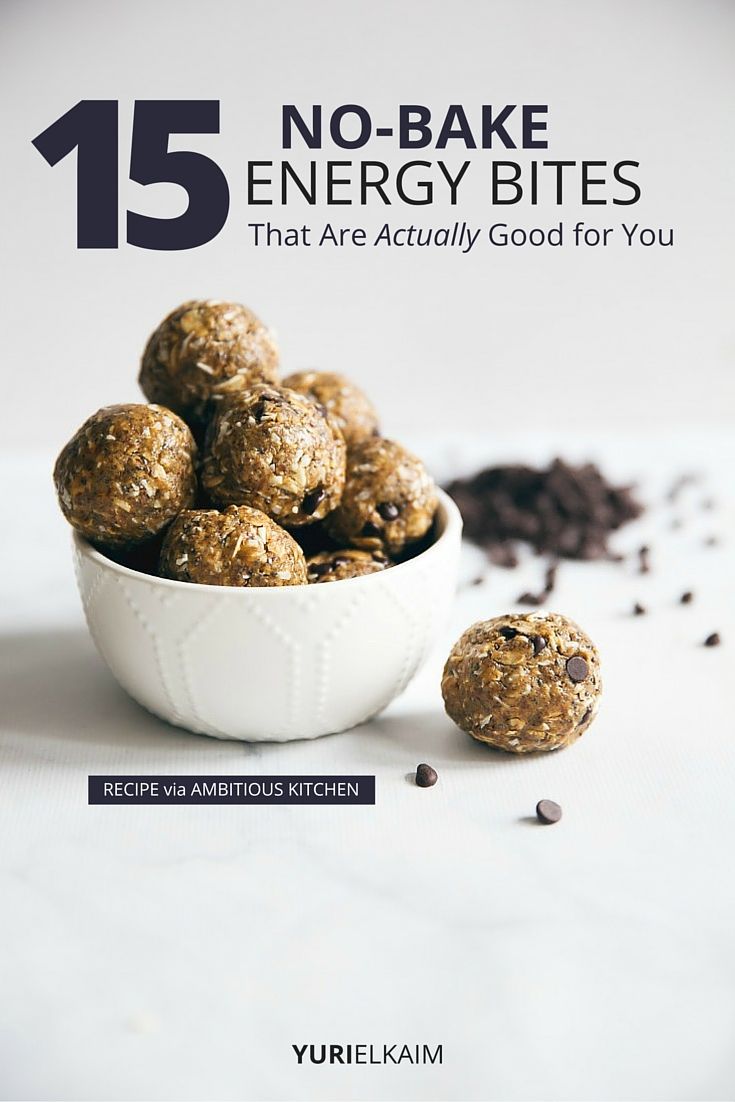 Looking for a satisfying snack to add to your arsenal? Grab a no-bake energy bite!
We've all been there: We've let ourselves get too hungry, grabbed the wrong snack for quick relief, and then suffered a nasty sugar crash that led to even more hunger and snacking.
You can stop that cycle fast by eating a wholesome, healthy snack instead.
These energy bites definitely fall into that category. Not only are they good-for-you snacks that satisfy your appetite between meals, they're portable.
What makes these no-bake energy bites so special?
They're made from whole foods, and that's what you should be feeding your body. They contain no artificial ingredients, added refined sugar, gluten, or dairy.
One thing these energy bite recipes have in common is plant-based protein, from sources such as nuts, hemp seeds, chia seeds, chickpeas, and protein powder. Protein is a slow-releasing, long-lasting source of energy that not only curbs your hunger but also helps keep you feeling full.
No-Bake Energy Bites That Are Good for You
Protein also boosts your metabolism and increases fat burn, which is ideal if you're watching your weight.
Healthy fats also make these no-bake energy bites filling. Healthy fats aid in mood management, weight control, and reducing cardiovascular disease.
Omega-3 fatty acids, found in sources such as hemp hearts, chia seeds, and nuts, are not only good for the brain and heart-health, they have amazing anti-inflammatory properties too.
You'll also get a good dose of fiber in these energy bites, which is one more reason they're so satisfying and keep you hunger-free for hours.
Make your own energy bites in under 15 minutes for a filling and energizing snack. You'll love that these 15 energy bites recipes are no-bake, portable, and totally easy to make.
1. Lemon Coconut Chia Energy Balls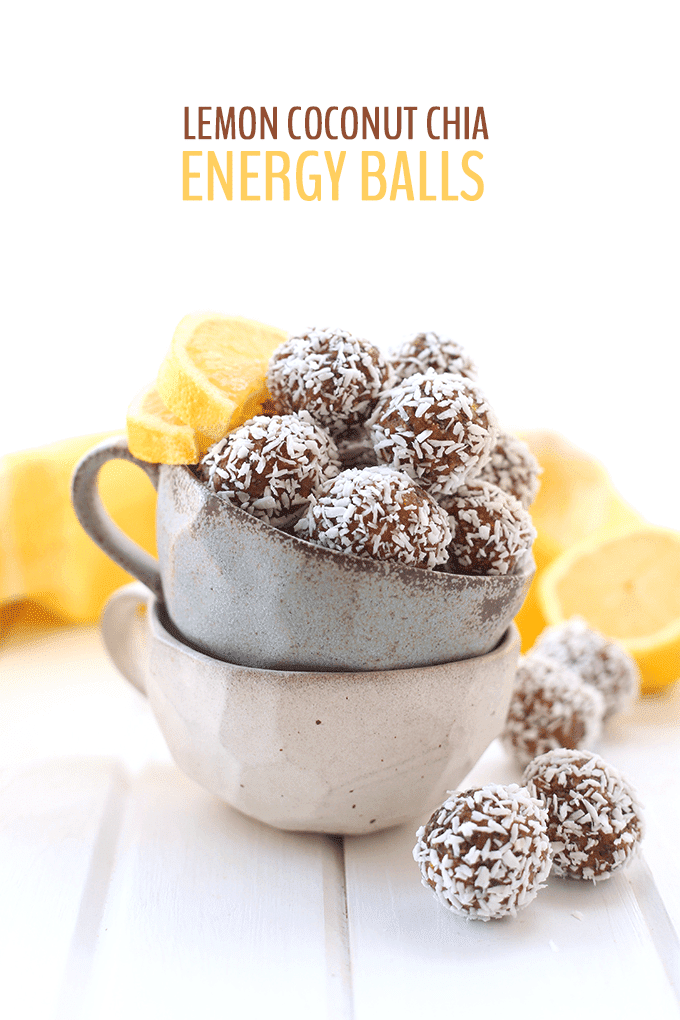 Tart lemon and sweet coconut come together in these delicious treats. These portable snacks help curb your hunger just when you need a pick-me-up.
Find the recipe here: The Healthy Maven
2. Quinoa Apricot Protein Bites
These little energy bites are the perfect nutritious pick-me-up to satisfy you when hunger pangs hit. They're chock full of healthy fats, protein, carbs and low-glycemic sweeteners, and they're just what you need in a gluten-free, dairy-free snack
Find the recipe here: Family Table Treasures
3. Energy-Boosting Cookie Dough Bites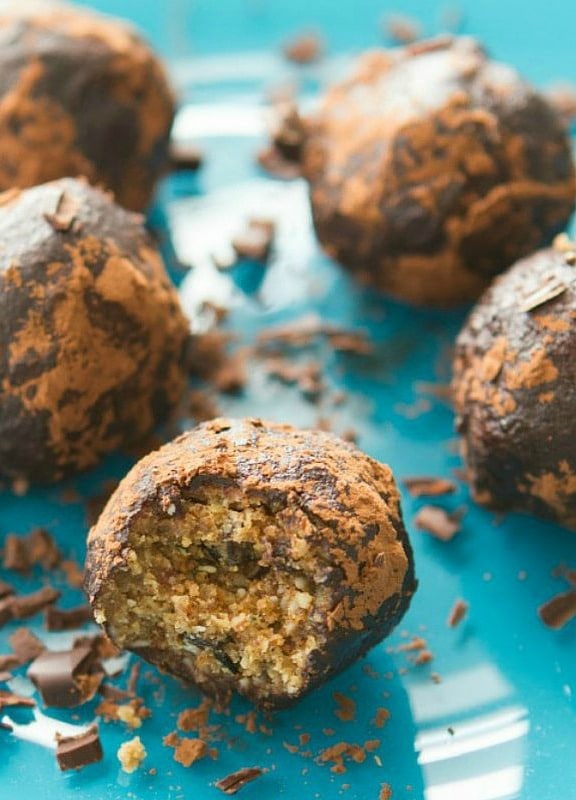 Full of nourishing, raw, plant-based ingredients, these cookie dough bites make a great healthy grab-and-go snack. This recipe is perfect for every kind of diet—raw, paleo, vegan, vegetarian, and gluten-free.
Find the recipe here: Yuri Elkaim
4. Fig Almond No-Bake Energy Bites
These fig and almond bites make an easy and healthy snack. In addition to figs and almond butter, they contain dates and oatmeal. You'll love this chewy, fruity, vegan, gluten-free treat!
Find the recipe here: Well Plated
5. Protein Peanut Butter Energy Bites
Fiber and protein star in these peanut buttery bites. Loaded with nutritious ingredients like flaxseed, chia seeds, coconut, and oats, they've got an amazing chewy texture and out-of-this-world taste.
Find the recipe here: Ambitious Kitchen
6. Cashew Hempseed Bliss Balls
These Cashew Hemp Bliss Balls are stuffed with hemp hearts, and for good reason. They pack a lot of fiber, protein, and healthy fats into tiny little seeds.  Take along a few of these bliss balls when you need a quick snack, and you'll be surprised by how well these snacks stop hunger and boost energy levels.
Find there recipe here: Fit Foodie Finds
7. Carrot Cake Protein Balls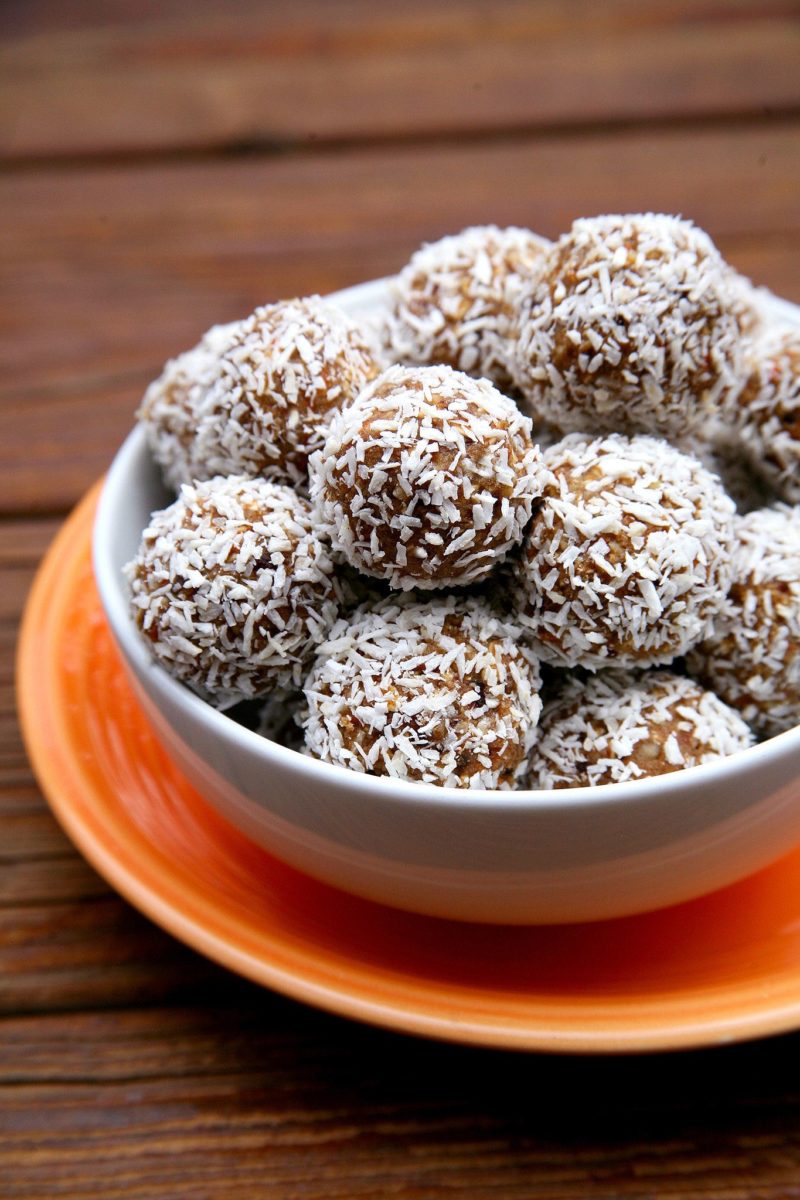 These no-bake protein balls are sweet, nutty, and soft without having a grain of flour in them. Made with raw cashews, pecans, dates, raw carrot, rolled oats, and unsweetened coconut, these vegan and gluten-free bites are a cinch to whip up in your food processor.
Find the recipe here: POPSUGAR
8. Middle-Eastern Sweet Bites
Dates, apricots, tahini, walnuts, and almonds give this Middle-Eastern flavored snack a healthy edge. Dried fruit and cacao naturally satisfy sugar cravings while tahini, toasted nuts, and chia seeds boost energy levels and satisfy hunger.
Find this recipe at Wandering Spice
9. Chocolate Peanut Butter No-Bake Energy Bites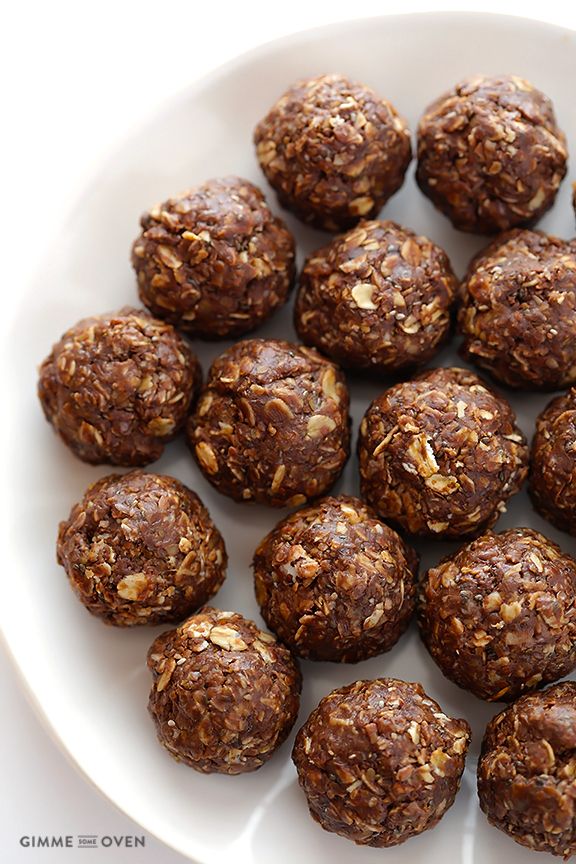 Swap out your mid-afternoon cookie for one of these classic chocolate peanut butter bites. They may taste like an indulgent cookie, but they're full of protein and naturally sweetened, so you won't suffer from sugar overload.
Find the recipe here: Gimme Some Oven
10. Ultimate Energy Bites
These Ultimate Energy Balls are filled with nutrition from almonds, walnuts, hemp protein, flaxseed, chia seeds, coconut oil, raw cacao, and medjool dates. Each delicious bite is packed with amazing plant proteins for all-day energy.
Find the recipe at Deliciously Ella
11. Coconut Cream Pie Energy Bites
With only five ingredients, these Coconut Cream Pie Energy Bites can be prepared in little time and taken with you for the perfect on-the-go snack. Filled with almonds, cashews, and coconut, they've got protein, fiber, and healthy fats to keep you going until your next meal.
Find the recipe here: Spoonful of Flavor
12. Coconut Lime Energy Bites
Bursting with flavor, you get the incredible taste of key lime pie in these Coconut Lime Energy Bites without the guilt. These little bites, full of almonds and cashews, provide healthy fats and fiber to keep you fueled throughout the day, and also keep your heart in tip-top shape.
Find the recipe here: Paleo Grubs
13. Crunchy Raw Protein Balls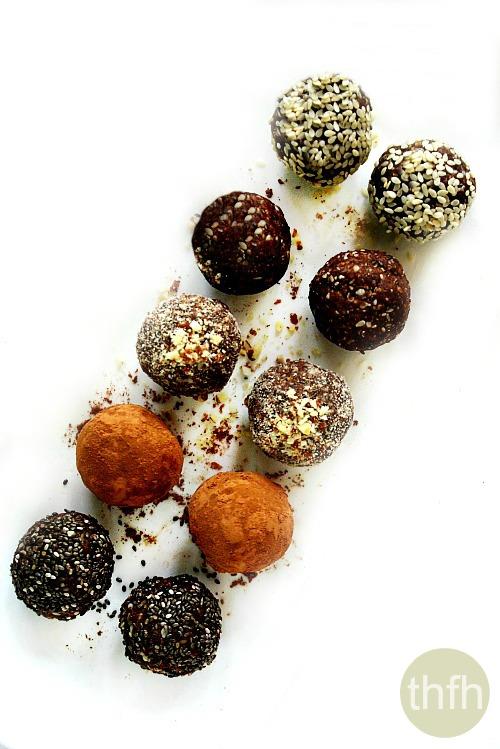 This recipe is super easy to make and delivers plenty of gluten-free, dairy-free nutrition. The protein and coconut oil help to curb your appetite and keep you satisfied throughout the day. Roll them in any number of healthy toppings like sesame seeds, chia seeds, maca powder, coconut flakes, raw cacao powder, or crushed nuts, or just eat them as-is.
Find the recipe here: Healthy Family and Home
14. Aloha Energy Protein Bites
Go tropical with your snack and get major health bennies. These protein bites are made with toasted coconut, pineapple, macadamia nuts, and vegan protein powder to give you staying power throughout the afternoon. Macadamia nuts are high in heart-healthy monounsaturated fats, and they pack in nerve-friendly vitamin B.
Find the recipe here: Creative Juice
15. Pumpkin Quinoa Protein Bites
These Pumpkin Quinoa Protein Bites are filled with wholesome ingredients that you'll love. They're packed full of good nutrition – protein powder, pumpkin, quinoa, pumpkin seeds, flaxseed, and almonds. Grab a few of these bites on your way out the door so you can feel good about what you're eating.
Find the recipe here: Love and Zest
Mix-and-Match No-Bake Protein Bites
Swap out your regular snack for nutrient-dense energy bites. Once you have them on hand, they're easy to grab instead of a cookie or chips.
They're packed with delicious ingredients like nuts, seeds, and coconut, and are naturally gluten, dairy, and refined-sugar free.
Whip up any of the 15 incredible no-bake energy bite recipes we've included here for a snack that tastes great, keeps you going for hours, and provides tons of nutritional benefits.
Get More Healthy Desserts
Looking for even more snack inspiration? Be sure to download my free Healthy Desserts book, which contains 8 irresistibly delicious treats that are 100 percent gluten- and dairy-free and low in sugar. Click the banner below for instant access.