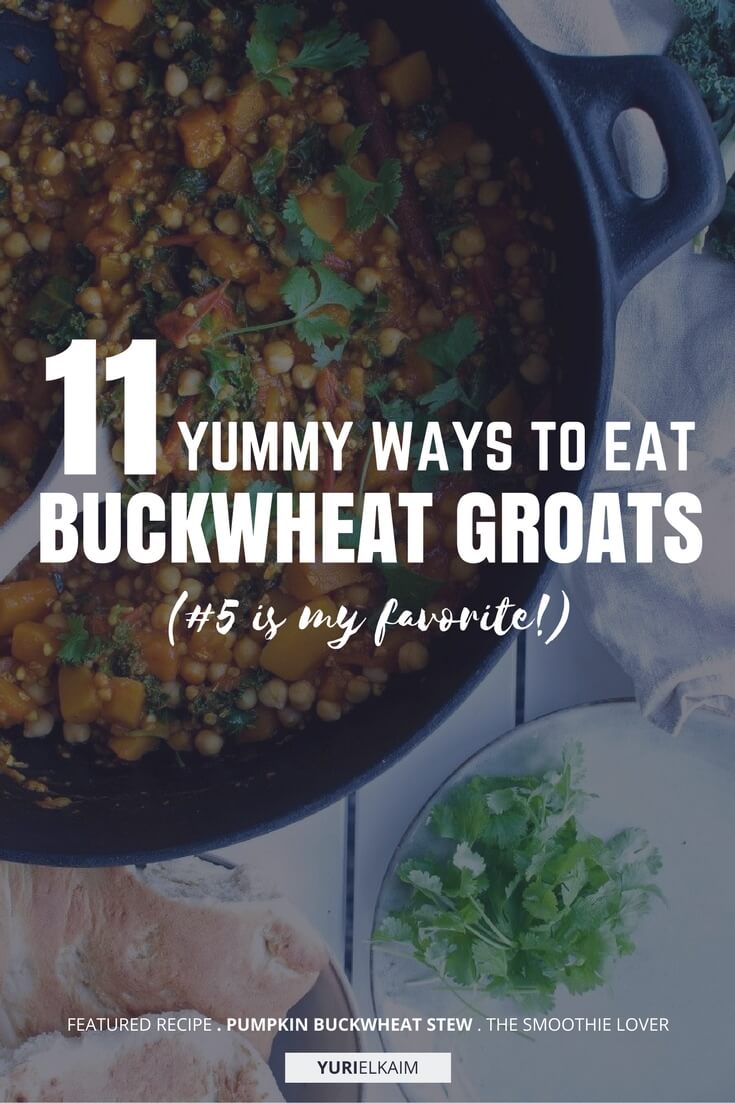 Have you ever tried cooking buckwheat groats? So many people haven't even heard of this gluten-free grain, even though it's definitely one of the healthiest grains out there — and one of my personal favorites. Because it's commonly used in baking and has a similar texture and flavor to grains, one of the most common questions I get is: "Is buckwheat gluten-free?" The answer is yes.
Buckwheat is an awesome alternative to wheat for use in gluten-free cooking because it perfectly mimics many gluten-containing grains and can also replace white flour in baked goods. Always look for buckwheat groats labeled as 100-percent gluten-free if you have celiac disease, to avoid the risk of cross-contamination.
Buckwheat groats can be cooked in a variety of ways, from sweet to savory, and can be used in dishes ranging from breakfast porridge to stir-fries and salads. So if you're looking for a new nutritious and versatile ingredient to add to your meals, let's dive into some delicious and wholesome buckwheat groats recipes together!
What is Buckwheat?  
Buckwheat is a plant that is cultivated for its grain-like seeds and used as a cover crop. It starts off as a seed and can be ground up into flour, turned into soba noodles, made into a hot cereal (think grits or porridge), or added to dishes for a nutty crunch. Despite its name, it is not closely related to wheat, nor is it a member of the grass family.
Buckwheat brings plenty of health benefits to the table. It has a lower glycemic index than rice, corn, and wheat, so it's a much better alternative for keeping blood sugar levels stable. It's also full of disease-busting antioxidants that help fight and prevent chronic disease. Plus, buckwheat is rich in protein, offering a whopping 23 grams per cup.
How to Sprout Buckwheat
Buckwheat groats, which are hulled buckwheat kernels, are often sprouted before cooking to prevent groats from sticking together.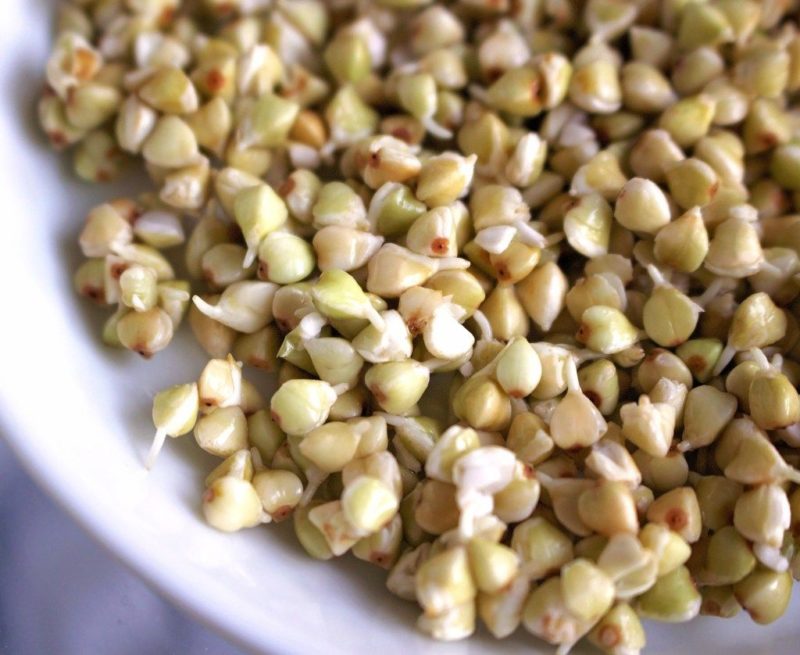 This process can really mean the difference when it comes to maximizing fluffiness and minimizing lumps. It also enhances the bioavailability of many vitamins and minerals, allowing you to get the most nutrients from your buckwheat.
Sprouted buckwheat groats are easier to make than they sound. All you have to do is rinse them off, place them in a jar with water, and leave them to sprout for 6 to 8 hours. Rinse them off one more time and then they're ready to enjoy.
You can find the full sprouted groats recipe here: Beets and Bones
Top 11 Delicious Buckwheat Groats Recipes
Here are some delicious buckwheat groats recipes for you to try:
1. Vegan Buckwheat Waffles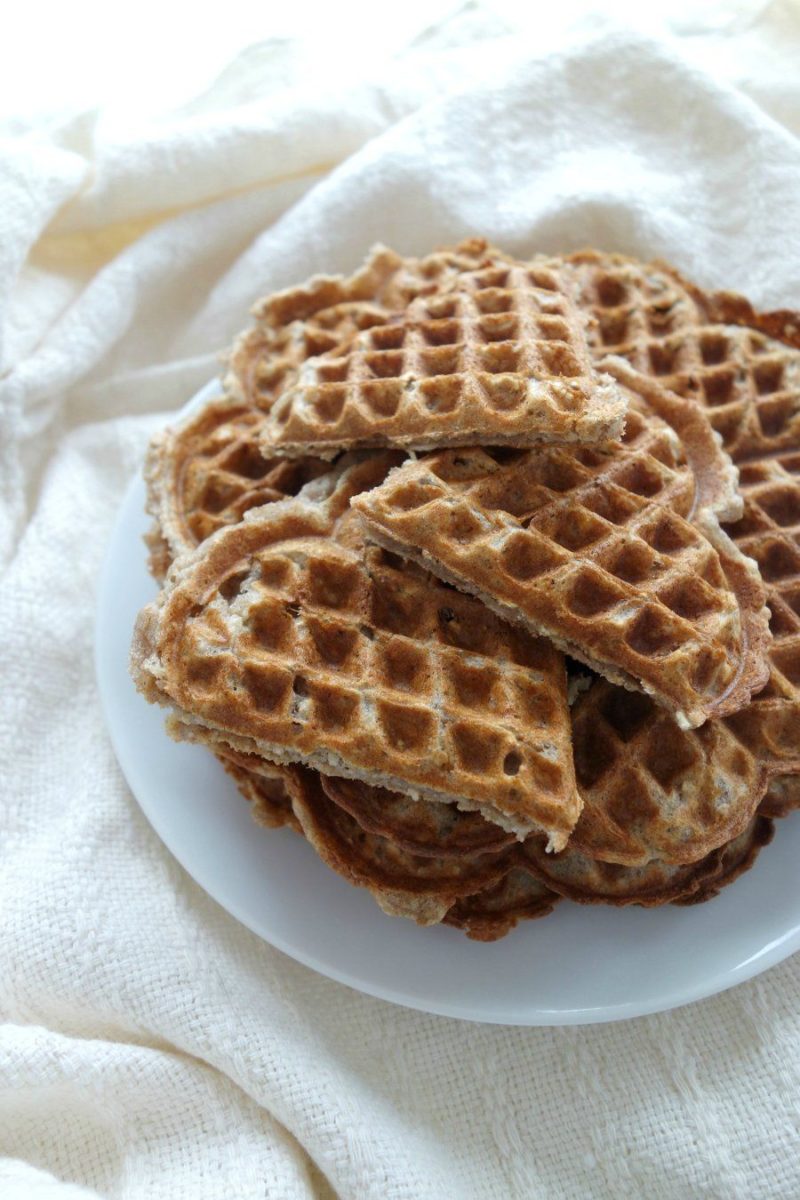 Ready to take your waffles to the next level? Try making them with buckwheat.
Grind up your buckwheat groats to make your own buckwheat flour and get ready to treat your tastebuds. With powdered chia seeds, coconut oil, and a bit of coconut milk, these are definitely not your ordinary, run-of-the-mill waffles.
Find the recipe here: Curls 'N' Chard
2. Buckwheat Tabbouleh
Easy to make and filled with delicious ingredients, you'd be hard pressed to find anyone who wouldn't enjoy a hearty bowl of this delicious buckwheat tabbouleh. This recipe boasts a pretty impressive flavor profile. Mango, cucumber, tomatoes, fresh mint, and garlic are just a few of the tasty (and nutritious) ingredients that make this recipe irresistible.
Find the recipe here: Rawmanda
3. Buckwheat Mushroom Risotto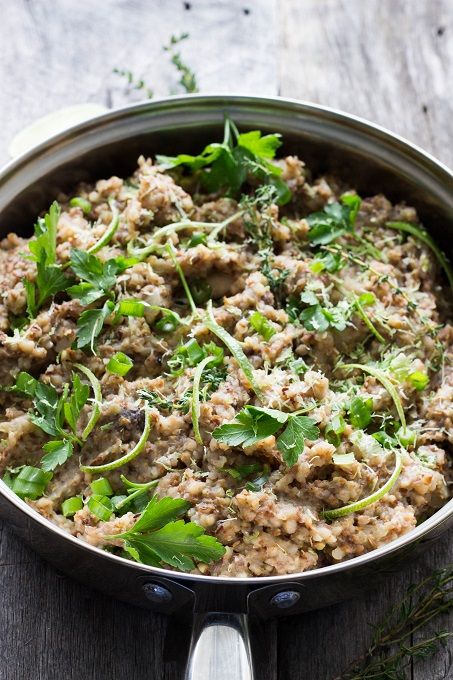 This creamy risotto dish has a tasty twist: it's made with buckwheat instead of Arborio rice.
This one-pan meal is super simple, requiring just 10 minutes of prep time to make it all come together. And with nutrient-rich ingredients, like coconut oil, mushrooms, thyme, and nutritional yeast, it's a perfect weekday dinner for the whole family.
Find the recipe here: Eat Thrive Glow
4. Vegan Chocolate Buckwheat Groats Pancakes
Rich, chocolate pancakes filled with cinnamon and cocoa powder — can you think of anything more delicious? This buckwheat groats recipe is sweetened with mejdool dates and is also gluten-free. Enjoy these vegan pancakes topped with fruit and antioxidant-rich maple syrup for an indulgent but healthy treat.
Find the recipe here: Vibrant Food Stories
5. Pumpkin Buckwheat Stew with Kale and Turmeric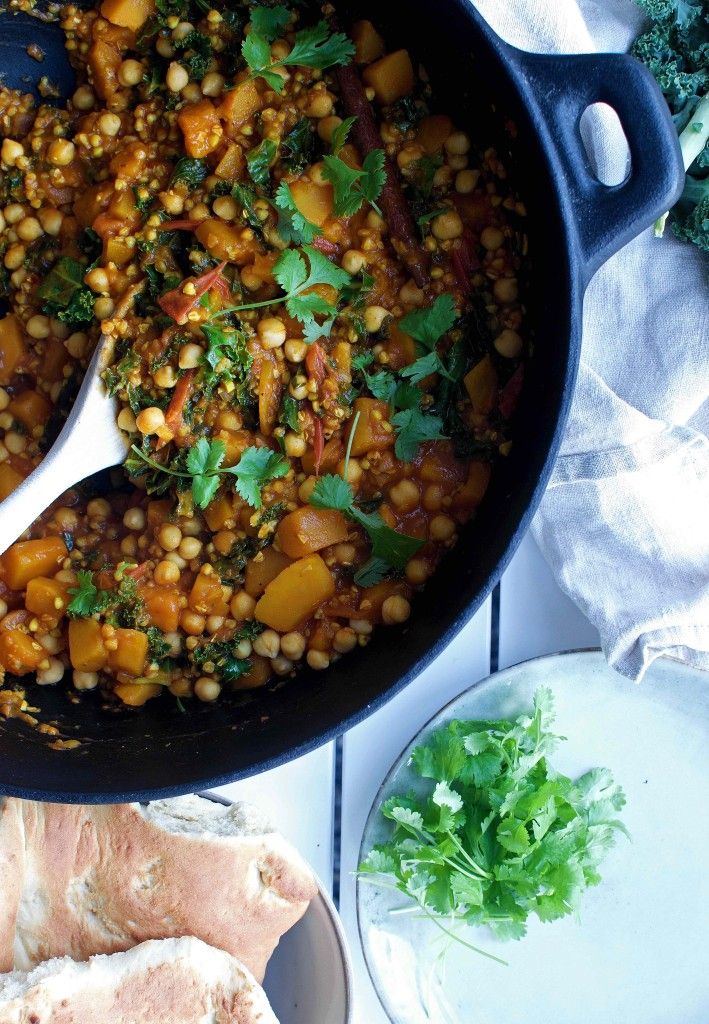 The flavors of pumpkin, chickpeas, kale, and buckwheat combine to make this a next-level stew, just in terms of sheer nutrition. But the good news is, they taste awesome together. But when you add in the flavor boosters – ingredients like apple cider vinegar, cumin, turmeric, and garlic – this stew becomes almost a superfood on its own, giving your immune system a little boost.
Find the recipe here: The Smoothie Lover
6. Raw Buckwheat + Quinoa Porridge
Two of my favorite grains — quinoa and buckwheat — combine to create this super healthy take on traditional porridge. This recipe is also naturally sweetened by ingredients like bananas and chia seed jam, meaning you can enjoy it as a snack or dessert, guilt-free.
Find the recipe here: Simply Quinoa
7. Crunchy Buckwheat Granola with Hemp Seeds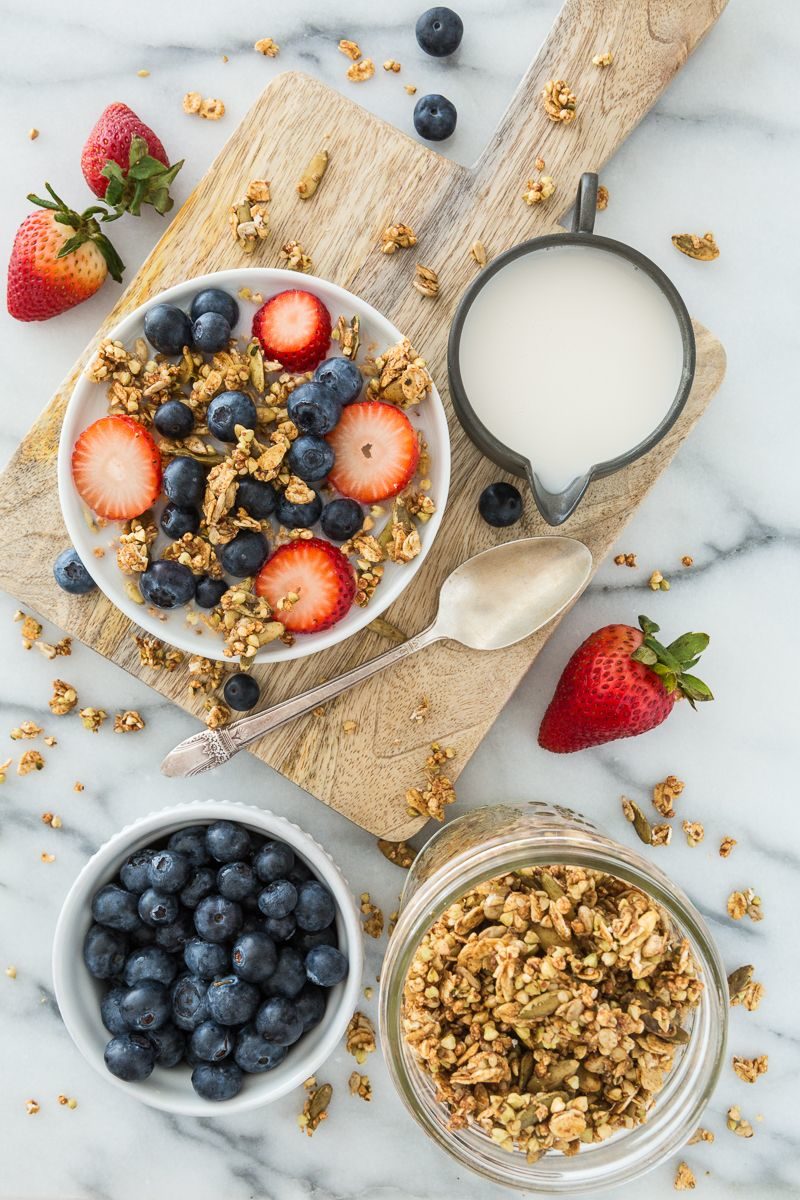 I'm a big advocate of making your own healthy granola mixes instead of relying on the store-bought varieties. With this buckwheat granola, you're skipping the added sugar and processed junk that you might find at the grocery store and instead getting the superfood benefits of ingredients like hemp seeds, flaxmeal, pumpkin seeds, and rolled oats.
Find the recipe here: Keepin' It Kind
8. Gluten-free Buckwheat Scones
These buckwheat scones make a delicious, gluten-free, savory snack.
They have all the nutty flavor of buckwheat, but then they're sweetened up with a bit of raw honey, with a splash of lemon zest to add a hint of citrus. Serve these up with some coconut oil or ghee and enjoy.
Find the recipe here: Hormones & Balance
9. 2-Ingredient Vegan Meatballs
If this recipe doesn't prove just how versatile buckwheat is, I'm not sure what will.
These vegan meatballs have just two ingredients, so you know they're super easy to make. But despite being deceptively simple, they're delicious. Serve these with some spaghetti squash for a healthy, gluten-free dinner.
Find the recipe here: FabLunch
10. Winter Goodness Bowl With A Green Sauce
This vibrant goodness bowl certainly deserves its name: it's full of nutritious ingredients and it's just as delicious as it looks.
With tons of anti-inflammatory and beneficial veggies and spices, this one-bowl wonder takes a little bit of time to prepare (roasted cauliflower and sweet potato make it worth it) but you'll love it – and the green tahini sauce recipe is a keeper.
Find the recipe here: Lazy Cat Kitchen
11. Summer Buckwheat Salad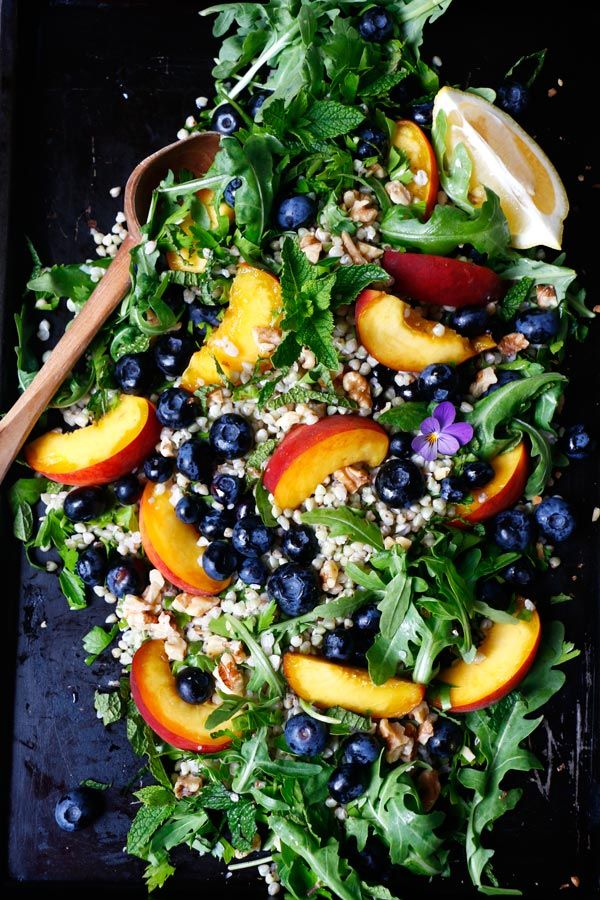 One of the reasons I love buckwheat groats recipes is because they're so simple and just about everything goes well with buckwheat.
Take, for example, this summer buckwheat salad. Whipping up this gorgeous salad just requires a few fruits, walnuts, herbs, arugula, and, of course, buckwheat groats. Mix it all together and voila: a light and refreshing summer salad ready to be devoured.
Find the recipe here: Nirvana Cakery
Tips for cooking buckwheat groats
Check out these tips for cooking buckwheat groats before trying these recipes:
Rinse the groats well before cooking to remove any debris or dust. Some sources suggest rinsing until the water runs clear, while others recommend a quick rinse.
Use a ratio of 1:2 groats to liquid. Water is the most common liquid used, but you can also use broth, milk, or any other liquid of your choice.
Bring the liquid to a boil in a pot and then add the groats. Reduce the heat to low and let the groats simmer until tender but not mushy, usually around 10-15 minutes.
Add salt or other seasonings to taste. Some recipes also suggest adding butter or oil for extra flavor and richness.
After cooking, fluff the groats with a fork or wooden spoon to separate them and prevent clumping .
To add some extra flavor and depth, you can toast the groats in a dry skillet before cooking. This will give them a nuttier flavor and a slightly firmer texture
Buckwheat Bliss
Buckwheat groats can be enjoyed so many different ways; mix them into a pudding, toss them in a salad, or switch up your next bowl of oatmeal for some tasty buckwheat groats.
Packed with nutrients and flavor, this is an awesome gluten-free grain that should definitely be included in your diet.
FAQs
How long does it take to cook buckwheat groats?
Buckwheat groats typically take around 10-15 minutes to cook, depending on the recipe and desired texture. It is important to simmer them over low heat until tender but not mushy.
How do I store cooked buckwheat groats?
Once cooked, buckwheat groats can be stored in an airtight container in the refrigerator for up to five days. They can also be frozen for longer-term storage. To reheat, simply add a bit of water or broth and warm on the stove or in the microwave.
What are some seasoning options for buckwheat groats?
When cooking buckwheat groats, you can add salt or other seasonings to taste. Some recipes also suggest adding butter, oil, or bouillon cubes for extra flavor and richness.
Gluten-Free Goodness
Getting dinner on the table every night shouldn't have to be a chore. That's why we compiled The All Day Energy Diet Community Cookbook, a collection of healthy gluten- and dairy-free recipes created by members of our very own online community.
Designed to take minimal time and offer maximum taste, these recipes will make you love the fact clean eating can be so easy!
You can get your FREE copy by clicking the banner below.