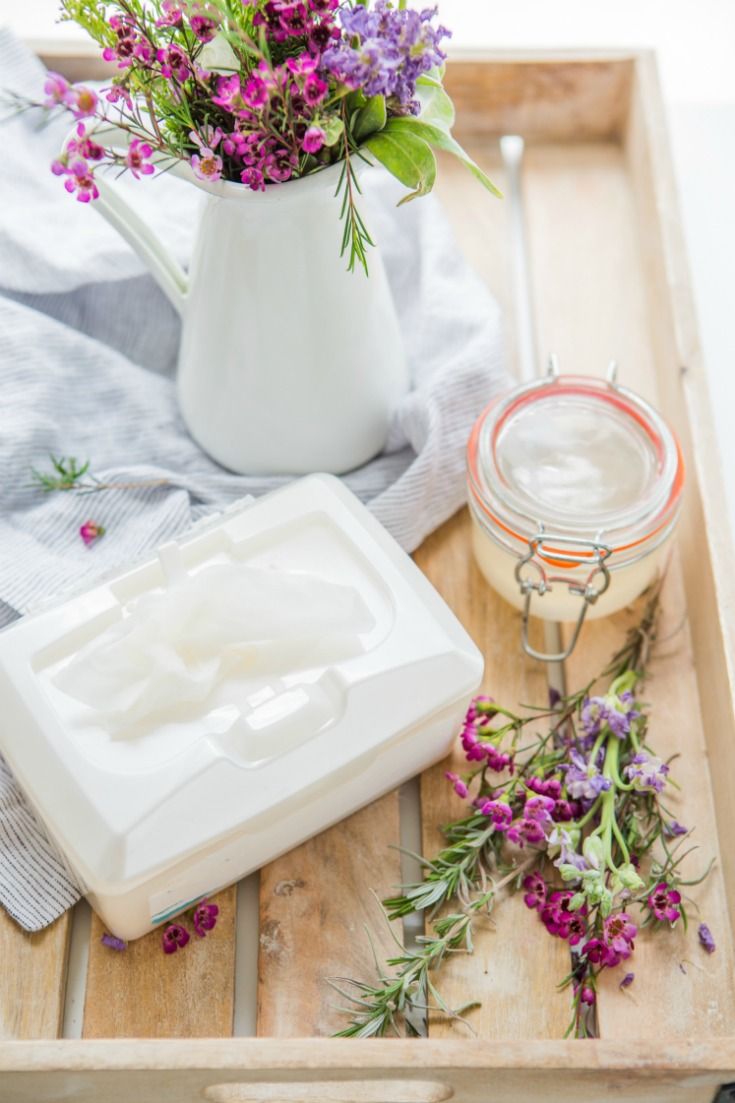 Spending time outside and enjoying nature is a good thing, but forgetting to wear sunscreen can result in a painful sunburn.
It has happened to all of us at one time or another, so I've created a natural way to get relief and jumpstart the healing process.
These natural remedies are affordable, easy, and don't contain potentially harmful chemicals or other questionable ingredients.
Full instructions are below, but these natural remedies couldn't be simpler.
Basically all you have to do for on-the-go relief is upgrade a box of baby wipes with soothing witch hazel and lavender. When you need a bit of natural relief, simply rub these cooling wipes over your skin.
For at-home use, dab on clear aloe gel or coconut oil mixed with soothing apple cider vinegar and lavender for an all-natural way to lessen sunburn pain and bring cool relief to the damaged skin.
Sunburn Remedies That Naturally Cool
A baby wipe container is the perfect on-the-go solution for your natural sunburn remedy.
Whether you're in the car after a long day at the park or sitting in a beach chair dipping your toes in the water, simply pull out a few witch-hazel wipes and gently dab on your sunburn. You'll instantly feel the natural ingredients working to alleviate the burning, hot sensation caused by a sunburn.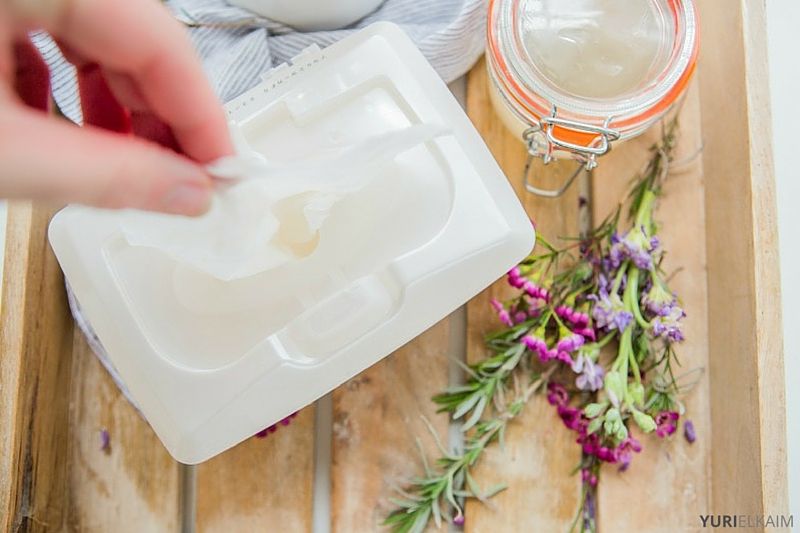 Want at-home relief in a cooling gel? Use the DIY lavender aloe gel on your burn and it will instantly feel better.
Store the gel in your fridge to keep it cool, dab it on a sunburn, and you'll feel immediate relief as it cools, soothes, and works to encourage proper healing.
When you're shopping for the aloe wipes I used for the first "recipe," look in the baby or bath section natural foods retailers – drugstores also often carry them.
And when you're shopping for the essential oils in these preparations, be sure to look for oiled labeled as "pure" and undiluted. You should be able to find them in natural food stores or online.
Both remedies should be stored in an airtight container or plastic baggie, and used within 30 days for best results.
Why These Home Remedies for Sunburns Work
A sunburn is basically inflammation of the skin caused by overexposure to the sun's rays.
Witch hazel works to reduce your skin's inflammation due to its natural anti-inflammatory properties. When you're on the go and notice your skin getting red and hot, use the witch hazel wipes to prevent any further inflammation.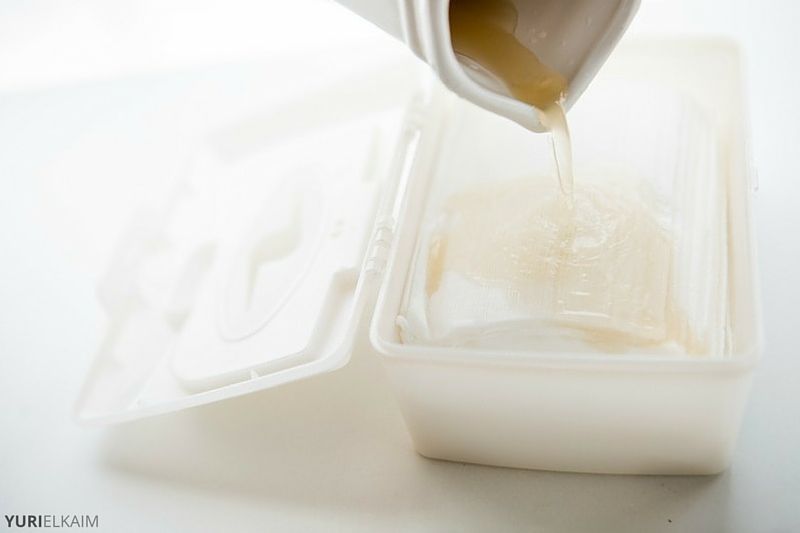 Lavender is used in both the witch hazel wipe recipe and cooling gel due to it's ability to promote new skin growth.
Lavender contains many compounds that help to improve the healing process for burned skin and encourage the growth of new skin cells. It's also antiviral, anti-inflammatory, and antibacterial, so it keeps nasty infections from appearing on the damaged skin.
It also contains compounds which have local analgesic and anesthetic effects, literally taking the sting out of the burn.
Apple cider vinegar is known for balancing pH levels, and while there are no scientific studies to back this up, it's believed that apple cider vinegar restores the damaged skin's pH while also contributing vitamins, minerals, and antiseptic properties to the damaged skin.
Aloe vera is a natural burn remedy that's been used for centuries to treat burns. The juice from the leaves contains many vitamins, minerals, and active enzymes with amino acids.
A scientific study in 2008 found that treatment of burns with aloe vera gel significantly decreased the skin's subdermal temperature, cooling the skin at a faster rate than a placebo (1).
Aloe vera gel also constricts blood vessels, which helps take away the redness and sting of a sunburn.
All-Natural Relief
Get quick relief from the painful, burning sensation of a sunburn with either the witch hazel wipes or lavender aloe gel. These remedies use all-natural ingredients to treat damaged, inflammed skin to promote fast healing.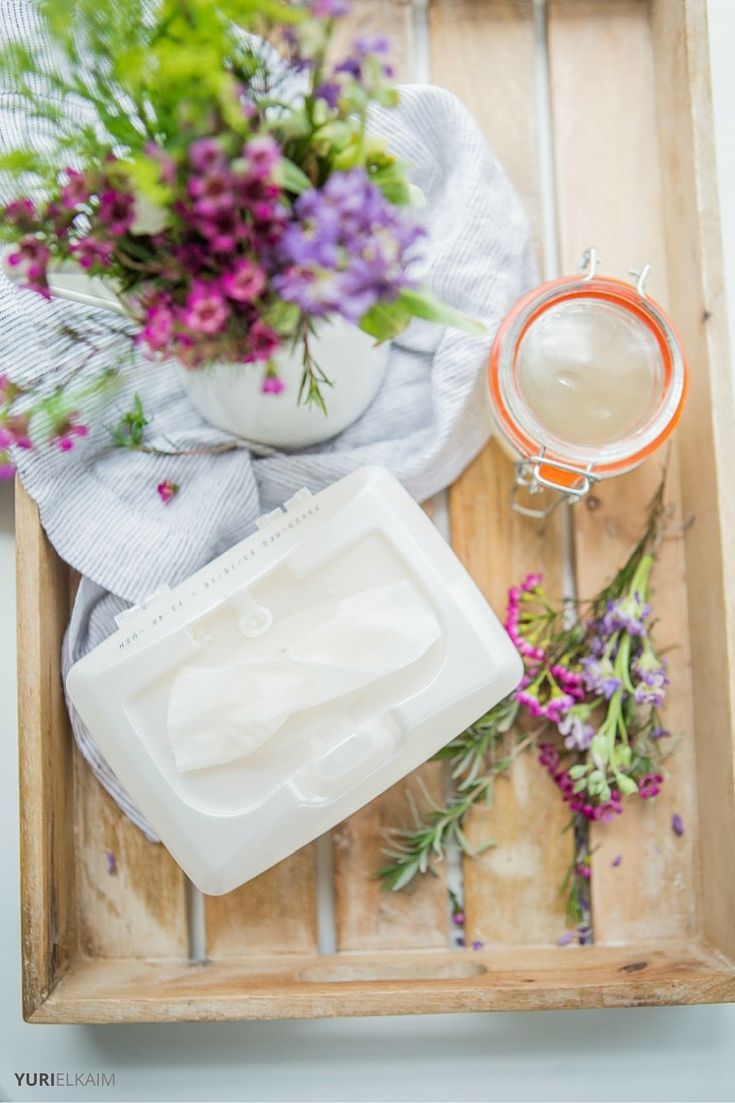 Witch Hazel Sunburn Remedy Wipes
Spent too much time in the sun and want a simple way to ease the pain of a sunburn? Upgrade a box of baby wipes with these witch hazel and lavender wipes. Then, when you need some soothing, natural relief, simply rub these cooling wipes over your skin
INGREDIENTS
1/2 cup witch hazel
2 tbsp apple cider vinegar (I used Bragg's)
3-4 drops of lavender essential oil
1 box sensitive skin baby wipes (preferably with aloe)
INSTRUCTIONS
Mix together witch hazel and lavender.
Pour mixture slowly over baby wipes. Close the wipe container and store it in an airtight bag. Use within 30 days.
Natural Remedies That Work
Looking for more ways to treat common ailments at home? I've created a handbook featuring my top 10 tried-and-true home remedies for skin, eye, and ear problems, colds and flu, and more.
Download Healthy Home Remedies right now – for FREE – by clicking the banner below.