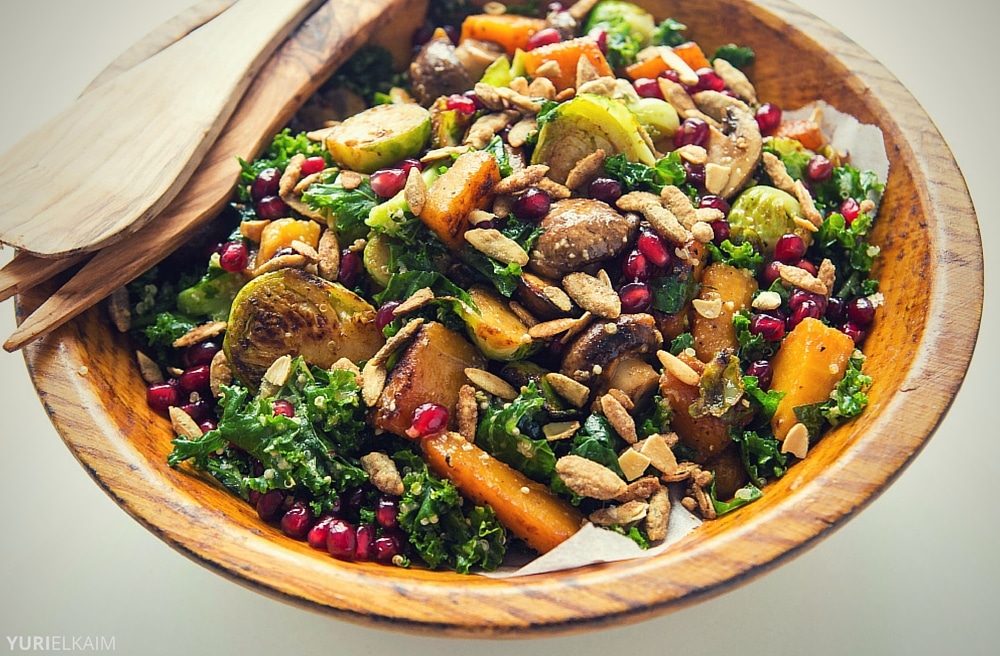 As the weather cools down, a lot of people turn to high carb comfort foods to boost mood and stay satiated. This is the season of chicken pot pies and pumpkin bread; lasagna, cheesy pasta and mom's old meat and potatoes. What about quinoa salad?
That might not be the kind of dish you think of for the season, but that's only because we're used to thinking we need to eat heavy, carb-y dishes in the fall and winter.
The thing is, so many of them aren't that good for you.
What's more, the changing seasons can also change your body's chemical balance. As "the Diet Doctor" Melina Jampolis puts it:
There is considerable research showing seasonal affective disorder (SAD) — which affects 1% to 3% of the population — is linked to increased appetite and carbohydrate cravings, which are probably consumed in the form of "comfort foods." This is likely due to changes in brain chemistry brought about by the change in seasons and alterations in circadian rhythm, the body's biological clock.

Those who may not be clinically diagnosed with SAD may experience mild depression or worsening mood during colder, less sun-filled days due to more moderate changes in brain chemistry. Some studies suggest an association between vitamin D deficiency (common in winter months when sun exposure is limited in most of the country) and mood, so this may play a role.

People may also be less active and less social in the winter, which could increase anxiety and depression and lead to stress eating and overconsumption.(via CNN)
So, if you find yourself subconsciously craving fatty, old-fashioned foods during cooler months, don't worry, it's perfectly normal.
That said, giving into these conditioned cravings doesn't have to be your normal. With a few flavorful recipe twists in your autumn arsenal, you can thrive during the cooler months, filling your body with incredibly nourishing plant-based foods.
That's where my healthy salad recipes come in handy, with this particularly delicious vegan quinoa salad recipe being one that you absolutely must try.
[Get 67 Quick and Delicious Recipes That Help YOU Look and FEEL Years Younger]
Why This Easy Quinoa Salad Recipe Is a Winner
Now I know the mere mention of the word 'salad' may have you rolling your eyes; it's rabbit food, right? How could it possibly fulfill your cravings?
I understand your doubt, but this vegan kale and quinoa salad is hearty and incredible. Unlike most salads, it's served warm and is tossed with so many autumn flavors that you'll want to eat salad for a week!
What makes this quinoa salad recipe so special? It's full of butternut squash, mushrooms, brussels sprouts, and pomegranate seeds, all of which get tossed together with one of my plant-based protein superstars – quinoa.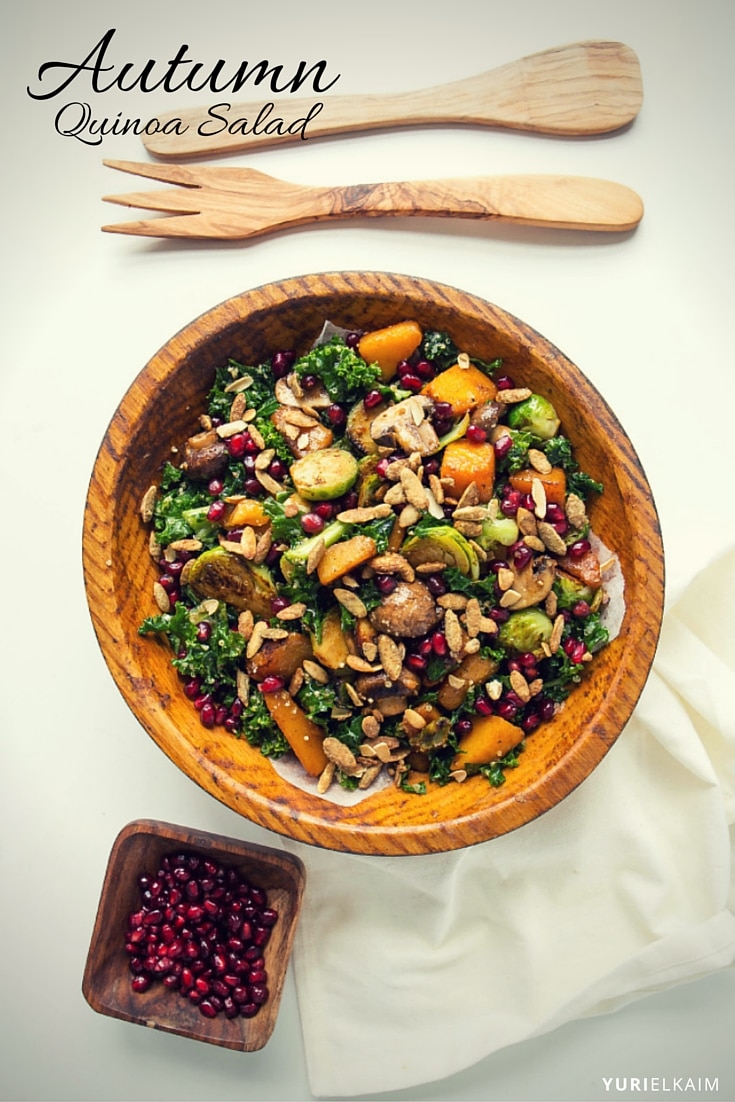 | | |
| --- | --- |
| | |
In a medium bowl, whisk together all dressing ingredients. Drizzle half of the mixture on the kale and massage the kale until tender, about 3-5 minutes. Toss with cooked quinoa

In a large skillet, heat coconut oil over medium-high heat. Stir-fry brussels, butternut, mushrooms and shallot together until golden around the edges. Toss into salad with pumpkin seeds and dressing. Enjoy your super-tasty, super-easy quinoa salad!