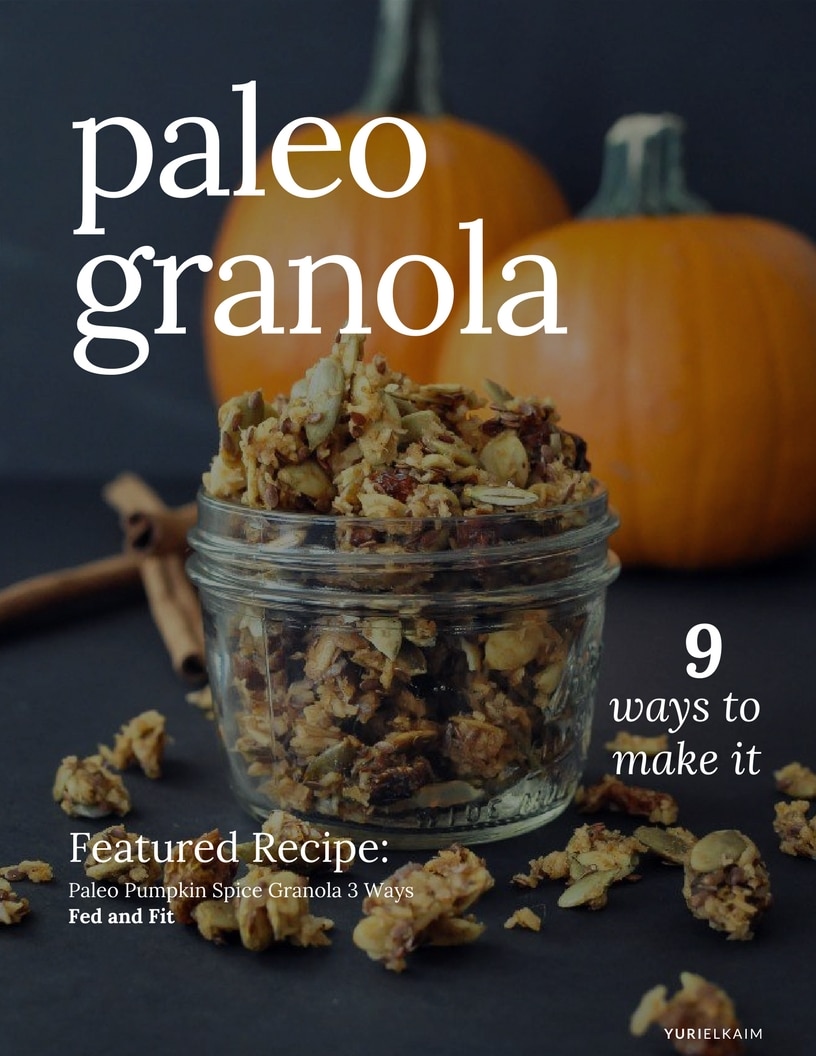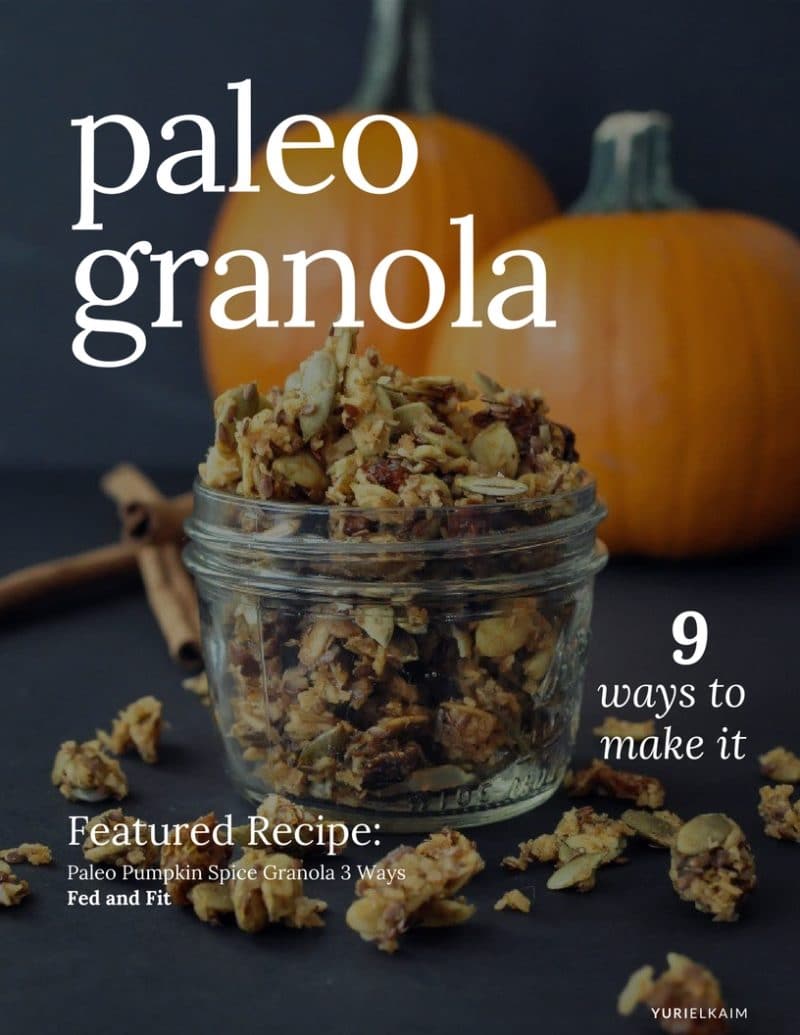 Browse through any health food store and you'll see several varieties of granola.
Most of us think granola is generally healthy food. We start our day with a hearty bowl, eat it as a snack, and even sprinkle it on other foods as a nutritious topping.
But there's a big problem with most of store-bought granola: it's loaded with sugar, additives, and unhealthy fats.
That's why I recommend making your own granola. You can add more variety, fill it with superfoods, and cut out the junk that food manufacturers like to pump it up with.
Best of all, you can make it totally paleo by subbing fiber-filled nuts and seeds in place of oats to add a delicious grain-free crunch.
I've collected 9 of the most delicious recipes for paleo granola to get you started.
Give a few of these a try and taste the difference!
Homemade Paleo Granola Recipes
1. Apple Pie Paleo Granola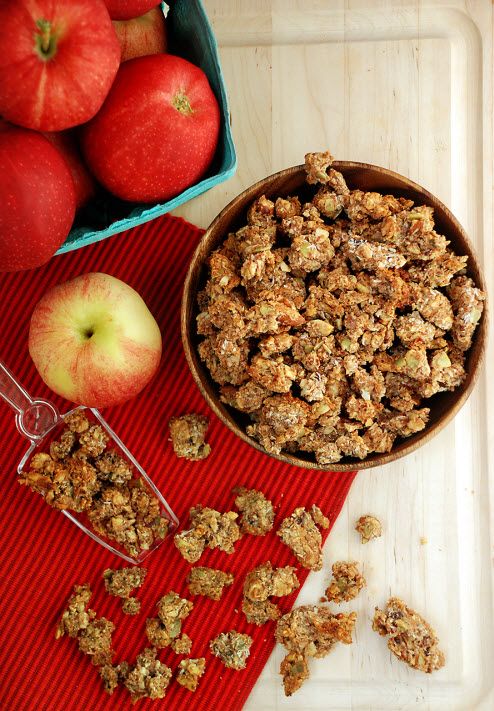 Granola that's grain-free, paleo, healthy, and actually tastes like apple pie? Believe it or not, this recipe really does bring it all to the table.
The authentic apple pie flavor comes from the combination of cinnamon, nutmeg, allspice, cloves, and applesauce. Meanwhile, the stellar health benefits of this recipe come from the addition of ground ginger, coconut oil, nuts, and pumpkin seeds.
2. Paleo Granola
Crunchy, delicious, and simple, this recipe for paleo-friendly granola uses a secret ingredient that's often overlooked: sesame seeds. Tiny but powerful, sesame seeds are chockfull of calcium, manganese, and copper, bringing a nutrient-packed twist to this tasty recipe.
This granola also features walnuts, pecans, and almonds. You'll love it!
Try this recipe: The Kitchy Kitchen
3. Chocolate Fudge Coconut Granola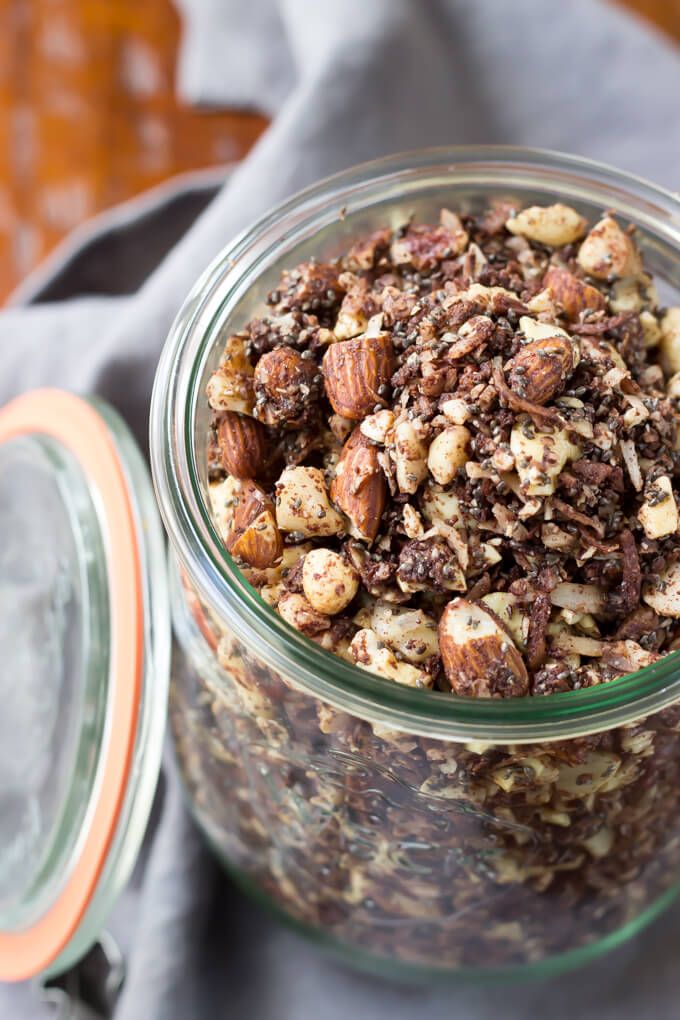 Chocolate lovers, this one is for you! This decadent granola is delicious enough to satisfy even the biggest sweet tooth, but full of health-promoting ingredients that make it 100 percent guilt-free.
The base of this recipe is pretty simple with just three ingredients: nuts, chia seeds, and shredded coconut. Mix in some creamy fudge made from coconut oil, cacao powder, and maple syrup and you have yourself an indulgent treat.
Find the recipe here: Wicked Spatula
4. Paleo Granola
With nuts, seeds, and a bit of dried fruit, this recipe manages to seamlessly pair salty with sweet.
Organic honey, pure vanilla, dried cranberries, and a sprinkle of cinnamon provide the sweet flavor while raw almonds, cashews, pumpkin seeds, and sunflower seeds bring the balance.
Try this recipe: The Real Food RDs
5. Homemade Granola Cereal
If you're looking for a healthy way to start your morning and cut the mid-morning munchies, look no further.
This recipe has everything you need; it features high-fiber nuts and seeds plus antioxidant-rich cacao nibs and maple syrup. It even delivers some serious protein with a few scoops of plant-based protein powder to keep you feeling full and satisfied.
Try this recipe: Yuri Elkaim
6. Grain-Free Granola
Just one bite of this delicious granola will reveal a superfood ingredient: the incredible goji berry, which is bursting with antioxidants to help fight disease and keep you healthy.
Add some pistachios, seeds, and walnuts and you have a super-nutritious granola that packs a powerful health punch.
Try this recipe: A Squirrel in the Kitchen
7. Grain-Free Granola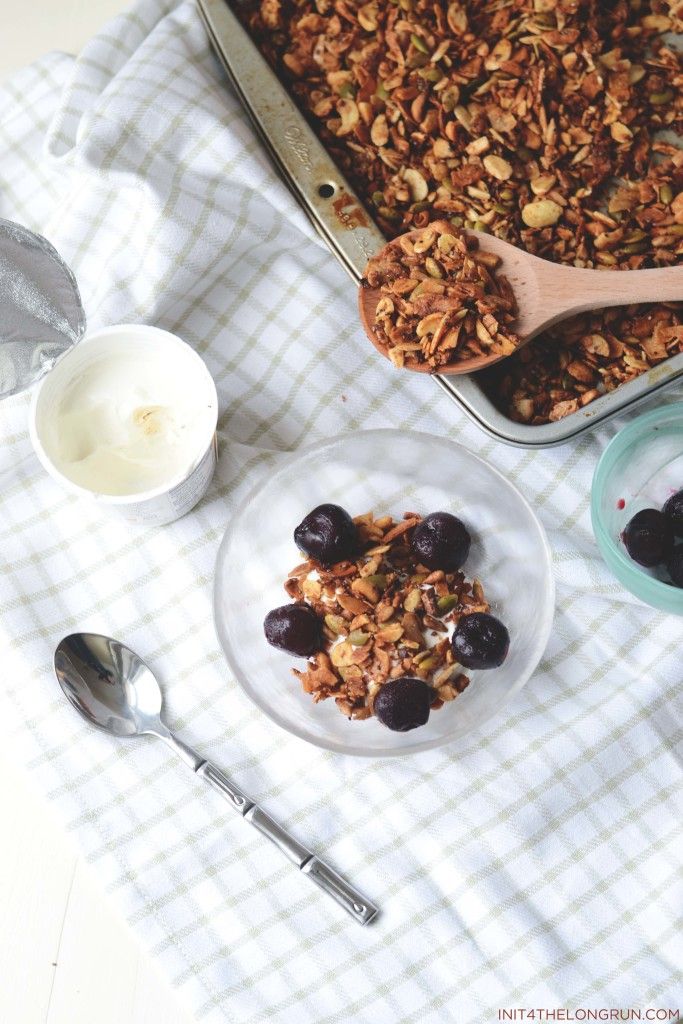 This recipe takes just 20 minutes of prep time, which means it comes together in a cinch.
It doesn't get simpler than this: just combine your ingredients – a tasty of mix of nuts and seeds, maple syrup, and coconut flakes – spread onto a sheet, and bake. You'll have an instant snack ready to be devoured in less than an hour, start to finish.
Find the recipe here: In It 4 the Long Run
8. Blueberry Granola
Fruity and full of flavor, you'll definitely want to whip up a second batch of this tasty blueberry granola.
With almonds, pecans, and sunflower seeds, this granola is brimming with extra fiber. Add in a bit of flaxseed and coconut oil for some healthy fat and you have the recipe for a balanced and super nutritious snack.
Find the recipe here: Living Healthy with Chocolate
9. Paleo Pumpkin Spice Granola 3 Ways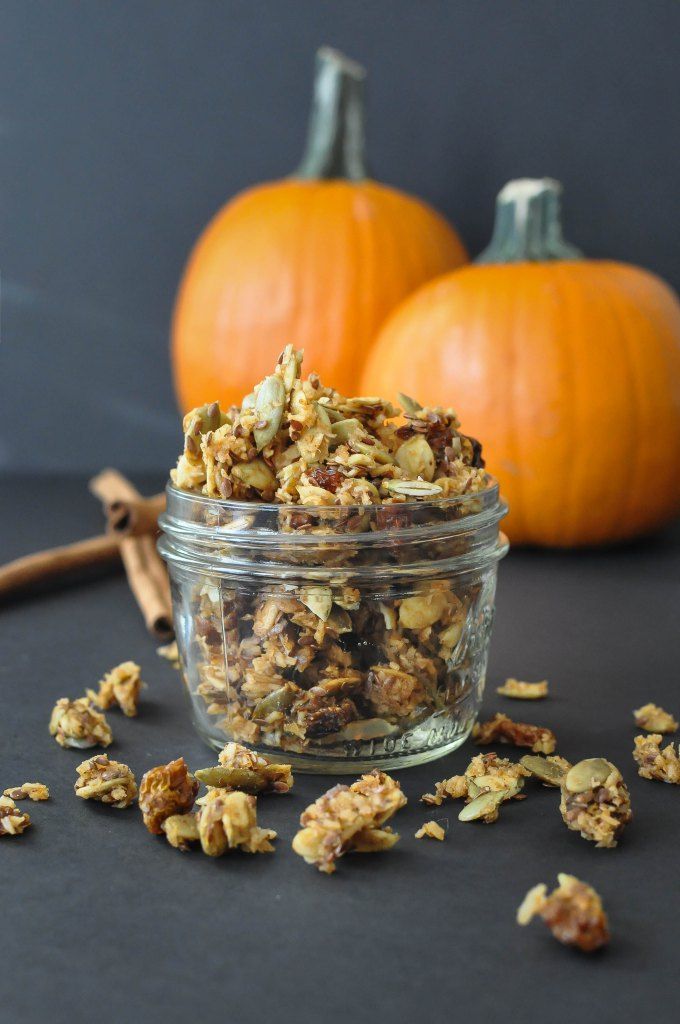 I'm a firm believer in the belief that pumpkin can make any recipe better. Case in point: this delectable granola recipe.
Mix some pumpkin seeds, shredded coconut, and whole flax seeds and you have this delicious creation. Add some pumpkin puree, ground cinnamon, and golden berries to take this granola from good to irresistible.
Find the recipe here: Fed and Fit
Granola Done Right
If a crunchy bowl of granola sounds good right about now, just grab your mixing bowls and preheat your oven.
Paleo granola is quick and easy to make. And when it's made right, it's awesome: for your tastebuds, your stomach, and your health.
Gluten-Free Goodness
Are you looking for more gluten- and dairy-free recipes? The All-Day Energy Diet Community Cookbook is filled with them!
These recipes are designed for real-world cooks who want tasty meals but don't have hours to spend in the kitchen. Low in allergens and sugar, these 67 recipes rate high in taste.
You can get your FREE copy by clicking the image below.