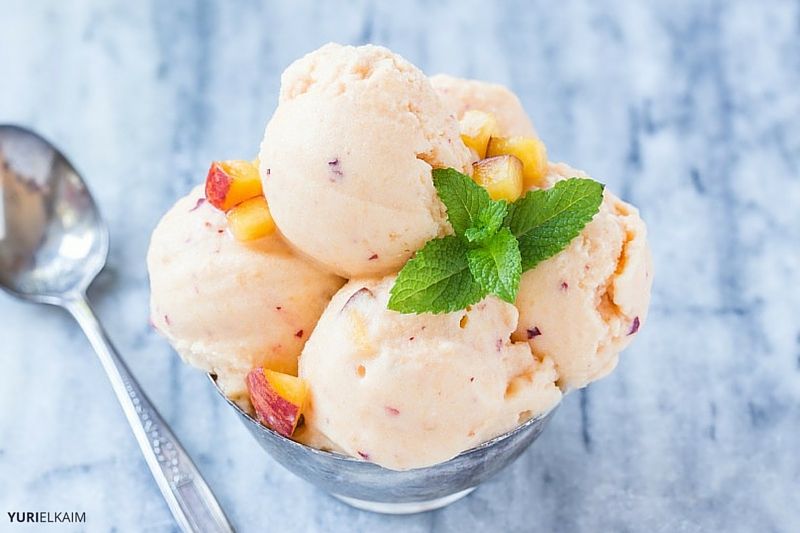 Peaches and ice cream: both are summer staples that taste delicious on their own.
Paired together, they become a masterpiece for the tastebuds.
It's hard to believe this homemade peach ice cream recipe contains only two ingredients … or that something so flavorful could be a healthy dessert you will want to make again and again..
Even though this recipe is both dairy- and sugar-free, the fresh taste of summer shines through. And almost as good as the taste of this frozen treat is the fact that there's no reason to feel guilty about indulging yourself.
Homemade Peach Ice Cream
Peaches are in the stone fruit family along with nectarines, cherries, and plums. Stone fruits earn that name from their hard, inner seeds, and fruit in this family can't be stored long before bruising and rotting.
That's why freezing peaches is a brilliant idea, as it allows you to capture their fresh, juicy, and delicious flavor so you can enjoy them any time.
When it comes to nutrients, peaches are a powerhouse.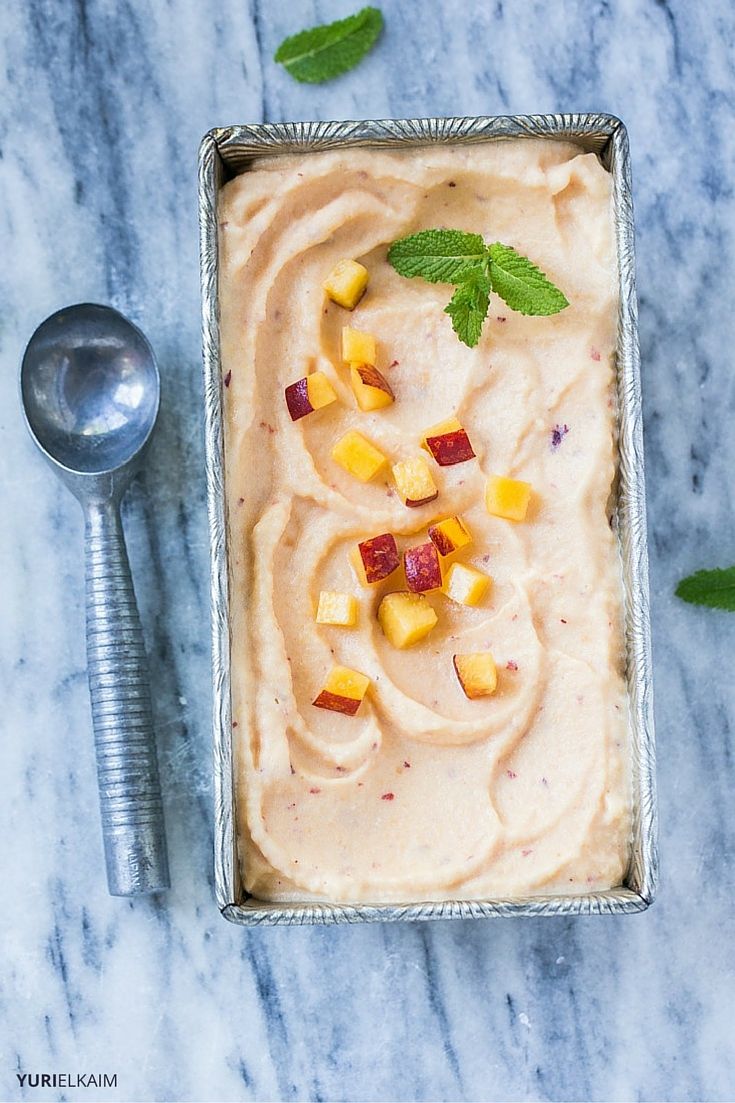 They provide an excellent source of beta carotene, which your body converts to vitamin A and is crucial to the health of our eyes and skin.
Peaches also contain a high level of antioxidants, which protect the body from cancer and other chronic diseases. A 2014 study found that the polyphenolics in peaches inhibit tumor growth in breast cancer cells. The authors suggest eating two to three peaches a day to take full advantage of these amazing benefits (1).
Peaches also pack a great deal of vitamin C, which boosts immunity and maintains elasticity of the skin.
That being said, if you want variety, you can switch out the peaches with another fruit. Mangos, strawberries, raspberries, and frozen bananas would make delicious swaps in this recipe.
Dairy-Free and Delicious
One of the trickiest parts of  puzzling out how to make homemade peach ice cream was delivering a creamy texture.
That's why you'll see that coconut milk is the second ingredient in this recipe, replacing the dairy normally found in ice cream recipes. Coconut milk delivers the creaminess, plus it offers some incredible health benefits.
Coconut milk is made by grating the flesh and soaking it in hot water. The coconut cream rises to the top and is skimmed off. The remaining liquid is squeezed through a cheesecloth to extract the coconut milk you find in the grocery store.
Coconut milk has some amazing health benefits, from stabilizing blood sugar levels to taming inflammation to improving heart health.
A 2013 study revealed that consuming coconut milk for 8 weeks decreases bad cholesterol and increases good cholesterol in participants with elevated levels (2).
Although coconuts contain significant amounts of fat, that fat is mostly in the form of medium chain saturated fatty acids. Lauric acid, one of the medium chain fatty acids, has antiviral and antibacterial effects that destroy a wide variety of disease causing organisms.
Tummy-Friendly Ice Cream
Ice cream without the dairy? If stomach issues plague you after you eat ice cream, you'll have no problems with this dairy-free version. It's also super quick and easy to make, so you can satisfy your sweet tooth in minutes.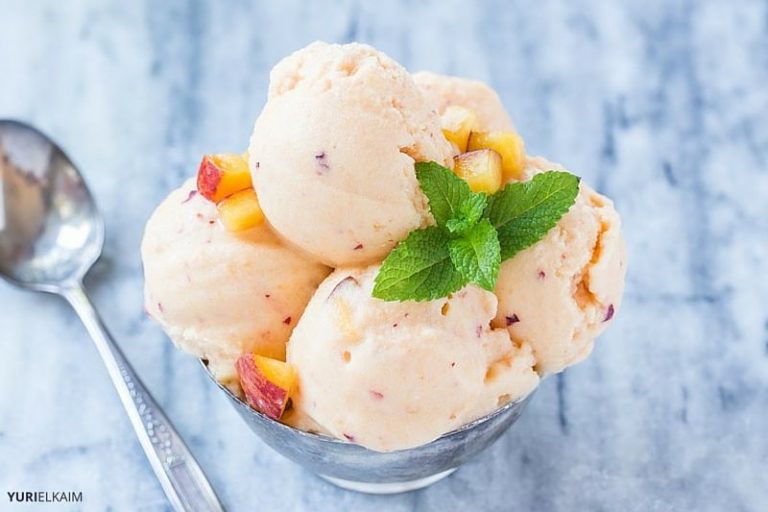 Place the frozen peaches in a food processor and process until peaches have started to break down, 4 to 5 minutes.

Add the coconut milk and process until a creamy and smooth "soft-serve" texture forms.

Spoon the soft serve into bowls and serve immediately.

Garnish with diced peaches and mint if desired.
Uneaten portions of this ice cream can be stored in an airtight container.
When serving later, you can spoon this ice cream straight out of the container, or cut the frozen mixture into 1-inch cubes and place in a blender to get a soft-serve texture.
Enjoy within 1 week for best results.
Desserts Can Be Healthy
It's true: It's possible to make family-friendly and delicious healthy treats that are 100 percent gluten- and dairy-free, and low in sugar. Check out my FREE Healthy Desserts eBook, which contains 8 more irresistibly delicious healthy desserts. 
You can download it right now by clicking the banner below.