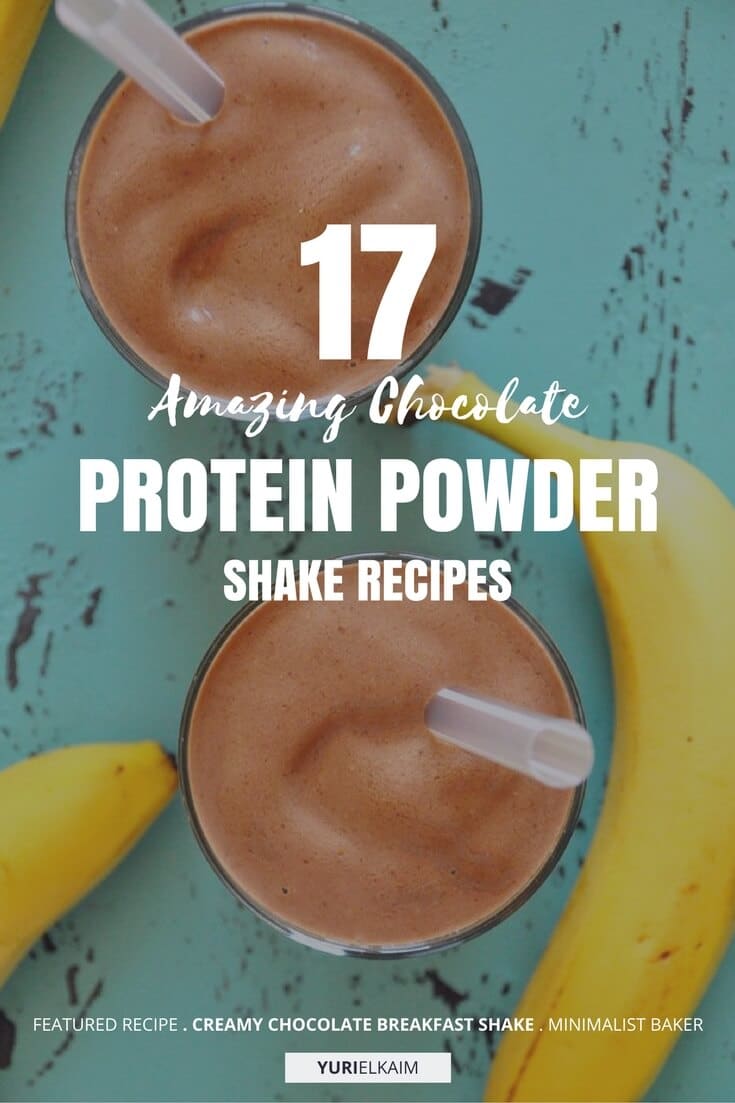 Nothing beats slurping a creamy, chocolatey, and delicious shake … unless that chocolate shake just so happens to be good for you, too.
Packed with protein and nutrients, a cool and refreshing chocolate shake tops the charts when it comes to convenience and nutrition.
I've rounded up 17 of the most mouthwatering shake recipes with protein powder that you can indulge in – guilt-free. You can enjoy them post-workout, as a quick breakfast on-the-go, or as an effortless way to bump up your protein intake.
Give one (or a few) of these tasty chocolate protein powder smoothie recipes a try. Your tastebuds will thank you.
17 Chocolate Protein Powder Shake Recipes
1. Brownie Batter Protein Shake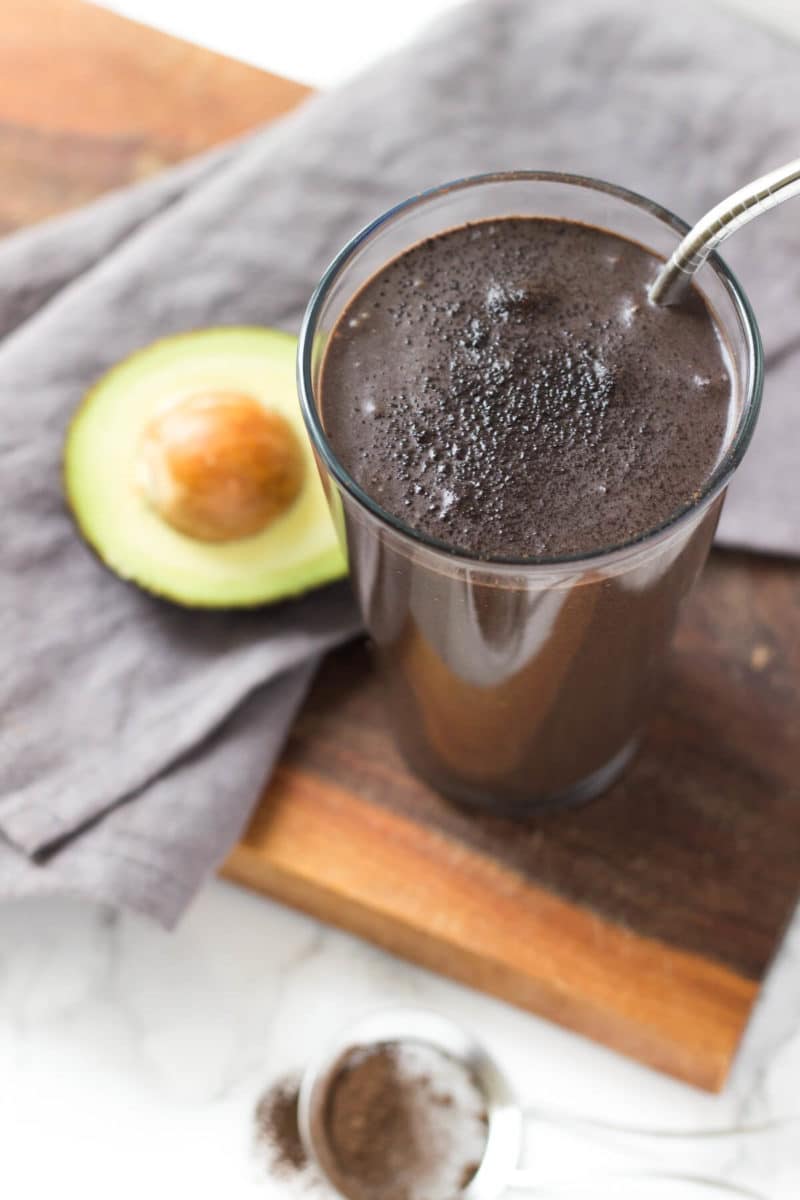 Decadent and delicious, it's hard to imagine that a healthy protein shake can taste this good.
The secret ingredient? A ripe avocado, which adds creaminess and heart-healthy fats, is masked by the rich flavors of dark cocoa powder, maple syrup, and coconut milk.
Find the recipe here: Wicked Spatula
2. Chocolate Spirulina Detox Smoothie
There's a reason this tasty smoothie is dubbed the "detox smoothie." It's packed with tons of nutritious ingredients that make it an awesome guilt-free choice, post-detox or anytime.
Feed your cravings with this smoothie, which balances ingredients like almond butter and cacao powder with health-promoting spirulina powder, nut milk, and coconut water.
Find the recipe here: The Chalkboard
3. Dark Chocolate Peppermint Protein Shake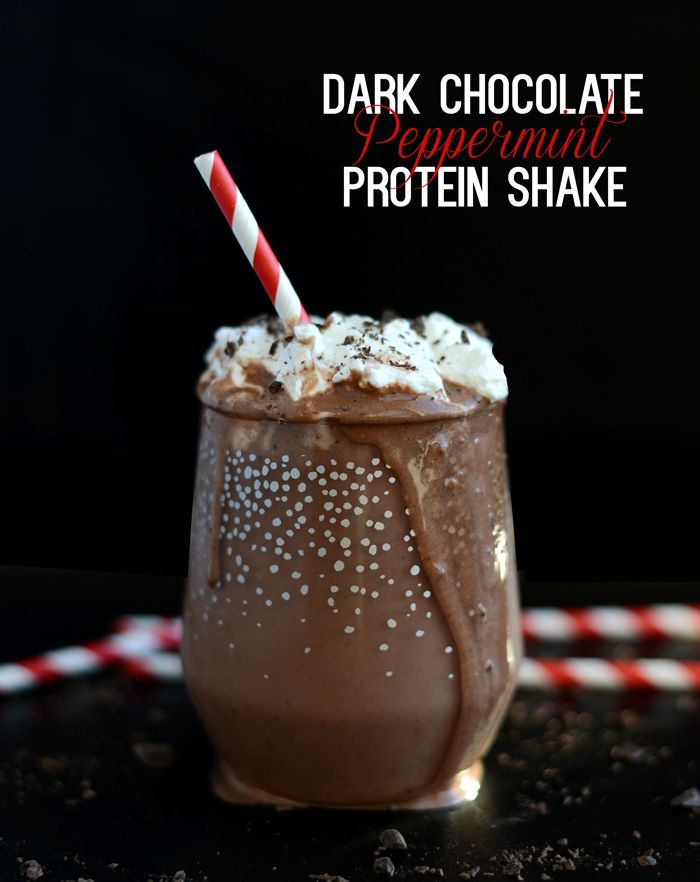 Dark chocolate and peppermint make the perfect pair in this scrumptious shake.
Optional toppings include vegan dark chocolate chips and homemade whipping cream, instantly taking this recipe from delicious to drool-worthy.
Find the recipe here: Fit Foodie Finds
4. Very Berry Chocolate Protein Smoothie
For a fruity and flavor-filled treat, look no further.
This smoothie recipe combines raspberries and strawberries to create a sweet and irresistible taste while a teaspoon of chia seeds ramps up the protein content and adds in some healthy fats.
Find the recipe here: Lexi's Clean Kitchen
5. Chocolate Peanut Butter Apple Protein Shake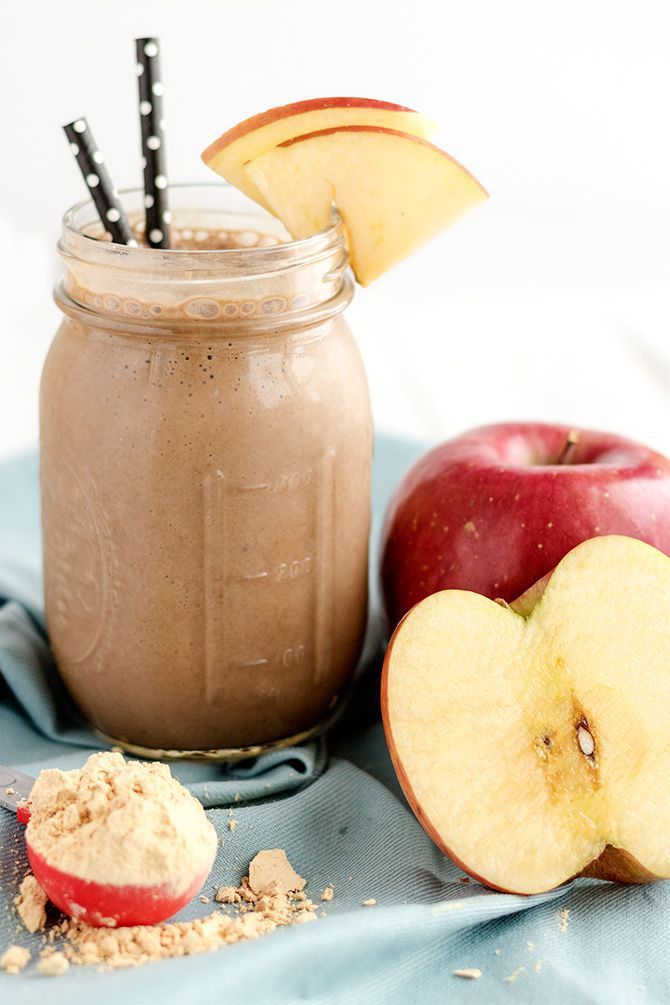 This recipe takes the classic combo of apples with peanut butter and transforms it into a protein shake.
A scoop of chocolate protein powder, an apple, almond milk, ice, and peanut powder are all you need to create this tasty treat.
Find the recipe here: Jennifer Meyering
6. High-Protein Decaf Mocha
Get your morning coffee fix in, sans the caffeine, with this yummy mocha shake.
Filled with protein plus healthy fats from coconut or MCT oil, this protein shake is a nutritious and delicious way to get your day started.
Find the recipe here: Yuri Elkaim
7. Chocolate, Banana, Peanut Butter Protein Shake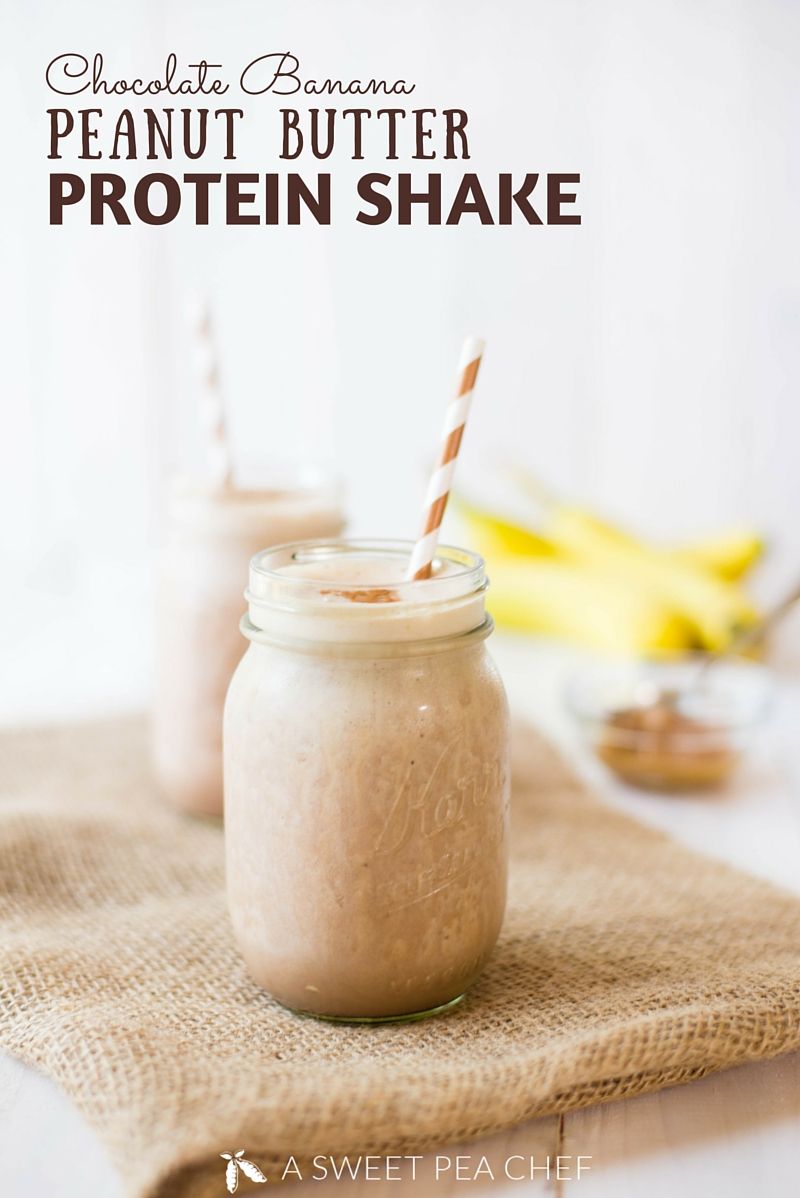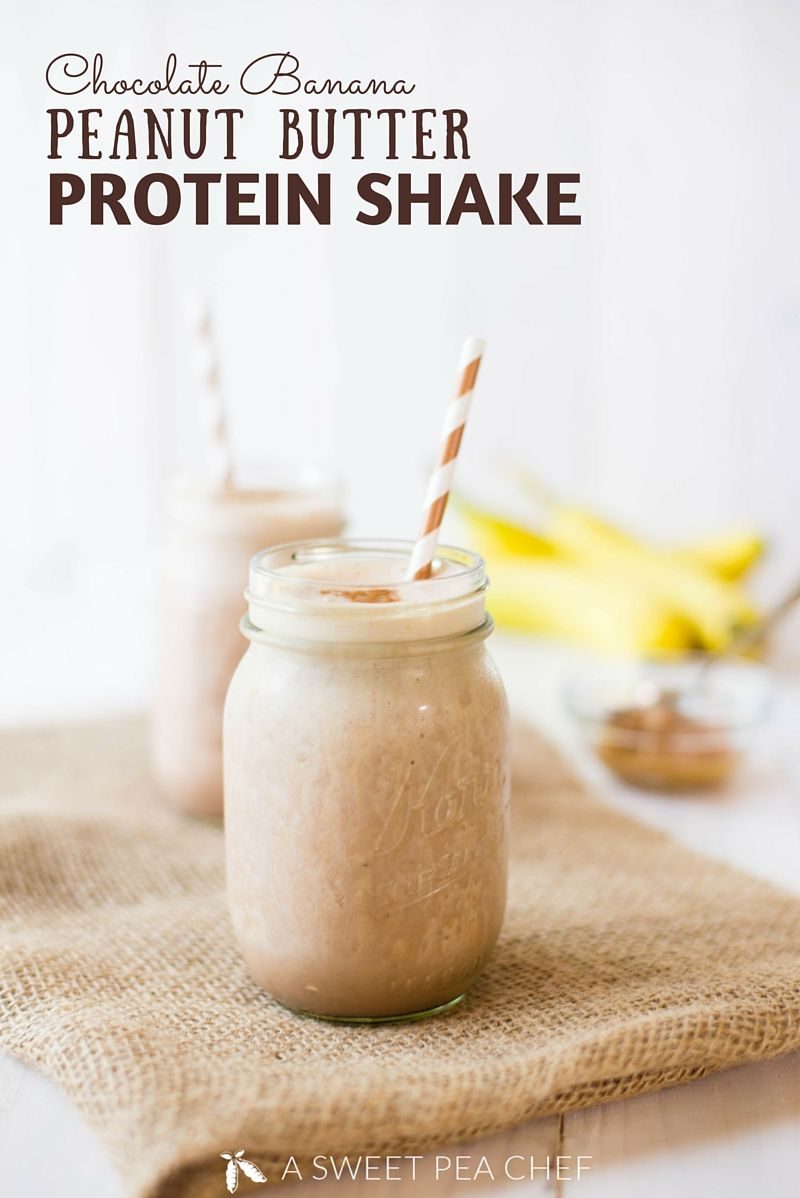 This no-frills protein shake is simple, but it's also seriously delicious.
In fact, using mostly ingredients you probably already have in your pantry, this smoothie comes together in a flash and is sure to satisfy.
Find the recipe here: A Sweet Pea Chef
8. Mint Chocolate Chip Green Smoothie
Brimming with minty and chocolatey goodness, who knew something so healthy could taste so good?
This green smoothie packs in a serious nutritional punch; spinach and avocado enhance the nutrient profile while a scoop of chocolate protein powder keeps you feeling full and satisfied.
Find the recipe here: Nutrition Stripped
9. Chocolate Raspberry Almond Butter Protein Shake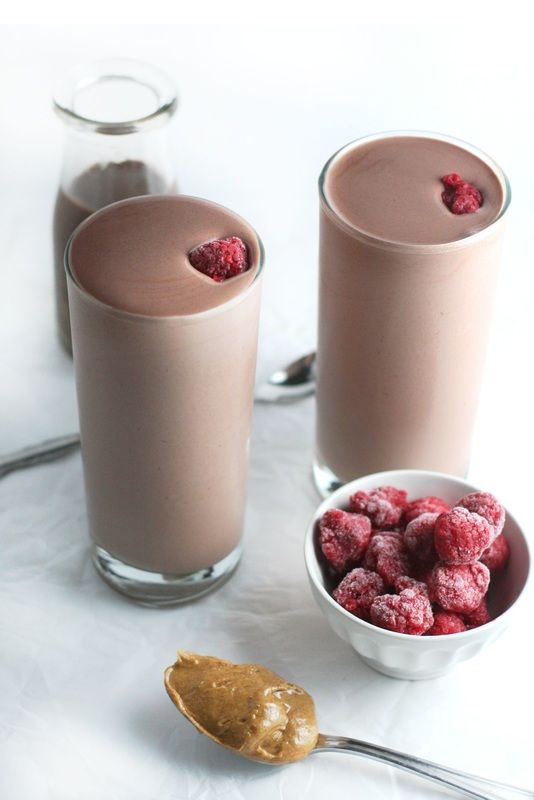 Chocolate, raspberries, and almond butter – does it get any better?
This recipe incorporates everything you need from a protein shake; it's creamy, easy to prepare, and loaded with flavor.
Find the recipe here: Drool-Worthy
10. Cherry Chocolate Chia Smoothie
You only need four simple ingredients to whip up this smoothie.
Cherries and chocolate powder provide tons of flavor while a sprinkle of chia seeds heap on the health benefits.
Find the recipe here: Wendy Polisi
11. Mint Chocolate Green Protein Smoothie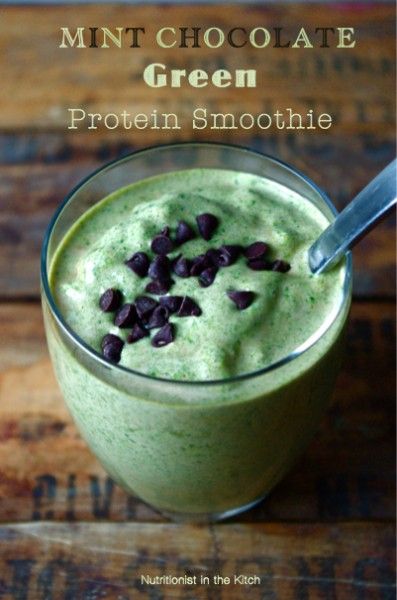 This lean and mean green smoothie will satisfy both your stomach and your tastebuds.
Ground flaxseed is used to add even more protein to this smoothie, while a splash of peppermint extract and a dash of dark chocolate chips effortlessly mask the flavor of the spinach.
Find the recipe here: Nutritionist in the Kitch
12. Pumpkin Chocolate Chai Protein Shakes
This chocolate protein shake can be enjoyed year-round, but it's especially good for getting you into the fall spirit.
Pumpkin puree makes this recipe unique while a few cacao nibs and a chai tea packet truly bring it to the next level.
Find the recipe here: PaleOMG
13. Vegan Chocolate Protein Smoothie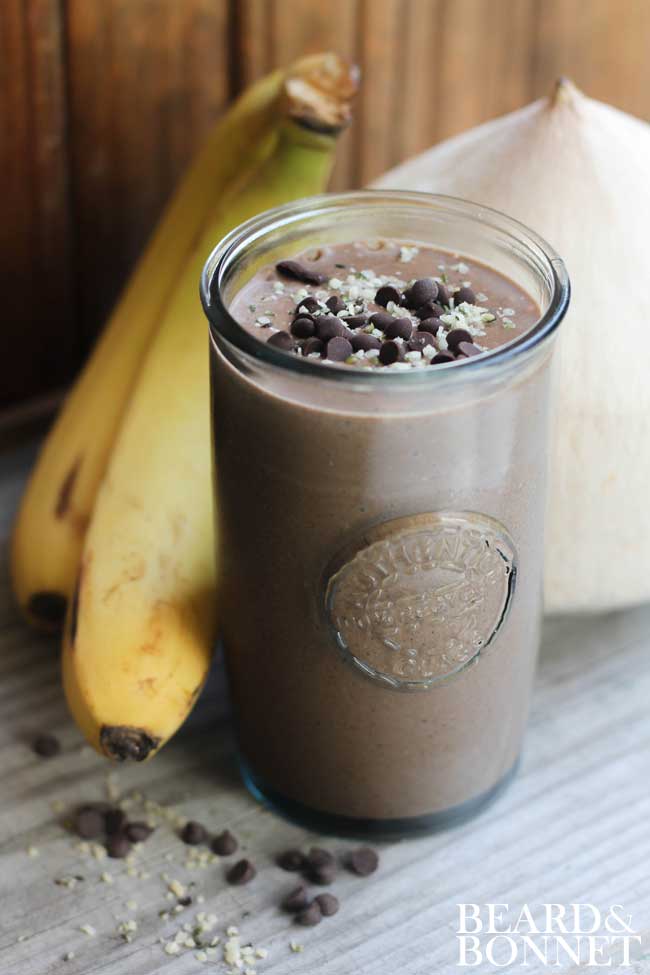 This protein smoothie packs in as much tastiness as it does health benefits.
Using two frozen bananas adds the perfect amount of creaminess while a sprinkle of coconut flakes and toasted carob powder create the perfect pairing of flavors.
Find the recipe here: Beard and Bonnet
14. Pumped-up Plant Protein Power Smoothie
Bursting with superfood ingredients like chia seeds, hemp seeds, and maca powder, this recipe definitely deserves its title of "power smoothie."
Other notable health-promoting ingredients in this power-packed smoothie include almond milk, cinnamon, and an avocado to add a touch of creaminess.
Find the recipe here: Nutrition Stripped
15. Creamy Chocolate Breakfast Shake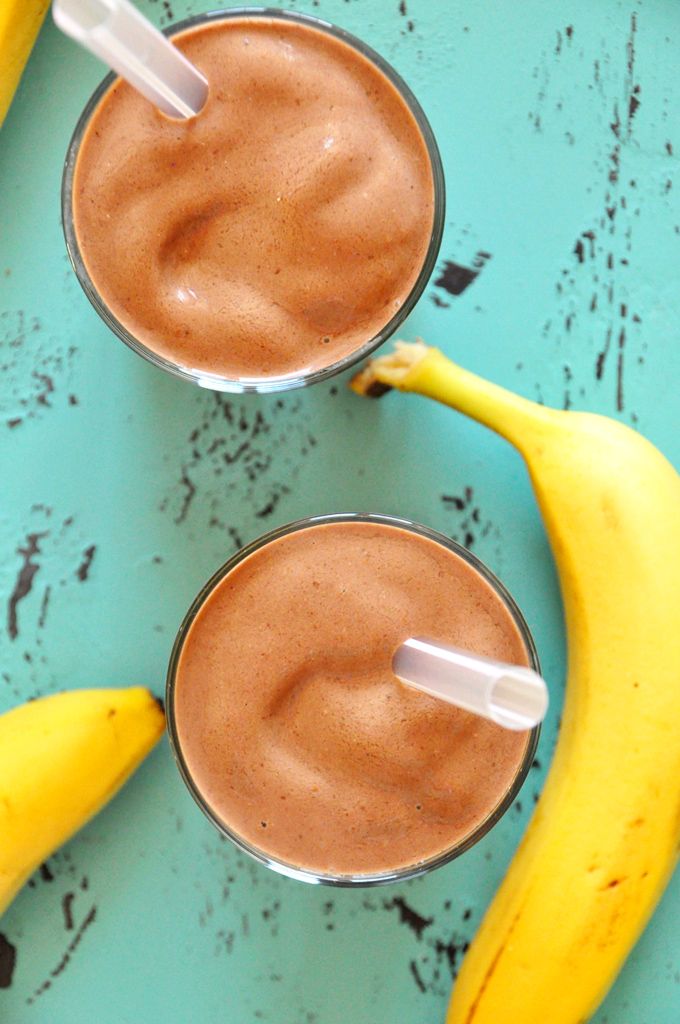 Rich and delicious, this breakfast shake will get you excited to wake up in the morning.
The secret to its velvety texture is the bananas, plus a dollop of salted almond butter gives even more flavor and smoothness. Yum!
Find the recipe here: Minimalist Baker
16. Coco-Berry Probiotic Protein Shake
Besides bumping up your protein intake, this protein shake boasts some impressive health benefits.
This recipe includes coconut kefir, which is full of probiotics that help promote digestion and keep your gut happy. A happy digestive system means better health overall.
Find the recipe here: Yuri Elkaim
17. Secret Ingredient Chocolate Smoothie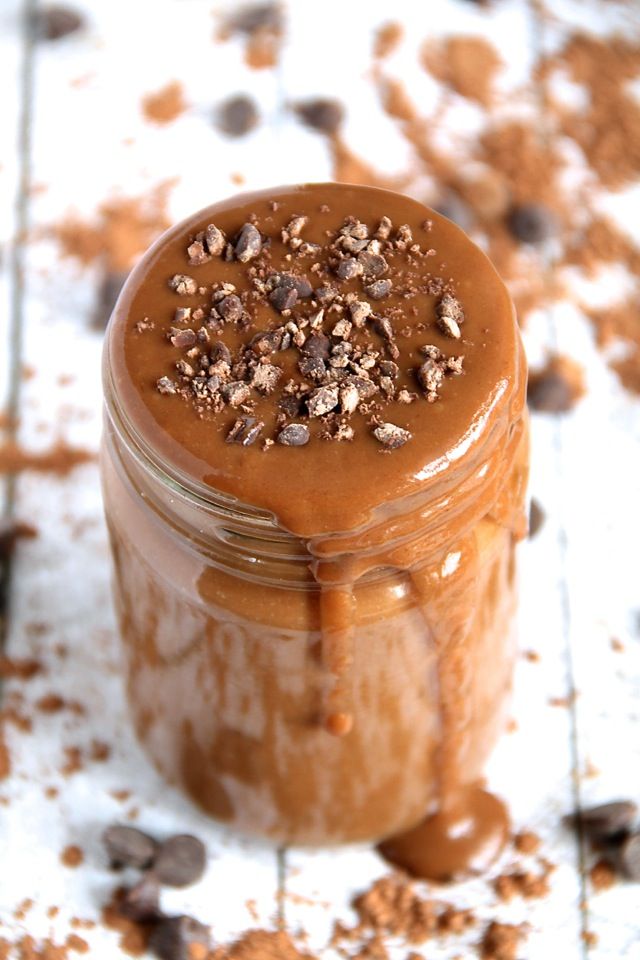 Sweet and chocolatey, this tastes like dessert.
And as for the secret ingredient? I won't ruin the surprise for you, but let's just say you'll be getting a healthy dose of vitamin A and fiber, plus a nice vibrant orange boost of color.
Find the recipe here: Running with Spoons
The Perfect Protein-Packed Indulgence
Ready to give these chocolate protein powder shake recipes a shot? Enjoy these shakes as part of a healthy breakfast, a high-protein snack, or as an easy way to refuel post-workout.
They're the perfect guilt-free way to give into your cravings and make a great addition to any healthy diet.
Perfect Smoothies, Every Time
You'll love the smoothies in this post, but if you are feeling adventurous and want to come up with your own recipes, I can help.
I've created the Perfect Green Smoothie 1-page printable, which is your guide to using your favorite ingredients to create a delicious concoction every time.
It outlines how much of what kinds of ingredients you need for a healthy green smoothie – you just pick and choose your choices.
Download it right now – for FREE! – by clicking the banner below.