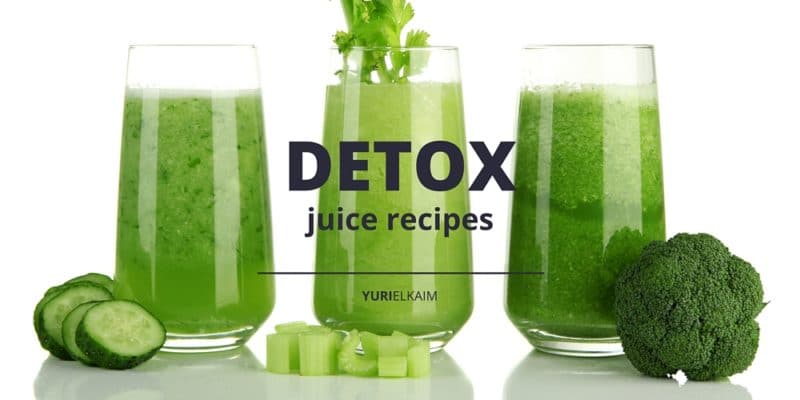 Do you find yourself struggling to get the daily recommended allowance of fruits and vegetables in your diet? These detox juice recipes are just what you need.
Green juice is a healthy way to sneak in extra servings of vegetables in your diet when you don't have the time to eat a big salad. I stress drinking juices and smoothies with little or no added fruit, because fruit increases the sugar and calorie count of your juice.
Juicing is an efficient way to get nutrients into your body fast, since the blending of vegetables acts as a pre-digestion of bulky foods. Plus, green leafy vegetables are loaded with vitamins, minerals, antioxidants, and phytochemicals that give you optimal health and an immune system boost.
I find that I have increased energy right after drinking green juice thanks to all of the healthy nutrients being utilized by my body immediately.
Let's take a closer look at some of the leafy greens I put in my healthy juice recipes.
The Greens that Power my Detox Juice Recipes
Spinach
There's no wonder Popeye loved spinach so much. This versatile green is a fantastic source of vitamins A and K, iron, and calcium.
Vitamin K maintains bone health, and vitamin A is essential for healthy skin and vision.
Spinach is also one of the richest sources of iron among the leafy greens, and iron helps to transport oxygen around the body and helps with energy production. You might find an increase in energy after drinking juiced spinach.
All the antioxidants in spinach help to lower your risk of various health issues due to oxidative stress.
Kale
One cup of kale has only 33 calories, yet it is packed full of fiber to keep you feeling full for hours.
This increasingly popular green has high amounts of vitamin C, which not only boosts your immune system, it also makes the iron in kale more absorbable. If you're feeling sluggish, low iron may be to blame.
Kale also contains alpha-lipoic acid, which lowers glucose levels, evening out any spikes in your blood sugar. It's also an antioxidant powerhouse, giving your immune system a boost and counteracting damage from free radicals.
Collard Greens
Collard greens are in the cruciferous vegetable family, which also includes broccoli, cabbage, and cauliflower. The powerful anti-cancer properties in this group of vegetables is well known.
Collard greens contain omega-3 fatty acids, which are both heart-healthy and tame inflammation. Collard greens are also loaded with fiber to keep you feeling full longer and promote good digestive health.
Avocados
Avocados add a wonderful creaminess to green drinks.
Avocados are packed with healthy fat, which itself contains monounsaturated fatty acids to reduce inflammation. The unsaturated fat also aids in keeping your blood sugar stable and keeps you satiated for hours after eating.
With that out of the way, let's check out the 7 no-fruit detox juice recipes (with the exception of a little lemon for flavor) that will get you energized and feeling healthy in no time!
7 Detox Juice Recipes to Look and Feel Years Younger
1. Alkalizing Green Juice
This detox smoothie recipe is alkalizing, cleansing, and loaded with nutrients from fresh greens. You'll get vitamin A, iron, and calcium from the spinach, and healthy fats from the avocado. If you need a great tasting starter smoothie, this recipe from In Sonnet's Kitchen is one to try.
2. Advanced Green Juice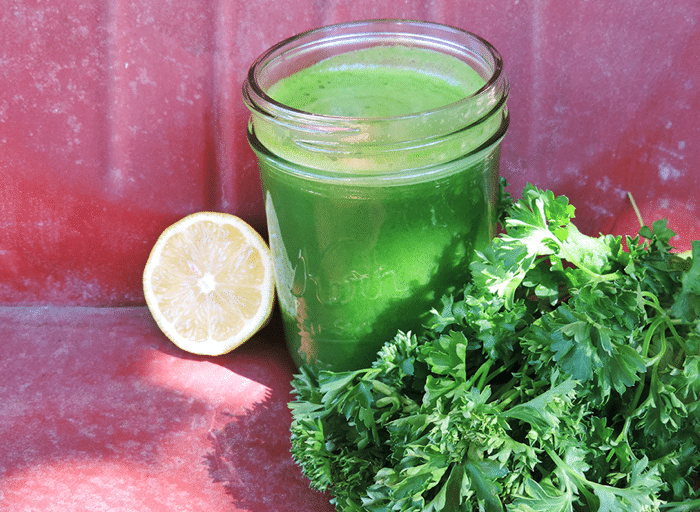 Collard greens and romaine lettuce make this one of the easiest and most nutritious detox juice recipes. Grab the recipe over at Well+Good.
3. Detox Juice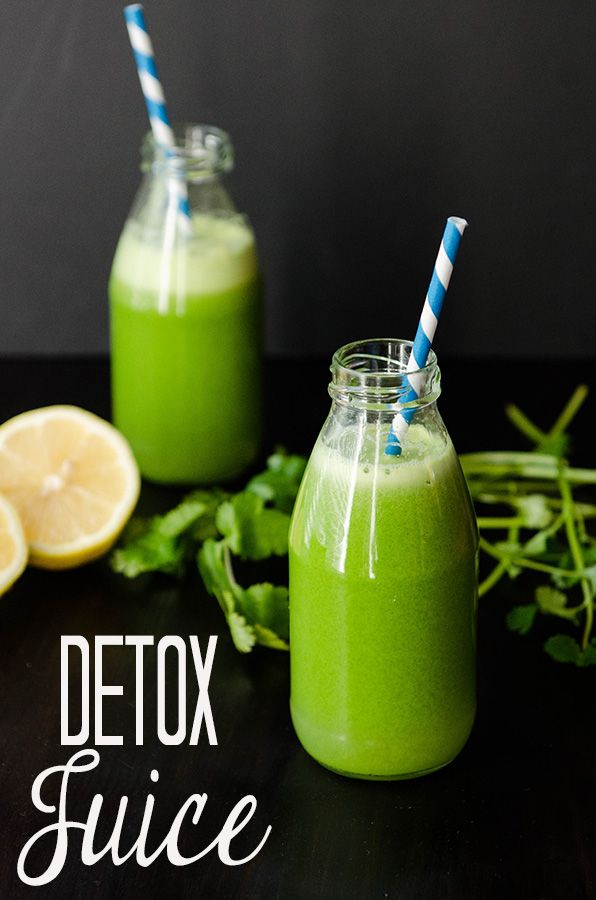 This Detox Juice is packed with zingy lemons, green veggies, a hefty dose of ginger and cilantro, which is known for it's ability to help in the detoxification process. Skip the sweet drinks and try this flavorful green drink at So Let's Hang Out.
4. Hi-Fiber, No-Fruit Green Smoothie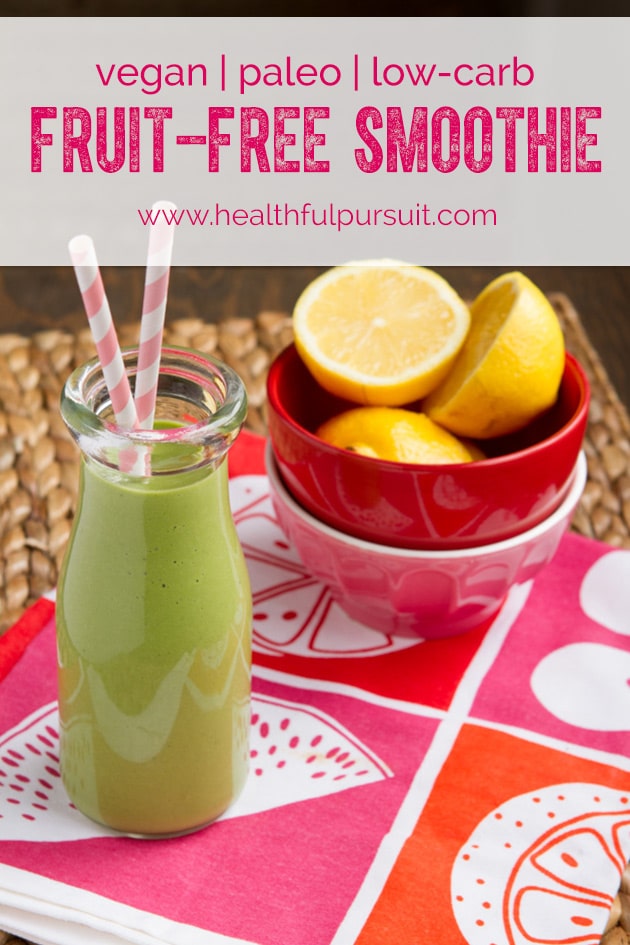 This smoothie retains the important fiber you need to feel full after drinking it. It's full of heart healthy fatty acids and healthy antioxidants, keeping you healthy, energized and satiated. Find this green smoothie recipe at Healthful Pursuit.
5. Raw Green Drink Recipe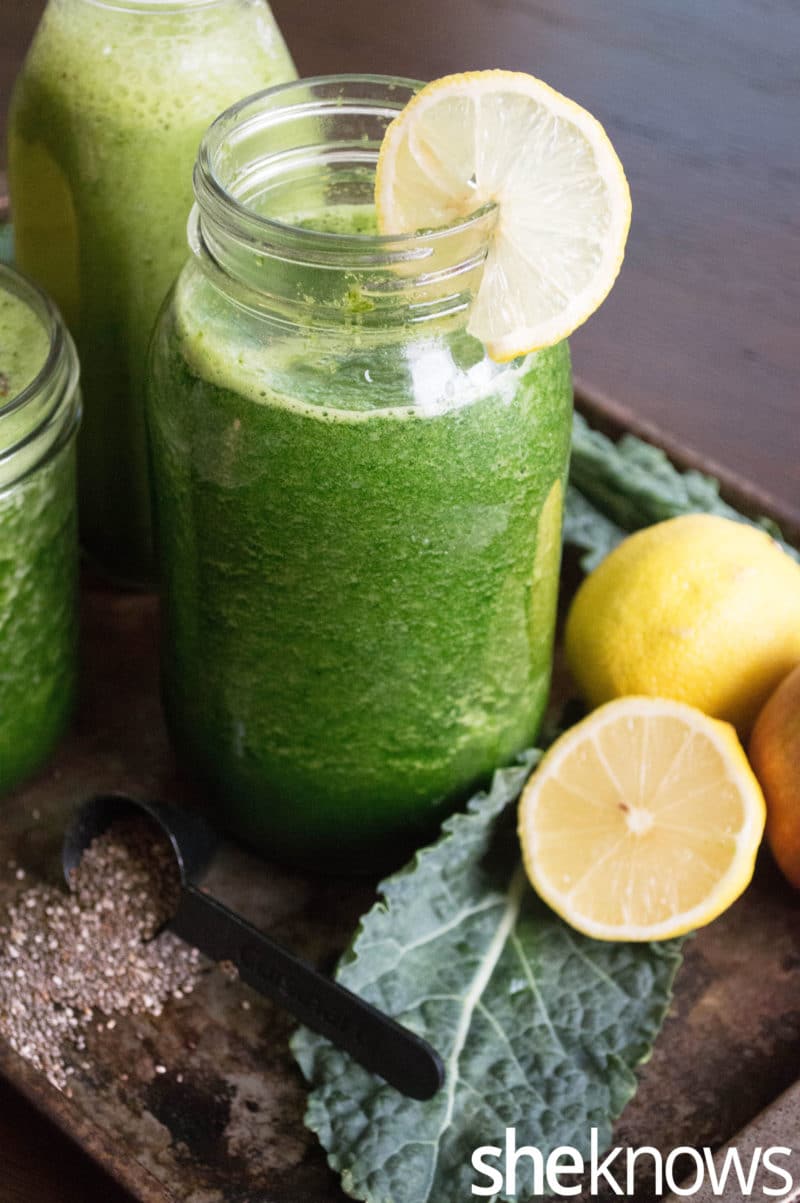 You'll find both kale and spinach in this raw detox juice recipe. Kale is one of the healthiest and most nutritious leafy greens, loaded with vitamin C and iron. Both kale and spinach prevent oxidative stress related changes due to free radicals. Find the recipe for this optimal health drink at She Knows.
6. Three-Ingredient Green Cleaner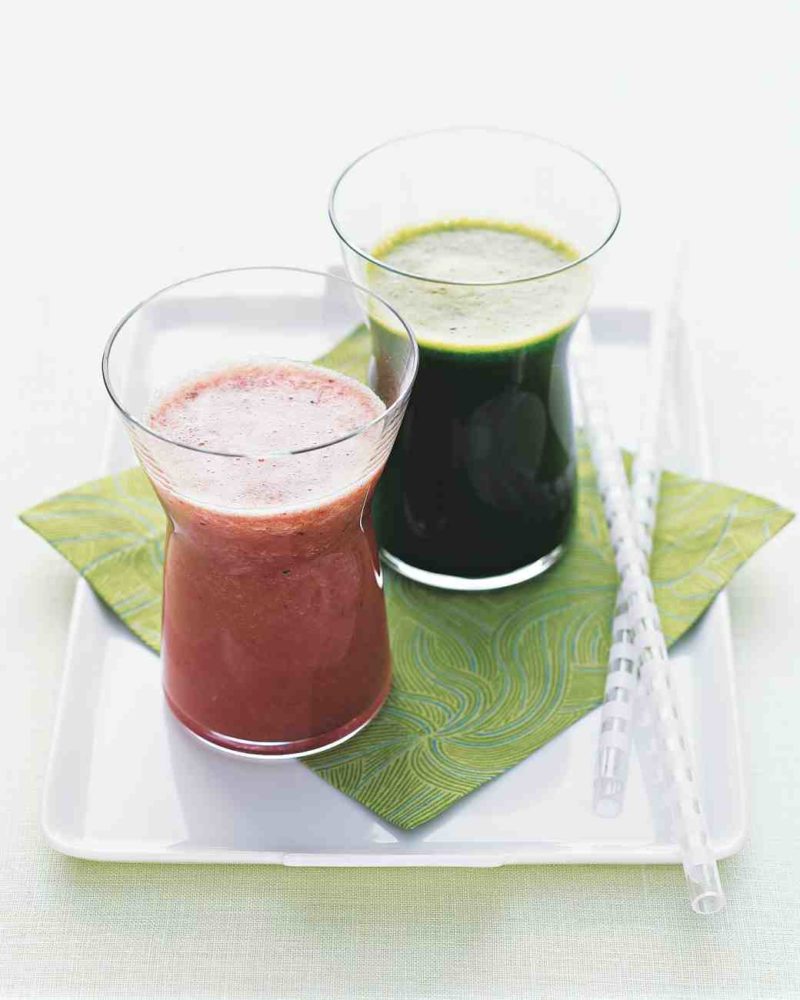 This simple detox juice recipe contains just three ingredients: spinach, cucumber, and celery. How's that for minimalism?
Not only do cucumbers have anti-inflammatory properties, they have a high water content, providing a liquid base for this drink. The celery is beneficial for both cardiovascular health and the digestive tract. Find this easy, healthy green juice recipe at Martha Stewart.
7. Green Juice Goodness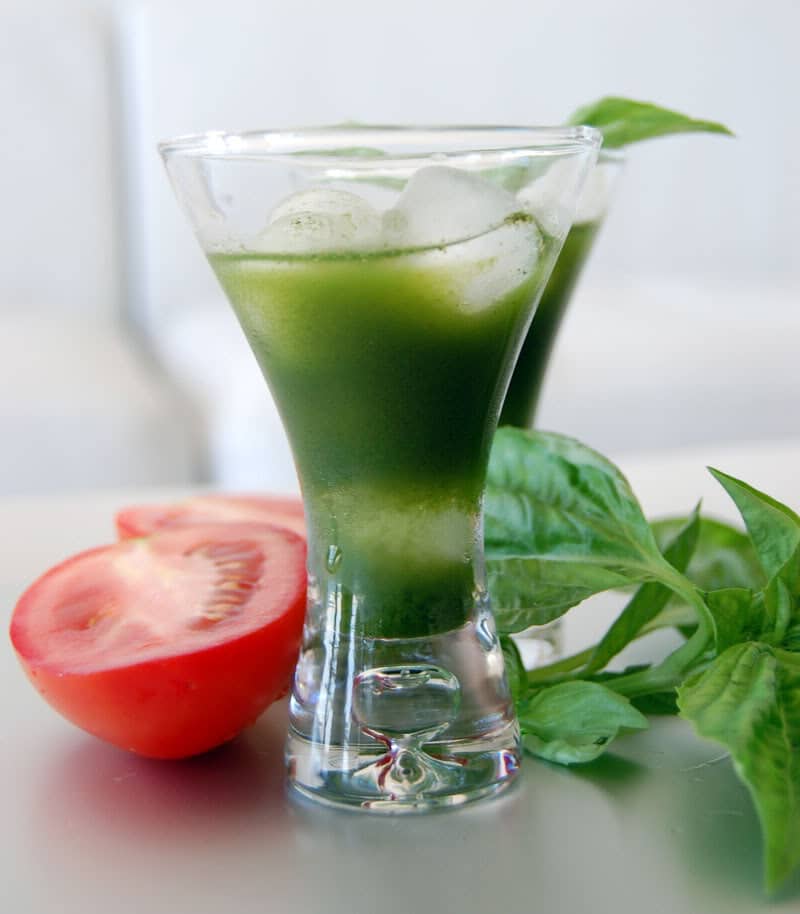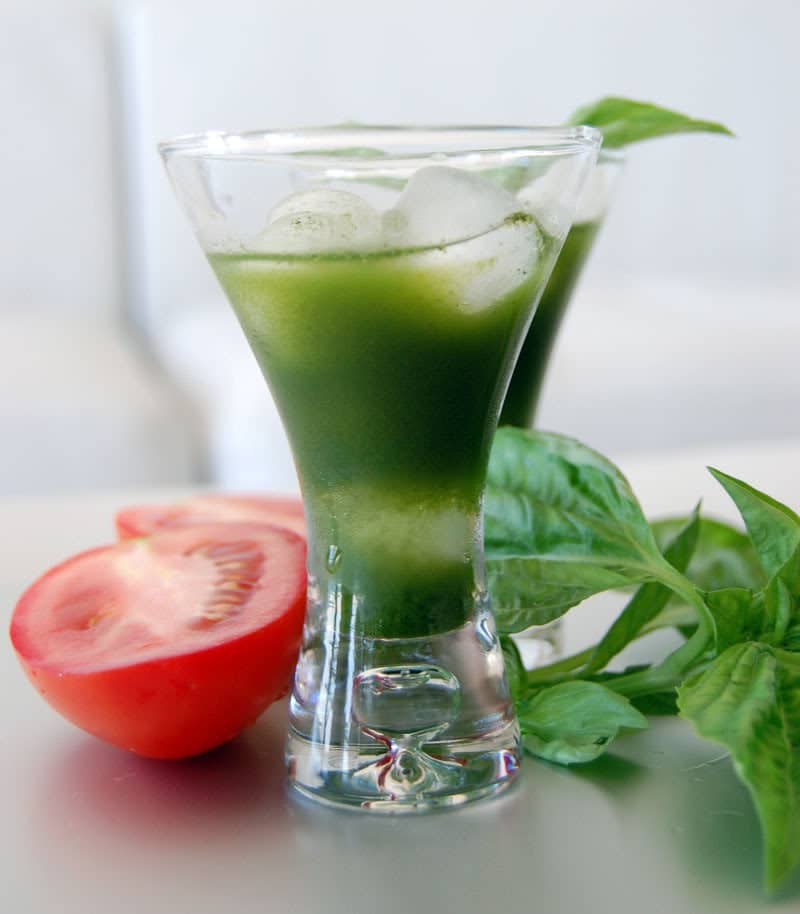 Hitting the right combination and the right proportions of greens makes a world of difference in how your juice ends up tasting. With tomato and cucumber – a mild combination – as your base for this recipe, and fresh, fragrant herbs hanging in the backdrop, getting your greens down will be a cinch. Find this revitalizing juice at Global Girl.
Enjoy This Article?
Did you enjoy this article on Green Detox Juices? You might also like my 1-Day Detox Plan that detoxifies your body in 24 hours using mouthwatering "cleansing" meals. Click the banner below to get it for FREE.