Chia seeds have been touted as one of the top superfoods around.
You may not know how to incorporate these healthy little seeds into your diet, but it's well worth learning how.
Since you're committed to improving your health, there's no better time than now to try chia seeds. We've got some amazing chia seed recipes below. But first, let's look at the health benefits of chia seeds, and why they're so good for you.
In the past few years, chia seeds have gained popularity as a health food, but they've actually been around for quite a long time.
The ancient Incas, Mayans and Aztecs used chia seeds for sustainable energy when travelling on foot. Chia comes from the Mayan word for strength.
It's no surprise that just one ounce of chia seeds contains eleven grams of fiber, which keeps you feeling satiated for hours after you've eaten and helps regulate blood sugar levels.
Here's what else you'll get in one ounce of chia seeds:
11 grams of fiber
4 grams of protein
9 grams of fat (5 from Omega-3s)
18% RDA of Calcium
30% RDA of Manganese
30% RDA of Phosphorus
also contains Zinc, Niacin, Potassium, and Thiamine
Chia seeds are loaded with antioxidants, so you'll benefit from an immune boost while protecting your cells from disease-causing free radicals.
Your bones will also benefit from the high calcium and magnesium levels in chia seeds. In addition, chia seeds significantly reduced cardiovascular risk factor in those with type 2 diabetes in a 2007 study.
So now that you know more about the amazing health benefits of chia seeds, it's time to get some recipes!
8 Delicious Ways to Eat Chia Seeds
1. Chia Super Bowl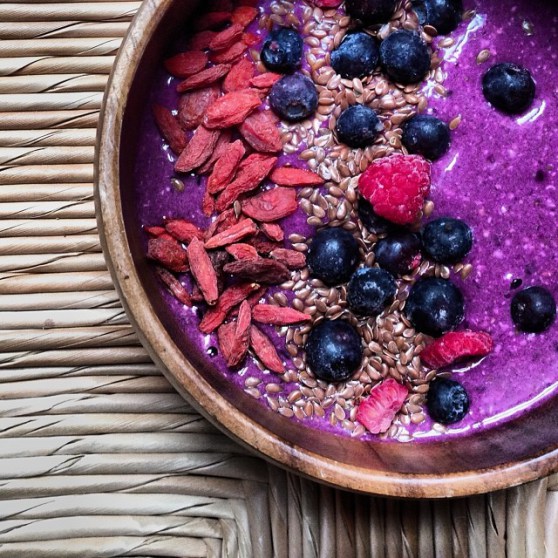 For ultimate health, make this Chia Oat Pitaya Super Bowl. This superfood smoothie bowl is loaded with beneficial ingredients, including chia, maca pitaya, and berries. You'll be able to conquer the world after eating this beautiful smoothie bowl. Find this chia seed recipe at BREAKFAST CRIMINALS.
2. Chia Buckwheat Pizza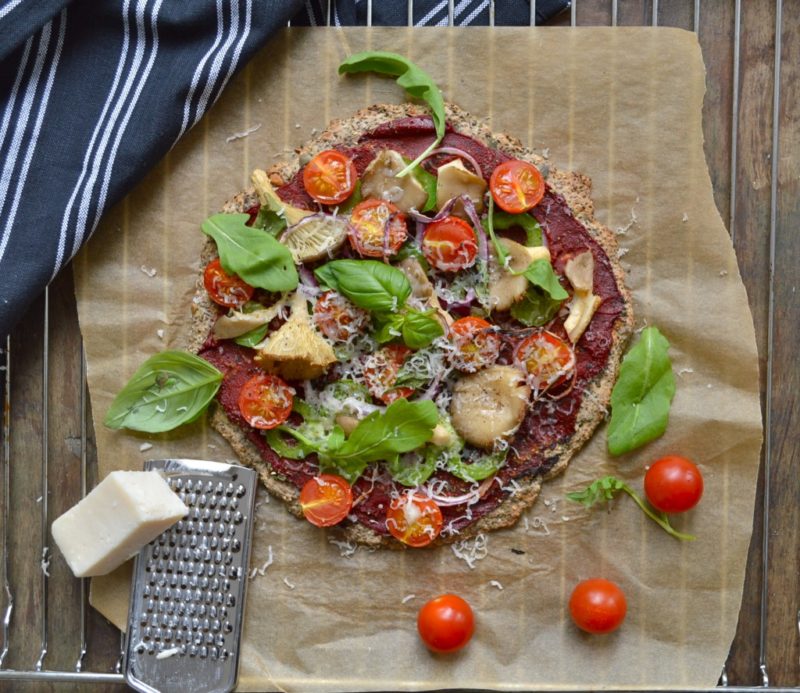 For a delicious dinner, try this Grain-Free Chia Buckwheat Pizza. You'll get an antioxidant and lycopene boost from the tomatoes, and chia seeds add an array of health benefits to the gluten-free crust. Get this chia seed recipe at NYOUTRICIOUS.
3. Chia Fresca Drink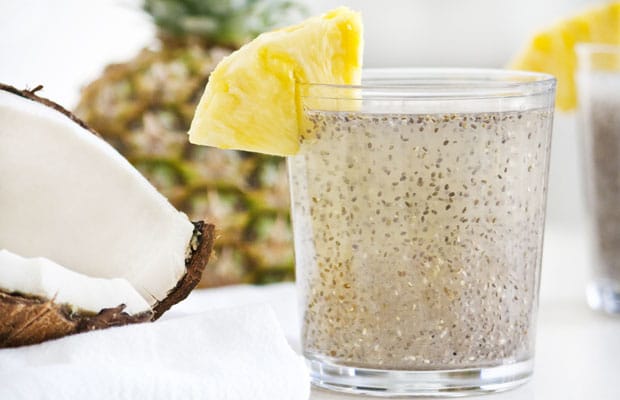 This Chia Fresca Drink is both hydrating and refreshing after a workout. Elecrolyte-rich coconut water and fiber-packed chia seeds create a tasty natural energy drink that helps stabilize your blood sugar. Find this healthy fat recipe at DAILY BURN.
4. Gluten-Free Chia Meatballs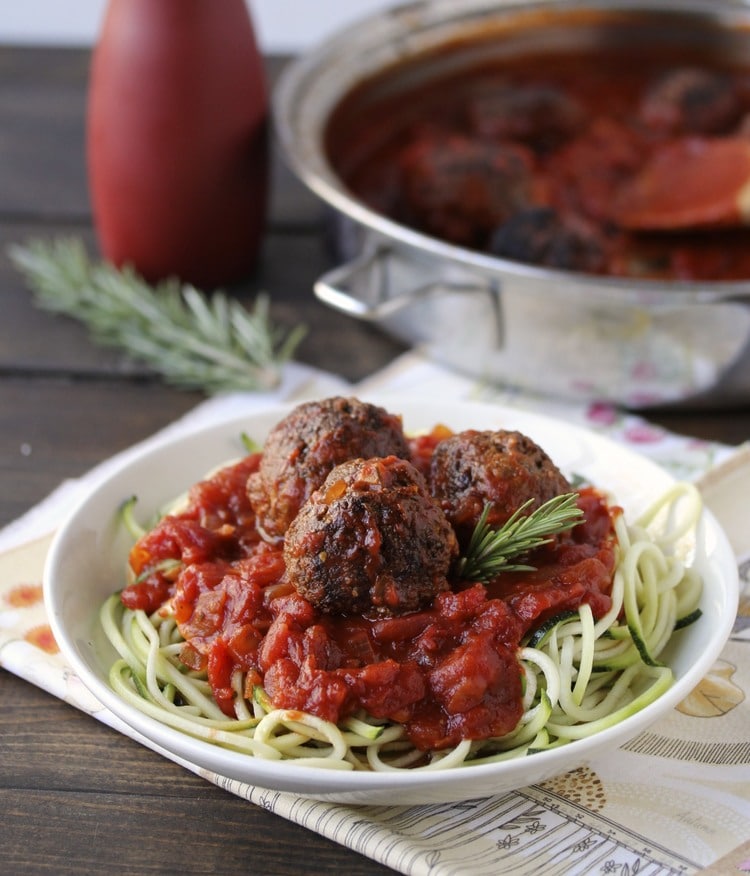 This recipe uses chia to bulk up meatballs without breadcrumbs or egg. Zucchini noodles make this lovely Italian dinner both paleo and gluten-free. Get this chia seed recipe at BARE ROOT GIRL.
5. Raspberry Chia Pudding Pops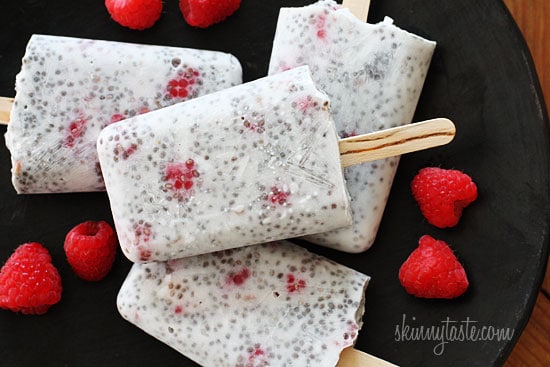 A few drops of liquid stevia give these Raspberry Coconut Chia Pudding Pops just a hint of sweetness.  You'll feel decadent eating these treats, but the all-natural, healthy ingredients make them a smart dessert choice.  Get this chia seed recipe at SKINNYTASTE.
6. Chia Smoothie
This Serrano Pineapple-Papaya Chia Smoothie gets both flavor and heat from ginger and serrano pepper. For a delicious and different take on a smoothie, you'll have to give this one a try. Find this chia seed recipe at DAILY BURN.
7. Coconut Chia Pudding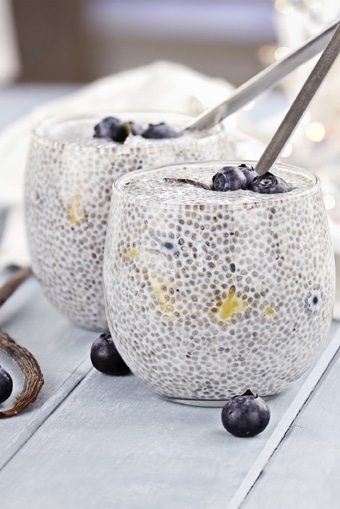 For a basic yet delicious chia pudding recipe, try this Coconut Chia Pudding. It has no added sugar, so you can enjoy this for breakfast or a snack without the highs and lows you'd get from a high sugar meal. Find this healthy fat recipe at LA YOGA.
8. Berry, Arugula, and Quinoa Salad with Lemon Chia Dressing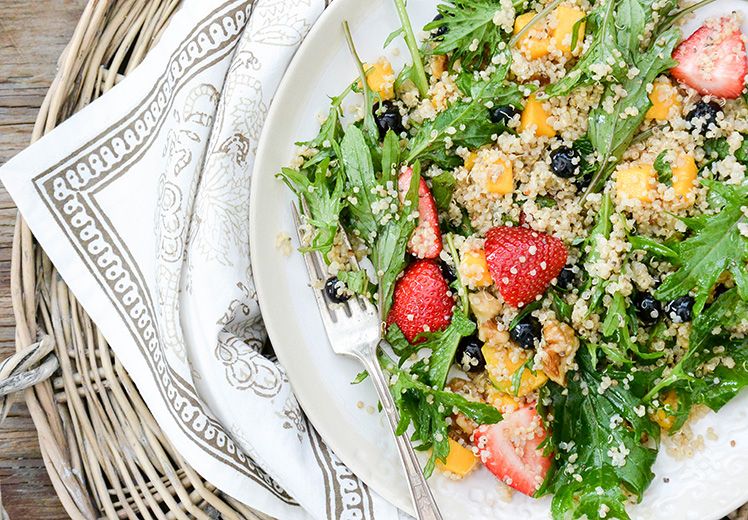 Chia acts as a great emulsifier in salad dressing, and this Berry, Arugula and Quinoa Salad with Lemon-Chia Seed Dressing is both healthy and utterly delicious. Get the healthy fat recipe at FLOATING KITCHEN.