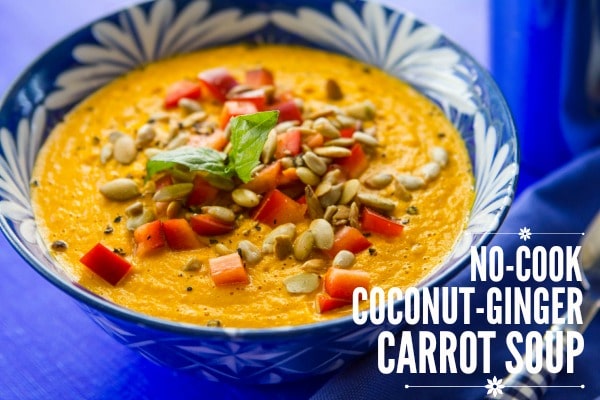 There's a reason two of the top most-searched-for recipe topics online are "slow cooker recipes" and "crockpot recipes."
It's because we're all busy. And seriously, if you can simply toss a bunch of ingredients into a giant pot and come home to a warm dinner, what's the problem?
Here's the problem: slow-cooked food has simmered in a heat bath for hours. If you sat in a sauna for 6 hours straight, you'd be toasted.
Now, imagine doing that to your food, and you can start to see how the beneficial nutrients of foods in their raw, whole state are dramatically affected by long hours of low-heat cooking.
For instance, research shows that when it comes to just one amino acid, lysine, there's a significant loss in nutrition.
In only 90 minutes, 20 percent of lysine will cook out of a plant, and in 150 minutes, 40 percent has been lost.
So if slow cooking is so bad, what's a realistic alternative?
How about "cooking" in a blender?
Vitamix Carrot Soup
You can make delicious, nutritious, and "raw" meals right in your high-speed blender – just like this carrot soup recipe, which is fast, nutritious, and preserves all the important benefits of raw carrots.
High-speed blenders (like a Blendtec or Vitamix) pulverize fresh fruits and veggies into delicious meals in minutes.
And it's almost no work at all. You hardly have to chop anything, there's no cooking, and in just minutes you  can create 100-percent plant-based smoothies, sauces, and soups.
Even better, the Vitamix will heat your raw-food soups for you. To heat up your soups, you literally can put in whole plants, puree them, and then keep  on blended till they are warm.
This isn't simply easier than crockpot cooking, it's also significantly more nutritious.
You can get a half-dozen raw veggies in a single serving, and enjoy them in their raw state – without feeling like you're eating rabbit food.
Raw Food Benefits
While I'm not a proponent of a fanatical 100-percent raw-food approach, there's too much proof of the power of whole, organic, plant-based eating to dismiss it completely.
Yes, you should be eating raw, as often as possible.
In my book, The All-Day Energy Diet, I recommend 80 percent of your diet be raw. The other 20 percent you can do whatever you want with, so long as you avoid gluten, too. You'll be amazed at the immediate difference this makes in your body.
How to Start Eating More Raw
This Vitamix Carrot Soup recipe is a perfect way to start eating more raw foods. It's an easy, warm, comforting soup that's full of nutritious ingredients.
Try this simple and nourishing recipe below to start adding more plant power into your diet. You deserve it.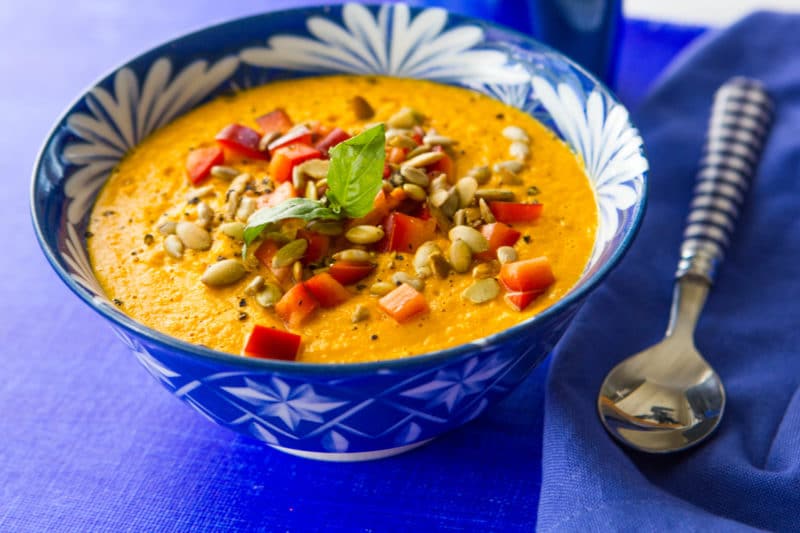 | | |
| --- | --- |
| | |
Place carrots, coconut milk, lime, finger, tamari, and honey in a hi-speed blender.

Blend until very pureed, add water if desired until preferred consistency is achieved.

If you're working with a Vitamix, running the blender for 3 to 5 minutes will heat the soup up – but if you prefer a cooler soup you can skip this step.

Top with red bell pepper and pumpkin seeds.

If desired, swirl coconut yogurt into the soup for extra color and flavor.
Want More Plant-Based Goodness?
Be sure to get your copy of the All-Day Energy Diet Community Cookbook, which will help rev up the nutrition quotient in your diet, simply and deliciously.
All the recipes are gluten- and dairy-free, low in allergens and sugar, and high in taste. Plus they only take about 15 minutes to prepare.
Best of all: it's FREE! All you have to do to grab your copy is click the image below.