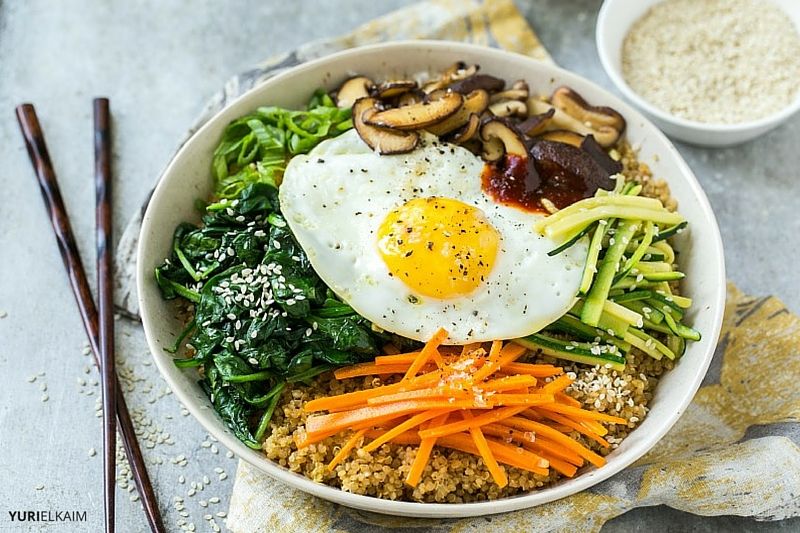 Amy and I love exposing our kids to different cultures, and short of taking them on a trip around the world, we try to introduce them to as many worldly cuisines as possible.
Right now we're tasting Korean food, and so I've got this bibimbap recipe on the menu.
It's a mouthful to say, but I assure you it's delicious.
Bibimbap translates to "mixed rice," and it was originally eaten on the eve of the Lunar New Year to clean out the fridge of leftovers for a fresh start as the new year commences.
It's basically a conglomeration of food all mixed in one bowl, covered in a delicious sauce, with an egg to top it off – totally my kind of food.
This dish is now served year-round, heated up in the winter or served cold in summer, and with a dollop of gochujang – a thick, deep red chili paste (available in the Asian section of most grocery stores), on the side.
Since bibimbap is loaded with veggies, I didn't have to change much.
Upgraded and Updated Bibimbap Recipe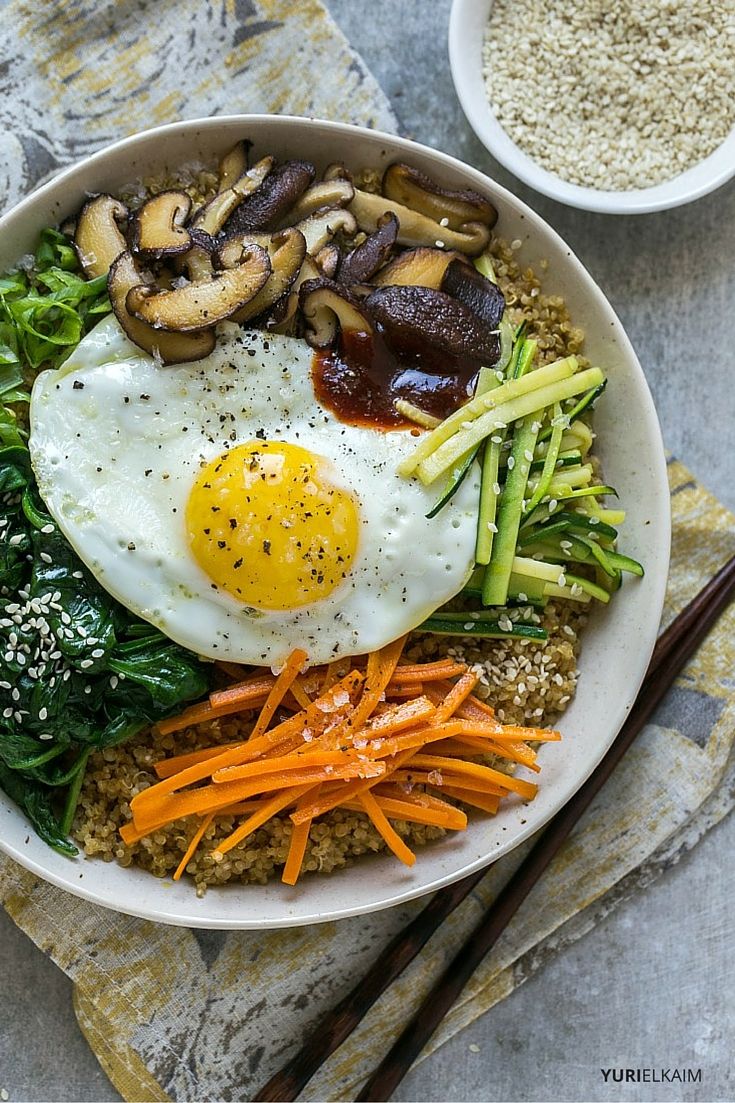 For my clean-eating version, I replaced the rice with quinoa, since it's my favorite way to enjoy this dish.
Did you know that quinoa is actually a seed, not a grain, making it perfect for gluten-free diets?
And it contains all the essential amino acids, making it a complete protein, and it's also much higher in fiber than most grains.
That being said, I highly recommend rinsing your quinoa before cooking. Saponin, the natural coating on quinoa, makes it taste soapy and bitter. So it's worth taking a few minutes to prep it right.
One cup dry quinoa yields about 3 cups cooked quinoa, and as a rule of thumb, I use 2 cups of water for every 1 cup of dry quinoa.
To get started, boil your water, adding about ½ teaspoon of salt, if desired. Add your rinsed quinoa to the boiling water, cover, and let simmer for 15 minutes. Keep the top on for a few more minutes if all the water hasn't absorbed. When ready to eat, fluff with a fork and serve.
Tip: Double Up on the Quinoa
Because quinoa is a nutrition powerhouse, it's great to have some extra on hand to add to your healthy eating recipes.
That's why I recommend making a double batch and storing it in freezer-safe zip-top baggies. That way you can quick-prep any number of other awesome recipes, including:
That way you can have bibimbap tonight, with a whole week's full of plant-based, clean-eating quinoa dinners on deck.
From our family to yours, happy eating!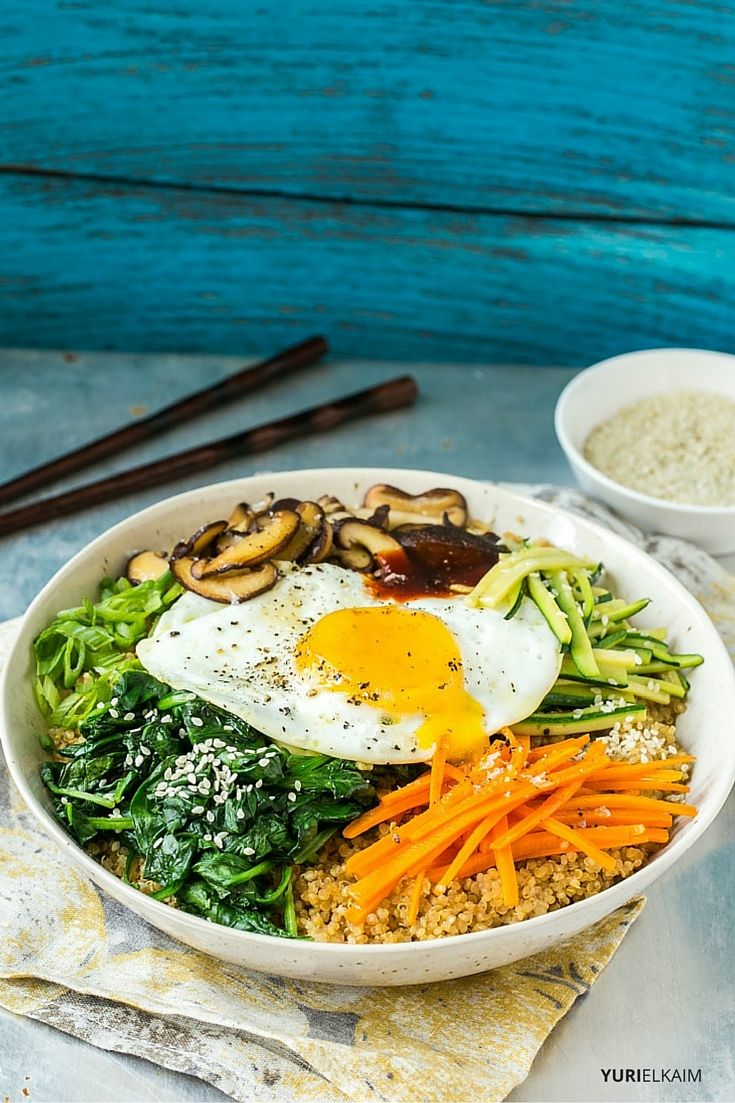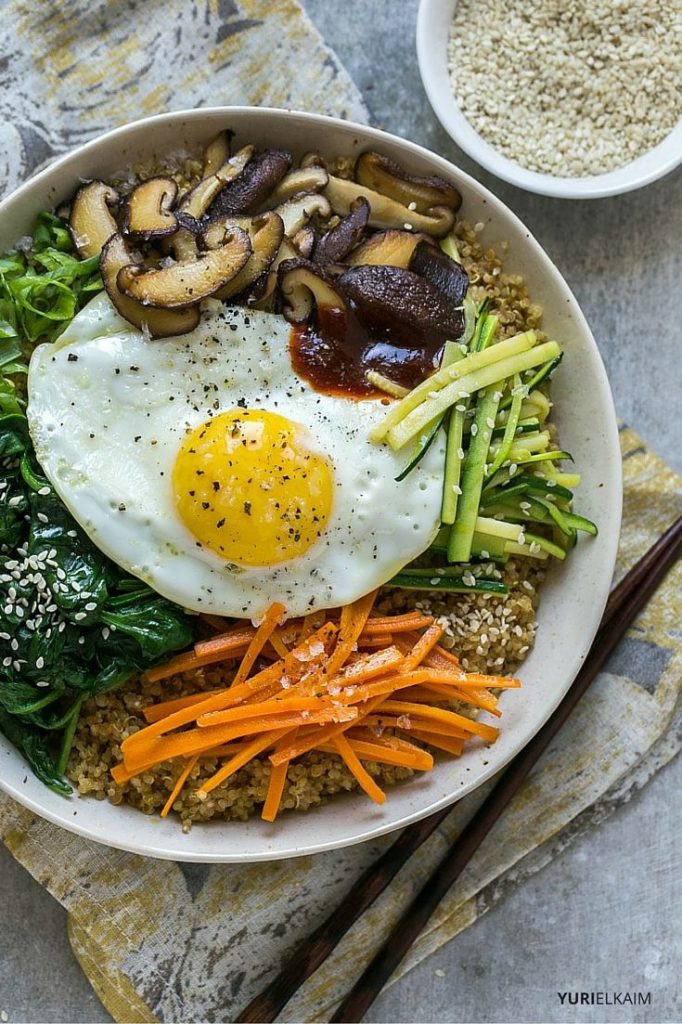 | | |
| --- | --- |
| | |
Heat a large pan over medium heat.

Add 1 teaspoon of sesame oil, the garlic and ginger. Cook for 30 seconds. Add the quinoa, remaining 2 teaspoons of sesame oil, aminos, and salt and pepper to taste. Cook for 3-4 minutes or until warm.

Divide the quinoa between two bowls.

Wipe out the pan with a paper towel.

Place 2 teaspoons sesame oil in the pan.

Add the thinly sliced vegetables in batches and cook for 2-4 minutes or until tender. Season to taste with salt and pepper.

Arrange the vegetables on top of the quinoa.

Wipe out the pan and add the spinach leaves along with 1 teaspoon of water. Cook, stirring occasionally, until spinach is wilted.

Divide the spinach among the two quinoa bowls.

Add the green onions and sesame seeds to the bowls and top each with a sunny side up egg. Season to taste with salt and pepper and serve.

Add a dollop of Korean chile paste if desired.
 Eating Right Made Easy
Looking for more ways to put delicious, healthy, clean-eating meals on the table? You'll love the All Day Energy Diet Community Cookbook, which features more than 65 gluten- and dairy-free recipes that will leave you feeling energized.
Low in allergens and high in taste, most of these recipes take 15 minutes or less to make.
You can get the cookbook – for FREE! – by clicking the banner below.