With the hot temps of summer in full swing, your body's most likely begging for some light, refreshing food. And so today I've got just the recipe for you to stay cool…
In fact, this sweet summertime smoothie blends up so rich and creamy, you'll feel like you've just made yourself a dish full of soft-serve ice cream. But without a drop of added sugar, this "dish" is actually good for you.
And because I've made it with seasonal organic fruits and energy-giving, hunger-satiating coconut milk as its liquid base, it's the perfect way to start your day (just add one of the protein boosters I mention down below). But what I also really like about this vegan smoothie is that it's sweet enough to serve as a healthy dessert to your dinner guests, making it a double duty recipe. Booyah!
Perhaps the very best part of this smoothie though is the Raw Raspberry Chia Jam I've spooned on top. I have to say, it's a total game-changer… in part because it's to-die for delicious, but also because it's super easy to make. And if you don't know me by now, I'm all about simple food that tastes good.
To whip up this tangy little mixture, just mash fresh raspberries with a little bit of honey and some chia seeds. Allow it to sit for a few minutes until the seeds soften and become the texture of a soft jelly. That's it! Then add a spoonful of the jam on top of your smoothie for a pop of color and a symphony of flavor. Or, you can make up a big batch and drizzle it on top of an oatmeal bowl… or add it on top of Chia Seed Pudding.
Protein booster: Add 2 tablespoons of hemp seeds or raw almond butter.
Greens booster: Add 1 scoop of alkalizing Energy Greens for a big boost of nutrition.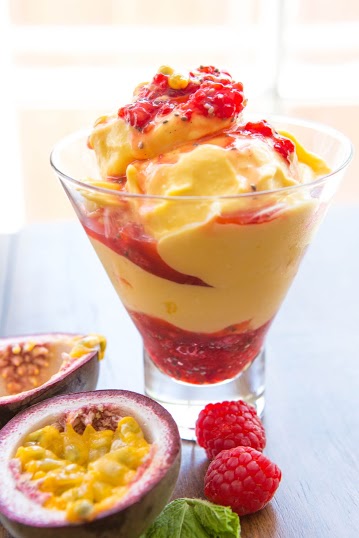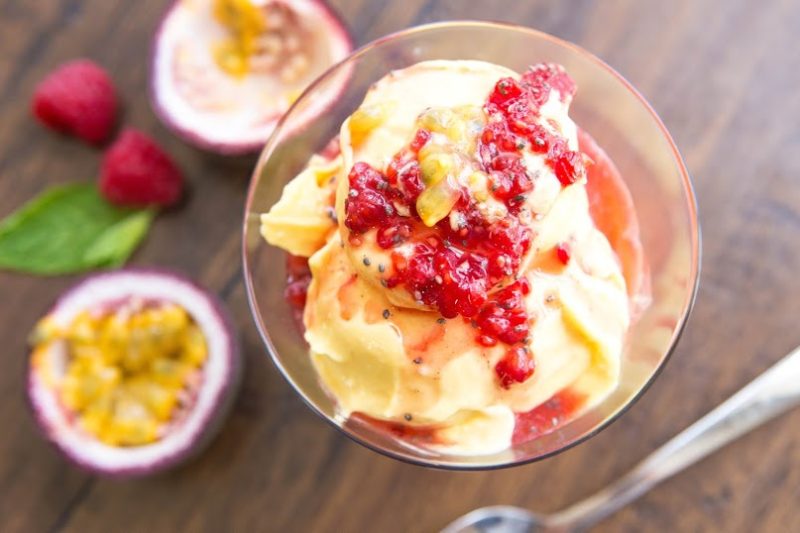 | | |
| --- | --- |
| | |
Puree ingredients for the raspberry chia jelly in a small food processor. Set aside.

In a hi-speed blender, blend together coconut milk and peaches until the texture of soft-serve ice cream. Add a little maple syrup or raw honey to sweeten, if desired.
To boost the protein in this smoothie for breakfast, blend 2 tablespoons of hemp seeds in with the smoothie ingredients.
Tip: Freeze overnight in an airtight container for a delicious, low-sugar sorbet!