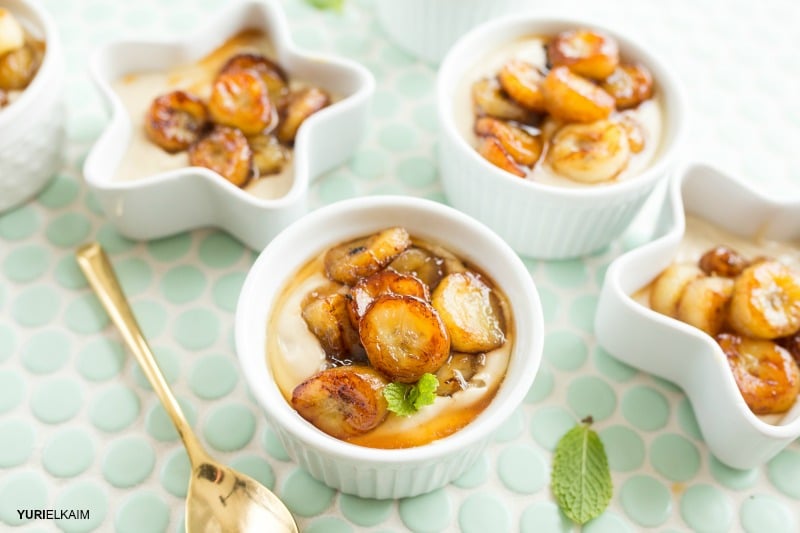 Dessert is one of the best meals of the day, don't you agree?
Although I'm 100-percent nutrition nerd, I also happen to be 111-percent treat freak. (Which makes 211 percent, but who's counting?)
So when the holidays come around, it's time to hit the kitchen, because there are SO MANY awesome sweets this time of year.
Give me the most decadent, sugar-laden, "bad-for-you" treat and I'll bet we can find a way to make it awesome for your body.
In fact, that right there is a challenge to you – if you've got a favorite unhealthy recipe and want me to take a whack at turning it into a healthy eat, let me know on the fan page. I'd love to help you make some of your favorite family recipes more nourishing – and more delicious.
How to Make Vegan Creme Brûlée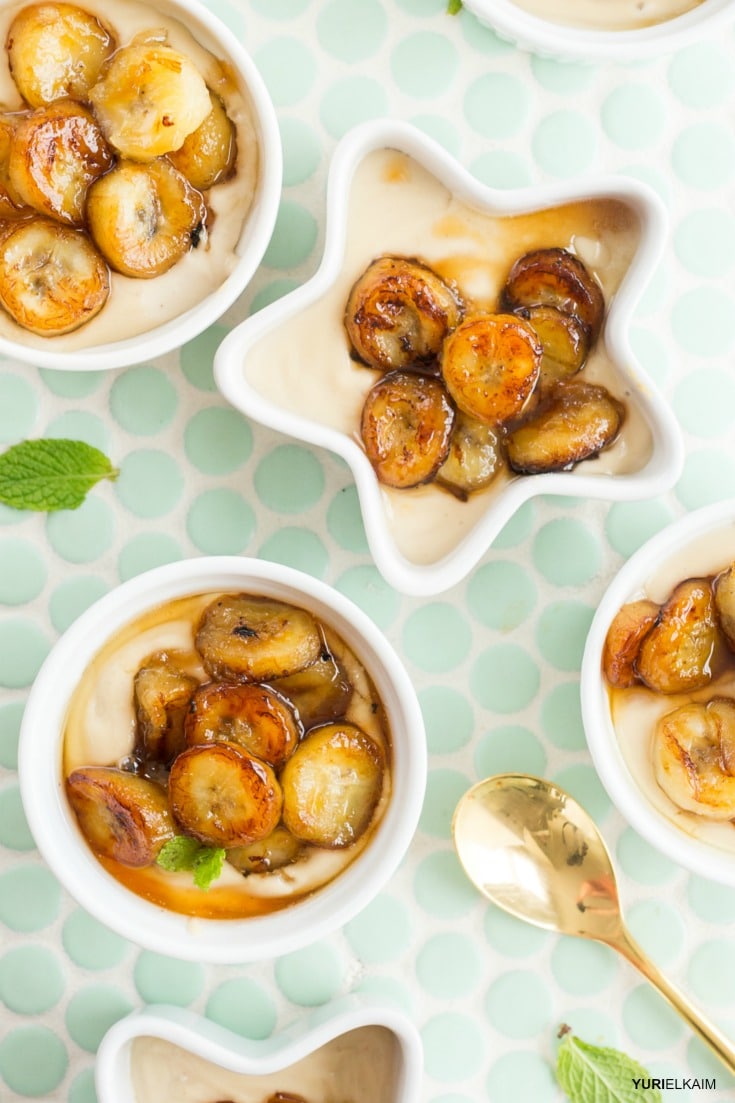 Take, for instance, crème brûlée. Most chefs would say it has to be made with eggs and cream. But if you're dairy-free like me, or going egg-free for diet or allergen reasons, crème brûlée would typically be a no-go.
But what if you could make it with four very simple, pure, real-food ingredients? How about with cashews, coconut milk, vanilla extract, pure maple syrup?
Seriously, that's all you need. Well, those four ingredients and a high-speed blender.

All you have to do is toss everything into a blender and puree for 2 to 3 minutes, until the fats in the nuts become creamy and start to thicken up the mixture. Then, you spoon the blended ingredients into ramekins and cool.
And now, for the fun part. It's tricky creating a no-sugar caramelized "crust" for vegan crème brûlée. (Not to mention, refined sugar is on the naughty list). But when you pan-fry sliced bananas in coconut oil and then drizzle them with a little maple syrup, they caramelize into the most splendid dessert topping.
Spoon them on top of your creamy cashew-coconut pudding and no one will believe they're diving into a vegan dessert.
More Desserts Everyone Will Love
Creme brûlée is just one of the healthy desserts I've created for the holidays. If you're looking for other ideas for your next party or family gathering, check out some of my others:
Sugarless Banana Bread. Sweetened only with bananas, this delicious loaf is as good as the original – but with no sugar added.
Vegan Pumpkin Pie. This recipe is similar to the vegan crème brûlée, only made with pumpkin, spice, and a sweet coconut whip.
Paleo Blondies. This one tastes like a plateful of chocolate chip cookies married a pan of brownies. The best part about these bars is that they're hiding protein-rich chickpeas inside.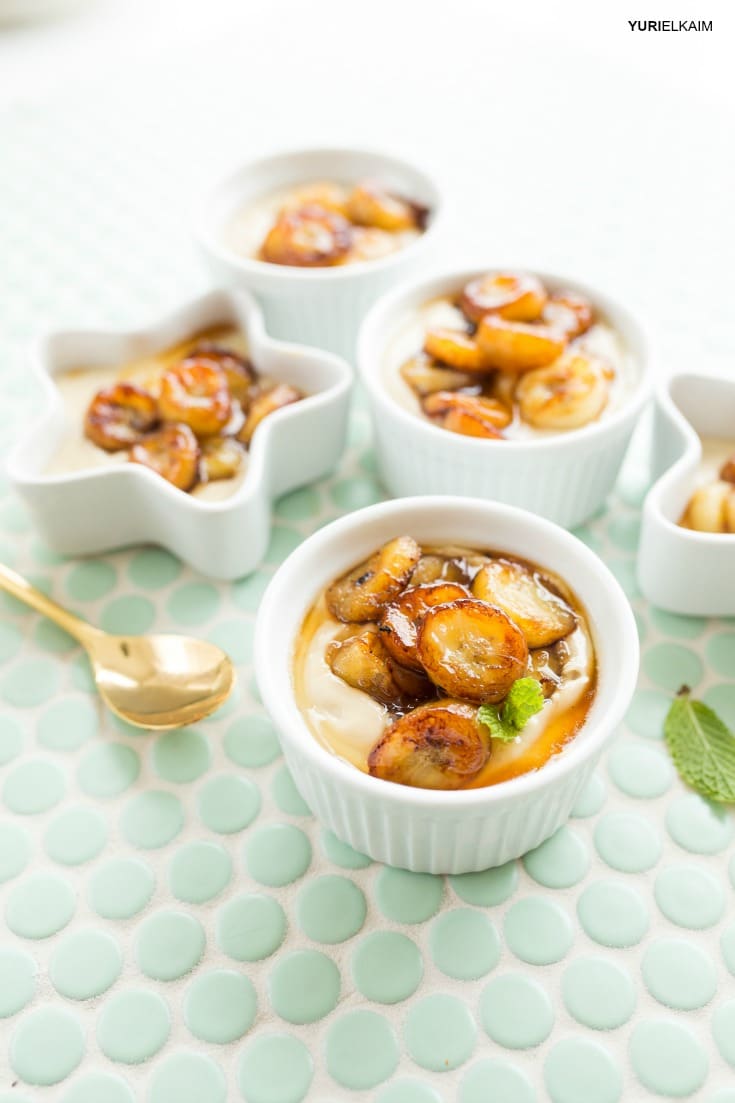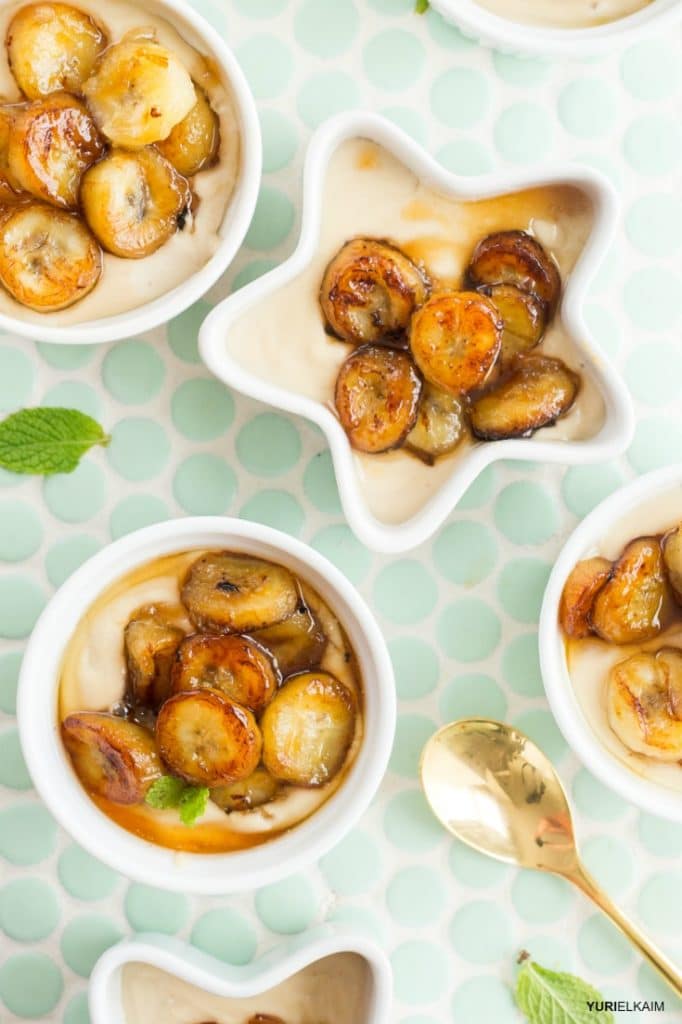 | | |
| --- | --- |
| | |
Mix together cashews, coconut milk and vanilla in a large bowl. Cover and refrigerate overnight, if desired. (Doing so will make the final creme brûlée whip up a little faster, but this is not a necessary step).

Transfer cashew mixture into a high-speed blender (like a Vitamix or BlendTec). Add 1/4 cup maple syrup. Blend for 2-4 minutes, or until very smooth and mixture begins to thicken.

Pour into six 3-inch or 4-inch ramekins. Refrigerate until ready to serve (at least 1 hour, and up to 24 hours).
To make the topping, when you're ready to serve
Heat a nonstick ceramic skillet over high heat. Melt coconut oil in skillet.

Place sliced bananas into skillet. Grill until golden, flip and grill on the other side for 30 seconds, then add remaining 1/4 cup maple syrup.

Allow to boil for 30 seconds, then transfer to a serving bowl.

Top creme brûlée with caramelized bananas. Serve immediately and enjoy.
Desserts Your Body Will Love
Yes, you can eat your dessert and keep your body happy, too. You just have to learn a few techniques, along with tricks for choosing ingredients, to make superfood desserts.
The 8 recipes in my Healthy Desserts eBook are a delicious start  – they're low in sugar and allergens, contain no dairy or gluten, but yet are satisfying to the tastebuds.
You can download your copy of the cookbook right now – for FREE! – by clicking the banner below.