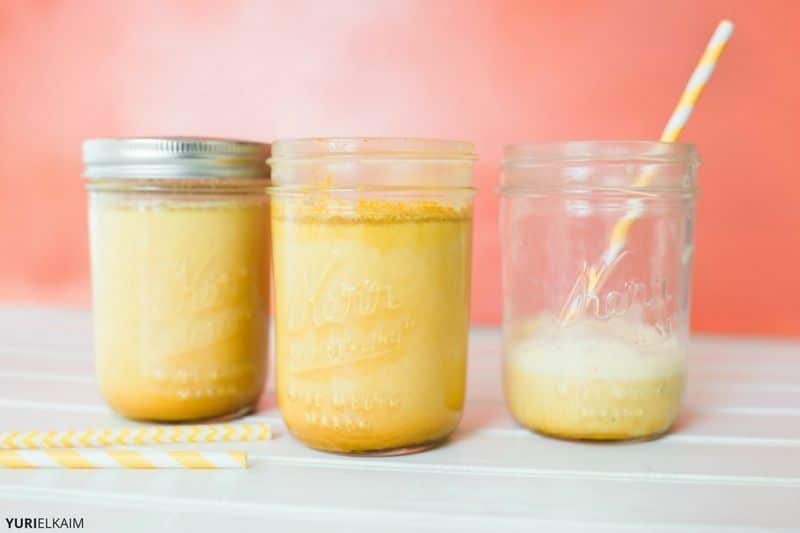 I'm an outspoken fan of no-coffee mornings.
And before that phrase sends you running for the hills, hang in there.
Because as divine at that morning cup is, it's also been linked to a variety of negative effects. A big one is the fact coffee is designed to shoot out stress hormones into your bloodstream.
So, unless you're one of those humans who actually needs more stress in their lives (anyone? anyone?), refraining from regular consumption is the best way to keep those negative effects at bay.
But I hear you, coffee lovers. I used to have my own coffee habit.
And I'm here to tell that even though it can be a little wonky bringing your body down from the daily cup, it's worth it.
Find a Replacement
One of the easiest ways to nix the morning coffee habit is to find other healthy drinks that are as delicious – and equally satisfying – to drink.
I've offered several of my favorite options here on the blog, including:
And today, I've got a new favorite for you to add to the coffee-free morning list.
Turmeric Milk
Bright yellow, creamy, mildly sweetened with raw honey (or use manuka honey for added immune benefits), a cup of homemade turmeric milk is a health-conscious way to start the day.
And tastes great hot or cold.
The Science Behind This Sipper
So, what makes this simple drink so much better than coffee?
Turmeric has been used medicinally for more than 4,000 years, but it hasn't been until recently that it's gotten worldwide press for its anti-inflammatory properties.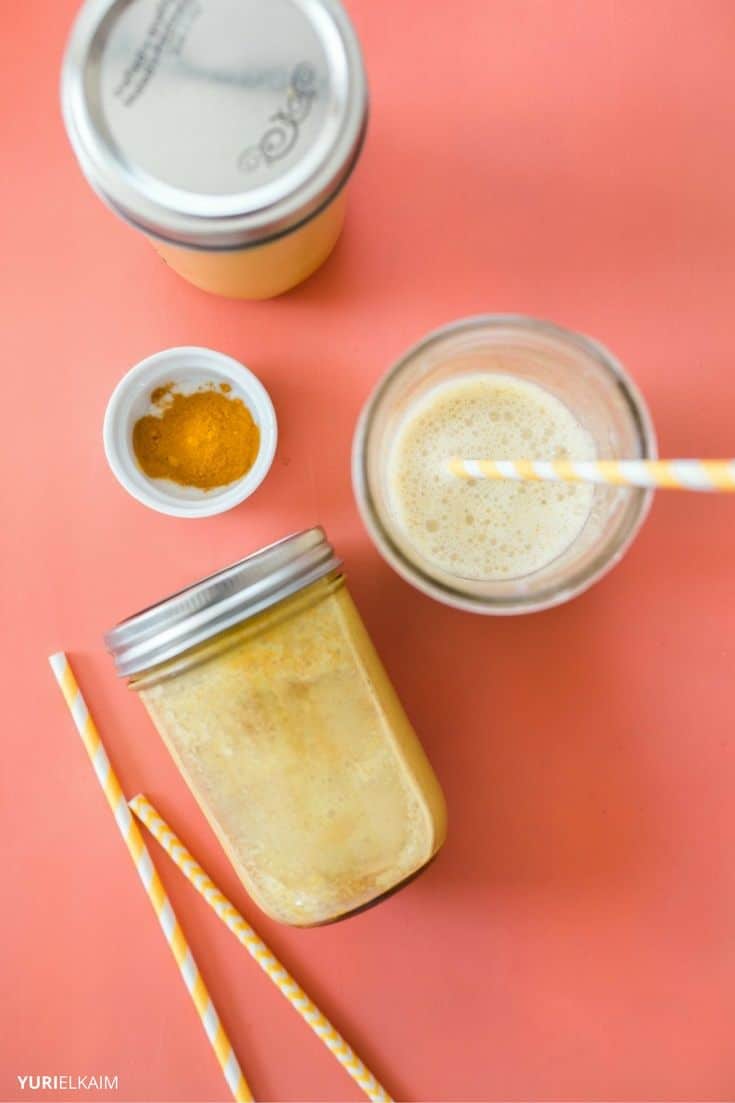 Harvested from the ground, turmeric is a bright orange root that's used in Indian and Middle Eastern cuisine, and is also a common spice in curry powder. It tastes slightly bitter, with a hint of orange and ginger, and looks similar to ginger root.
Curcumin, a compound found in turmeric, is thought to slow down the aging process, stemming chronic inflammation associated with age-related diseases (think cancer, heart disease, and Alzheimer's, to name a few).
The anti-inflammatory properties are actually as strong if not stronger than over-the-counter pharmaceuticals, but without all the nasty side effects.
That's why it's been used to treat arthritis, and is thought to boost brain health.
I'll drink to that, and I hope you will too!
Drink in the Benefits
Use dried turmeric for this recipe, which can be found in the spice aisle of any grocery store, making sure to buy organic if possible. Stick to the bulk bins and buy in small batches, to ensure you're getting the freshest spice available.
For the honey in this recipe, what you pay for is generally what you get. Spring for the slightly-more-expensive raw or manuka honeys, available in most health stores. The health benefits of the non-processed stuff is absolutely worth it.
And finally, when picking out almond milk, do me a favor and flip the carton over.
Read the back and study the ingredients. Too many "health" foods on the shelves today are being compromised by additives.
Do due diligence and look for the most pure and unfiltered versions available. I'm a fan of the Malk brand or making your own nut milk.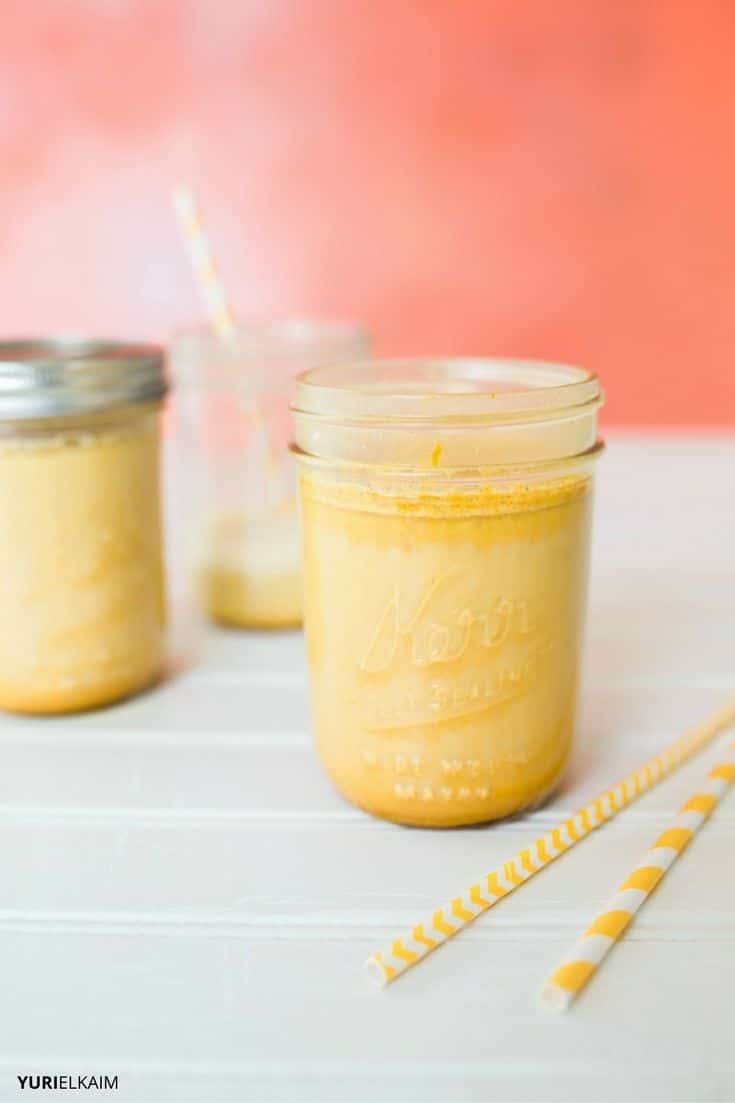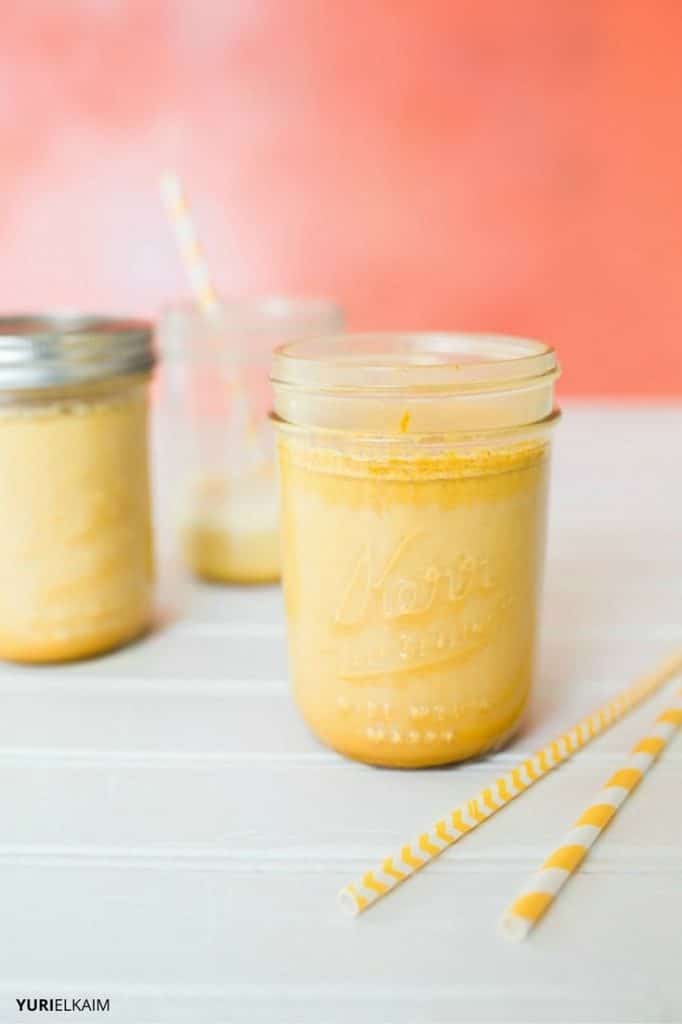 | | |
| --- | --- |
| | |
Place all in a pint-sized mason jar.

Enjoy cold or heat on the stove for a warm and creamy turmeric tea.
 Eat Better, Feel Better
It's easier to make the switch to healthier foods than you might think. All you need are some real-world-tested recipes!
I've compiled 67 gluten- and dairy-free recipes from my online community and bound them into my All Day Energy Diet Community Cookbook.
Fast, easy, and delicious, these meals take only about 15 minutes to throw together, making them perfect for busy weeknights.
You can get your copy of this FREE cookbook resource by clicking the banner below.