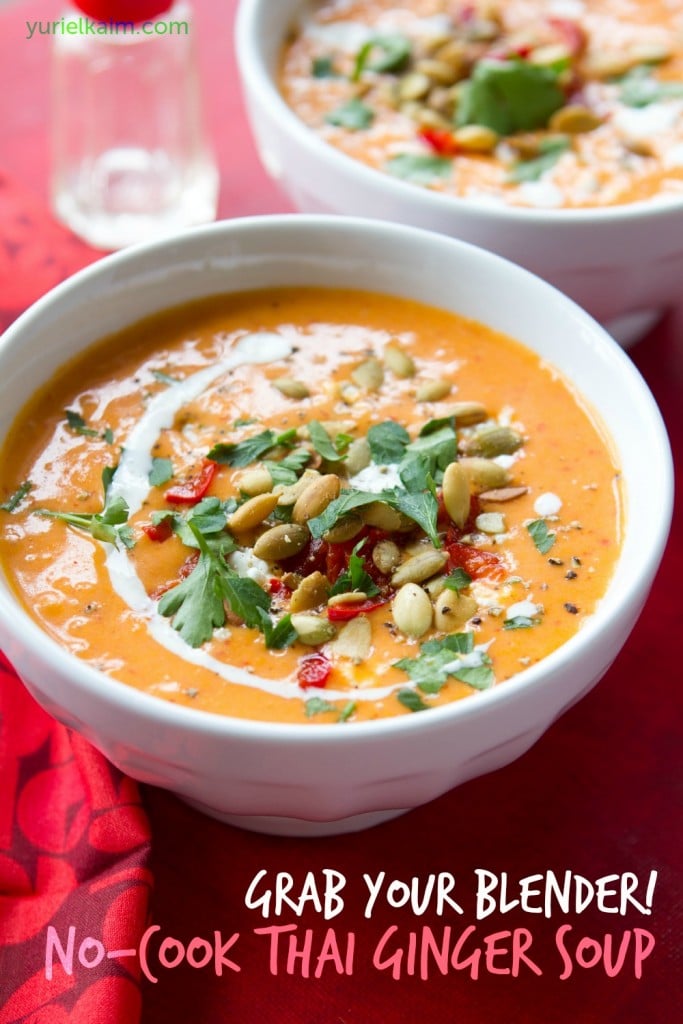 A no-cook soup makes the perfect spring or summer meal. This soup has the fresh earthy flavor of carrots paired with zesty ginger and creamy coconut milk. This recipe requires an industrial-strength blender, but if you don't have one, it's easy to cook the carrots. For maximum energy benefits, however, do try to use uncooked carrots. You'll be amazed how a hi-speed blender (like a Vitamix) makes quick work of this dincredibly simple dish. Here are just a few of the the power-packed nutrients you'll enjoy in every bowl:
Carrots
Beta-carotene gives carrots their bright orange hue, and this compound is converted into vitamin A in the body. Beta-carotene has been associated with a decreased risk of certain cancers, and carrots have been recently studied in the prevention of colon cancer. The exceptionally high vitamin A content in carrots makes them a winner for healthy skin and eyes. In one study that followed people from the Netherlands for 10 years, orange and yellow hued veggies, carrots in particular, were shown to significantly reduce the risk of cardiovascular disease when eaten on a regular basis.
Ginger
Ginger has a long history of relieving gastrointestinal distress, but it has many other health benefits too. Ginger has powerful anti-inflammatory properties, and is also considered a pain reliever. Recent research on ginger indicates that it reduces inflammation markers in the colon, and colon inflammation is known to be a precursor to colon cancer. Ginger is also known to maintain normal blood circulation, improve absorption of nutrients, and strengthen immunity. In addition, ginger is a powerful detoxifier that helps to kick start your metabolism.
Coconut milk
Coconut milk is rich in lauric acid, which has many germ-fighting, anti-viral properties that are excellent at ridding the body of viruses and bacteria. The fat in coconut milk may increase metabolism as well as contribute to a healthy blood lipid profile. Coconut milk lends a creaminess to recipes, and is a great option for vegetarians and vegans.
For a healthy and delicious lunch or light dinner, this carrot soup makes a great choice!
If want to enjoy the energy benefits of uncooked carrots, you'll love this recipe. A hi-speed blender (like a Vitamix) makes quick work of this deliciously simple dish! If you don't have an industrial-strength blender, cooking the carrots first is a great option.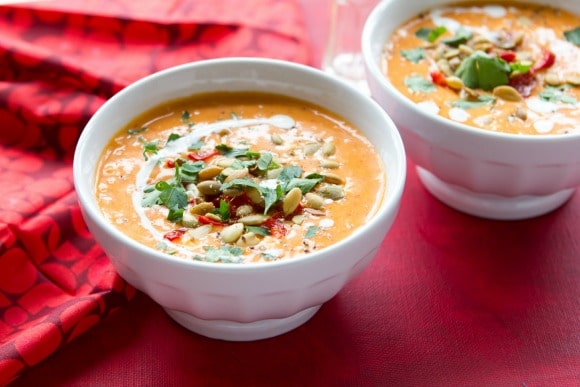 | | |
| --- | --- |
| | |
Place carrots, red bell pepper, coconut milk, lime, ginger, aminos, tahini, and honey in a hi-speed blender.

Blend until pureed, and add water until your preferred consistency is achieved.

Top with red bell pepper, chopped basil, and pumpkin seeds.

Optional: Swirl coconut yogurt into the soup for extra color and flavor. Serve and enjoy!
Raw, Vegan, Vegetarian, Paleo, Gluten-Free