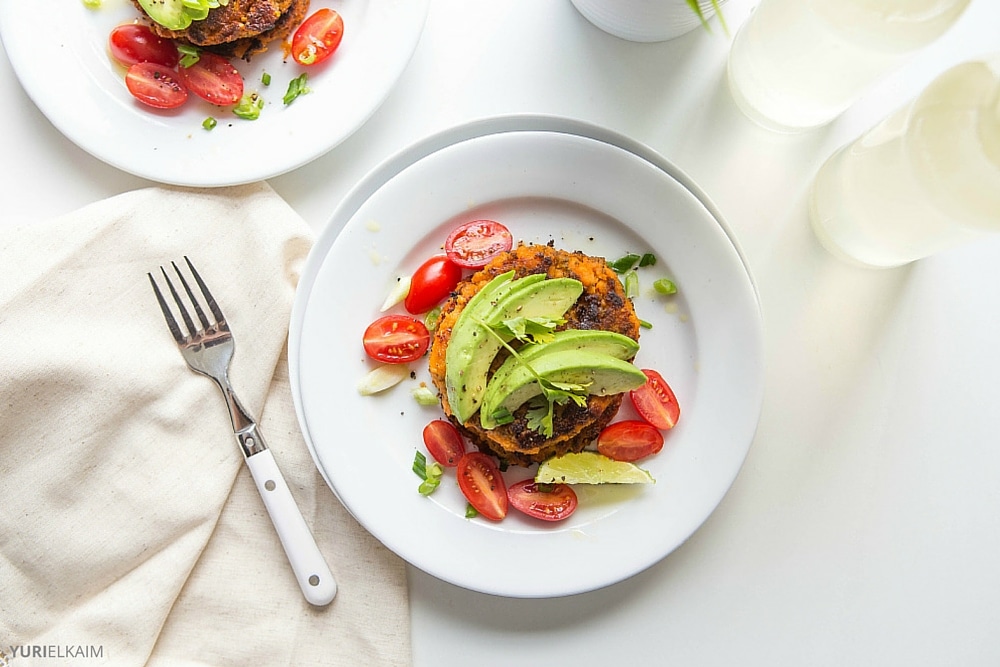 Do you know what's in your veggie burger?
Frozen veggie burgers are convenient, but they're rarely 100% healthy. Processed additives bulk up commercial patties to keep them fresher longer, and you really don't want to eat that stuff. That's why you should give these sweet potato burgers a shot.
This veggie burger recipe uses nutritious sweet potatoes and "superfood" chia seeds to make incredibly delicious patties with only whole food ingredients.
If you're new to chia seeds, this is a great way to sneak them into your diet. They're found in many healthy recipes, as they pack a lot of nutrition into a teeny, tiny seed and make a great vegan substitute for eggs. In this recipe, they also really help the sweet potato burger mixture stick together.
The Healthy Secrets of These Succulent Sweet Potato Burgers
Chia seeds have made a buzz in the health food industry recently, but they've actually been around for quite a long time. The ancient Incas, Mayans and Aztecs used chia seeds for sustainable energy when travelling on foot.
In fact, the word 'chia' comes from the Mayan word for strength.
It's astonishing that such a little seed could offer so much fiber and protein and also be packed with antioxidants. You'll get eleven grams of fiber in 2 tablespoons of chia seeds, which keeps you feeling full for hours after eating; meanwhile, it will also be regulating your blood sugar levels.
Here's what else you'll get in one ounce of chia seeds:
11 grams of fiber
4 grams of protein
9 grams of fat (5 from Omega-3s)
18% RDA of calcium
30% RDA of manganese
30% RDA of phosphorus
also contain zinc, niacin, potassium, and thiamine
That bounty of antioxidants in chia seeds protects your cells from disease-causing free radicals.
Your bones also will benefit from the high calcium and magnesium levels the seeds contain. The benefits of eating chia seeds have been included in scientific studies, and one 2007 study (1) even found that chia seeds significantly reduced cardiovascular risk factor in those with type 2 diabetes.
Those are some very compelling reasons to include chia seeds in your diet.
These sweet potato burgers pair beautifully with all sorts of toppings. You can go totally traditional with lettuce, tomato, and ketchup, or try adding different sauces and veggies. For this recipe, we've topped the sweet potato burgers with Tex-Mex inspired veggies. Bright tomatoes and creamy avocado upgrade this dish from delish to irresistible!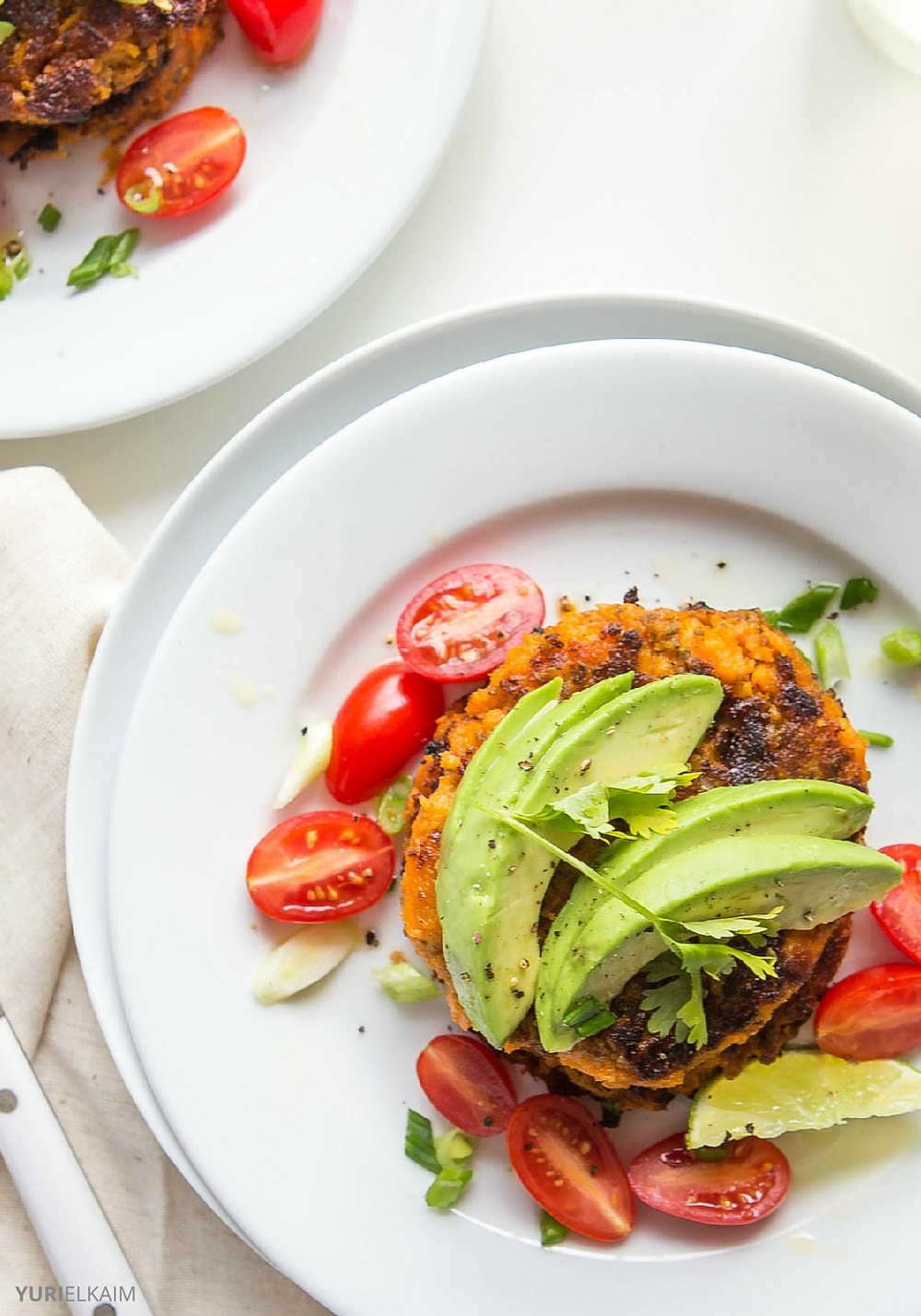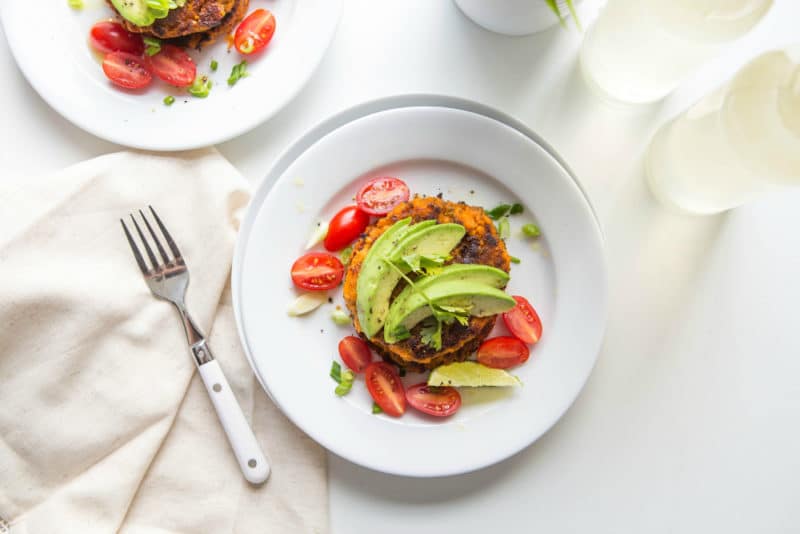 | | |
| --- | --- |
| | |
Microwave or bake sweet potatoes until tender. Cool and peel.

Place sweet potatoes in a large bowl. Mash with a fork, stir in garlic, cashew butter, chia seeds, salt, pepper and melted coconut oil. Cover and allow to sit at room temperature for 20 minutes; this will allow the chia seeds to thicken the mixture.

Form mixture into four patties (use a large ice cream scoop for best results).

Drizzle half of the olive oil in a large skillet heated over medium ­high heat. Place patties in hot oil, cover and cook until golden brown. Flip with a metal spatula and cook other side until golden brown.

Transfer to a plate, top with avocado and sliced tomatoes. Drizzle with olive oil and lime juice. Garnish with cilantro, if desired.