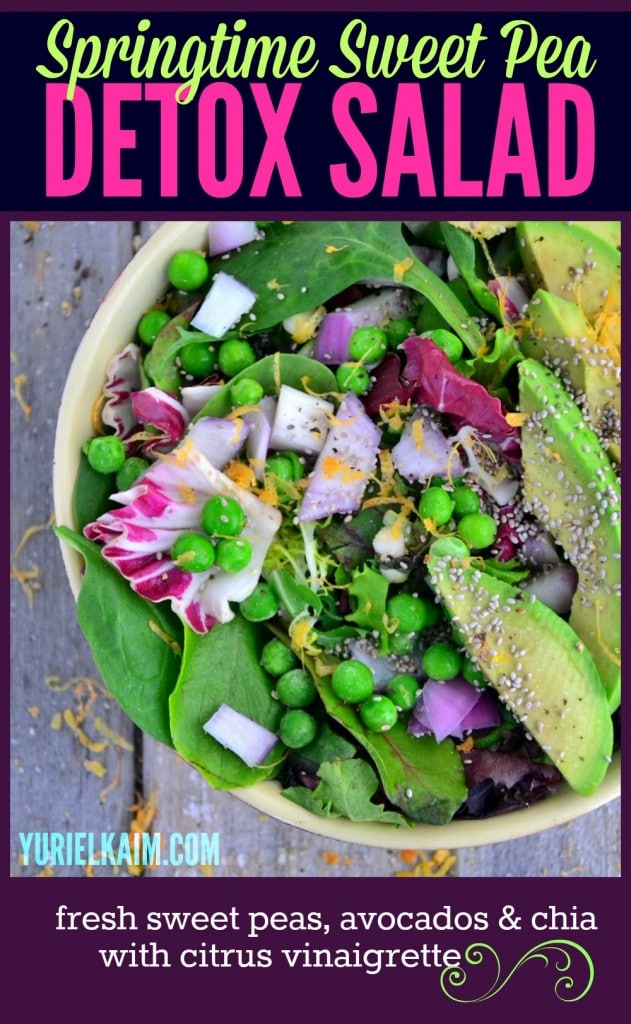 Spring is here and so are the sweet peas! Springtime is a great time to switch from winter comfort foods. It's time to detox your body from heavier eats and start enjoying clean, whole foods that prepare us for the warm weather ahead. Dig into this salad and serve it for a weekend dinner party or a weekday lunch for a quick and easy way to get your antioxidants, protein and fiber!
Since peas are a cool weather crop, you'll start seeing them in the produce aisle around March and April. English peas are slightly sweet and add a burst of flavor to salads, sautees, and soups. Put mushy, off-color cafeteria peas out of your mind and try lightly steaming fresh peas to keep their vivid green color and sweet flavor. Spring is the time to swap out frozen peas for freshly picked ones, and this salad highlights just how delicious fresh peas can be.
Green peas are little nutrition powerhouses. They're a good source of protein, vitamins, and fiber, all in a low-calorie package. They contain a polyphenol called coumestrol, which helps protect against stomach cancer. Green peas are also an excellent source of folic acid, which is required for DNA synthesis within our cells, and also protects against neural tube defects in developing fetuses. Boost your immune system and get glowing skin from the vitamin C in peas, and keep your bones strong from the vitamin K in peas.
The avocado in this salad is full of heart healthy fats. Avocados are a great choice to add to your anti-inflammatory diet, and help to lower your risk of chronic diseases caused by inflammation. The chia seeds in this salad are also anti-inflammatory, and contribute healthy omega-3 fatty acids to your diet.
I recommend buying organic springs greens, which you can easily find in the produce section of most grocery stores. Spring greens are loaded with healthy antioxidants, vitamins, and minerals. Add beans, salmon, or organic grilled meat to your salad to add some heft for a healthy spring dinner. This tasty salad from my friend Amie Valpone is one to make again and again this spring!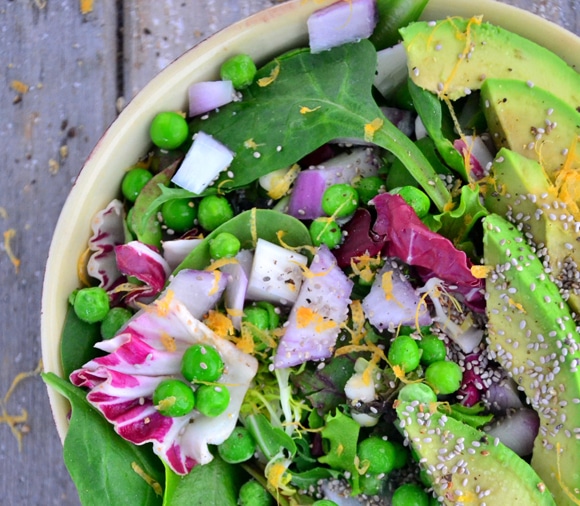 | | |
| --- | --- |
| | |
In a large bowl, combine mixed greens, peas, onion and avocado; set aside.

In a small bowl, whisk remaining ingredients. Pour over avocado mixture; gently toss to combine.

Serve immediately. Pair with a piece of seared salmon if you're feeling extra hungry.