Change up your lunch and take a break from your daily salad. This berry arugula avocado is a healthy way to enjoy a snack or lunch. Avocados increase absorption of antioxidants, so topping your avocado with arugula and strawberries makes it especially nutritious. Head to your local farmer's market to pick up some fresh in-season arugula- it's got a wonderfully peppery taste that goes well with the avocado. You already know whole, raw foods are good for you, but let's look at some of the specific benefits your body gets with this quick dish.
Blueberries
Blueberries have been linked with improved memory and the slowing of cognitive decline. The powerful antioxidants in blueberries protect the nervous system from oxidative stress and help to maintain smoothly working nerve cells. Blueberries have many cardiovascular benefits, reducing cholesterol and supporting healthy blood pressure levels. Blueberries also have anti-cancer and anti-inflammatory properties.
Arugula
Eating arugula on a regular basis decreases the risk of many diseases, including obesity, diabetes, and heart disease. It's high in vitamin K, which is necessary for bone and brain health. Arugula also increases muscle oxygenation during exercise, so athletes may benefit from eating it on a regular basis.
Avocado
Avocados are loaded with heart-healthy fats and aid in keeping your blood sugar stable.   Avocados have anti-inflammatory properties, and help to lower your risk of chronic diseases caused by inflammation.
For a quick and easy lunch, try this arugula and berry topped avocado. You'll reap tons of health benefits from this great tasting, filling meal.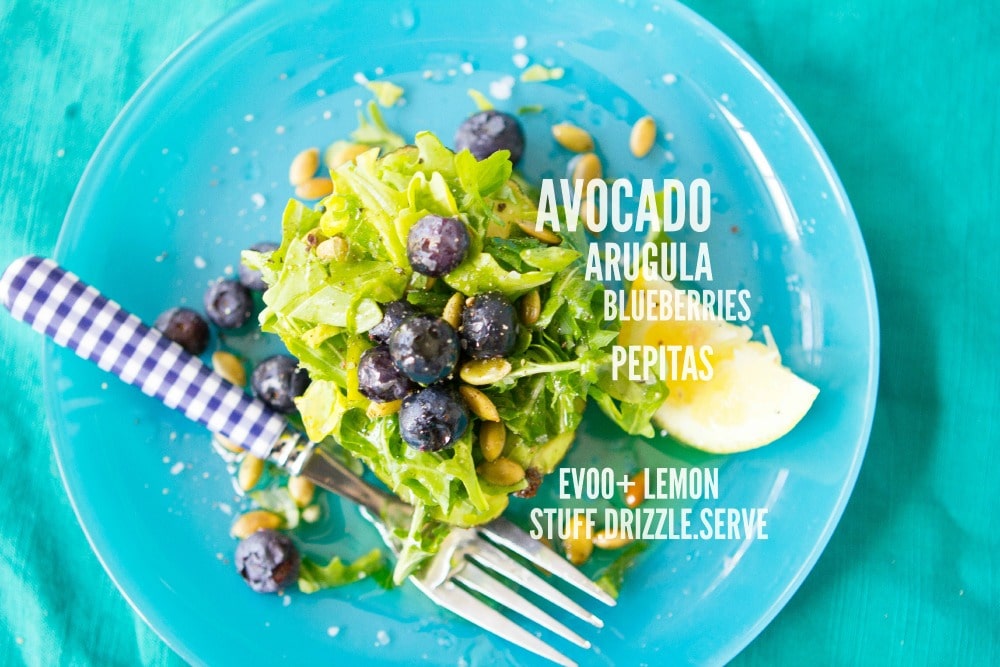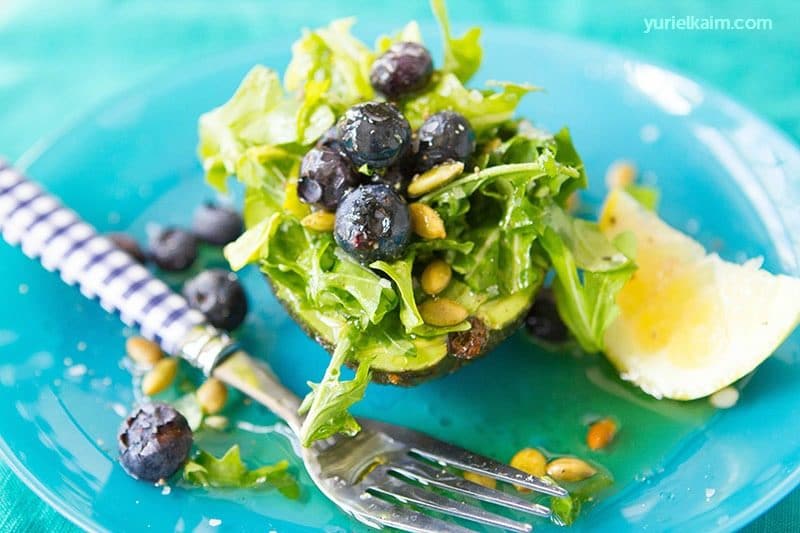 | | |
| --- | --- |
| | |
On a plate, place avocado half. Top with arugula and blueberries. Drizzle with lemon and olive oil.

Add salt and pepper to taste. Sprinkle with your favorite nuts or seeds. Serve and enjoy!