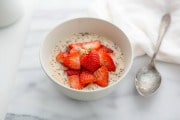 | | |
| --- | --- |
| | |
Place almond flour, water and salt in a pot on the stovetop. Heat over medium heat, stirring frequently.

Cook for 8-10 minutes, or until mixture has begun to boil and thicken slightly. Remove from heat, stir in vanilla and chia seeds, cool slightly.

As the mixture cools, it will thicken. Top with strawberries and honey. Serve warm with almond milk, if desired.