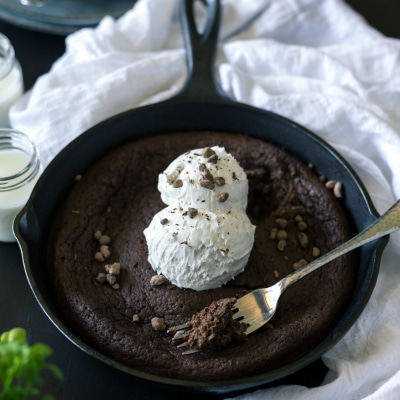 | | |
| --- | --- |
| | |
Preheat oven to 325 degrees.

In a small bowl, whisk together the almond flour, cocoa powder, and sea salt. Set aside.

In an 8-inch cast iron skillet over medium-low heat, melt the coconut oil. Remove from heat and stir in the baker's chocolate until melted.

Add the erythritol and stir until combined. When the skillet is cool enough to touch, add the eggs, one at a time, until thoroughly combined. Stir in the vanilla extract.

Add the flour mixture and stir until completely mixed. Batter will be runny.

Place skillet in the center rack of the oven and bake for 50-60 minutes, or until the brownie doesn't wiggle when the skillet is nudged. Allow to cool slightly before serving.