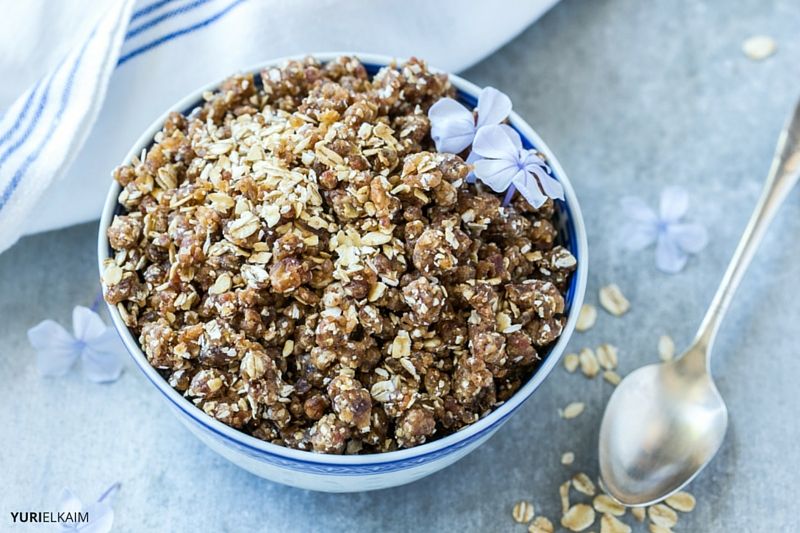 Did you think that you were going to have to say goodbye forever to cereal? That there's no room for a delicious bowl of cereal in a healthy, whole foods lifestyle?
You might be right, at least when it comes to the less-than-healthy cereals of yesteryear. But the good news is, you can enjoy modern day options like raw granola (hang on, I've got a recipe for you!).
It seems like people are finally catching a clue when it comes to breakfast cereals. Back in 2000, cereal sales were massive, topping out at $13 billion bucks. But by last year, they dropped nearly 20 percent – down nearly $3 billion in just a matter of years (1).
While those numbers might be bad for cereal manufacturers, they make me happy.
I've been saying for some time now that
And I'm glad to see that more and more consumers seem to be getting it.
Rainbow-colored, sugary cereal is not food. And there is no place for it in a proper diet.
But, YURI! (I hear you rebutting) What if I love cereal? That snap! That crackle! That bowl of milky goodness!
I know. I do. I get it.
You Have Options (Like This Raw Granola)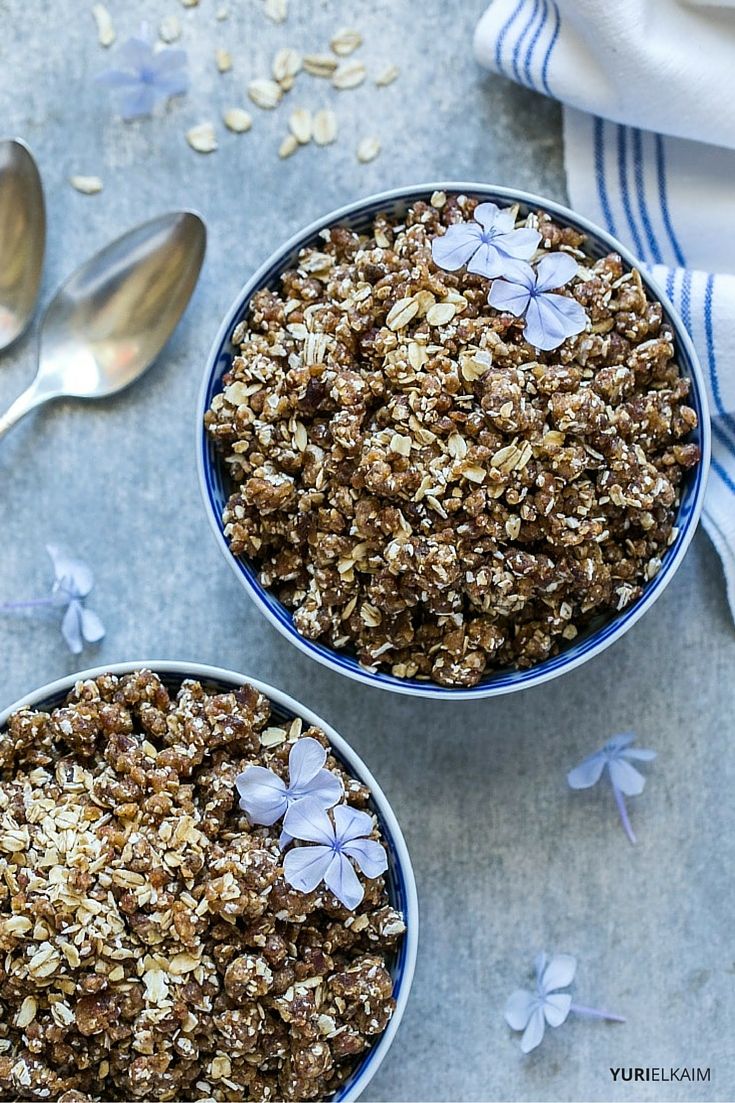 I was one of those Saturday TV watching kids, too. I grew up on He-Man and Smurf-shaped cereal.
So, as per my usual approach to nutrition, I'm not making cereal a no-no. I've just made a killer version of it (and others), with all the good stuff. And also, I've made it delicious.
It's time to reclaim cereal from its refined, processed, machine-pressed, robot-mixed, factory-baked form and make it right.
Ready for some seriously delicious rawnola?
Whether you're going for a quick, healthy breakfast or an on-the-go snack with staying power, this healthy eating recipe is a fantastic addition to your day.
It's naturally sweetened and gluten-free, with a hint of cinnamon and creamy almond butter. Simple and easy to make, this raw granola can be stored in mason jars and dispensed into a breakfast bowl or reusable grab-and-go snack container as needed.
Gluten-Free Oats Are Not the Enemy
Now, a moment to chat with our paleo friends.
If you're accustomed to steering clear of oats, can I chat science with you for a sec? I know you're used to avoiding grains, but there's good reason to include oats in your weekly diet.
Naturally gluten-free, oats won't cause digestive issues the way gluten-containing grains do. In fact, beta-glucan, a fiber in oats, boosts beneficial gut bacteria, keeping your digestive system in good working order.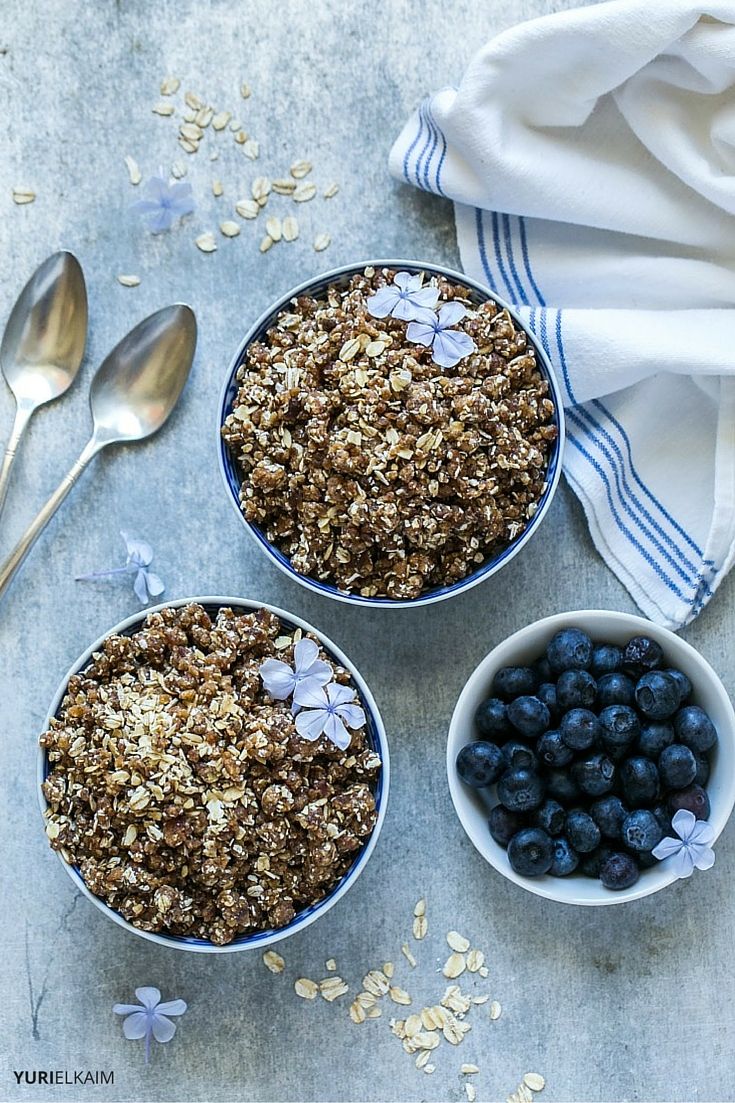 When purchasing oats, always look for a gluten-free label, since oats can be contaminated with other grains during processing and packaging.
Don't reach for quick rolled oats, which are partially cooked and quickly digested, not keeping blood sugar levels as stable as the thick rolled version. The same goes for instant oats, which are pre-cooked, and also pass quickly through the digestive system.
So what should anyone look for when buying oats? Always choose organic, and look for rolled oats, sometimes called old-fashioned oats. They're basically whole oats that have been pressed between two rollers.
This style of oats offers a rich source of dietary fiber and essential minerals that make them perfect for a snack. And unlike oatmeal, the oats in this recipe are not cooked. Moisture from the peanut butter and dates breaks down the oats for gentle digestion.
Raw Granola Flavor Choices
This raw-nola recipe is easy to customize, and there are many tasty flavor combos you've gotta try.
Chocolate lovers can simply add dark chocolate chips for a rich, delicious treat.
Not an almond butter fan? Swap out the almond butter for any nut butter, such as cashew butter, peanut butter, hazelnut butter, walnut butter, or even coconut butter.
Want a tropical twist? Go for fresh lemon or lime zest, leave out the cinnamon, and sprinkle with toasted coconut.
Any way you make this raw granola , I think you're going to love welcoming cereal back into your life. I know I have.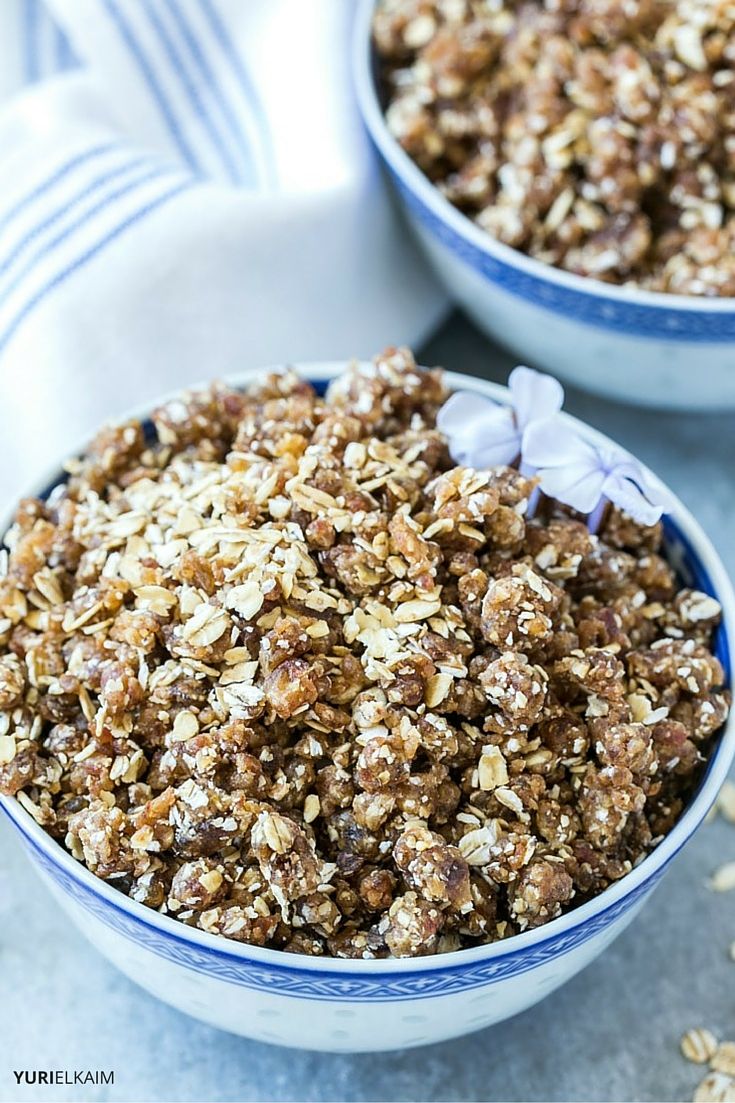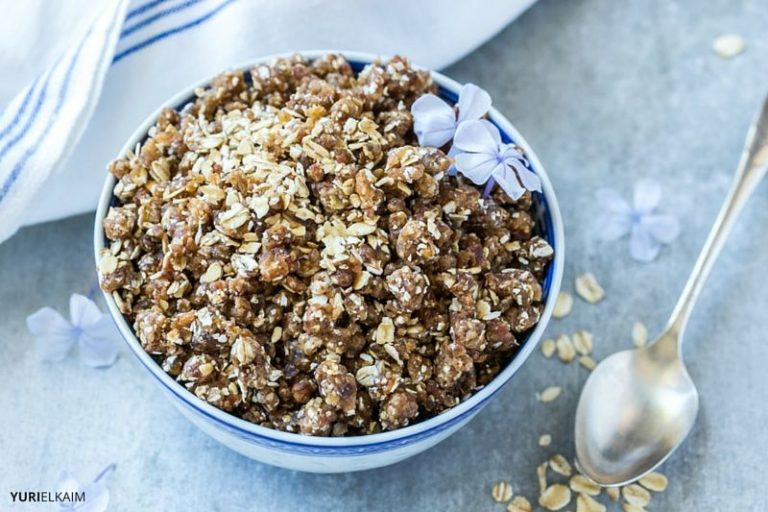 | | |
| --- | --- |
| | |
Place the dates, oats, coconut sugar and cinnamon in a food processor.

Process until the oats are broken down and the mixture has started to stick together.

Add the almond butter to the food processor and pulse until well combined.

Serve immediately or store in an air tight container for up to one week.
Eat "Right" Every Time
Need a little recipe inspiration when it comes to healthy meals for you and your family? No worries! Check out the All-Day Energy Diet Community Cookbook, which features 67 gluten- and dairy-free recipes that will satisfy your tastebuds.
Bonus: they are also fast and easy to prepare!
You can get the cookbook for FREE by clicking the banner below. Enjoy!