If you're limiting your pumpkin consumption to fall, you're missing out.
That's because pumpkin is surprisingly low carb, packed with nutrients, and it's also super tasty. Not only that, but it marries well with other flavors, too.
Which is exactly what it does in this Pumpkin Blueberry Smoothie Parfait, which is a great choice when you're craving pumpkin pie.
The number of superfoods in this smoothie is kind of astonishing – if you've never tried some of these ingredients, this is a great recipe to start experimenting with!
With crunchy hemp seeds reminiscent of pie crust (without the gluten, refined white flour, or shortening, of course) and layers of blueberries, this delicious recipe packs a superfood punch.
Pumpkin Parfait Smoothie
Here are a few of the benefits you'll get from each of the delicious ingredients in this smoothie, which easily fits into both vegan and paleo diets.
Maca
Used since Aztec times for virility and libido, maca is the powdered form of a root vegetable grown in South America.
Just a teaspoon of maca added to a daily diet supports the creation of hormone-regulating enzymes that enhance energy, boost sex drive, and level out hormones naturally.
Avocado
There's more to avocados than just their healthy fats. They also contain a healthy dose of fiber, folate, potassium, vitamin E, and magnesium.
But about those creamy, delicious fats: they keep your blood sugar and hunger level stabilized until your body needs to eat again.
Raw Almonds
Raw almonds can actually drop your homocystein levels, the amino acid connected to keeping your arteries clear of fatty plaque.
Some studies are now linking almonds to lower rates of cancer, Alzheimer's, and heart disease. But if you want a shorter-term payoff for eating almonds, they help satisfy your hunger and keep you feeling full.
Hemp Seeds
Full of protein, hemp seeds also offer the perfect balance of omega-3 and omega-6 fats your body needs. Not only that, but check out this list of all that raw hemp seeds have to offer: fiber, iron, zinc, carotene, phospholipids, phytosterols, vitamin B1, vitamin B2, vitamin B6, vitamin D, vitamin E, chlorophyll, calcium, magnesium, sulfur, copper, potassium, phosphorus, and enzymes.
Plus, hemp seeds include all of the amino acids your body requires to optimally function.
Banana
Bananas are one of the richest sources of potassium – but most of us have no clue why we need potassium in the first place.
Potassium actually helps your body replenish electrolytes and recover. So, whether you've just worked out, are dealing with stress, or even combatting a horrible hangover, potassium can help your body find its balance again.
Pumpkin
With just 15 calories per half cup, pumpkin is full of vitamin C and beta carotene. Add it to your diet and get a hefty dose of nutrients like iron, zinc, and fiber, too.
Blueberry
Blueberries contain flavonoids, which are the natural compounds responsible for their deep, blue hue.
They've been linked to protecting the brain's memory-carrying cells from the damaging effects of inflammation and oxidation. Long-term inflammation and oxidation has been tied to chronic diseases like cancer, heart disease, and even degenerative diseases like Alzheimer's.
Mesquite Powder
This naturally sweet, caramel-flavored pod has nothing to do with barbecue flavor and everything to do with body support.
Packed with nutrients like calcium, iron, lysine, zinc, and potassium, mesquite powder is also high in fiber and protein, plus adds sweetness without spiking your blood sugar.
Best Smoothie Blenders
Smoothies can be a powerful addition to your diet: you get maximum nutrition in a glass. Of course, no one wants to drink a smoothie unless it tastes great, and a huge part of a great-tasting smoothie is a smooth smoothie.
Chunks, hunks, and chewy pieces of greens or fruit aren't just a pain to sip through a straw. They can turn a healthy, blended treat into a total turn-offf.
Most "over-the-counter" blenders available at big box stores are low-speed blenders. They aren't capable of crushing ice or pulverizing fruit, and require a lot of liquid – which can create a grainy smoothie.
I've tested a lot of blenders over the years. In fact, if you're in the market for a new smoothie making machine, check out my thoughts on these high-speed blenders.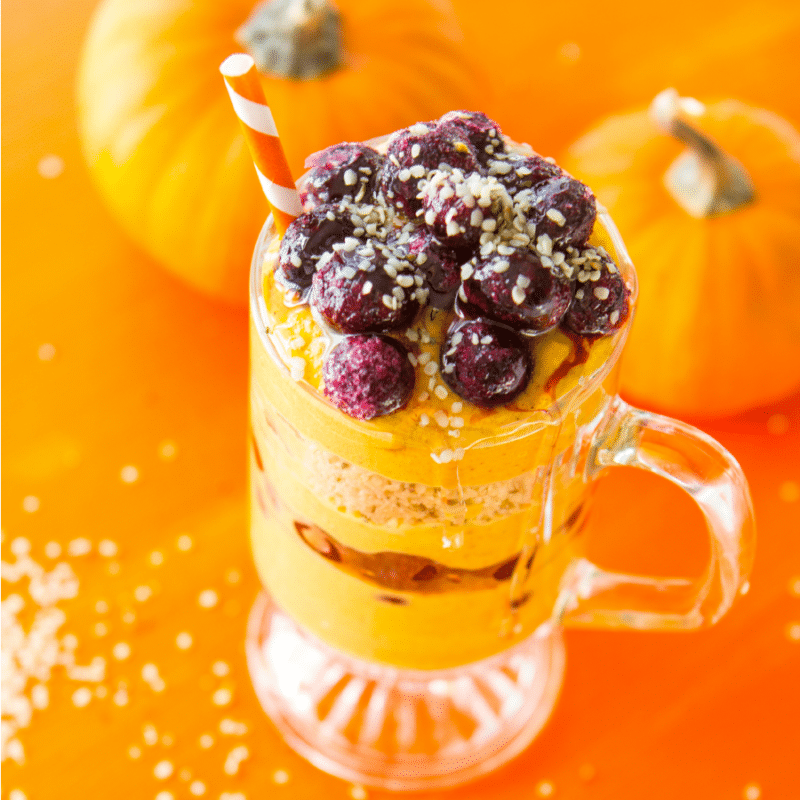 | | |
| --- | --- |
| | |
In a Blendtec blender, puree pumpkin, avocado, frozen banana, mesquite powder, almond butter, almond milk, stevia, and pumpkin pie spice together until smooth.

Spoon mixture into parfait glasses, layering with blueberries and hemp seeds.

Drizzle with maple syrup and garnish with blueberries and hemp. Spoon and enjoy!
Vegan, paleo, gluten-free
Sweet, Delicious, and Good For You!
Do you think eating a healthy, whole foods diet means you can no longer enjoy sweet treats?
Not true – not at all! You can enjoy energy-boosting, tastebud-pleasing desserts while still staying on-track.
Download my Healthy Desserts eBook and see for yourself! It contains 8 amazing recipes that you can feel good about making and eating.
Just click the image below to get it now!