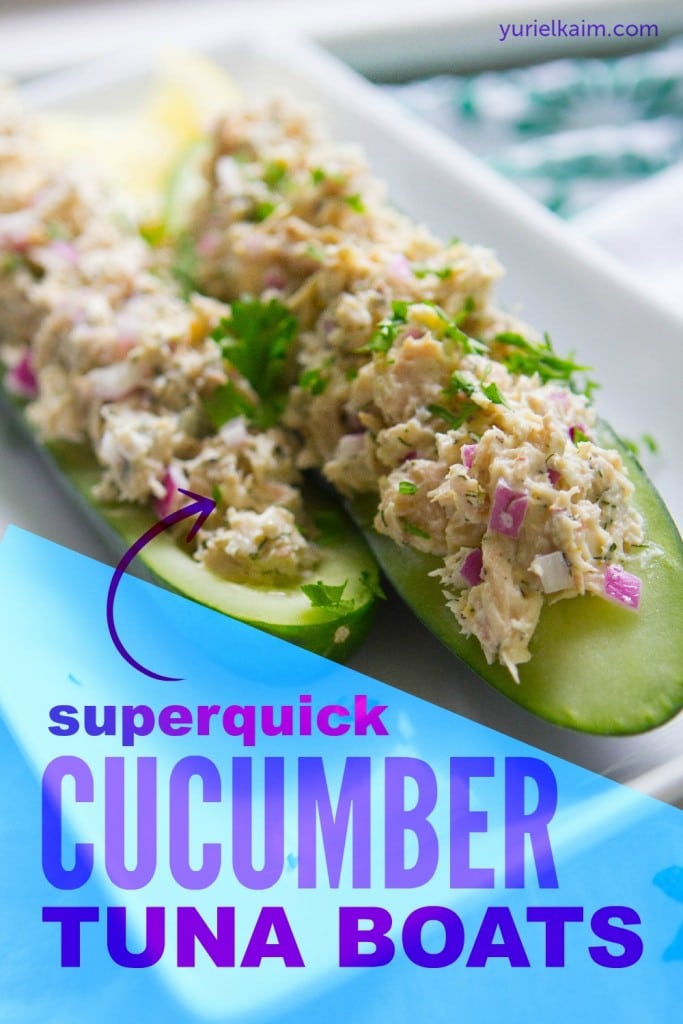 This tuna boat is such a simple and delicious recipe, and a great way to get a lean source of protein into your diet. The best time to make this recipe is after working out, when your muscles will benefit from the 23 grams of protein that canned tuna offers. Protein is needed to repair and re-build muscle post-workout, as well as to promote muscle growth. Tuna is also high in B-vitamins, which build and maintain red blood cells and increase energy. After a workout we can all use some extra energy! The omega-3 fatty acids in tuna provide anti-inflammatory benefits and help to prevent high blood pressure and heart disease. Recent research has shown that the selenium in tuna binds with mercury to lower the risk of mercury exposure, and the high selenium levels in tuna also boost our immune systems.
Serve up this tuna salad with a low calorie, hydrating cucumber. Cucumbers contain citrulline, an amino acid that aids the liver and kidneys in eliminating ammonia. Cucumbers are also known for their anti-inflammatory properties, and contain many antioxidants that help fight diseases.
If you're a vegan or vegetarian, substitute quinoa for the tuna. Quinoa contains 8 grams of protein per cup cooked. It has all the essential amino acids, and is therefore a complete protein. Quinoa is also much higher in fiber than most grains, so you'll feel full long after you've eaten, and it will keep your blood sugar levels stable. Another wonderful bonus of eating quinoa is the high antioxidant levels, especially quercitin, which is has anti-inflammatory properties and prevents cell damage from free radicals. If you're low in essential minerals, quinoa is rich in Magnesium, Potassium, Zinc, and Iron.
Quick, simple, and full of delicious flavor, cucumbers are sliced and seeded, then stuffed with tuna salad (or quinoa). This is a great on-the-go lunch or post-workout meal. Enjoy!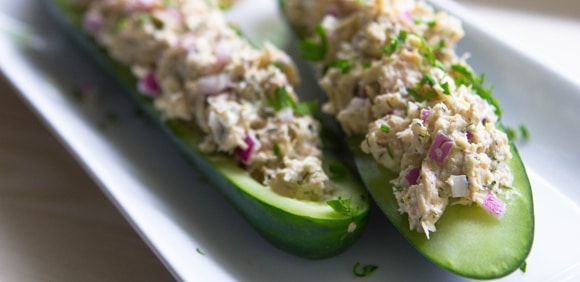 | | |
| --- | --- |
| | |
In a small bowl, mix together tuna (or quinoa), olive oil, vinegar, onion, yogurt, and dill. Mix until well combined. Salt and pepper to taste. Spoon mixture into the center of a cucumber. Serve and enjoy.