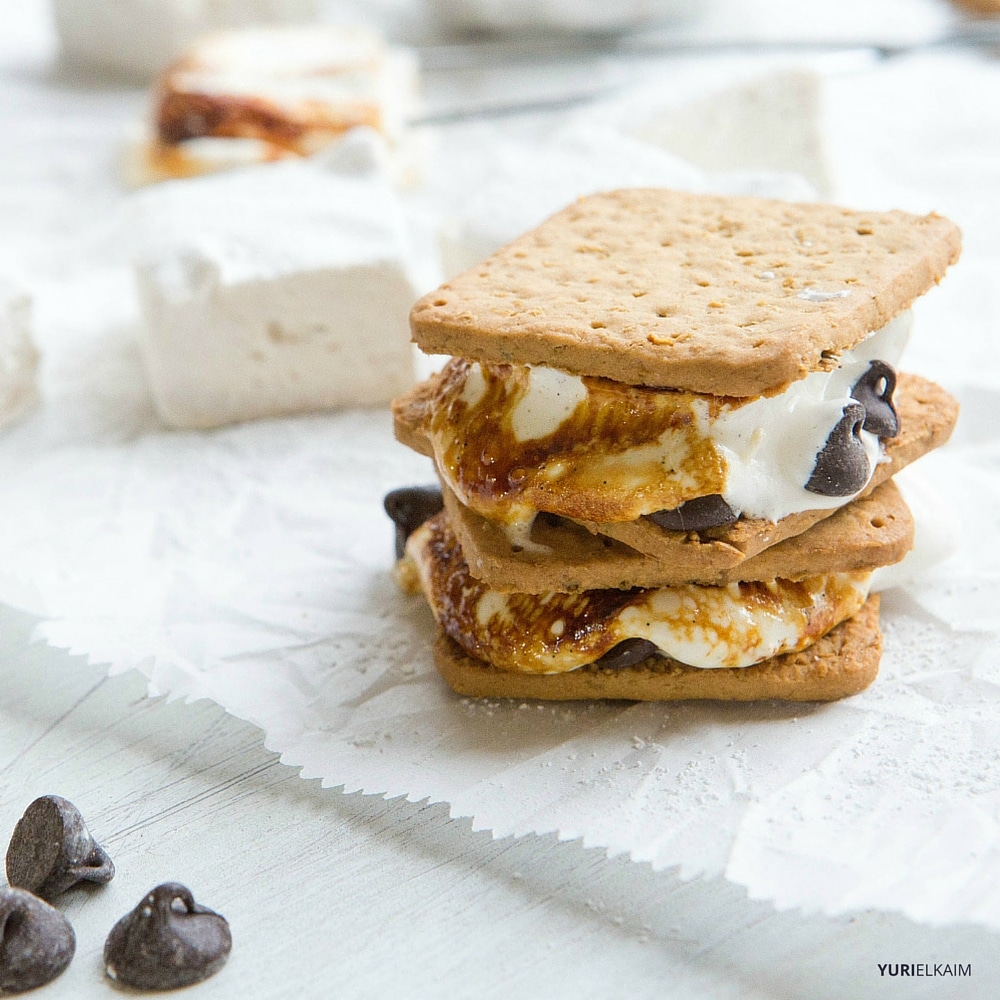 Who says you can't go paleo and indulge your sweet tooth, too? Fire up the grill or light a campfire to enjoy these gooey, guilt-free s'mores that won't leave you feeling guilty afterwards.
What's more, they will single-handedly make you believe that healthy desserts can be satisfying.
Why are these healthy s'mores special? It's in part because of the homemade marshmallows they contain which use only raw honey. That means you'll avoid the refined sugar and corn syrup found in most store-bought marshmallow brands.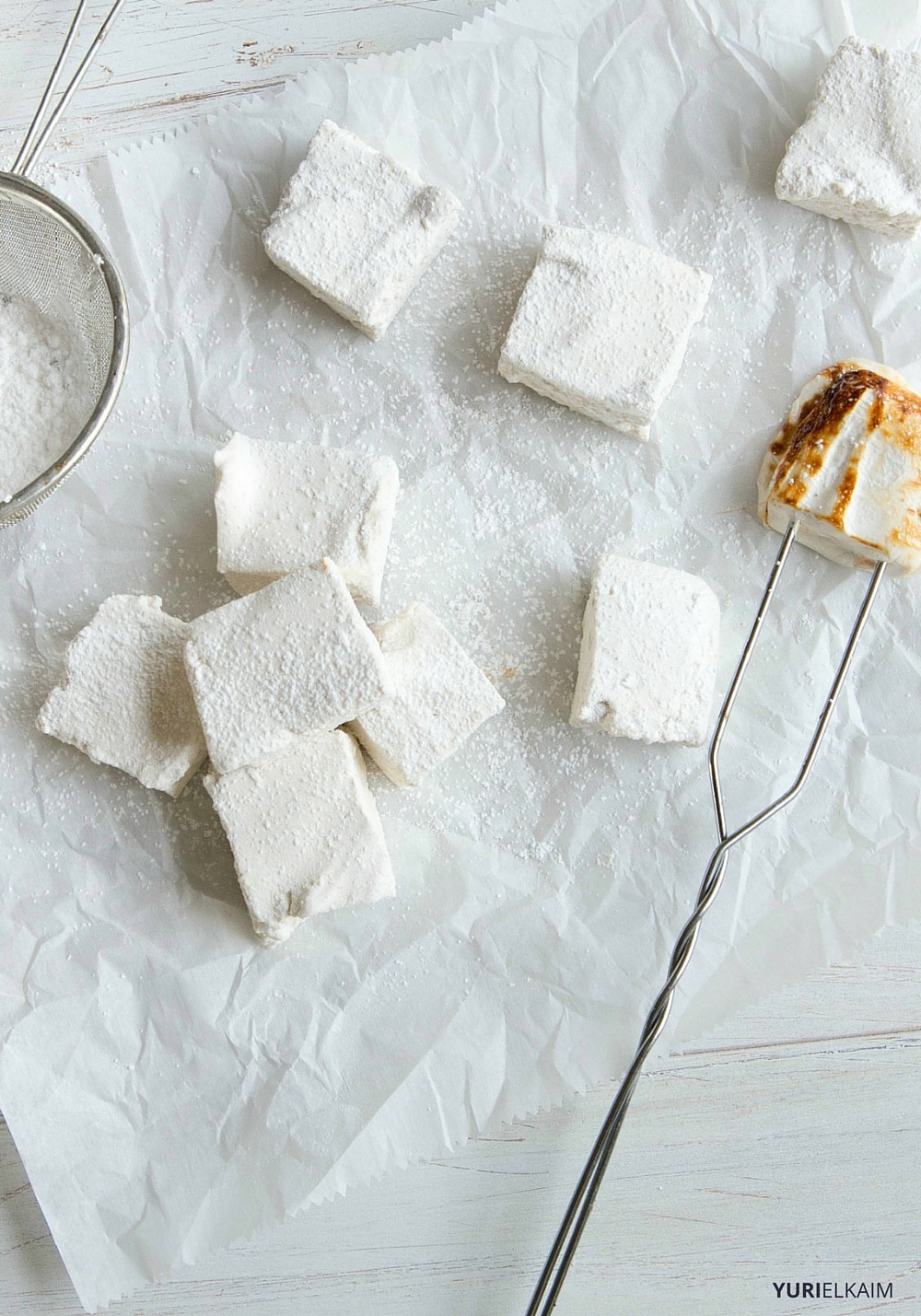 Vanilla bean paste gives these marshmallows an intense vanilla flavor, and can be found in the spice aisle of most grocery stores or specialty food stores. This paleo s'mores recipe also calls for grass-fed gelatin. It's a healthy alternative to regular gelatin, which contains hormones and pesticides. You can purchase grass-fed gelatin online.
You'll need gluten-free graham crackers and dairy-free Enjoy Life chocolate chips for this recipe, which can both be found in health food stores or in the specialty aisle of your supermarket.
You'll be surprised at how fun and easy it is to make your own marshmallows, and just how good they taste roasted on a stick! Assemble your s'more with the graham crackers, chocolate chips, and toasted marshmallow, and enjoy the excitement of feeling like a kid again.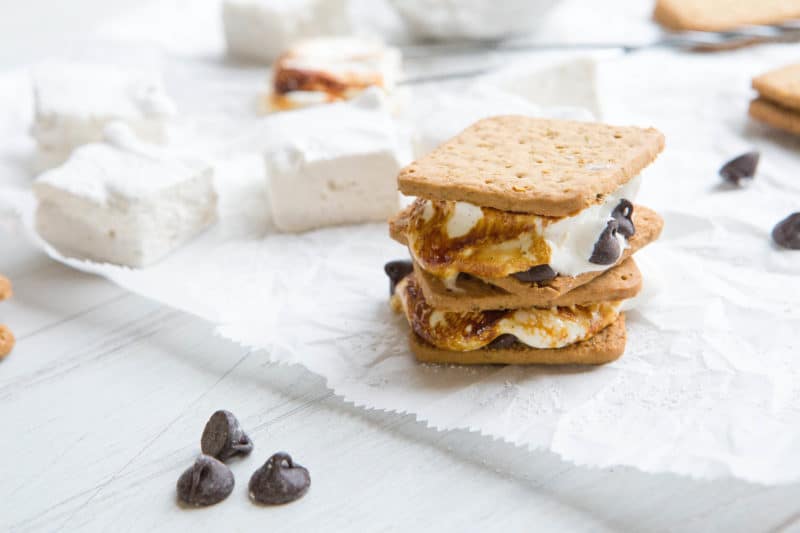 | | |
| --- | --- |
| | |
Spray an 8"x8" pan with nonstick coconut oil spray. In a medium bowl, mix gelatin with 1⁄2 cup of cold water. Set aside and allow it to soften for 5 minutes. In a saucepan, place 1/2 cup of water, honey, and a pinch of salt. Cook over medium­-high heat, stirring constantly. Bring to a boil and continue to stir until it reaches the soft ball stage (approx. 240 degrees F). Remove from heat.

Microwave the gelatin for 30­-45 seconds, until melted, then pour into stand mixer. Turn the stand mixer on and pour the honey mixture into the bowl in a slow, steady stream down the side of the bowl. Add vanilla bean paste, turn the mixer to high and continue beating for 7-­9 minutes, until it becomes thick and creamy.

Spoon mixture into prepared pan. Sprinkle with a thin layer of arrowroot powder. Allow to sit for 4 hours (or overnight). Cut into desired shapes.

Toast marshmallows over an open flame. Press marshmallows between two gluten­-free graham crackers with chocolate chips. Enjoy immediately.