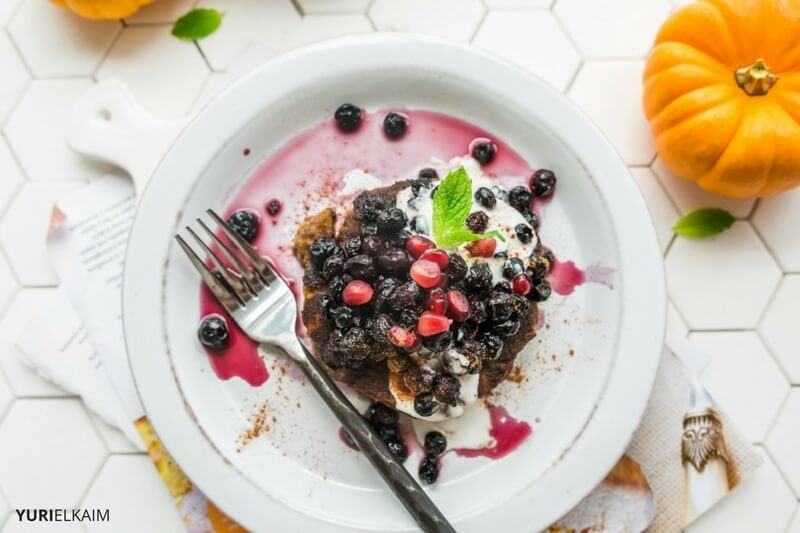 We're usually a crepes-on-Saturday family. But this week, we're celebrating the weekend with pancakes.
Not the kind of pancakes that sends your blood sugar skyrocketing or that sits in your stomach like a ball of lead, making you feel immediately sorry after eating them.
I'm talking about grain-free, perfectly paleo pancakes, made in a blender. This recipe contains natural sugar, coconut flour, and other high-quality ingredients to boost your health as you get your day started.
And it's all in a simple and tasty autumn recipe, giving you that pumpkin spice flavor you love, no latte needed.
Pumpkin Paleo Pancakes
Doesn't that sound delicious? I think so, too. That's why I focus so much on recreating classic dishes into healthy eating recipes.
Here are a few of my other breakfast favorites:
If you're new to paleo pancakes, I want to warn you up front – they are almost like flour pancakes. But as with any recipe, when you swap ingredients, you can expect a slightly different texture.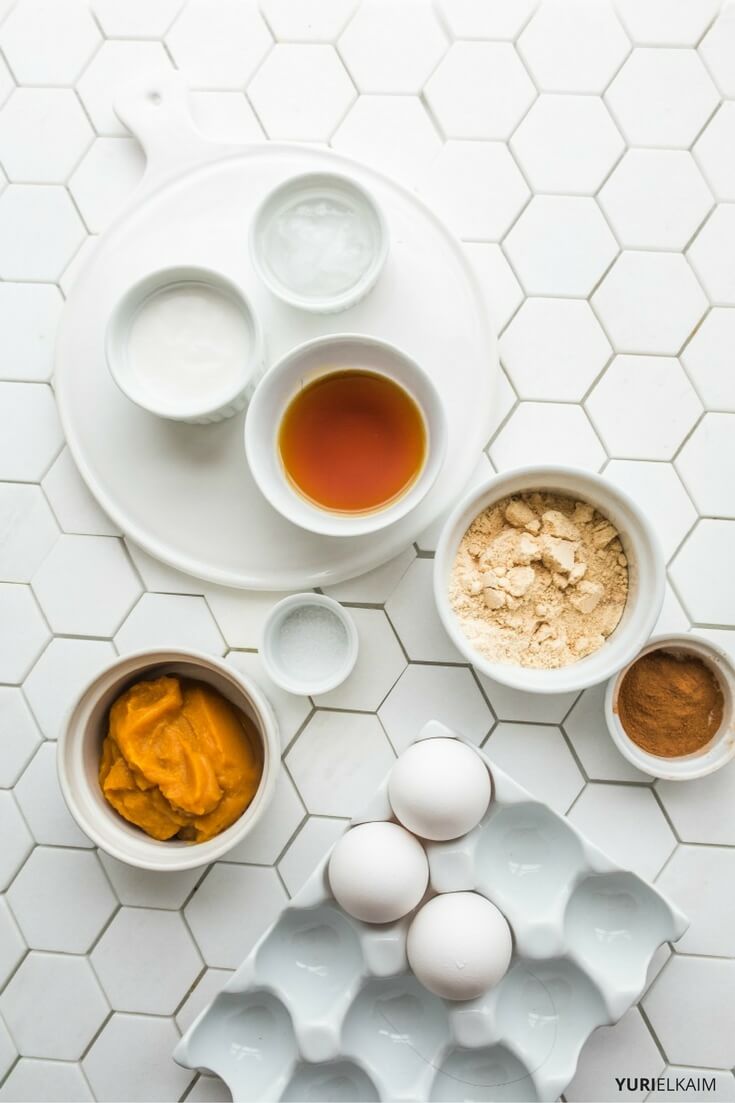 These pancakes are delicious, but they take a bit of practice to get the "flip" right. That's because they're made of slightly-more-crumbly coconut flour.
I use coconut flour as a wheat alternative – the ratio is 1/4 cup to 1/3 cup coconut flour for every 1 cup grain-based flour, but it's best to follow a recipe until you're familiar with it.
Since it's a dense flour, you may also need to increase the number of eggs or liquid used.
Coconut Flour Power
Coconut flour is made from coconut meat, which is baked at a low temperature and ground into a flour-like substance. You can find coconut flour in the bulk section at any natural grocery store, or in the baking section near the flour and other grains.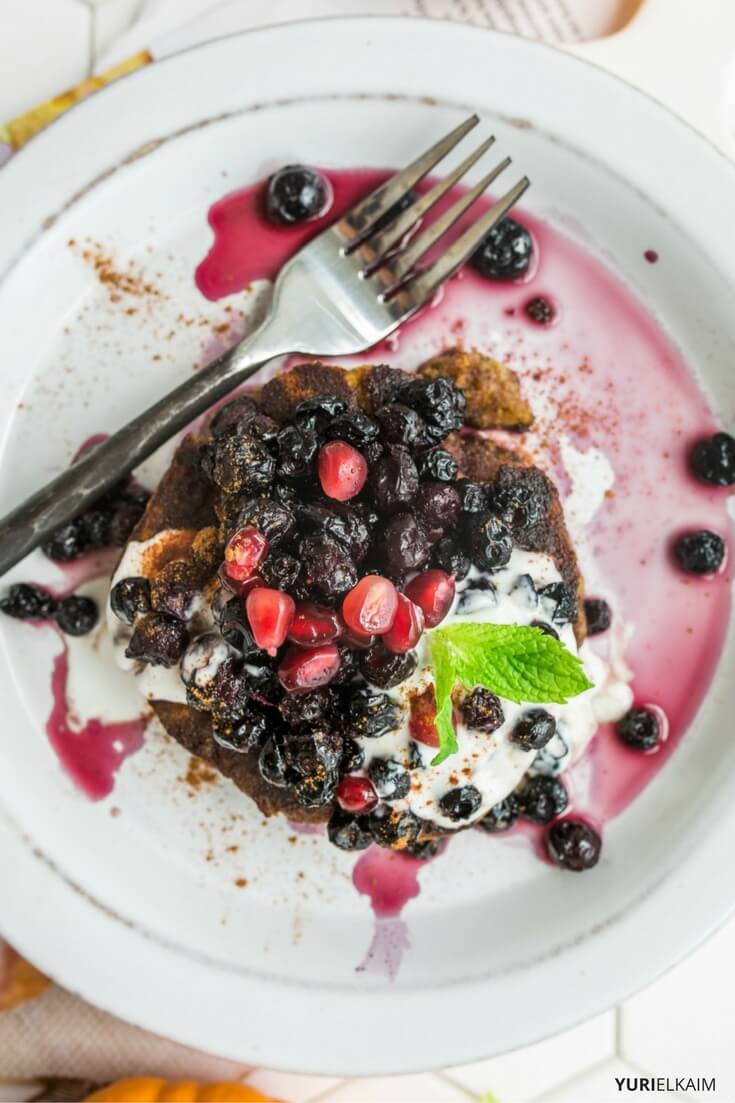 It's high in fiber, with an impressive 20 grams of fiber in one-half cup – as compared to 1.3 grams of fiber in refined white flour. Fiber is important for maintaining healthy digestion and keeping you regular.
And coconut flour is also high in protein and healthy fats, and it's naturally gluten-free. You'll often see coconut flour in paleo recipes, as it works like a dense flour but without the digestive issues and bloating from grains.
Eggs really hold this recipe together, and also deliver lots of protein, perfect for breakfast. Protein provides fuel for the body, and keeps you feeling full and satisfied for longer after you eat.
Mix It Up with Bananas
I personally love all the nutrients I get from the pumpkin puree in this recipe, but if you're not a pumpkin fan, swap out the pumpkin puree for an equal amount of mashed banana, and change up the pumpkin pie spice for cinnamon.
For a really special treat, toss in some dark chocolate chips – my kids go crazy for this add-in!
One note from my kitchen: the heat of the pan is important here. Make sure it's heated to medium. And prepare to flip your pancakes with a metal spatula. The batter remains fairly soft, so a quick slide of the spatula under golden-brown pancakes, a quick flip, and a patient bit of practice will all help you turn out perfect looking (totally tasty) pancakes.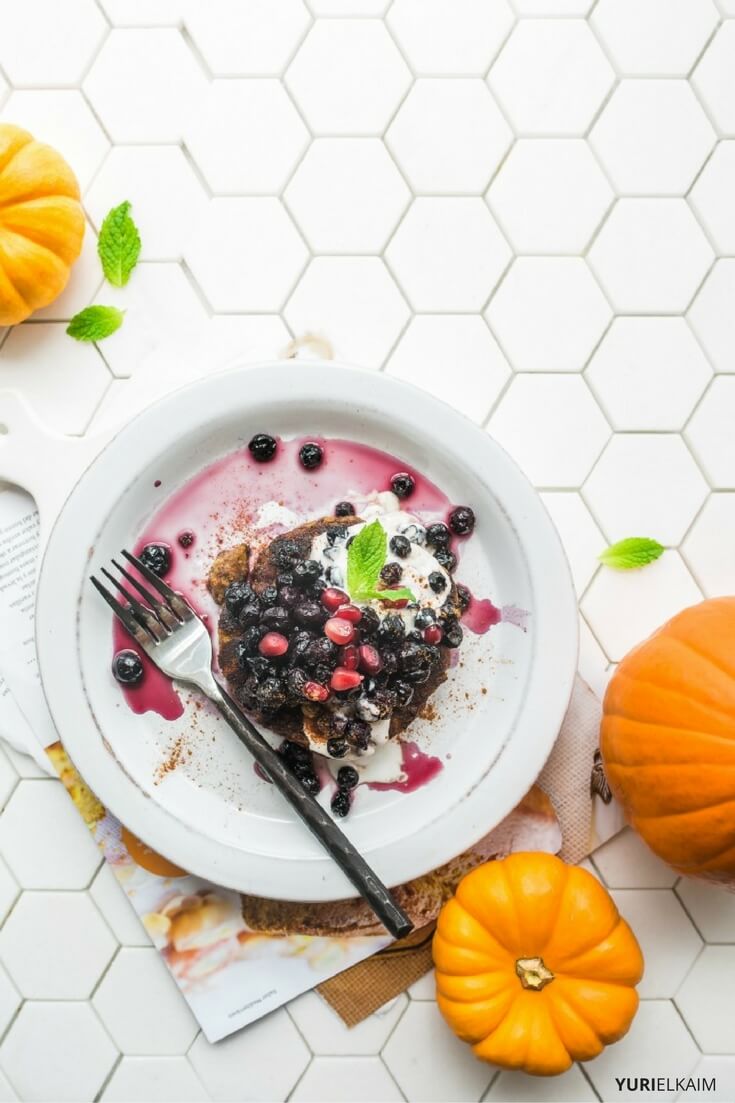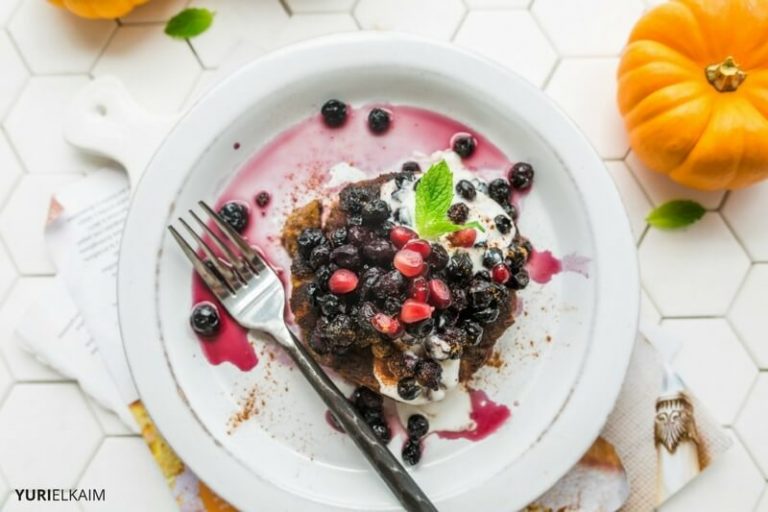 | | |
| --- | --- |
| | |
In a blender, combine all ingredients until smooth.

Heat a skillet over medium heat. Spray with nonstick cooking spray.

Scoop batter into the skillet with an ice cream scoop.

Cook for 2 to 3 minutes, then flip.

For best results, slide a metal spatula quickly beneath pancakes, then flip to the other side.

Cook until golden. Transfer to a plate.

Serve topped with fresh or frozen berries, sweetened with a very small amount of maple syrup. A dollop of coconut cream atop also tastes great.
Fast and Easy Healthy Meals
Think you have to spend hours in the kitchen to prepare healthy gluten- and dairy-free meals for you or your family?
Let us prove you wrong! Our online community has come up with a delicious compilation of easy-to-make quick meals that will satisfy your tastebuds.
And you can get it for FREE! The All Day Energy Diet Community Cookbook features 67 low-sugar, low-allergen meals that are designed to take about 15 minutes to prepare.
Get your copy by clicking the banner below!