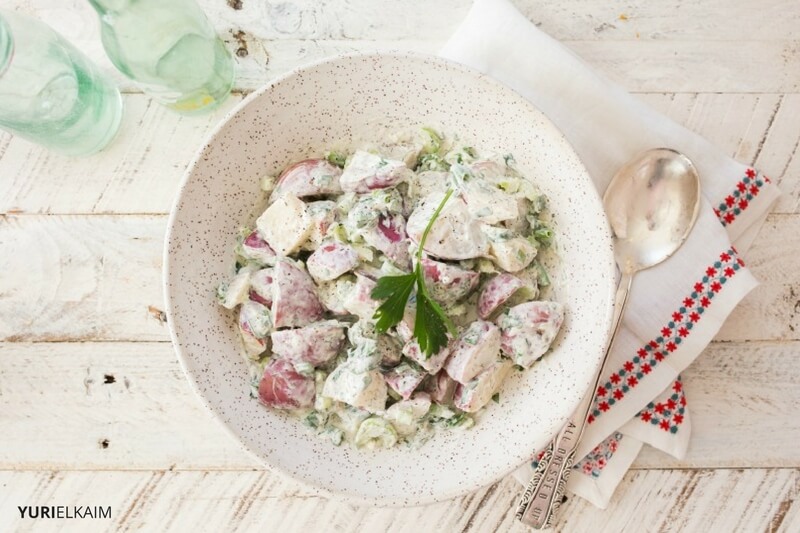 Whether it's a summer picnic or the neighborhood Christmas potluck, potato salad is a classic bring-along dish.
And for good reason: it's one of those go-to recipes that everyone loves.
I figured it was time to make a paleo version. Because the truth is, sometimes it can seem impossible to swap out an ingredient like mayonnaise and have a dish still actually taste good … and not just a healthy substitute for the original.
Creamy potato salad is, after all, a mayo-based dish. But there are some easy ways to upgrade. And the end result may even be tastier than the original.
No Mayonnaise Potato Salad
What's the trick?
Coconut milk yogurt.
While it used to be unavailable in most grocery stores, we're now seeing more coconut milk yogurt options on the shelves.
We've tried most of them, but the one that stands out is an Australian yogurt called Coyo. It's readily available in North America (you can find it at most health foods or Whole Foods stores), and the company has an online locator, so you can find the store closest to you that carries it.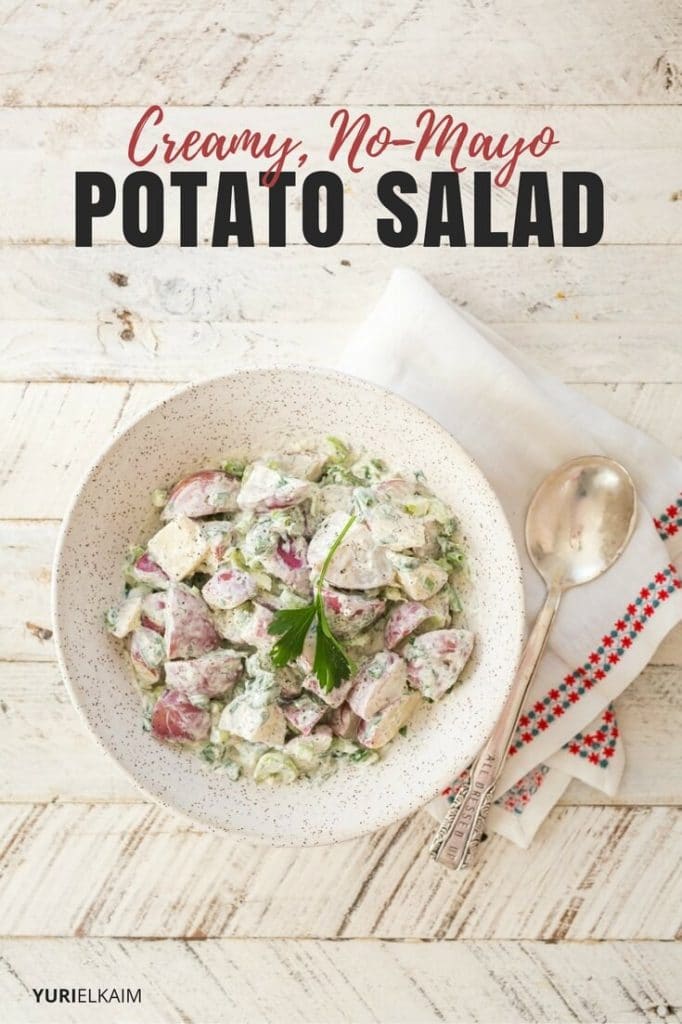 I am not sponsored by the company, nor do they know my name. But for this recipe, Coyo makes an incredible mayo swap.
Can't find it? No worries. You can get pretty close to the texture and taste by refrigerating a can of full fat coconut milk overnight, then scooping the fatty coconut cream from the top.
Other brands of coconut milk yogurt may work nicely, as well. But before I share the recipe with you, I wanted to make sure to share the biggest trick here. In my opinion, the coconut yogurt really takes this dish next level.
In addition to the yogurt, we spice it up with some crunchy celery, green onion, fresh or dried dill, and garlic salt. Then a bit of raw honey (or pure maple syrup) lends a slightly sweetness to the dressing, which nicely offsets the savory spices.
This combo tastes awesome on sweet potatoes, too. Or stir in some chopped bacon, walnuts and dried cranberries if you like a really complex, gourmet-inspired potato salad.
Great Make-Ahead Dish
One final trick here: if at all possible, allow it to sit in the fridge overnight. A few hours allows the flavors to "marinate" and just makes this dish awesome. If you plan on refrigerating the dish, I recommend stirring in 2 tablespoons of olive oil, which will keep the yogurt from clumping once cooled.
Serve this with your favorite entree.
We love pairing this dish with my 5-Ingredient Black Bean Quinoa Burger, Chia & Sweet Potato Burgers, and I think it would go great with any of these 15 Awesome Vegan Burgers.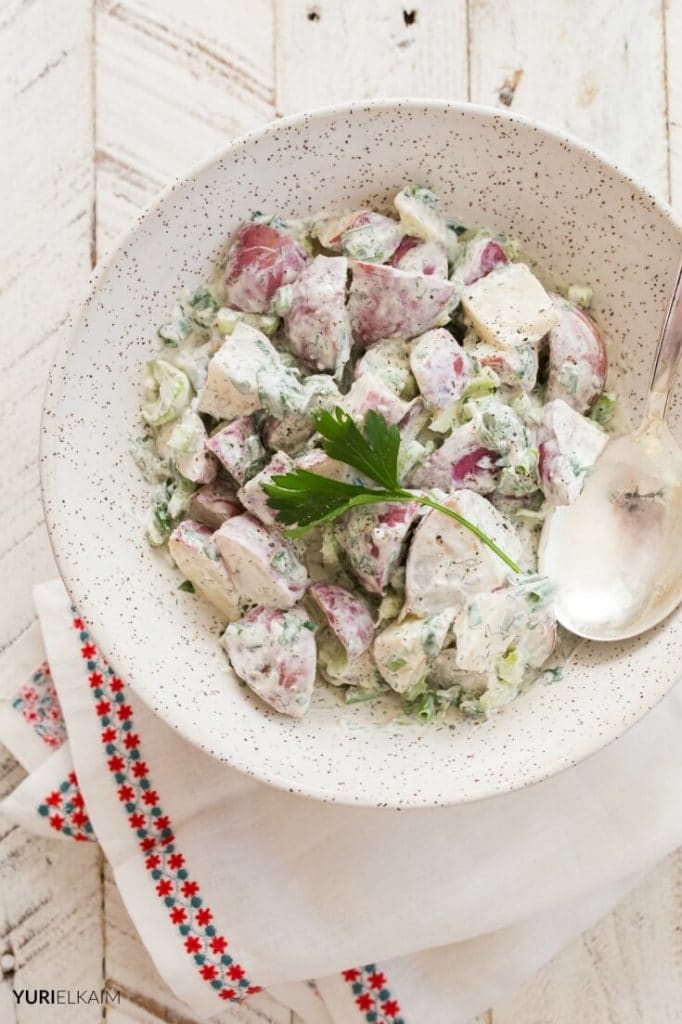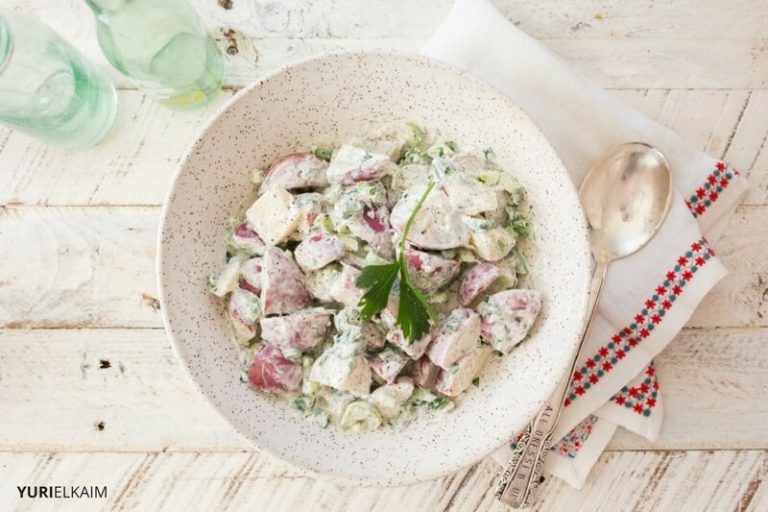 | | |
| --- | --- |
| | |
Place potatoes on a parchment lined baking sheet. Spray with coconut oil spray, salt and pepper generously. Roast for 25-30 minutes, or until very tender. Cool completely.

In a large bowl, toss together with remaining ingredients.

For best flavor, refrigerate overnight before serving.
Tasty twists:
* Add 1/2 cup chopped bacon, 1/4 cup dried cranberries and 1/4 cup dried toasted walnuts.
* Try this dish with sweet potatoes, instead of red potatoes
FREE Cookbook!
Want more delicious, allergen-free meals that take less than 15 minutes to make?
You'll love these 67 gluten- and dairy-free recipes – and so will your whole family.
Click the banner below to get your copy of the All Day Energy Diet Community Cookbook! (And yes, it's FREE!)