If you want to ramp up your health, add cruciferous vegetables to your diet. Broccoli, cabbage, and cauliflower are all in the cruciferous vegetable family, which is best known for lowering cancer risk. Bok choy, also in the cruciferous veggie family, is definitely a leafy green worth adding to your grocery list.
Bok choy is an incredible vegetable that you should eat more often. You've probably used it in stir-fries, but never in a smoothie. Bok choy has a softer texture and milder taste than some of the other cruciferous veggies, which is why it works so well in smoothies. If you eat bok choy, you'll ingest high levels of vitamin K, alpha-linoleic acid, and omega-3 fatty acid, which work to lower your risk of chronic inflammation. Chronic inflammation is what causes age-related diseases, and we can avoid these diseases by controlling what we put in our bodies.
This smoothie contains a pear for natural sweetness, and it also has plenty of dietary fiber. Pears are great for preventing constipation, and support a healthy digestive tract. The lemon in this smoothie gives it a zingy flavor as well as plenty of immune boosting vitamin C.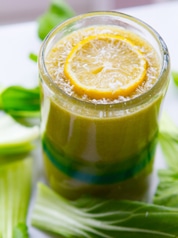 | | |
| --- | --- |
| | |
Blend bok choy, pear, lemon, ice, and coconut water. Top with unsweetened coconut and enjoy!