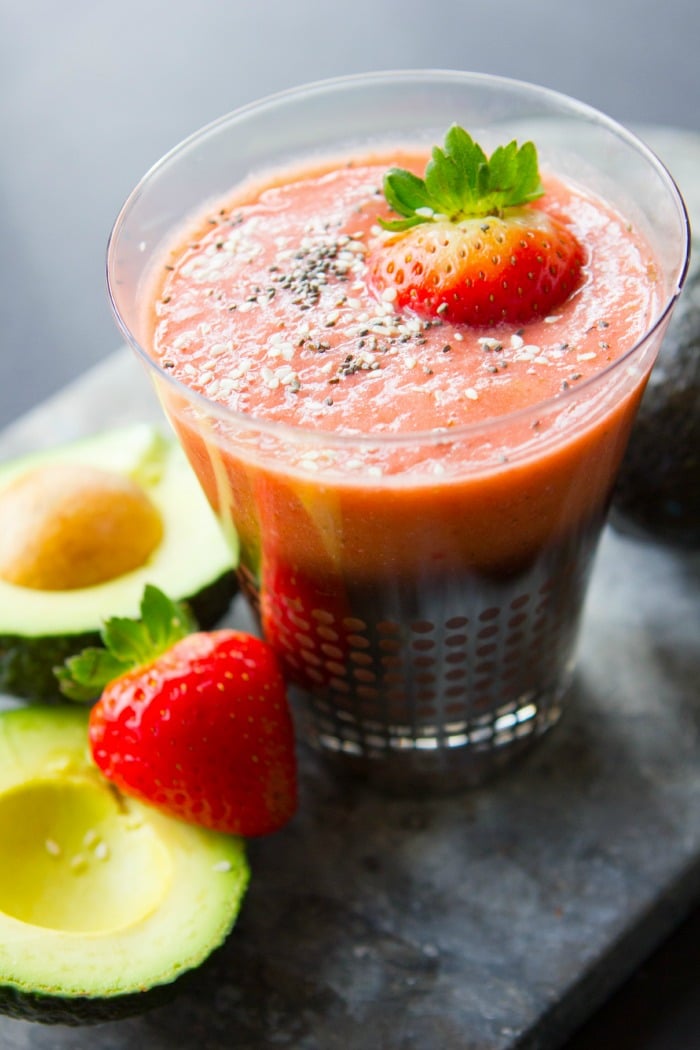 If you're feeling frustrated by a lingering cold, or fighting off flu symptoms, proper nutrition is a must. Instead of spending dozens of dollars on over-the-counter medicines and packages of fizzy supplements which haven't been proven to prevent the flu, and give yourself some pure plant-based nutritional support. Here are a few reasons why this is a great all-natural immune booster:
Inflammation Fighting Nutrients
The strawberries in this smoothie are high in Vitamin C. They've also been shown to reduce inflammation. One study that was conducted by the Harvard School Of Public Health discovered that women who ate 16 strawberries or more a week had 14% drop in inflammation markers in the body. You must eat a minimum amount of berries to enjoy the benefits. Eating an occasional berry won't help. But add this smoothie once or twice weekly, and you'll be getting more than the reccomended 1/2 cup weekly serving–the serving amount at which a reduced risk factor was noted.
Adrenal Support
The monounsaturated fat in avocados has natural anti-inflammatory properties, and improves heart disease risk factors if eaten regularly. Adding them to your diet helps support healthy adrenal function which in supports your immune response. Full of essential amino acids, antioxidants, and healthy fats, the avocado is this smoothie doesn't just give you vital nutrients–it can actually satiate your hunger, which may keep you from bingeing on foods that could lower your immune response (aka sugar, processed foods, and refined flour).
Toxin-Blasting Ginger
Ginger has long been used in Ayurveda to cleanse toxins from lungs and sinuses. The practice has believe since ancient times that pungent, spicy ginger burns your lymph system clear of infection. Though much of this is still unproved in the laboratory, recent studies have called ginger a health-promoting herb, which seems to show favorable signs as an anti-inflammation agent.
Plant-Based Antioxidants
Rather than the usual almond milk or water, I'm going to have you add tea to this smoothie. Unsweetened green tea is easily accessible, afforable, and powerful. A 2012 study concluded green tea is "particularly rich in health-promoting flavonoids …[and] should be considered right alongside of the better-known antioxidants like vitamins E and C as potent free radical scavengers and health-supportive for this reason."
Blend up this smoothie today and enjoy all of the great health benefits.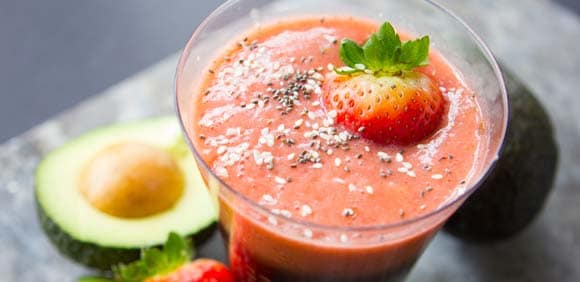 | | |
| --- | --- |
| | |
Blend strawberries, avocado, unsweetened tea, ginger, vanilla, and cinnamon together. Sprinkle with chia and hemp seeds.