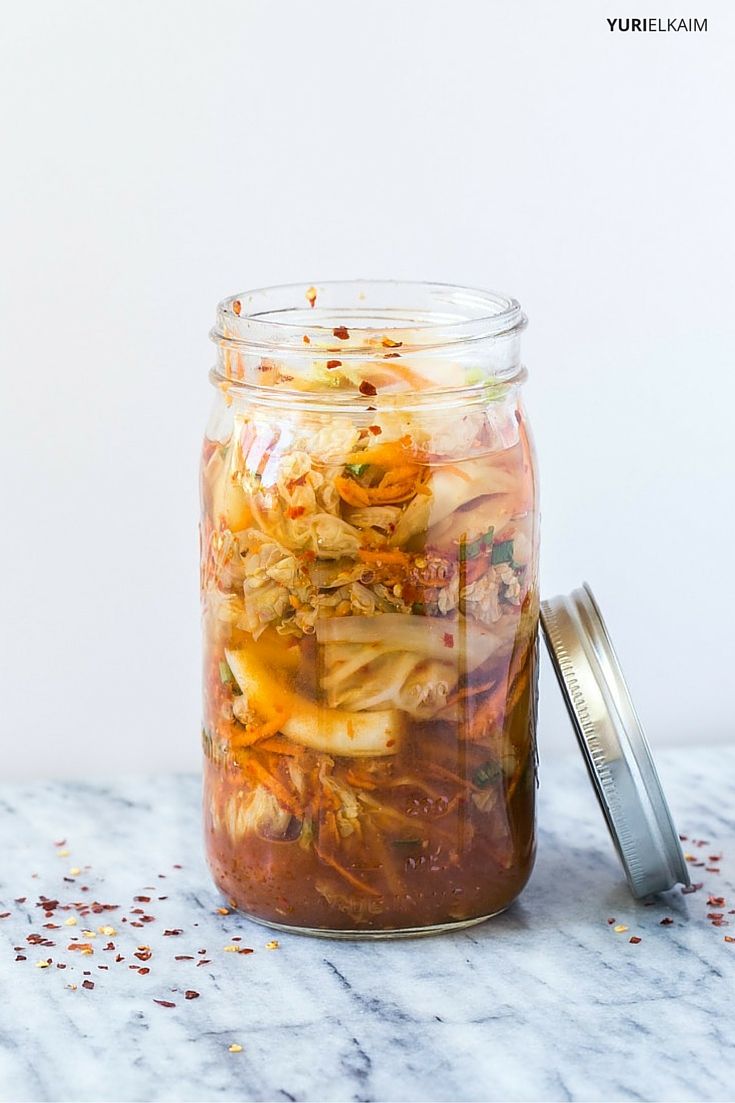 Huge fan of kimchi here. How about you?
Admittedly, at first, I wasn't so sure about kimchi.
When I was first introduced to kimchi, it was at a lousy restaurant. Watery and wilted, it tasted bitter and smelled like dirty socks. As you can imagine, I wasn't a fan.
I steered clear of the stuff until a neighbor stopped by one day with a homemade batch. It was her family's recipe, straight from her Korean grandmother's grandmother.
Changed my life.
Properly made, kimchi – a potent mix of cabbage, garlic, and Korean spice – adds insane flavor to everything from bulgogi to bibimbap to bowls of brown rice.
We keep a tub of homemade kimchi in our fridge and I'll spoon it straight out as a snack.
Think I'm crazy? If you've ever munched on a pickle, the crunchy-salty-bitter satisfaction is exactly what you'll get from a good kimchi. And making it homemade is really the only way to go.
Easy Homemade Kimchi Recipe
Of course, as you might have heard, homemade kimchi can be a rather finicky process.
First, you have to ferment it, which turns a lot of folks off. The actual preparation can seem odd in our modern-day, cook-refrigerate-"keep-it-fresh" culture.
So, I say, forget the ancient ways.
I've got a new, easier way for modern chefs (like you) to make a delicious batch of kimchi.
Because, if I haven't told you already, hacking nutrition and creating healthy eating recipes is one of my favorite things to do.
It's why I created recipes for:
And it's why I decided traditional kimchi deserved a makeover.
So, I hit the kitchen and conjured up a super-simple approach to making this ancient superfood.
How to Make Kimchi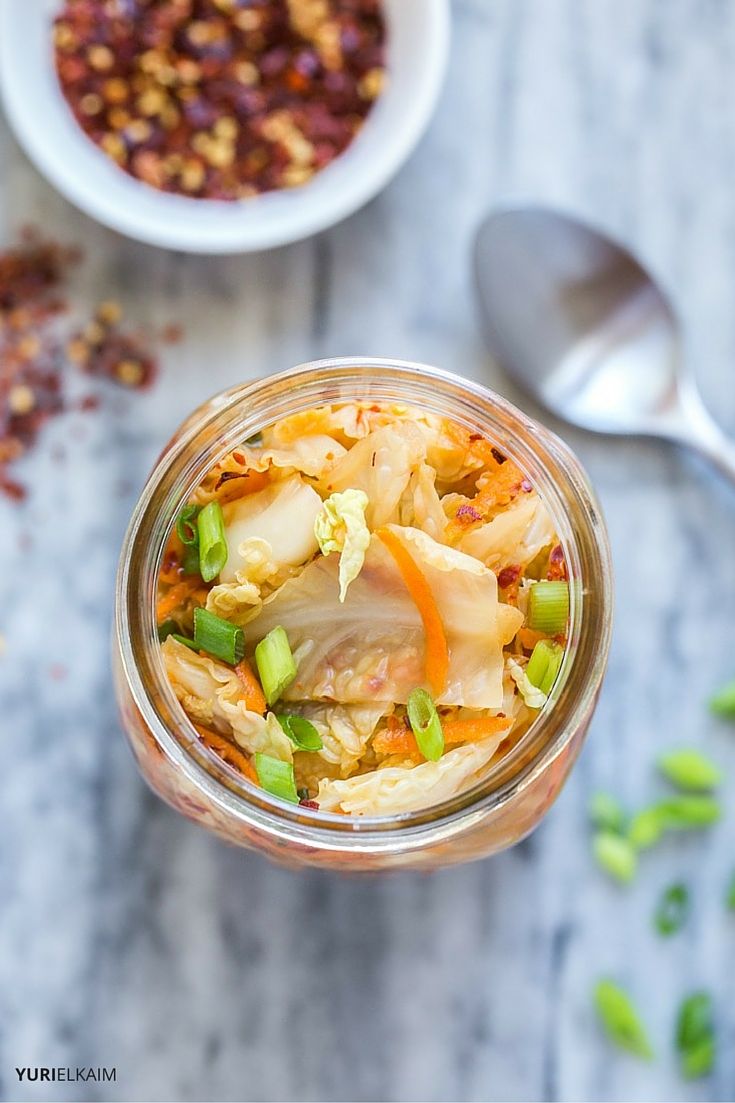 Probiotic-rich and full of nutrients, kimchi is a zesty and crunchy Korean staple.
It was originally prepared before refrigeration as a way to preserve food through the long, cold Korean winters. Unlike the finely sliced cabbage and brine ferment of sauerkraut, kimchi uses chunks of cabbage, other veggies, and spices to produce a tasty dish that's full of exotic flavors.
If you're a first-time fermenter, you can use clean mason jars to make your kimchi. Make sure the cabbage is not exposed to air during fermentation, or you'll get mold on the surface.
Since fermentation is anaerobic, meaning it's free of oxygen, you'll need to check often that the cabbage is completely covered with brine. Investing in a fermentation-specific vessel is a good idea if you plan to ferment often. These can be purchased online or at a kitchen store.
Lacto-fermentation occurs when making kimchi.
A salty brine covers the cabbage, allowing the lacto bacteria to thrive while killing off any harmful bacteria. The lacto bacteria convert sugars into lactic acid while releasing good-for-you nutrients and enzymes.
These friendly bacteria keep you and your digestive tract healthy.
[Related: The 8 Best Foods Rich in Probiotics Your Gut Badly Needs]
Kimchi Made Vegan
Kimchi is often made with fish sauce, imparting an umami flavor to the dish.
I've developed a vegan version that still offers that addictive umami flavor while keeping the fermented seafood out. It takes at least 4 to 5 days to ferment in a warm spot, and longer depending on taste.
Once done fermenting, kimchi can be stored in a sealed container in the fridge for up to a month.
The hardest part of this whole process is waiting for your kimchi to ferment so you can try it! Dig in and experience the complex flavors of kimchi as-is, or add to salads, slaw, stir fries, bulgogi, spring rolls, fried rice, or zoodle bowls.
Any way you eat it, kimchi is a great way to get beneficial bacteria into your gut the tangy, spicy, delicious way.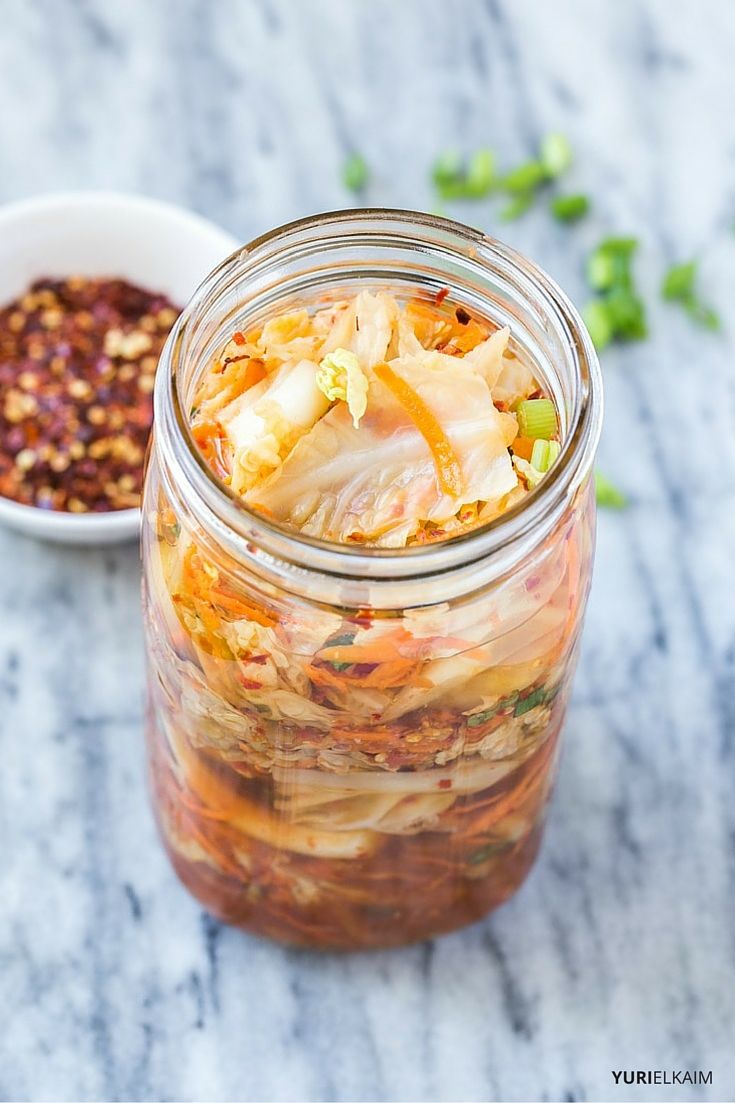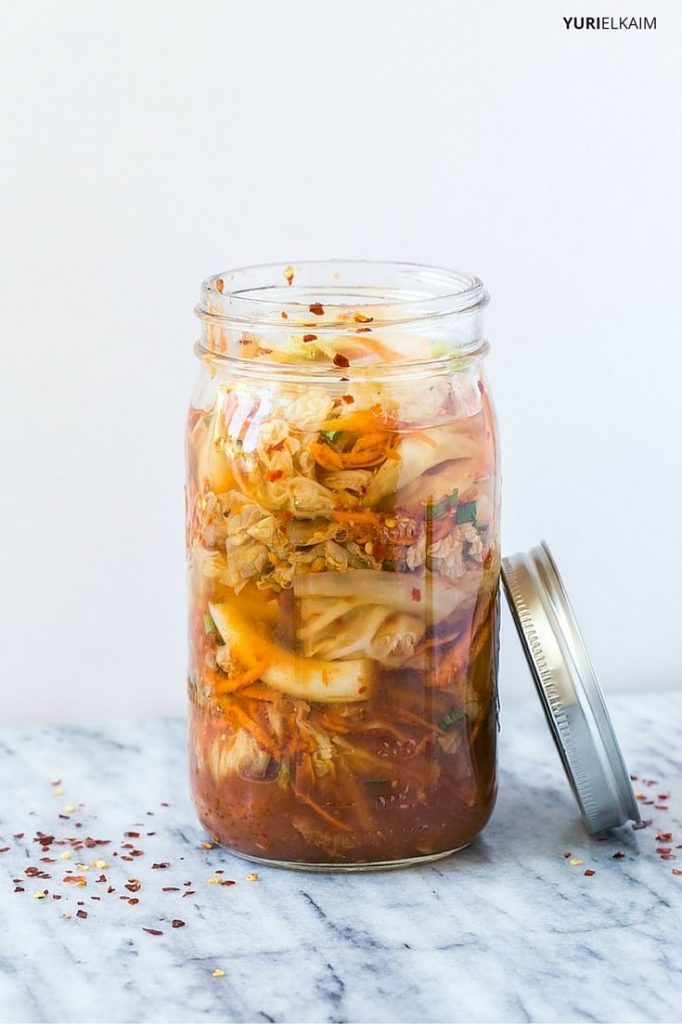 | | |
| --- | --- |
| | |
Place the liquid aminos, coconut sugar, pineapple juice, water, ginger, garlic, onion and chili flakes in a food processor.

Process until well combined.

Place the cabbage, carrots, green onions and sea salt in a large bowl.

Using clean hands, massage the cabbage mixture for 10 minutes, then let the mixture rest for an additional 5 minutes.

Massage the vegetables for 10 more minutes or until cabbage has softened and some liquid has been released.

Pour the chili sauce mixture into the cabbage and toss to coat evenly.

Pack the cabbage mixture into two large jars, pressing the mix down until some of the liquid comes to the top.

Close the jars loosely and place in a warm spot. Let sit for 4-5 days.

If foam starts to form, skim it off. After about 4 days, taste the kimchi to see if the fermentation level is at your liking.

Ferment for 1-2 days more if desired, or if the kimchi is finished, seal the jar and store in the fridge for up to one month.
 Eating Right Made Easy
Looking for more delicious and healthy recipes for you and your family? Be sure to check out the fast and easy gluten- and dairy-free meals in the All Day Energy Diet Community Cookbook, which are low in allergens and high in taste.
You can get a copy – for FREE! – by clicking the banner below.