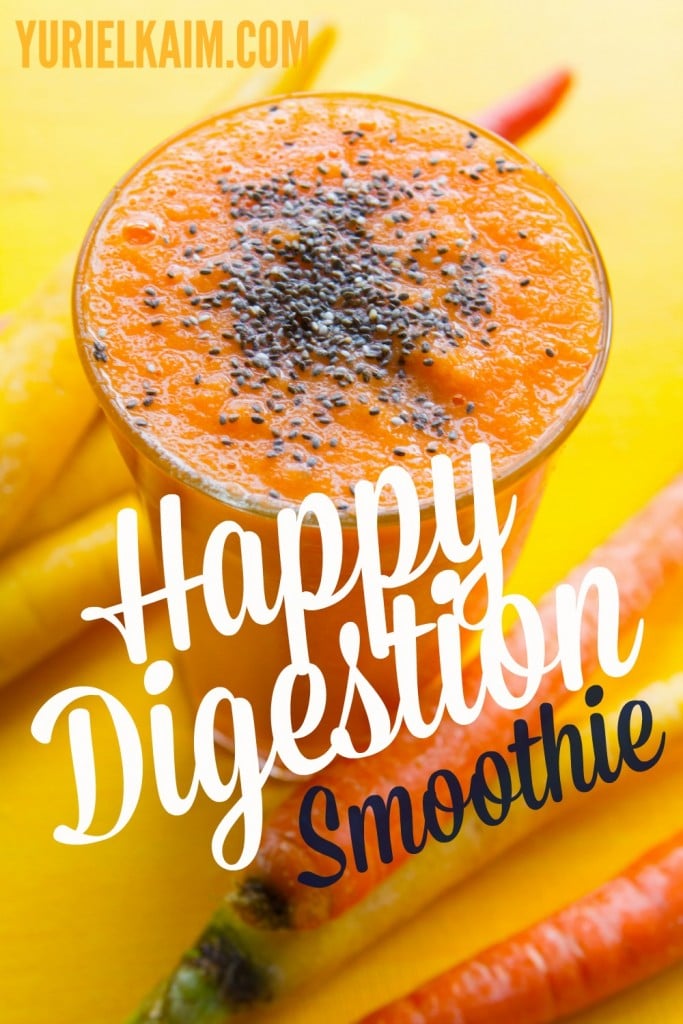 Every season has a reason for over-indulgence. Spring is no exception.
It's hard to resist the piles of processed, sugary candy that's crammed into each Easter basket. If you dove head-first into a digestion nightmare over the weekend, stave off cravings and rebalance your digestion with this Ginger-Carrot-Chia Smoothie.
You'll reap tons of health benefits from this no-sugar smoothie, which fills you up and tastes great, and is good for your gut. Here are a few of the most powerful reasons to start your day with this smoothie:
The Health Benefits of Carrots
Carrots area lunch box classic. It's easy to crunch your way through a couple carrots everyday. But add them to a smoothie, and you'll get even more absorbable nutrition from these naturally sweet veggies.
[Related: The Healthy Gut Smoothie (Carrot Cake)]
Beta-carotene gives carrots their bright orange hue, and this compound is converted into vitamin A in the body. Beta-carotene has been associated with a decreased risk of certain cancers, and carrots have been recently studied in the prevention of colon cancer.
The exceptionally high vitamin A content in carrots makes them a winner for healthy skin and eyes.
In one study that followed people from the Netherlands for 10 years, orange and yellow hued veggies, carrots in particular, were shown to significantly reduce the risk of cardiovascular disease when eaten on a regular basis.
The fiber in this smoothie from the carrot and apple will also keep you feeling full, so you won't feel like reaching for a milk chocolate egg after this filling smoothie. Keep your holiday healthy with this delicious carrot smoothie.
The Health Benefits of Ginger
Ginger is a potent herb, you'll see me adding it a lot to smoothies, soups and stews. With a delicious, intense flavor, ginger is a great way to stir in aromatic flavor and mask any unpleasant aftertastes in green smoothies.
Beyond the taste, it's also chock full of significant health benefits. A natural detoxer and cleanser, ginger is also:
A power anti-inflammatory. It's a great way to alleviate pain from arthritis, headaches, and menstrual cramps.
Studies have shown ginger has the ability to inhibit rhinovirus–the cause of the common cold.
Stimulates circulation and digestion. Ginger can cut gas and bloating, and alleviate diarrhea.
May prevent stomach ulcers caused by OTC drugs like aspirin and ibuprofen.
The Health Benefits of Chia
Chia seeds are loaded with antioxidants, so you'll benefit from an immune boost while protecting your cells from disease-causing free radicals.
Your bones will also benefit from the high calcium and magnesium levels in chia seeds. In addition, chia seeds significantly reduced cardiovascular risk factor in those with type 2 diabetes in a 2007 study.
Want more chia? You can find 8 More Delicious Chia Recipes here plus my Kombucha Chia Seed Smoothie here.
Grab a blender–the recipe is below & the health benefits of this smoothie are tremendous.
| | |
| --- | --- |
| | |
Blend the apple, carrot, ginger, lemon juice, water, and 1/2 tablespoon of chia. Add more water if necessary to achieve your desired consistency.

Keep in mind that the chia seeds blended into the smoothie will make it thicken up slightly after a minute or two. Sprinkle with chia seeds and serve!