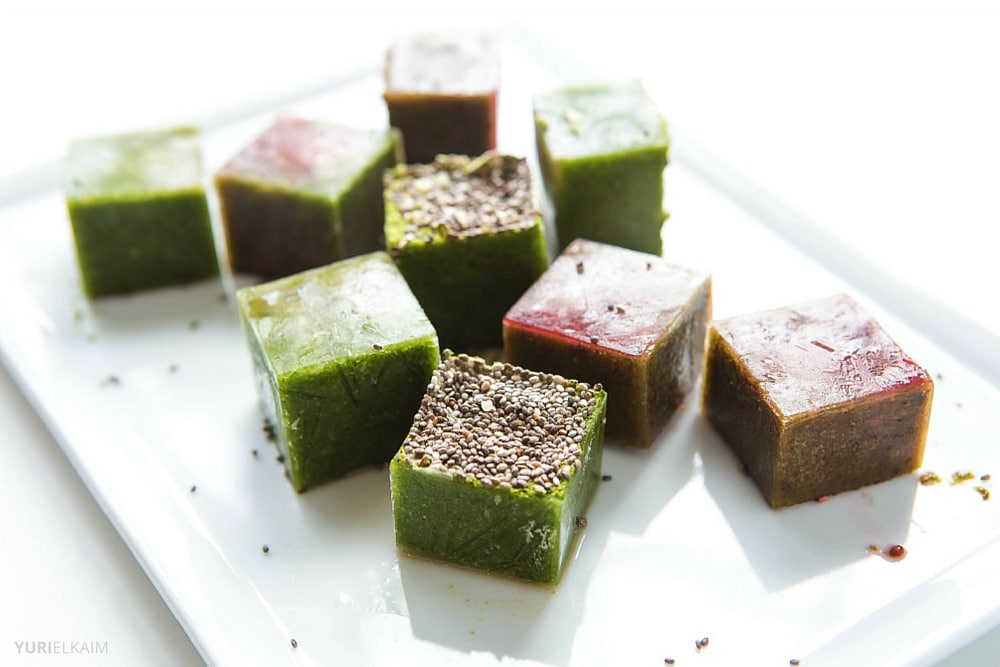 With this simple idea, you'll always have everything you need on hand to blend up a batch of green smoothies. Boom! Smoothie perfection!
Why Green Smoothies?
I've always been a huge fan of green smoothies because I'm a huge fan of an alkaline diet. The science on greens is mindblowing. It may be the one thing nearly all nutritionists can agree on.
The more dark, leafy greens you can fit into your diet, the better. They're rich in nutrients that block cancer cells and contain a wide range of anti-cancer compounds.
Although there are dozens of noteworthy studies showing the profoundly positive effects of leafy greens, here's one that is particularly awesome: a 2012 study at The University of Oregon found that spinach mitigates the damaging effects of carcinogens in red meat.
But that's not all.
Compounds in kale have also been shown to inhibit the growth of colon cancer cells. You can't go wrong with either kale or spinach, and throwing them in a smoothie is the easiest way to get your fix. Blending those nutrient packed leaves makes it easier for your body to absorb the nutrients they contain.
Why Green Smoothie Cubes?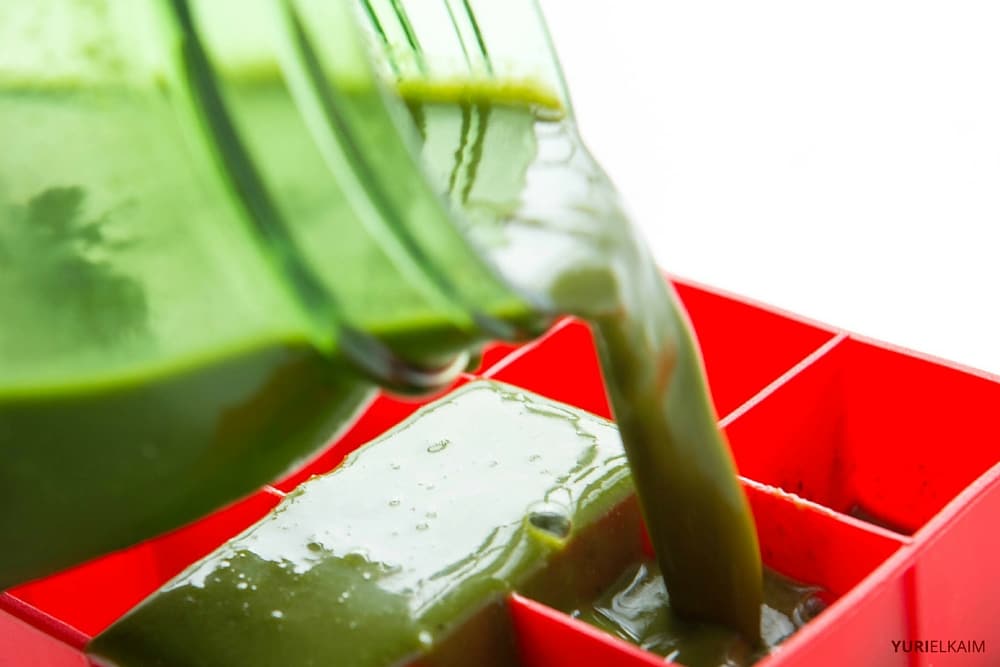 So, green smoothies are great, but making them every morning can be a little bit inconvenient.
First, you have to have greens in the house. Keeping fresh greens can mean several shopping trips per week, which for many people isn't an option. Work schedules can keep us hopping, and stopping at the grocery store to constantly buy kale or collard greens can start to feel like a chore.
This is where making green smoothie cubes isn't just a brilliant idea, it's also a complete timesaver.
You can shop once a week, blend up big batch of green smoothie, then freeze the leftovers into cubes. When it's time to smoothie, all you have to do is pop the ready-to-go cubes in your blender, add liquid and enjoy. Green smoothies all week long, without the need to always have super fresh produce in your fridge.
If this quick little trick still isn't enough to make green smoothies happen daily, look in the freezer section for packages of ready-to-go organic kale or spinach. Keeping greens in the freezer is an easy way to always have access to the stuff your body loves.
Simple Tip: To keep your smoothie cubes fresh, always transfer them once frozen into an airtight container.
A Few of My Favorite Green Smoothie Recipes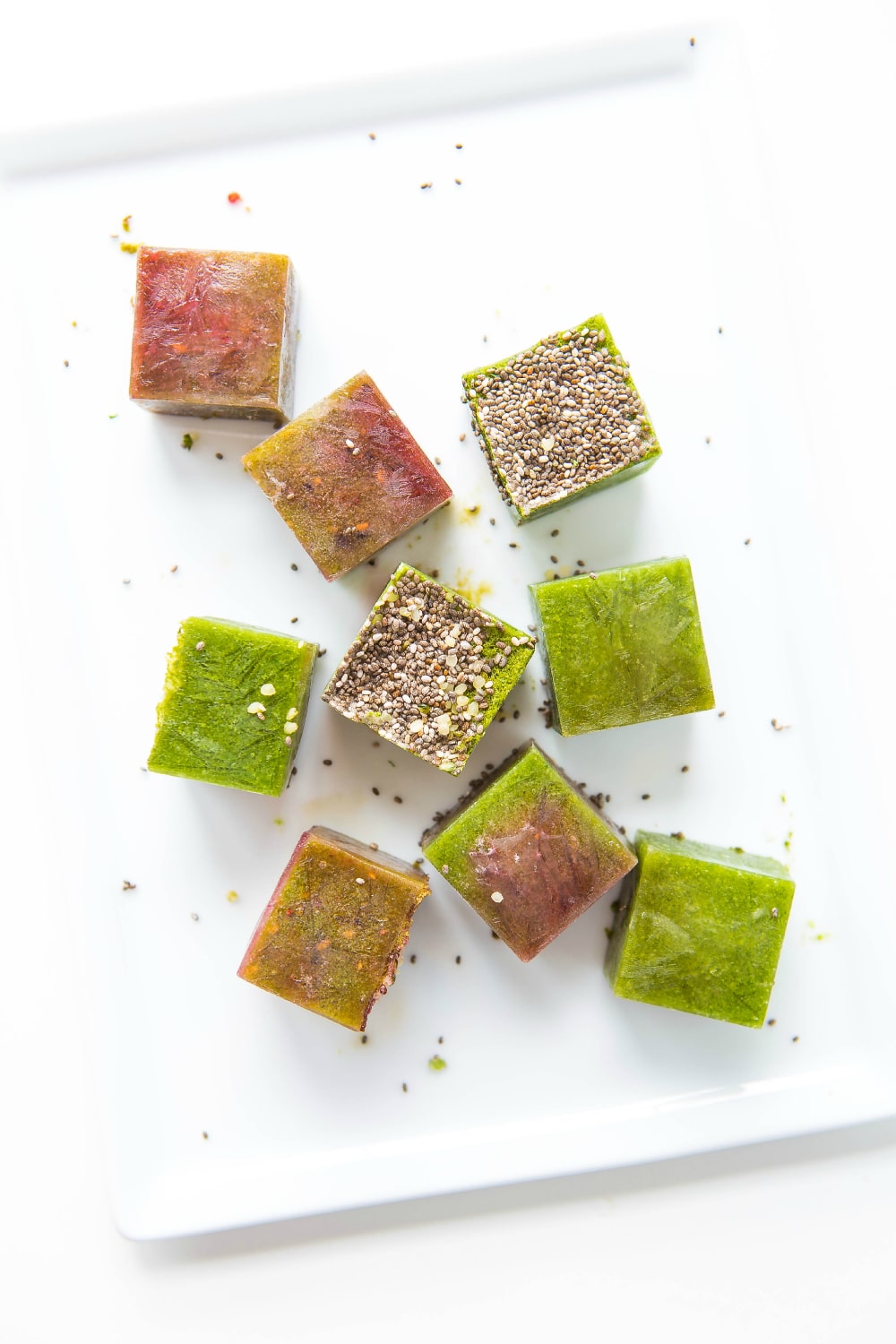 | | |
| --- | --- |
| | |
Blend ingredients together until puréed. Pour into 1-2 large ice cube trays and freeze. Once frozen, transfer to freezer-safe, Ziploc bags. Use within 3 months.

To make a smoothie, place 4-6 cubes in blender. Add your favorite smoothie ingredients, approximately 1½ cups of liquid and blend until puréed.