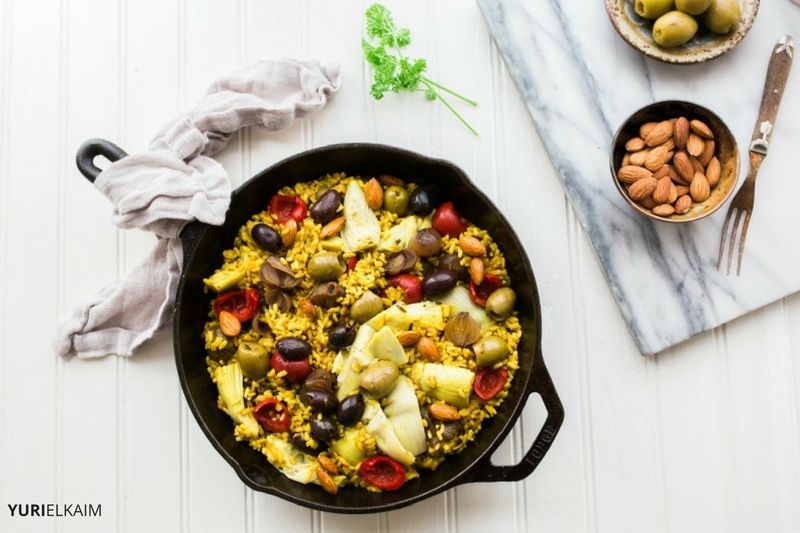 Authentic paella can take a whole day to make, which is more than a little intimidating to any of us who don't spend our lives hovering over stoves.
Still, we shouldn't have to live without great, classic eats.
You know I'm a fan of quick, fresh, healthy shortcuts. Some of my most popular recipes are makeovers of popular takeout dishes:
And to that list of quick and healthy dinners, let's add a Spanish cuisine shortcut that will quickly become a favorite.
Fast, Easy, Vegetarian Paella Recipe
No worries: you have plenty of time to make this version of paella, because I've reduced the prep time by about 90 percent, so it turns into a 15-minute meal.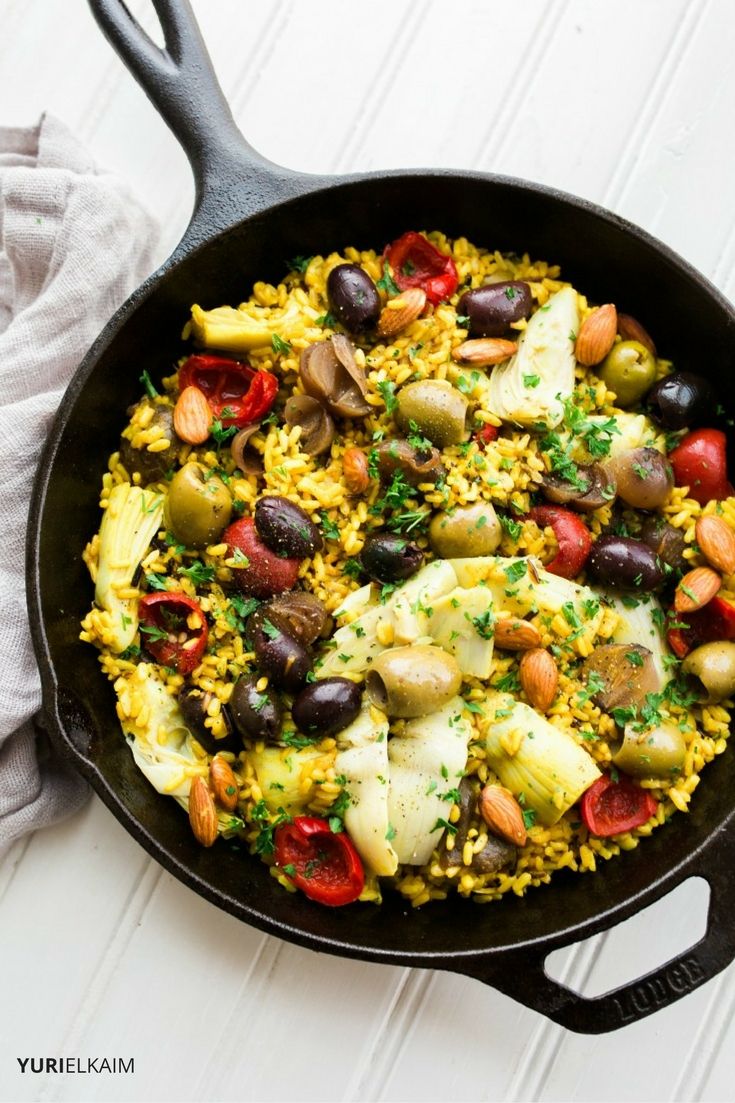 And even though it's vegan, no worries: seafood lovers can easily add shrimp. I've indicated details in the recipe below.
So how did I turn a recipe with an impossibly long ingredient list and even longer prep time into a quick and easy dinner? For starters, I'm going to have you hit the olive bar at your local grocery store and also buy a bag of frozen cooked rice. Or, if the idea of using packaged rice doesn't appeal to you, you could always precook some rice and keep in the fridge until you're ready to use it.
We've shaved off even more cooking time by cutting out the meat and seafood, instead adding protein-packed almonds to the recipe.
To jazz up the flavor, we've tossed in a little more spice, and made sure to add in tasty extras like artichoke hearts, pickled onions, and peppadew peppers.
You'll note this recipe calls for marcona almonds, which are grown exclusively in Spain – perfect for this Spanish-inspired dish.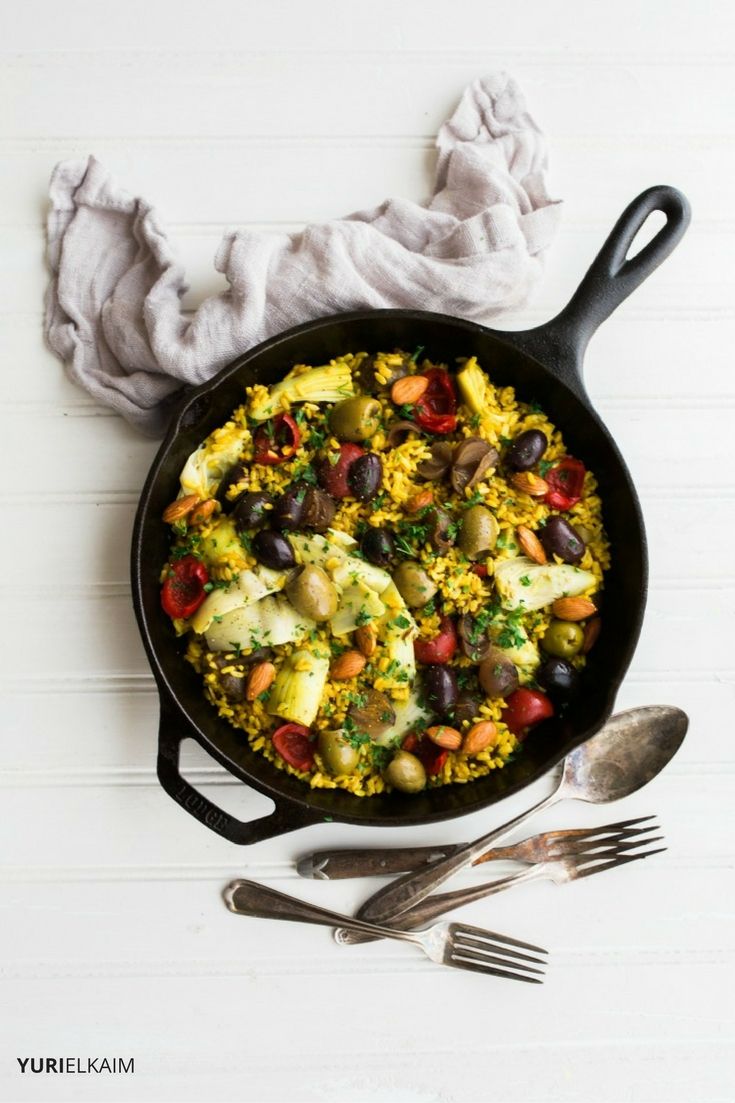 Marcona almonds are rounder and plumper than the almonds you normally eat. They also have a softer texture, similar to macadamia nuts, and a sweeter, more delicate taste.
Although you can sub in regular raw almonds in this recipe, the soft texture of marcona almonds works beautifully as a meat substitute, so give them a try.
Look for them in most grocery stores in the nut aisle, at warehouse stores, or order online.
Try using marcona almonds in other recipes too. Replace raw almonds with marconas in a spiced almond recipe, sprinkle in salads, sauté with green beans or kale, or toss in a pesto sauce.
You don't have to be a gourmet, seasoned cook to pull off this plant-based paella recipe. With a few shortcuts, incredibly tasty Spanish food can be on your table in just 15 minutes. Enjoy!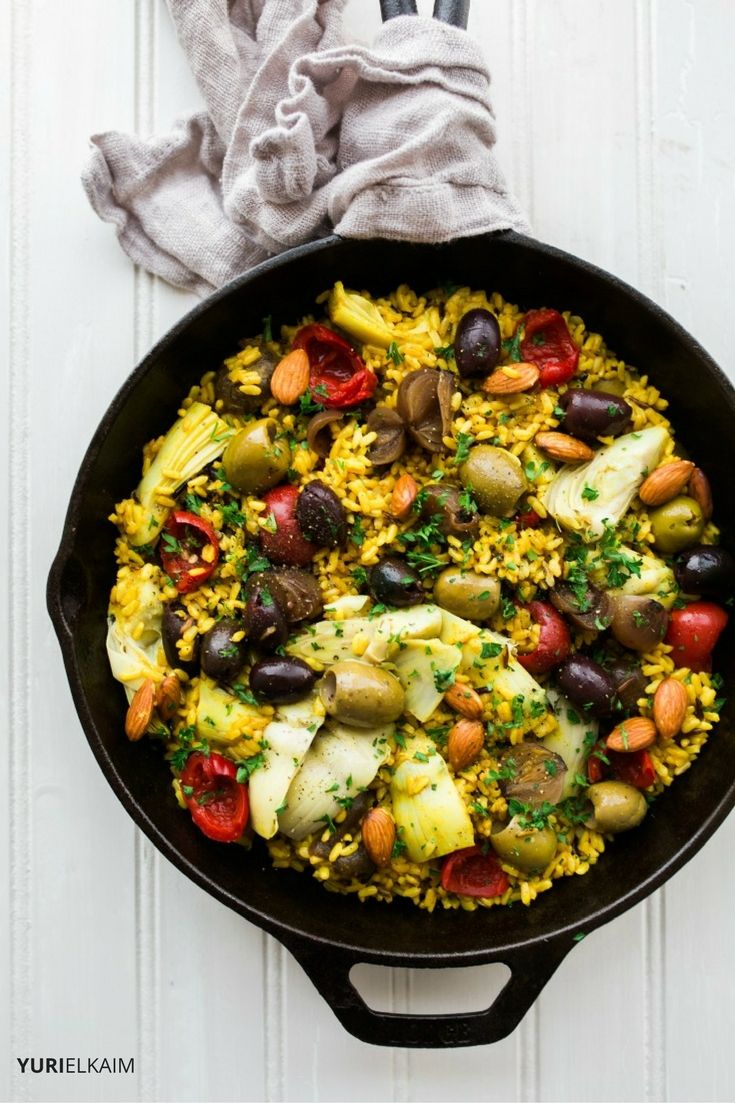 Authentic paella can take a whole day to make. So, I've developed a shortcut and turned it into a quick dinner full of wholesome stir-ins that takes only 15 minutes to prepare. Use frozen precooked rice, and hit the grocery store olive bar for the olives, peppers, and onions.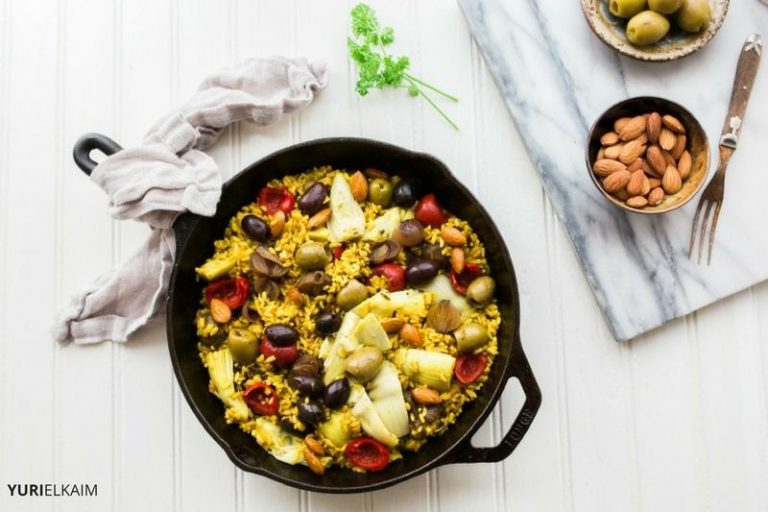 | | |
| --- | --- |
| | |
Heat coconut oil in a large skillet over medium-high heat.

Add garlic, cooking for 20 to 30 seconds until aromatic.

Toss in brown rice, veggie broth, turmeric and saffron. Cook until warm, salt to taste.

Stir in remaining ingredients. Garnish with parsley, if desired.
For faster prep: pick up a bag of frozen cooked rice in the "healthy" section of your grocery store's frozen foods department, or precook your rice and keep in the refrigerator until you're ready to use it.
For a seafood option: add raw shrimp to the coconut oil and cook until pink. Follow remaining recipe as stated.
 More Quick and Tasty Meals
Does dinnertime have you stressing over what to serve? I've got you covered!
Check out the All Day Energy Diet Community Cookbook, which includes 67 gluten- and dairy-free meals that also are low in allergens but high in taste.
They're fast and family-friendly, and you can get the cookbook for FREE by simply clicking the banner below.